New York Mets Opening Day: Recapping a Fantastic Day in Queens
April 5, 2012

Nick Laham/Getty Images
Mets fans have been looking forward to this day ever since the Mets beat Cincinnati on the last day of the 2011 season. The offseason wasn't an easy one, but the Mets got through it. A clean slate of health and a revamped bullpen seemed to be the most encouraging things going into this season.
Johan Santana's rehab went exactly according to plan this spring and his progress earned him the Opening Day start. Being slated as the Opening Day starter is anything but foreign for Santana, but he must have been pretty nervous before the game today. Before today, Santana hasn't pitched in a major league game in over a year.
You would have never guessed that by the way he pitched today. Santana might have lost a bit of his "stuff," but his poise on the mound has remained one of the best around. He is one of the smartest pitchers in the game and fully utilized his pitch repertoire. 
Santana ended up pitching five innings, allowing a pair of hits and walks, and also compiling five strikeouts. Santana labored through the fifth inning after cruising through the first four, but he ended up slamming the door on Atlanta's offense.
Terry Collins said in the interview after the game (via mets.com) that Santana didn't want to come out of the game. He said that "Santana wanted to go a couple more innings." Collins gave Santana high praise and referred to him as "one of the best competitors around."
Johan was definitely the brightest spot for the Mets today and his performance his extremely encouraging for every Mets fan.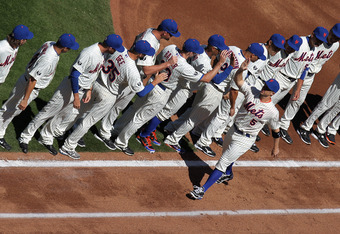 Nick Laham/Getty Images
The new and revamped bullpen relieved Santana fantastically. Ramon Ramirez, Tim Byrdak, Jon Rauch and Frank Francisco managed to keep the shutout intact for the Mets this afternoon. Byrdak is the only reliever out of that bunch who was a Met last year.
The new bullpen acquisitions made Sandy Alderson and Co. look smart and they managed to nail down yet another Opening Day win for New York. Terry Collins later said that "we (the Mets) improved our bullpen" and that new closer, Frank Francisco "made great pitches."
Collins is probably very happy about his new bullpen. It can turn out to be a strength for the Mets this season and help make Collins' job a lot easier.
The Mets offense wasn't fantastic today, but they did enough to nab the win. David Wright provided the big hit for New with his sixth inning RBI single. Daniel Murphy and Josh Thole also picked up two hits each.
The only downside of the day for New York was the injury to Andres Torres. Torres was doubtful to play Opening Day with a left calf strain, but he managed to prove he was healthy and work his way into the lineup. Torres' however, re-aggravated his calf when he was chasing down a triple off the bat of Tyler Pastornicky.
Torres initially misjudged the ball and he was forced to really accelerate. His rapid acceleration turned out to be the culprit of his second left calf strain. Torres clearly came up lame after the play and was sent back to the dugout for further testing.
Further testing showed that Torres did indeed re-strain his left calf. Terry Collins did his best to emphasize that Torres passed the mandatory tests in order to play on Opening Day and that he wasn't rushed back. It looks as if Torres might not return until early May.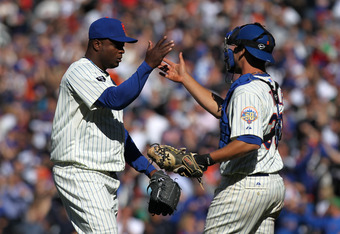 Nick Laham/Getty Images
That did little to put a damper on Mets fans' moods though. The Mets pitched a great game and their defense was very solid today. The offense even provided many encouraging signs despite only mustering one run.
This Opening Day turned out to be a great one on and off the field. The New York Mets PR hit a "home run" with their pregame tribute to the late Gary Carter and his families. The Mets clearly feel for Carter and his family and they did everything to show that today.
1-0 wins are very exciting and today was no exception. This game might have lit a little flame under the Mets and their fanbases. Mets fans hope to see more of the same and despite the fact that it was only one game, the Mets really did look good out there.
Terry Collins said it best: "now you gotta go back to work again." Let's hope that this is only the beginning of a very exciting season for the New York Mets.