Tiger Woods: Keys for Golf's Biggest Star in Second Round of 2012 Masters
April 6, 2012

David Cannon/Getty Images
Tiger Woods tees off at 1:42 p.m. ET on Friday, and there are certain personal goals he must accomplish in the second round of the 2012 Masters if he wants to assert himself to the top of the leaderboard. 
On Thursday, Tiger looked good up until the back nine. He managed to save par in several instances, but the last two holes got him. 
He bogeyed just one hole all day, and then on No. 17 and 18 he flopped and took what would have been a solid score into a mediocre one. 
As Tiger gets ready to essentially start from scratch (he's even after one round), here are some keys for him to follow as he looks to improve his score at Augusta National. 
Forget Thursday  
Tiger is fully aware he could have been loads better in the opening round, but he must forget all about his first day at the 2012 Masters. 
Yesterday is in the past and thinking about it too much will doom golf's biggest star. With the pressure building, Tiger has to keep his head straight, but if he flashes back to Thursday then he's toast. 
It's not going to be easy, especially if he has some more bad shots here and there. However, the task at hand is to win and the best way to do that is to continue to push forward, forgetting the past. 
Putt Well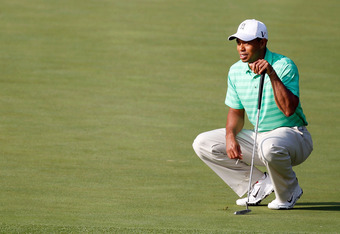 Streeter Lecka/Getty Images
This, of course, is easier said than done and if you've played golf before then you know this all too well. 
Putting has been Tiger's demise recently, but if he is going to win his fifth Green Jacket then he has to thrive all weekend long in this area. 
Tiger did a great job of putting on Thursday, saving himself from some really bad situations. However, he's struggled with putting a great deal in recent years, so he has to keep performing at a high level on the greens if he's going to be on top of the leaderboard when it's all said and done. 
Drive, Drive and Drive 
Tiger fell apart at times on Thursday, hitting some horrendous balls of the tee and forcing everyone to wonder, is that really Tiger Woods right now? 
It was indeed him hitting legitimate snap hooks on some holes, which is why he's got to get up early and really get to work on driving the ball better on Friday. 
Taking the conservative approach on some holes is a wise idea, but in other areas he can afford to be aggressive, as long as his game is ready for it. Failing to drive well for the second day in a row will put Tiger in a huge hole.