Matt Kemp: Dodgers Star Adds to WAG Count as Eva Longoria Rumors Swirl
April 5, 2012

Let's hope this goes better than the time Matt Kemp dated Rihanna.
That's pretty much my gut reaction to the latest rumors regarding the Dodgers star slugger and actress Eva Longoria. 
The latest from the land of rumors, innuendo and beautiful WAGs has it that Kemp is hot and heavy with former Mrs. Tony Parker, Eva Longoria. 
Former GM and ESPN analyst Jim Bowden was at the Freeway Series between the Dodgers and Angels, and that is where he ran into Longoria with some pals. Here is what Bowden tweeted from that game:
LA Times headline, "Dodgers win 4-1, but Matt Kemp is struggling" moments later he leaves park w/ Eva Longoria..Struggling? oh at the plate!

— JIM BOWDEN (@JimBowdenESPNxm) April 4, 2012
Bossip.com reports on the story and has some thoughts on the matter. Namely, why would Longoria go to an exhibition game?
I couldn't agree more with that thought, but what really worries me is a WAG redux in the form of a Matt Kemp slump.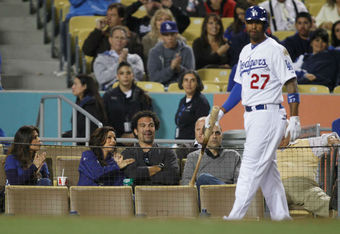 The 2011 MVP contender is coming off his best career and one that has the Dodgers fans hopeful 2012 will not be a total waste. 
Kemp went into a funk when he was dating Rihanna back in 2010, and he broke free from her curse to put together a near 40-40 season. 
Yes, that may be a bit far-fetched for even me, but you can't deny that the center fielder was a mess at the plate and on the bases when he was with the famed artist. 
Like the movie The Natural, we have to wonder if Eva Longoria is more Kim Basinger or Glenn Close. Here is to hoping that this is all just a fun little rumor. 
Kemp is coming off a pedestrian spring in which he batted .262 and struck out 26 times. If they are dating, Dodgers fans may be in for a rough year.