5 Compelling Reasons Why Wenger Won't Need to Buy New Players in the Summer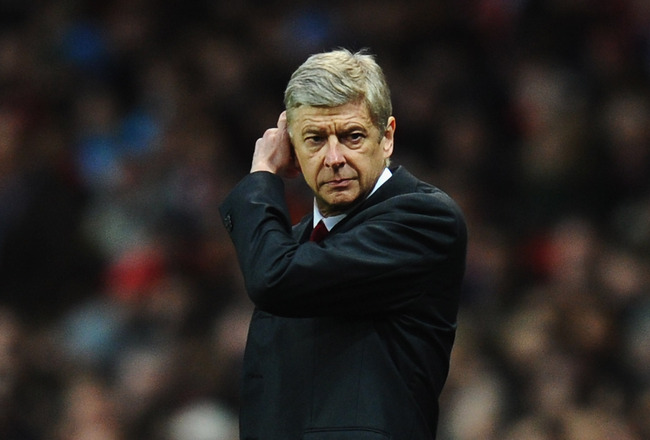 Mike Hewitt/Getty Images
"One word for you IJ: Hypocrite!"
With this, a disgruntled reader breached that impregnable fortress called my Bulletin Board and, like the burglar is wont, when he or she barges uninvited into places better hallowed than violated, left behind the residues of his troubled self.
There was nothing to steal, no harm done.
I am sure that later the burglar found the effort—the breaking in—worth more than the bargain. I'm glad, though, for this poor soul's troubles, for they made me pause to think. You see, for the life of me, I couldn't place this person's problem.
Hypocrite.
I can only imagine he thinks he's had me caught—and red-handed too—talking transfers. This must be so, since anyone a little familiar with my articles knows I'm adverse to unbridled transfer spending.
But here I've been of late talking about buys Wenger could make to caulk any leaky hole in the squad.
Before I proceed to my subject, let me clear up a couple of things:
For those readers who already are touched by a tingling sense of discomfort by reason of my dredging up what apparently should be a private matter, it might profit them to remember that a Bulletin Board is hardly private property.
If the same person thinks this is a case of an unregulated ego rearing its head like Naja haje, the same should consider how this might be more aptly applied to the burglar of my "privacy" than to me.
He who roams about Cain-like being a troll betrays a severe need for Freud. Such people wander about grinning like the fools they are, thinking that by wrecking every public place they happen upon, they feed their ego peace of mind or hurt the person they troll.
I am apt to think the reverse is the case.
Well-regulated individuals have no need of trolling.
Note though, that this isn't the same as saying there is no room for robust debate or disagreement. Heaven knows there is, but this is different than howling like a Werewolf during the full moon when a person encounters what he or she dislikes.
Now the second point.
Advocating prudence in transfer isn't the same thing as saying one is totally adverse to it. I have always maintained that transfers must be done wisely, that there are times it isn't wise to buy, times like the January transfer window, for example.
Moreover, my point has always been that buying doesn't end with the transfer fee. Wages must be accounted for. Besides, a bus-load of surplus players is often the first steps toward in-house mutiny—think Roberto Mancini, then Emmanuel Adebayor, then proceed to Wayne Bridge and Carlos Tevez.
But, I should leave burglars and apologies alone and launch into the topic proper.
1. Gems Are Right Here at Home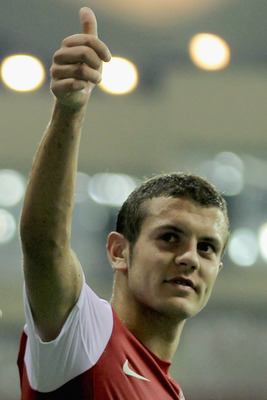 Who needs Götze when there's Wilshere?
Lintao Zhang/Getty Images
Here is common sense.
We will not be a lot on the market, quantity-wise I mean. Quality-wise, certainly.

But the [maximum] number of the squad is 25. We have many players out on loan and we will take a gamble if we find top, top quality of course.

But don't forget we have many players out on loan and we have not had Jack Wilshere or Abou Diaby for the whole season.

These players will be back, and it means that number and quality-wise we are strong because we are in the position we are in without these players.
This is Arsene Wenger speaking, as related by Arsenal.com.
It is common sense because buying in the transfer market must be mitigated by the size of the squad and by the quality already in hand.
This is a compelling reason because what is "out there" isn't always better than what is right here, but more on that later.
It is my view that what is available right now at Arsenal seems to suggest new signing might not be necessary for the coming season.
Consider the various departments of the squad with me.
Goalkeeper
Barring the kind of goalkeeping crisis that struck the club last season, there is no reason why Arsenal won't survive the coming season on the back of their current goalkeepers. So there's no need to buy in this department.
What's more, the Manchester United-Anders Lindegaard-David de Gea situation this season should serve as a cautionary tale to those who always think that that which glitters outside is better than that which glistens at home.
Defenders
Arsenal presently have five central defenders on roll—Thomas Vermaelen, Laurent Koscieny, Per Mertesacker, Johan Djourou and Sébastien Squillaci.
Even if they were to sell one of those (as they probably will Squillaci), they still have sufficient cover at central defense. This is more so since they have other defenders to call upon in the reserves. Strictly speaking, therefore, Arsenal do not need to buy another central defender.
For full-backs, each flank has two, which allows for rotation and cover when minor hitches occur. Plus, there are capable players from the reserves who could be called upon to cover these positions in the event of any unforeseen problem. One such player is Ignasi Miquel.
Midfielders
Emmanuel Frimpong, who should return from injury by the beginning of next season, and Francis Coquelin already are first team material, and both are defensive midfielders. This means Alex Song has two capable players to cover his position.
Coquelin is very dexterous on the ball, so should there arise some problem with Song, he could readily take over this position. Frimpong offers great promise as well.
Both Abou Diaby and Jack Wilshere are set to return from injury next season. Should Diaby shake his long-time injury problem, Arsenal would have a dexterous player, adaptable on the entire spectrum of the midfield—defense, pivot, attack.
Jack Wilshere is powerful on the ball, and his driving runs routinely cause panic and havoc in the final third of the field. Here is an enforcer of the first order, a player that enables Arsenal to dominate the opponent in the middle of the pitch.
Mikel Arteta already is a fortress in the box-to-box role. His passing is in the top rung in Europe. In addition, his knack for breaking up opponents' attacks is sharper than most.
In attack, Aaron Ramsey may have petered out a little at the tail end of this season, but this is because he played non-stop early in the season, doing well in the process except naturally, his inability to find the net consistently. This, of course, will improve.
Then there's Tomas Rosicky, who has recovered his old form. He is at the age where his experience will count a great deal in the squad. So between the two, Arsenal have enough fire power to do well in the coming season.
Moreover, as was shown in the AC Milan match at the Emirates, Alex Oxlade-Chamberlain can play as well on the tip of the midfield.
There's your extra man for the midfield right there.
Forwards
Alex Oxlade-Chamberlain waits in the wings to take over from Theo Walcott on the right flank should there be any need for it. He also plays well on the left. This means that Arsene Wenger can employ Oxlade-Chamberlain for rotation in these positions.
In Gervinho and Theo Walcott, Arsenal have two of the best wingers not only in the Premier League but in Europe as a whole.
For extra cover on the flanks, Arsenal possess Ryo Miyaichi, who has given a good account of himself on loan at Bolton Wanderers.
So there you have it. Four capable bodies in the flanks, one of which can also cover the attacking midfield position.
On the tip of the attack is where strong argument exists for transfer buying. But if Arsenal decide not to buy and recall Nicklas Bendtner from loan, they would have three extra forwards in Bendtner, Marouane Chamakh and Park Chu-Young.
I know a great many readers will throw up their arms in exasperation at the mention of this trio, but the reader should recall how Chamakh provided sufficient firepower for Arsenal's attack when both Bendtner and Robin van Persie were out injured last season.
Park hasn't had enough opportunity to show what he can offer, but who is to say any of these players might not produce the goods when events call upon them to do so?
My point of reference is always Mario Gomez, who at one time was like these three players at Bayern Munich, but look at him now.
Moreover, if rumors are correct, Arsenal already have bought a forward, so they hardly need to buy one more. As a matter of fact, it looks like they rather should sell off some forwards.
On top of this, there is Joel Campbell, who could be recalled from loan. Plus, some reserve player could be itching to make his glorious debut for the team.
Strictly speaking therefore, based on what already is on the ground, Arsenal may not need to buy any more players. This, though, isn't the only compelling reason for this scenario.
2. We Have Sufficient Youngsters Needing Games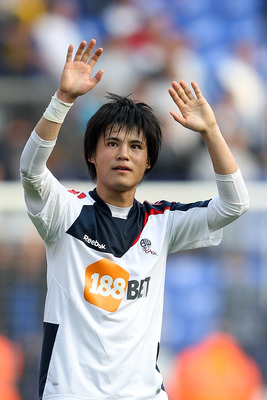 He wants to start playing for Arsenal.
Michael Steele/Getty Images
Buy another forward, and then Theo Walcott may not get the chance to trial as one. Buy another forward, and Joel Campbell would be "condemned" to another loan spell somewhere—I am assuming he will secure his work permit this summer.
Buy another forward, and Park Chu-Young is turned to dross, Nicklas Bendtner to a reject. A surfeit of players means lack of opportunity for quite a few. It also means that our youngsters in the reserve won't have the chance to step up.
See how both Cristian Tello and Isaac Cuenca have burst upon the scene because injury to David Villa and Pedro forced Ped Guardiola to dip his hand in the reserves.
Both could be exciting signings for any team. But had they not been given the chance to demonstrate their ability on the big state, who besides Barcelona would know they even exist?
Purchases at Arsenal means Ryo Miyaichi may not have the opportunity to make the first team. It also means that Alex Oxlade-Chamberlain's opportunities will be limited. Furthermore, players like Ignasi Miguel will be forced to cool their heels in the reserves for another season.
Let's consider the striker argument.
Here's another reason why Arsenal may not need to buy one: Tinker the formation and have Theo Walcott drop in more frequently in the middle. Play Oxlade-Chamberlain in Walcott's position. Have Miyaichi take AOC's old role as cover.
For the attacking midfield position: Make AOC the cover. Have Miyaichi take up AOC's present role. In the wings wait players like Afobe, to take just one example.
If the goal of Arsenal is to develop its youngsters as quickly as possible, then there's little use for buying more players who'd only prevent this from happening.
3. Deadwood Go, Deadwood Come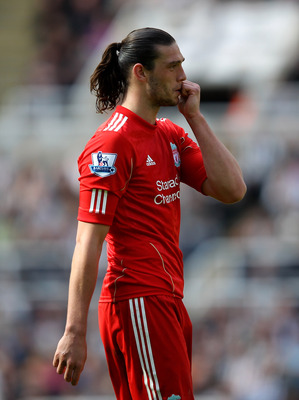 No deadwood?
Alex Livesey/Getty Images
One would think the rate at which transfers fail is enough caution for both fans and club managements, but no.
The din is rekindled every summer; it makes even Bees pause to listen. It is as though fans think transfer is tantamount to salvation. LOL—as they say—it isn't.
Liverpool will be spending even more this season. Chelsea will tell Roberto Di Matteo, "thanks, but no thanks," bring in another manager to the tune of millions and proceed to buy another Fernando Torres.
Not to be undone, Arsenal will look to sign Maroune Chamakh junior or Nicklas Bendtner senior.
And if Ryo Miyaichi weren't Arsenal's player already, fans would nearly kill someone for failing to sign him from Bolton Wanderers. Why, don't they know he's the next Messi (!)? Or aren't they aware that his first touch is exquisite, better than what either Theo Walcott or Gervinho can only dream of?
What's more, if we didn't have Nicklas Bendtner already, they'd swear heaven into existence—or if it already exists, into non-existence—that he's just what Arsenal needs. Pheew, did you see the form he's on right now?
I hear the Agogo ringing, playing its natural timeline, it gives rhythm to the tune, "Get-Rid-of-the-Deadwood-Sign-Someone."
Why, they have a guarantee, signed and sealed, that whatever is bought won't be deadwood.
Dreams, you see, don't tread on reality.
But here's the shocking truth: Deadwood go, deadwood come.
Beware.
4. Wages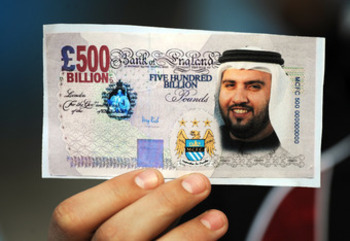 Everyone with brains knows what to do to keep Robin van Persie. Why, raise his salary. And since lately Theo Walcott has acquired brains of his own, raise his salary too. How dumb, to even to think about it.
To show you that even I have brains, and to forestall the question regarding how to pay for this rise in wages, I'd say "sell the deadwood." But that's not where my brains lie. They lie in the fact that I discovered recently that to sell deadwood, you simply do a yard sale in front of your stadium, the East Gate.
When you finish, add the money to the loan you just took and try to lure in Cristiano Ronaldo. He'd give you the Premiership trophy. How much is that worth again, the trophy?
Sarcasm.
But the reality is that wages are a huge detriment to transfer buying, and since Arsenal have neither an oligarch or a sheikh, this might be a huge problem for them this summer.
Else tell us how this problem can be eliminated.
5. A Bird in Hand Is Not Worth Two in the Bush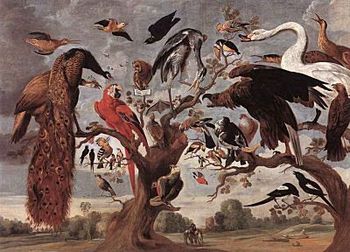 These birds by Van Kessel are worth more than Chamakh.
As long as that player isn't your player, he is the Jesus to your club's sinfulness. Your own players are the days you used to bow to wood and stone, and that flashy winger is your enlightenment.
It is why we hate Arsene Wenger. He clings to the old-fashioned idea that a bird in the hand is worth two in the bush.
D-u-u-u-u-de, how lame is that!
The beautiful people are out there.
The truth will tell you that Wenger is closer to it than you are, that our hoary-maned ancestors knew what they were talking about, when they talked birds and bushes.
Another reason Arsenal may not buy this summer.
Conclusion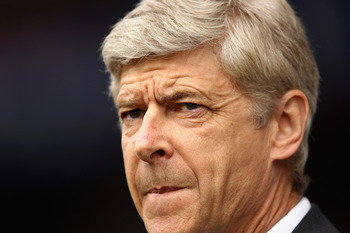 Richard Heathcote/Getty Images
Amusing.
Some heard a trumpet blaring, or that I own Arsenal. So they're tuning their latest clever dig. So let's tell them again, all this isn't the same thing as saying when reality surfaces (summer, that is) Wenger won't do whatever Wenger chooses to do.
What these reasons demonstrate is that not buying won't be as crazy as it'd look to some. Stating them, though, isn't the same thing as saying I'm against transfers.
We probably need a striker and a midfielder, but again, that's just an opinion.
Keep Reading

Arsenal: Like this team?