Michigan State Football 2012: Top Kickers on the Depth Chart
April 5, 2012

Mark A. Cunningham/Getty Images
When it comes down to special teams, Michigan State has recruited many talented groups for a while now. The most unique area the Spartans have succeeded with lately comes in the form of the kicking game. Dan Conroy, Kevin Muma and Mike Sadler are the top three on the depth chart and will be returning to the field for another football season.
Here are some statistical and personal achievements that the three have acquired thus far in their college career.
Dan Conroy (Sr) K/PK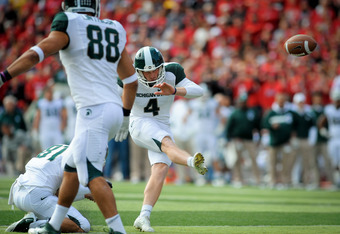 Eric Francis/Getty Images
Individual Statistics: Started 14 games in 2011, appeared 30 career games.
Currently performs the place-kicker position and has made 82 percent of his career field goal attempts (32-of-39.) His career PAT attempts currently sit at 99 percent (93-of-94.) In 2011 he recorded 17-of-23 field goals made and was perfect for PAT attempts (48-of-48.)
All of these career statistics put him in every top-ten ranking category for scoring field goals and PAT attempts at MSU. He will be returning for his senior season as a two-year letter winner and potential captain.
Honors/Awards:
Honorable mention All-Big Ten selection by the media (2011).
Named one of 20 semifinalists for the Lou Groza award (2010).
Received All-Big Ten honors from the coaches and media (2010).
Named first-team All-Big Ten by Rivals.com and CollegeFootballNews.com (2010).
Presented the Tommy Love most improved player (2010).
Expectations: Dan Conroy has been very consistent and healthy for his years at Michigan State. As a freshman he played the backup role behind former Spartan All-American kicker Brett Swenson, who currently stands as a free agent after being released by the Indianapolis Colts. Since then he has been the placekicker for majority of the field goal and PAT attempts.
He attempted kickoffs during the 2009 season with a grand total of nine kicks and a 62.1 yard average, but now the kickoffs are executed by junior kicker Kevin Muma (who averaged 65.1 yards in 2011.)
Conroy should have a solid final season as MSU's placekicker, just as long as he remains healthy.   
Kevin Muma (Jr) K/PK
Individual Statistics: Started 14 games in 2011, has competed in 27 career games.
Muma is currently the top kickoff specialist and has performed kickoffs for the last two seasons, averaging 64.8 yards per-kick. In 2011, he averaged 65.1 yards for 83 kickoffs (33rd in FBS) producing a grand total of 5,401 yards of kicking and 17 touchbacks for the season ( 20th in the FBS). During the same season, he attempted his first career field goal of 28 yards against Florida Atlantic and was successful.
Honors/Awards:
Three-time honorable mention College Football Performance Awards Kickoff Specialist Player of the Week (2010-11).
Selected for Academic All-Big Ten team (2010).
Expectations: Kevin Muma may not have the most powerful leg out there, but he does well with kick direction and placement. The coaching staff expects him to start for his junior season with high expectations.
Since the new kickoff rules take effect this season, expect Muma to adapt fairly easily.
Mike Sadler (SO) P
Individual Statistics: Started 14 games in 2011, has competed in 14 career games.
Currently the top punter who performed in every game for 2011, Sadler kicked 61 punts with an average of 41.1 yards per-attempt.
He placed 41 percent of his punts inside the 20-yard line (25-of-61), tying for 12th in the FBS for most punts inside the 20. For the 25 punts kicked inside the 20, ten of them ended up inside the 10-yard line. With these punts, he ended up placing ninth in the FBS for most punts inside the 10.
He had six 50-plus yard punts and a career long of 57 yards last season as well. All of these statistics were performed in his first season as a starter.
Honors/Awards:
Selected second-team CoSIDA/Capital One Academic All-American (2011).
Selected first-team CoSIDA Academic All-District V (2011).
Named to the ESPN.com Yahoo! Sports and BTN.com Big Ten All-Freshman Team (2011).
Selected Academic All-Big Ten Honoree (2011).
Earned Freshman All-American honors from Phil Steele (third-team) and CollegeFootballNews.com (honorable mention).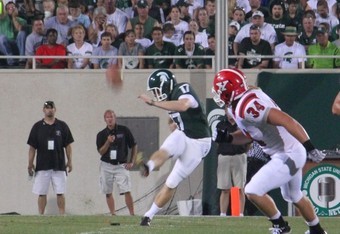 Expectations: Michigan State has had their share of great punters. Aaron Bates (graduated) was an All-American punter that Sadler trained with as a redshirt freshman.Sadler has already impressed the nation with his ability to place the ball well, especially under defensive pressure.
Being young and having a whole season of experience can only help Sadler become more effective for the punt team.
Final Thoughts: Michigan State has been known for their constant reloading of talented and tricky special teams groups. Even though MSU may have tricks up their sleeves, they won't waste the talent these kickers possess. These guys are experienced and strong, expect them to make a huge difference in 2012.