2012 NFL Offseason: Why Terrance Knighton's Weight Loss Matters for the Jaguars
April 5, 2012

Streeter Lecka/Getty Images
With a nickname like "Pot Roast," it's no surprise that the conversation about Jacksonville defense tackle Terrance Knighton often centers around his weight.
Controlling his girth has been a challenge for Knighton since his days as a standout at Temple, where he became the Owls' first ever first-team All-MAC honoree.
But even at the NFL level, where opposing offensive linemen routinely check in at well over 300 pounds, Knighton has remained conscious of his size. 
As chronicled by Tania Ganguli in a piece for the Florida Times-Union, Knighton has worked hard to make it to the start of the 2012 Jaguars' voluntary offseason program in his best shape since his rookie year.
It's an important move for both him and the Jaguars, as the team has expressed interest in a long-term investment provided he can maintain his weight.
Knighton understands the ramifications of staying in shape for his own benefit as well, telling Ganguli, "Going into my last year of my contract, that's obviously important to me. If guys will tell you the money wasn't important, they're lying to you. But really I care about my health and longevity after football. I don't want to be remembered for the guy who had weight problems, I want to be remembered for the guy who turned it around."
But aside from the contractual ramifications for both Knighton and the Jaguars' front office, this move is an important one for the defense of Jacksonville, which should continue to improve after another quietly impressive season under Mel Tucker in 2011.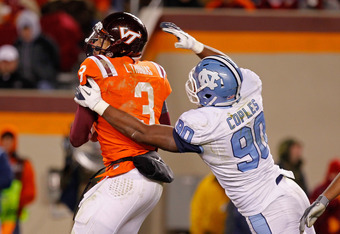 Geoff Burke/Getty Images
Knighton has natural power through his frame, and the ability to manhandle opposing linemen at the point of attack. He has sufficient quickness initially off the line, but loses steam as the play develops. Shedding weight — he has 15 or 20 pounds to spare — would help him sustain his burst off the line and become a more disruptive player in opposing backfields. 
The Jaguars pair Knighton with Tyson Alualu—who carved his path to becoming a first rounder in part with his explosiveness from the snap—and many expect them to pursue another pass-rushing option to play opposite breakout defensive end Jeremy Mincey (Quinton Coples of North Carolina and Melvin Ingram of South Carolina come to mind as first-round possibilities). Adding one of them would immediately boost the pass rush, and Knighton's ability to maintain his trimmer cut and collapse the pocket up the middle would pay off in a major way for Jacksonville.
If we've learned anything in recent years, it's that the NFL is rapidly evolving into a pass-centric league. The only way to neutralize such an attack—at least from what we've seen in two of the past four Super Bowls — is to disrupt a quarterback's rhythm with an aggressive defensive front built on speed, quickness and power.
While Knighton's greatest asset will always be his ability to anchor a run defense, his commitment to controlling his weight will pay dividends as an interior pass rusher.
For a Jacksonville defense that finished with just 31.0 sacks in 2011, that matters.