NBA Mock Draft 2012: Safest Pick for Every First Round Team
April 6, 2012

Ronald Martinez/Getty Images
With the NBA regular season in its final month and the postseason within sight, more and more teams are looking toward the future.
The 2012 NBA draft will be an opportunity for several underwhelming teams to improve, and this mock draft highlights some safe routes that teams could choose to go when it's time to make their pick.
1. Charlotte Bobcats: Anthony Davis, PF, Kentucky
Unless something catastrophic happens between now and the time of the draft, Davis is going to be the first player selected off the board.
He'll need to add some bulk to his frame, and there is no doubt Davis is a power forward, not a center, at the next level.
2. Washington Wizards: Thomas Robinson, PF, Kansas
The Wizards should be thrilled if the team is able to land Robinson, as it would give Washington another impact player down low.
A front-line pairing of Robinson and Nene to complement John Wall at the point would be a step in the right direction.
3. New Orleans Hornets: Michael Kidd-Gilchrist, SF, Kentucky
New Orleans will have a plethora of options to choose from, but there is no way the team can allow Kidd-Gilchrist to slip past third overall if the Hornets land the pick.
He's got a dynamic transition game and isn't afraid to attack the rim—something that could come in awfully handy if Trevor Ariza is axed using the amnesty clause in the offseason.
4. Cleveland Cavaliers: Bradley Beal, SG, Florida
Beal would be an incredible backcourt mate for Kyrie Irving, and the Cavs don't need help up front.
A starting five that includes Irving, Beal, Tristan Thompson and Anderson Varejao could have fans in Cleveland excited about the future in a hurry.
5. Portland Trail Blazers: Andre Drummond, PF/C, UConn
The Blazers need size in the worst way, and if Drummond falls to when the team is on the clock, it should be considered a no-brainer move.
He's got tremendous upside and athleticism, and he could truly make the Greg Oden era a thing of the past for loyal fans in Rip City.
6. Toronto Raptors: Harrison Barnes, SF, UNC
This is an absolute slam dunk for the Raptors if Barnes is still available, because he's a great talent and fits a clear need.
If Toronto can move toward the 2012-13 season with both Barnes and Jonas Valanciunas in the fold, things would be pointing up in a big way for the Raptors.
7. Sacramento Kings: Arnett Moultrie, PF, Mississippi State
Some might not consider Moultrie a "safe pick," but with his size and skill, he would be an excellent complement to DeMarcus Cousins beneath the basket.
There aren't prospects worth reaching for at this juncture considering how loaded the Kings are on the wing, and the primary area of focus should be finding a player who does well alongside Cousins.
8. Detroit Pistons: John Henson, PF, UNC
Henson might not have a lot of bulk to his frame, but he would look awfully good in a Pistons uniform next to Greg Monroe.
With Rodney Stuckey in the fold and the team just having drafted Brandon Knight in 2011, upgrading the power forward position should be what the team is looking to do in 2012.
9. Utah Jazz: Damian Lillard, PG, Weber State
Lillard's name is going to come up a lot more in draft circles as we move closer to the selection process, and that's because this kid is a dynamic talent.
A solid shooter from both the foul line and behind the arc, Lillard could represent the future of the position for the Jazz.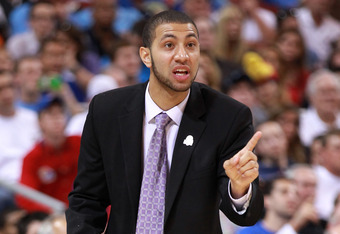 Andy Lyons/Getty Images
10. New Orleans Hornets: Kendall Marshall, PG, UNC
This shouldn't even be a question—Marshall should be immediately scooped up if the Hornets have the chance to do so.
A real point guard who makes his teammates better, a potential pairing of Marshall and Kidd-Gilchrist would be a huge win for the future of the New Orleans franchise.
11. Portland Trail Blazers: Austin Rivers, SG, Duke
If the Blazers are able to nab Drummond in the top five and simultaneously draft Rivers, fans have to be happy with that.
Despite having Wesley Matthews in the fold, Rivers could replace Jamal Crawford in a sixth-man role considering the veteran is likely headed elsewhere after the season.
12. Milwaukee Bucks: Tyler Zeller, PF/C, UNC
Milwaukee needs to find a true center to replace Andrew Bogut, and someone of Zeller's height should be considered a safe route to go.
There is no doubt he needs to add strength to his frame, but the Bucks would be wise to draft some height for a team that doesn't possess much of it.
13. Phoenix Suns: Perry Jones III, F, Baylor
Jones has a ton of potential and legitimate size, but he's another prospect who will need to add bulk in order to make a serious impact.
Considering the Suns have to add talent in order to get the rebuilding process off the ground, Jones represents the top overall player remaining at this juncture.
14. Utah Jazz: Dion Waiters, G, Syracuse
There is a solid chance that Waiters could sneak into the lottery, and there is no question the Jazz need to improve the backcourt attack.
With a plethora of size already and a lot of youth locked in on the wing, Waiters makes a ton of sense as a combo guard in the second unit.
15. Houston Rockets: Jared Sullinger, PF, Ohio State
If Sullinger falls outside the lottery and where the Rockets are picking, Houston shouldn't even think twice about pulling the trigger.
There are certainly concerns with Sullinger's game, but he could eventually be a successor to Luis Scola for a Rockets team looking to get younger.
16. New Jersey Nets: Doron Lamb, SG, Kentucky
The Nets need to find sources of offensive production in case Deron Williams leaves via free agency, and Lamb could be another source of exactly that.
He's going to need to put in work to fulfill his potential, but the Nets would know they're getting a knockdown shooter capable of becoming a lot more than that.
17. Denver Nuggets: Meyers Leonard, C, Illinois
Denver could choose not to re-sign restricted free agent JaVale McGee, and that could leave the Nuggets looking to add size.
Leonard has a lot of question marks around his game, but he's a big body who could certainly develop into a contributor in the right situation.
18. Philadelphia 76ers: Jeremy Lamb, SG, UConn
Philadelphia seems to be searching for ways to improve the shooting guard position, and Lamb represents a high-upside pick who can produce immediately.
The Sixers would be wise not to ask too much of him, but he can certainly come in and help bolster the attack.
19. Dallas Mavericks: Terrence Jones, SF, Kentucky
Jones has a versatile game that could fit Dallas' scheme well, and it would be a value if he could be had at this point in the draft.
The Mavericks could look to trade Shawn Marion in the offseason, and Jones would become that much more important if the team decides to go that route.
20. Atlanta Hawks: Terrence Ross, SG, Washington
Atlanta needs help at shooting guard position behind Joe Johnson, and Ross would certainly make a lot of sense here.
He took a big step forward during his second season at Washington and showed considerable improvement from the perimeter.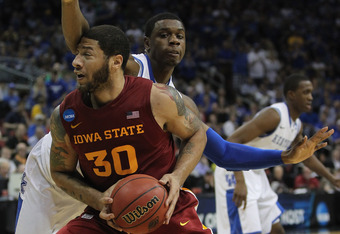 Jonathan Daniel/Getty Images
21. Boston Celtics: Royce White, SF, Iowa State
If White falls into Boston's lap outside the top 20, there should be no reason Danny Ainge spends more than 10 seconds contemplating the pick.
A dynamic player with a ton of talent, it wouldn't be surprising to see White go even higher than this slot.
22. Memphis Grizzlies: Moe Harkless, SF, St. John's
Harkless is a really intriguing prospect who could come in right away and provide Rudy Gay some much-needed help at small forward.
He showed a very versatile game during his freshman season and isn't afraid to do whatever his team needs him to in order to get a win.
23. Orlando Magic: Andrew Nicholson, PF, St. Bonaventure
This is an absolute slam dunk of a pick for the Magic if Nicholson remains available.
Nicholson improved every single season he spent at St. Bonaventure, and with Ryan Anderson a free agent in the offseason, the Magic would be wise to add size through the draft.
24. Indiana Pacers: Tony Mitchell, F, North Texas
Indiana needs to find a way to usher in the era after David West, and the selection of Mitchell should be a way to do that.
He's an absolute banger with real shot-blocking ability, but he'll need to get bigger in order to contend with others at the position in the NBA.
25. Boston Celtics: Tony Wroten, G, Washington
Boston doesn't need a player to come in and be a contributor to the rotation right away, so selecting someone of Wroten's upside should be heavily considered.
He's got a ton to like about his game, but he really needs to improve his three-point shooting, as well as his efficiency from the foul line.
26. Cleveland Cavaliers: Draymond Green, SF, Michigan State
It's not a secret that the Cavs need help on the wing, and Green could certainly help in that regard.
After displaying marked improvement across the board during his senior season, the Cavs could certainly welcome him in with open arms.
27. Golden State Warriors: Jeffery Taylor, SF, Vanderbilt
Taylor is another guy who stayed in school for all four seasons, and he really improved his three-point shooting during his senior year.
With the Warriors potentially looking to move on from Dorell Wright, Taylor would make an awful lot of sense.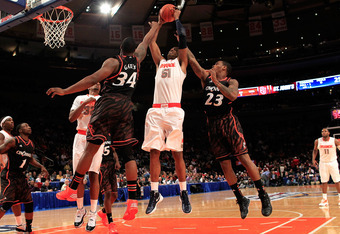 Chris Trotman/Getty Images
28. Miami Heat: Fab Melo, C, Syracuse
Miami really, really needs to get it together at the center position, and Melo's upside is just too great to pass up at this point.
Although there are some concerns that come along with him, the chance to learn under LeBron James and Dwyane Wade could be precisely what he needs.
29. Oklahoma City Thunder: William Buford, SG, Ohio State
Oklahoma City could definitely use some support at shooting guard, and the team knows what it would be getting in adding Buford.
It's unlikely he'll ever become a star, but he could certainly help behind James Harden on an already deep roster.
30. Chicago Bulls: Festus Ezeli, C, Vanderbilt
Ezeli didn't garner a ton of playing time at Vanderbilt, but he showed promising defensive potential around the rim.
With the strong chance that Omer Asik will be headed to a new team via free agency, Ezeli's selection at the back end of the first round certainly wouldn't be a bad idea.