Chicago White Sox Fans: MLB Opening Day 2012 Is Upon Us
April 5, 2012

Brian Kersey/Getty Images
An exciting offseason for the Chicago White Sox was highlighted by the hiring of Robin Ventura for the managerial vacancy and the departure of a number of icons, including Mark Buehrle, Ozzie Guillen and Carlos Quentin.
The season starts tomorrow for the Pale Hose, and optimism lingers in the air.  
Regardless of sub-par expectations or mediocre predictions, MLB Opening Day 2012 gives each team to believe that this year is their year. 
While this may not be true, enjoy baseball's return. It's truly a great game.
Like any hopeful in April, I'm not going to be cynical. Let me hope for one day.
At the very least, let me enjoy the Chicago Cubs getting blanked by Stephen Strasburg and the Washington Nationals.
In all seriousness, the Sox can actually compete. That is, if everything goes right.
By everything, I mean John Danks and Jake Peavy need to be above-average and Adam Dunn needs to forget about last year.
If those things happen, the Sox can make some noise.  
Yeah, the Detroit Tigers are really good.  But as a Tiger fan, do you really trust Max Scherzer or Doug Fister anymore than Sox fans trust Gavin Floyd and Phil Humber?
The Cleveland Indians could be sneaky, but can they hit the ball out of the infield?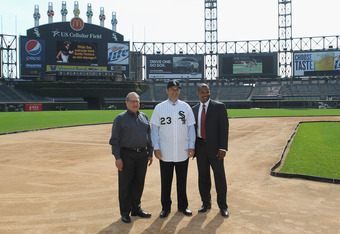 Jonathan Daniel/Getty Images
Yeah, the Kansas City Royals has a bright future. But the same thing is said year after year about the squad—next year, watch out.  Until they can fill the seats and lure in top free agents, they will never win.
The Minnesota Twins are actually just terrible.  Anytime Carl Pavano tops your starting rotation, you know you should be playing in the Frontier League.
Yeah, I'm being overly optimistic. The over-under number of wins for the Sox is 75, according to SportsBook. 
I'd bet the over.
But, it's probably just because it's Opening Day.
Enjoy, Sox fans.