San Francisco 49ers: 5 Position Battles Shaping Up This Summer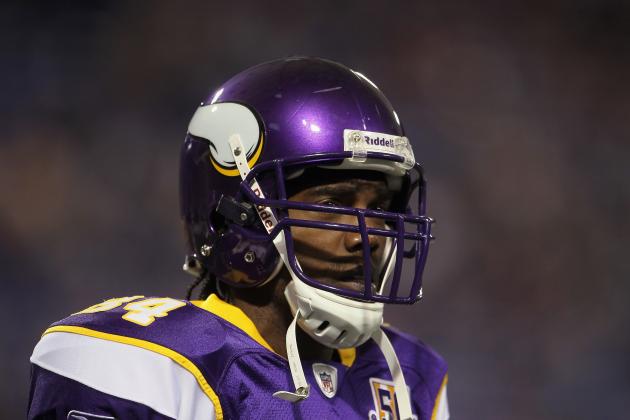 Jeff Gross/Getty Images

The draft on April 26-28 surely will bring more changes to the San Francisco 49ers roster, but the team's high level of activity in free agency has ratcheted up the interest in several position battles.
Niners fans can close their eyes and think back to the fourth quarter and then overtime periods of the NFC championship game and recall the frustration felt at the team's inability to move the ball consistently.
In March and April, the Niners front office has taken steps to remedy the fact, and with that, we have five position battles to look forward to in training camp.
Begin Slideshow

»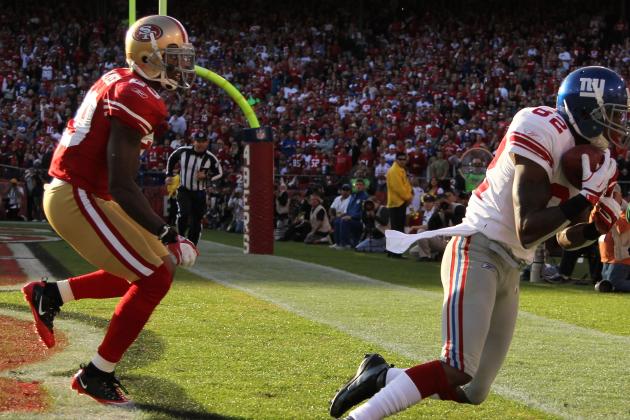 Ezra Shaw/Getty Images

The Niners went heavy on offense, to be sure. And it's hard to determine if there was a bigger resonance among free agents than the signing of Randy Moss, who hasn't played since 2010.
He's a future Hall of Famer, but he's 35 and hasn't played in nearly two years. Does he have the legs? The flexibility and strength? His hands have always been great, but it's his speed, height and jumping ability that created the danger.
What the Niners want and need is an "over the top" receiver who makes at least one safety back off and provide help deep. That opens up the mid-level crossing routes in the middle of the field, which happen to be Alex Smith's forte in terms of passing effectiveness.
Moss doesn't have to catch a lot of passes to be effective for the 49ers, but he does have to strike fear in the defenses. And in that aspect he'll be battling Ted Ginn Jr. for that role. Ginn, one of the league's best punt and kick returners, isn't as big as, nor has the hands of Moss.
At the same time, with Moss stretching the defense, that allows Mario Manningham (pictured), as well as Michael Crabtree, more opportunities with single coverage.
I still believe the Niners are not done in this area, and will look to add more speed or height at this position. It will be the biggest focus of training camp and it's not guaranteed that Ginn, Kyle Williams nor Moss have a spot on the team. All have one-year contracts that wouldn't impact the team's salary cap all that much.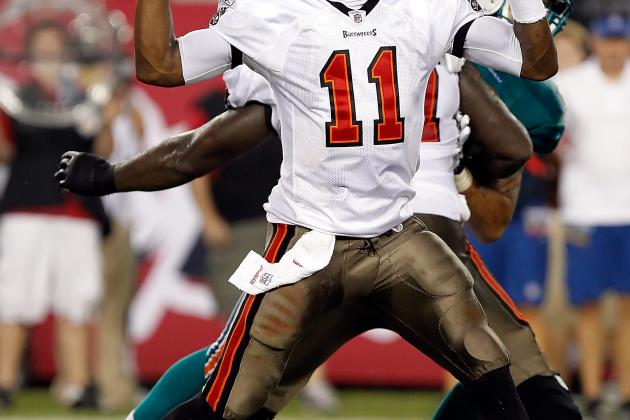 J. Meric/Getty Images

The addition of Moss opened eyes around the league. It was a message the Niners were doing everything they can to make their offense more potent. But it was the addition of Josh Johnson, the University of San Diego product and former Tampa Bay backup quarterback that made some scratch their heads.
The team had just made a late but somewhat effective run at Peyton Manning, then nailed down starter Alex Smith with a long-term contract. What did they need Johnson for in light of the fact they drafted Colin Kaepernick last year?
The questions popped like microwave popcorn: What does that say about Kaepernick? Not ready? What does that say about Smith? Not guaranteed anything? What does that say about coach Jim Harbaugh? Does he have an over-riding love of former players who he coached in college, like Johnson?
I think it means that general manager Trent Baalke has had the room under the salary cap to add more quality to the team, regardless of position. The more quality players, the better the team. Competition, they believe, makes everyone better.
Also, there's something else to consider: The Niners were pretty lucky last year in terms of injury. Granted, they lost receivers Josh Morgan and Ginn at various points due to leg injuries, but the fact that Smith took a large amount of hits (44 sacks) and yet didn't miss a game suggests that the odds might not be so kind in 2012.
So even though Kaepernick has to be much more comfortable coming into 2012, adding Johnson just means more security in case Smith goes down.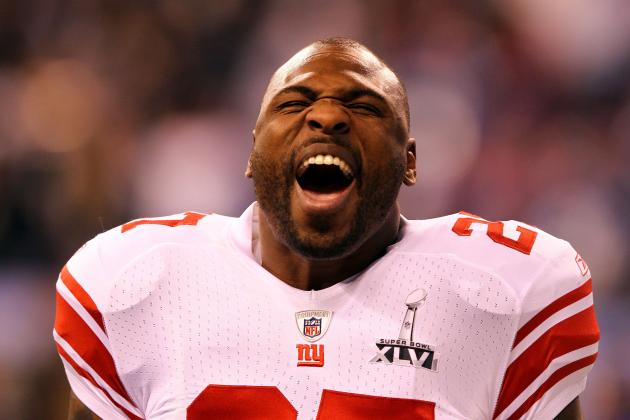 Al Bello/Getty Images

In retrospect, the addition of Brandon Jacobs shouldn't have been a surprise because it had come after the Moss, Manningham and Johnson additions. It was clear that Baalke was asking for help, and players responded to the offers.
Jacobs is seven inches taller than Frank Gore and about 40 pounds heavier. He turns 30 in July, which is old for an NFL running back, but at the same time he's started only 11 times over the last two years. He's only played 30 regular-season games in that span and carried an average of 10 times per.
Part of that, reportedly, was his displeasure at sharing time with Ahmad Bradshaw, and part of it was his penchant for turning sideways rather than blasting straight through the hole. At first glance, he appears to be a power back that could replace Gore, who clearly wasn't full strength or speed by last December.
Anthony Dixon, the team's third RB, has to be worried, but I'm not so sure. Gore signed a three-year contract last year, and the team's exposure in terms of cap hit isn't that great. What's more, each NFL team is slated to get a big boost in revenues due to the new TV contracts that will take effect in 2013.
Gore may be on the short list, and if he doesn't make it, the 49ers can absorb his contract without doing too much damage to their salary flexibility a year from now.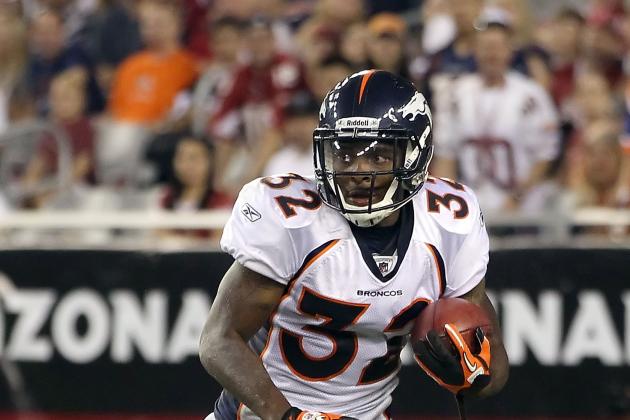 Christian Petersen/Getty Images

Carlos Rogers re-signed, as was his desire. Tarell Brown proved to be quite capable as the other corner and rookie Chris Culliver's play as a rookie suggests he has a bright future. Perrish Cox coming over from Denver adds more depth to the Niner secondary.
And yet this appears to be another position the Niners will target in the draft. It could get quite crowded. Competition will be fierce.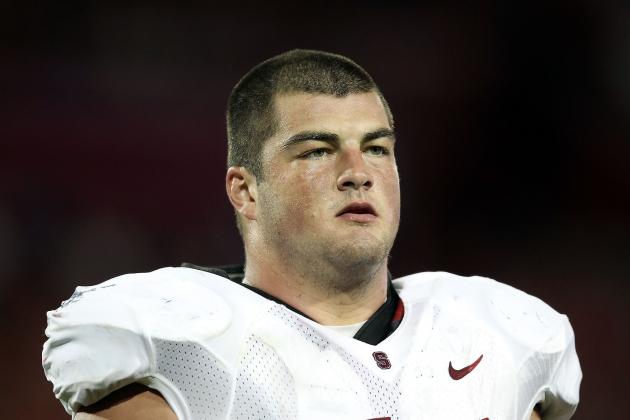 Christian Petersen/Getty Images

This appears to be the biggest hole right now, and many feel that the Niners will seek to fill this position in the draft. I don't buy into that. I feel the team has the solution to Adam Snyder's departure in the form of Daniel Kilgore, who was drafted last year.
As I said before, they also have more options on their roster (Alex Boone to tackle, Anthony Davis to guard) without having to sacrifice a high draft pick. Also, a few free agent candidates have come in, but no one has signed. What's more, there's been no reports that offers have been made.
But if a top-flight player like Georgia's Cordy Glenn is available, or if, for some reason, Stanford's David DeCastro (pictured) falls during the draft, I could see Baalke deciding such a player is too good to pass up.