Maryland Basketball: 5 Reasons Terps Will Be Competitive in ACC Next Season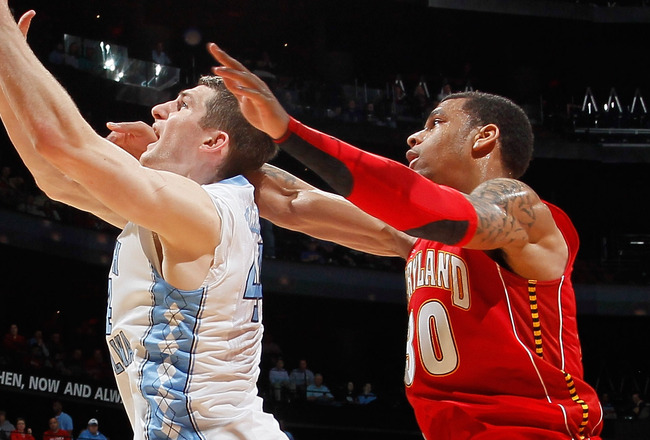 Kevin C. Cox/Getty Images
Though it fell short of their usually lofty standards, the Maryland Terrapins did not have an awful season in 2011-2012. In Mark Turgeon's first season as coach, the Terps still managed to have an overall winning record at 17-15. They saw some great things from young players, particularly sophomore Terrell Stoglin, who led the entire ACC in scoring.
Their 6-10 record in the ACC could use improvement, but for the most part, the Terps took care of business against lesser ACC teams. Their struggles came against the conference's best teams, particularly later in games where they would allow the other team to go on long offensive runs. This resulted in the Terps failing to win a single game against a ranked team this season.
But hope is in the air and things look very bright for the Terps' upcoming 2012-2013 season. With some old faces returning and some new recruits coming in, the expectations will be higher.
Here are five reasons why I think the Terps will play up to those expectations and make 2013 a year to remember.
Terrell Stoglin Could Be Back and Better Than Ever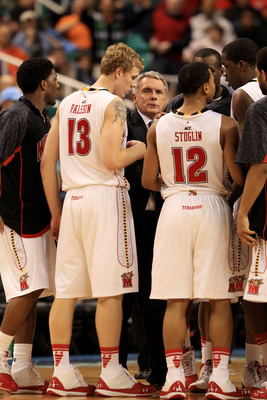 Streeter Lecka/Getty Images
One of the highlights of this past season was the play of guard Terrell Stoglin. He led the ACC in PPG with 21.6 and had a total of 690 points on the season. Stoglin has now become one of the most versatile scoring guards in the nation and it's exciting to think how good he could be in his third season with the Terps.
But like many other star NCAA players, Stoglin's future is uncertain as he is getting the urge to possibly declare for the NBA Draft. Recent reports indicate that Stoglin wants to test the waters and see what his chances are of getting into the NBA. Although that may sound like a bad thing, in reality it probably means that Stoglin will realize he's not ready for the NBA and instead return to Maryland.
If Stoglin comes back, he should have more offensive help as well. Pe'Shon Howard will hopefully be healthy and Nick Faust will also return. It's unclear as to which two of those three players would be starting, but it should still lead to an improved offense.
There Are Some Great Recruits Coming in for 2013
Right now one of the main goals for the Terrapins is to bring in some top recruits for next season. Coach Mark Turgeon has already acquired one such prospect with the recent signing of center Shaquille Cleare.
Cleare was the No. 29 ranked player in the 2012 recruiting class. At 6"9' and 280 pounds, Cleare garnered lots of attention during his senior season as he averaged 26 points per game and shot 83 percent from the charity stripe. Cleare has had strong feelings about Maryland from the start, reportedly falling in love with the school during the recruiting process.
Other possible 2013 recruits include the highly-touted Harrison twins, who have likely narrowed their choices down to Maryland or Kentucky. It does seem difficult to think of any scenario where Maryland beats out Kentucky in a recruiting battle, but it could happen here. Both the twins and their father have expressed admiration for Turgeon and a desire to play at a place "that feels like a family."
That's one thing that will probably never be said about Kentucky, aka "One-and-Done" University.
Alex Len's Potential of Becoming an Elite Center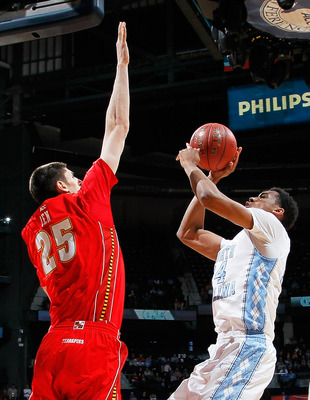 Kevin C. Cox/Getty Images
It's no secret last season that the Terps did not have stability at the center position. Eventual starting center Alex Len did not play for the entire first month of the regular season after he violated NCAA eligibility standards. It was a definitely a rough adjustment for Len coming from his home nation of Ukraine to the U.S., and hopefully he'll have an easier time of it next season.
Len has most of the tangibles in place to become an elite center. He's enormous at 71" and has already shown that he can throw down some crazy dunks.
Unfortunately Len had some inconsistent performances and there were even games where he seemed to disappear entirely. This was definitely true in the ACC tourney loss to UNC where Len had zero points and only played for 16 minutes. If Len can become better at protecting the ball and also add some more weight so he doesn't get pushed around as much, he could become one of Maryland's best players.
Coach Turgeon's Leadership
Jonathan Ferrey/Getty Images
It's always hard to replace a legend. Especially when that legend is Gary Williams, the all-time greatest coach in Maryland history. Yet after one season, it seems like Mark Turgeon will be able to create his own legacy at College Park.
Turgeon had already done some great things at Texas A&M, where he coached for four years before coming to Maryland. This included a Sweet 16 appearance in 2007, only the third one ever for the Aggies' troubled basketball program. His first year at Maryland has to be viewed as a success considering the doubt surrounding the program and the fact that they managed an overall winning record.
His first offseason recruiting players has gone well with the arrival of Shaquille Cleare and possible transfer Jamal Branch. This good offseason would become absolutely great should the Harrison twins make the decision to attend Maryland as well. Between them and current players like Alex Len and Pe'Shon Howard, Turgeon is getting together a core group of players that he should have a few seasons to build around.
The Potential for Maryland's Defense to Be Elite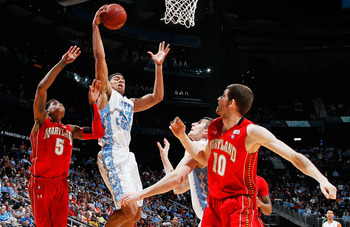 Kevin C. Cox/Getty Images
One of the things Maryland did well last season was play defense. It's not a surprise considering that Coach Turgeon emphasized great defensive play during his time at Texas A&M, getting the team all the way up to 19th in the nation by his final season. He's always talked about having good defense and good rebounding, so we can definitely expect both of those to be priorities in 2012-2013.
This season Maryland's defense was clearly a work in progress. Lots of times it seemed things would just fall apart and the opposing offense would tear apart Maryland's tired defense until they had built an insurmountable lead.
Yet Maryland did do some things right as they allowed only 63.3 points to opponents in their six conference wins this season. With big men like Alex Len and James Padgett coming back next season, Maryland should be able to field a good defense. They will also need more support from the offense which struggled with consistency this season.
Keep Reading

Maryland Terrapins Basketball: Like this team?