2012 NBA Free Agency: 3 Teams That Will Make a Sucker Bet on Jeremy Lin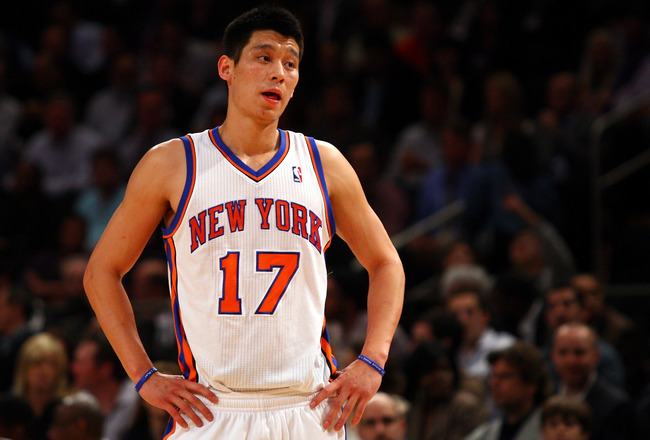 Jeremy Lin will enter his restricted free agency with an impressive but limited set of stats.
Chris Chambers/Getty Images
This summer's NBA free agency won't have the drama of 2010 when LeBron James kept the nation on pins and needles waiting for his "decision." It won't have the rushed feel of this past year's when the lockout created a hurried and brief frenzy of free agency just a few weeks before the shortened season was to begin.
This summer will have some big names and some lesser names and of course, there will be some interesting players on the market as well.
Among the more intriguing will be restricted free agent Jeremy Lin. The point guard who completely took the sports world by storm in February is going to miss the remainder of the season with a ligament tear in his knee.
There will be enormous pressure on the Knicks to sign Lin this summer and the odds are pretty good that they will.
Nothing is ever set in stone and surely other teams will roll the dice on signing him to an offer sheet in hopes of reigniting a form of "Linsanity" in whatever city he moved on to.
Whether or not that's a good idea is a different story.
For all the hype Lin created and for all the quality games he played, it was a total of 25 starts. That's less than a third of a regular NBA season. It's the equivalent of a baseball player being really good until late May. It's like a running back or quarterback being great, until Week 5. In other words, it's not enough of a sample size to confidently declare that the player on the court is going to be able to reproduce that production long term.
Is it smart for the Knicks to re-sign Lin? Well, the fanbase might revolt if they don't, but that doesn't mean it's an essential move. Then again, what other options do the Knicks have at the point guard position?
It's a tough call not only for the Knicks, but for other teams that may be enticed by Lin's very impressive small sample of stats.
3. Phoenix Suns
Steve Nash might be on his way out of Phoenix.
Christian Petersen/Getty Images
This would be a big mistake for Phoenix.
Two-time MVP Steve Nash is currently leading the NBA in assists and becomes an unrestricted free agent this summer. Nash recently expressed interest in signing with the Miami Heat.
Were Nash to depart Phoenix, the team would have a real void at the position.
Could they offer Lin a backloaded deal and pluck him from New York?
It seems unlikely. Why would Phoenix shortchange Nash who has been there and played fantastic at the point and then turn around and break the bank down the road for Lin?
Especially when one considers that Lin isn't as good as Nash.
Then again, if Nash wants to leave Phoenix and ends up signing somewhere else then Suns' management may feel a sense of desperation and attempt to create a buzz by making an aggressive play for Lin.
The problem would be filling the sizable shoes of on Mr. Steve Nash. Nash has been raking up assists with ease for years. He's one of the smartest point guards in the game and is extremely popular among fans and players.
For Phoenix, singing Lin would be a move likely made out of panic and fear. How often do those types of moves yield good results?
2. Brooklyn Nets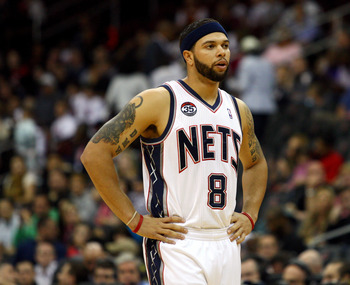 The Nets have been spurned by numerous high profile free agents.
Chris Chambers/Getty Images
LeBron James, Carmelo Anthony, Dwight Howard and perhaps Deron Williams?
The Nets have been oh-so-close to signing or trading for numerous high-profile NBA stars over the past few years. Now, Williams—the one star they actually did acquire—may be leaving. His destination is unknown, but Williams will be a free agent this summer and he will get a mega-contract from someone.
If that someone is a team other than the Nets then there will be a sense of desperation in the Nets' upper management.
Remember, the Nets are moving from New Jersey to Brooklyn next season. They will be competing even more directly with the New York Knicks and what better way to show-up your crosstown rival than by plucking their uber-popular point guard from right under their noses?
Unfortunately for the Nets, games are not decided on the back pages of sports sections or via jersey sales, for that matter.
This is a team that has one of the league's worst records with one of the league's best point guards. Lin just isn't as good as Williams, even if he is more popular.
1. Toronto Raptors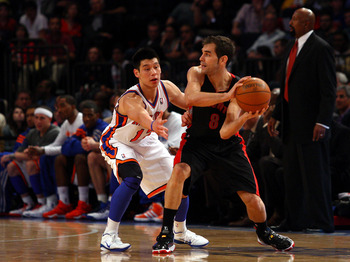 Could Calderon and Lin be teammates next year?
Chris Chambers/Getty Images
Wait, doesn't Toronto already have a good point guard in Jose Calderon? Yes, but it's important to remember that bad teams often remain "bad" in large part because of poor offseason moves.
Toronto has money to spend this offseason with the contracts of Jerryd Bayless, Aaron Gray and Jamaal Magloire all coming off the books. Then add in the fact that the team doesn't draw all that well and Toronto has a massive Asian Immigrant populace.
Signing Lin might sell a lot more tickets. It might not win more games, but the arena would look full.
Keep Reading

New York Knicks: Like this team?