Novak Djokovic 2011 Versus 2012: By the Stats
April 5, 2012

Michael Regan/Getty Images
Novak Djokovic is still the man to beat, but he's no longer the tennis revelation that we all marveled at. He's done what he had to and won when he needed to, but not in the same no-nonsense manner as in 2011. 
To compare just one tournament, the Australian Open, he started his 2011 campaign with three straight-set victories over an in-form Tomas Berdych, an in-form Roger Federer and an, well, Andy Murray. 
This year, both Murray and Rafael Nadal took him to five gruelling set matches that in principle could have gone either way. But only in principle because what Novak in 2011 and 2012 has in common is the ability to tough it out and be clutch when it matters most.
By keeping that in mind, it wasn't a surprise that he won against Murray without playing his best and that he beat Nadal, even when he failed to do so in four sets as he should have.
Novak in 2012 isn't bagelling and bread-sticking his opponents left and right. And he's not winning each and every single match. But he still only has two losses and has won two of the three biggest tournaments thus far.
A look a his stats will give us a clearer picture of potential differences between Novak then and Novak now. I'll focus on hard court for both years as he's only been playing on hard this year. There's a small caveat to the stats.  
I know for a fact that his stats went quite a bit down following the US Open, playing without energy and hunger and half-injured at times. But I don't have the hard court stats for the first nine months (only for the year), so we'll have to do without and I'll add some percentages from memory.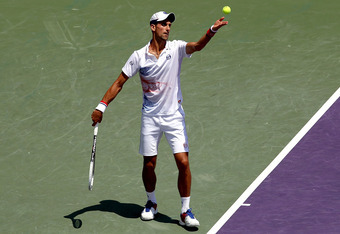 Matthew Stockman/Getty Images
The stats are given with percentage (if applicable) followed by the ATP ranking for 2011 and 2012, respectively: 
First serve percentage: 65/13 (2011) and 62/38 (2012)
Points won on first serve: 73/27 and 73/27 (I remember that at 75). 
Points won on second serve: 54/12 and 59/2 (here, he was at 56)
Break points saved: 63/18 and 69/8
Service games won: 85/12 and 88/4 (I remember this was 87 percent for much of the year)
Points won returning first serve: 36/2 and 35/9
Points won returning second serve: 78/1 and 60/1
Break points converted: 49/2 and 47/12
Return games won: 41/1 and 37/1 (I remember this was 44 percent in late October. See my article on the best returners of the last twenty years.)
In total, on all surfaces, he was 87 percent in service games and 41 in return games won by late October 2011. 
For more Novak stats, see the Shark Bites prior to the US Open 2011, where you can see his improvements in all areas of the game from the 2010 to the 2011 season. 
Michael Regan/Getty Images
As already noted, the stats come with the caveat that Novak's season fell apart in November. Not enough to destroy his stats, but certainly enough to deflate them from the high they were at. 
What is evident from the stats is the following: 
Djokovic still has a world class return-game (actually the best) and his hold game is as good or better than ever. That said, his return game is not as imposing as it was last year, where he won an amazing 44.4 percent on hard court, and that's before his season derailed a bit.
However, 37 percent is still more than enough to get the job done, especially with a hold game ahead of the likes of Jo-Wilfried Tsonga, Tomas Berdych, John Isner and Ivo Karlovic. Milos Raonic, Roger Federer and Juan Martin del Potro are the only ones with better hold games than Djokovic this season. 
The bottom line is this: Djokovic remains the man to beat. He's not as penetrating and flawless in his ground game as he was last year. But he's still the best man in the field. 
And it's quite possible, that he's pacing himself for the bigger meal: The French Open/Novak Slam at the end of May. That is, right now, he's doing just enough to win, keep his points and stay as the head of the pack. To keep his aura intact. 
But he's not chasing every ball with the same vigor, not as concentrated for an entire match and not handing out as many bagels. But less may prove to be more. This may be the right strategy as Djokovic will need plenty of energy when the French Open comes around. 
Despite slightly worse play and consistency, the stats tell Novak's fans not to worry and his opponents to be very afraid.