Pittsburgh Steelers' Running Back Situation: Team Should Not Make Drastic RB Fix
April 5, 2012

Justin K. Aller/Getty Images
The Pittsburgh Steelers have gone through a lot of changes so far this offseason on both the offensive and defensive sides of the ball.
I think they need to acquire a lot of quality roster depth in the upcoming draft, however, running back is one position where they should just go with what they have.
Currently, the Steelers' top five running backs would be Rashard Mendenhall, Isaac Redman, Jonathan Dwyer, Baron Batch and John Clay.
Rashard Mendenhall is most likely going to start the season on the PUP list and probably won't see the field until about Week 13.
Here is a look at the remaining backs.
Isaac Redman, signed as an undrafted free agent in 2009, has only one career NFL start, rushing for 121 yards against the Denver Broncos in the team's wild-card loss last season.
Jonathan Dwyer, a sixth-round pick in 2010, was active for only seven games last season and ran for 123 yards before landing on injured reserve with a broken foot.
Baron Batch, a seventh-round pick in 2011, was expected to take veteran Mewelde Moore's spot as the third-down back before tearing his ACL before the first preseason game.
John Clay, signed as an undrafted free agent in 2011, wasn't added to the roster until Week 16 and only had 11 carries for 42 yards and 1 touchdown on the season.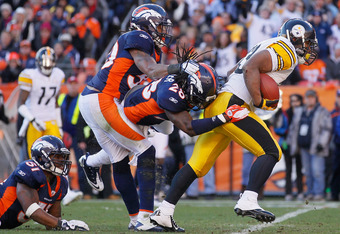 Jeff Gross/Getty Images
Just looking at this, you can see that the Steelers do not have a lot of experience at the running back position.
Combine that with Dwyer and Batch coming off injuries and I can get why people believe that the Steelers are going to take a running back in the draft.
In fact, Todd McShay has the Steelers taking RB Doug Martin from Boise State in the second round in his latest mock draft, and there has also been a lot of talk about the Steelers' interest in Cincinnati RB Isaiah Pead, who visited the team yesterday.
I have nothing against any of the running backs in the draft, however, the Steelers have much bigger needs to address.
I'm all for the Steelers bringing back Mewelde Moore as a veteran presence, I just don't think he would make the final roster.
I believe that Isaac Redman is more than capable to start in place of Rashard Mendenhall and Jonathan Dwyer has shown potential when healthy.
Baron Batch was already on his way to take Moore's spot on the roster before getting hurt and John Clay looked good in his limited snaps last season.
I fully believe that the Steelers are going to carry all four of these guys on the roster out of camp because they wouldn't be able to sneak any of them on the practice squad like they did with John Clay last season.
Also, someone is going to have to lose their spot when Rashard Mendenhall comes back at some point during the season.
Unless Trent Richardson falls down to the Steelers in the first round, I do not think they need to take a running back before the sixth round.
The Steelers need depth at a lot of positions, so why draft in the second round at a position where they have five or six guys?
That is not to say that if the Steelers end up taking a running back early in the draft that I am not going to root for the guy either.
It is just my opinion that they should fill their top needs early in the draft and allow the young backs that they have to step up this season.