NBA Draft 2012: College Studs Who Will Fail Miserably in the NBA
April 5, 2012

Joe Robbins/Getty Images
Not every college prospect who found success in school turns out to be a solid NBA player, and many fall flat on their face at the next level.
It's buyer beware when it comes to the NBA draft, and despite the depth of the 2012 class, this year is no different when it comes to being a selective shopper.
Meyers Leonard, C, Illinois
Leonard is tall and has length, but he's got to develop his approach at both ends of the floor before he's even ready for game action in the NBA.
He's going to get eaten up alive beneath the basket if he doesn't add some serious bulk to his frame.
His height is going to get him over-drafted because "you can't teach size," but how many times have we heard that previously about a prospect who turned out to be a colossal bust?
Tyler Zeller, PF/C, UNC
Zeller is similar to Leonard, although the UNC product has more to like about his game than the big man out of Illinois. 
At 6'11", Zeller is going to have to come in ready to work because a 240-pound frame is simply not going to cut it in the association. 
It will definitely be interesting to see if a team reaches for his services, considering he's coming out of North Carolina, but whatever club drafts him better make sure that there isn't much asked of him during his inaugural season.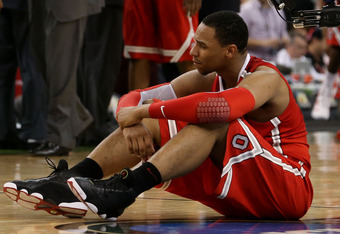 Jeff Gross/Getty Images
Jared Sullinger, PF, Ohio State
Sullinger is a good bet to go inside the lottery, but should he really be drafted that high?
He doesn't have a ton of upside, there is a chance he won't develop into an impact player and his defensive deficiencies are certainly something he'll have to work on once he gets into the NBA.
It's tough to project exactly the type of player he'll turn into, but it's unlikely he'll be the star that some had believed him to be previously.
Marquis Teague, PG, Kentucky
Teague was part of the loaded Kentucky team that won it all this season, but his inconsistent play down the stretch was an alarming trend.
He needs to learn how to be a better floor general in order to evolve as a player, but Teague will have to land in the right spot and learn from the proper mentor in order to make that happen.
While he's young and packed with potential, Teague could find himself relegated to the end of the bench early in his career if he doesn't make progress at the point guard position.
Quincy Acy, F, Baylor
Acy took a big step forward in his junior and senior seasons, but it's not going to be enough to get him drafted in the first round.
He played a big man's position despite being undersized, and that's not going to work in a league that has a ton of players who will swallow him whole down low.
Acy is going to have a tough time solidifying himself as a contributor in this league unless he can improve his effectiveness on the wing.