Fulham vs. Chelsea: Preview, Live Stream, Start Time and More
April 5, 2012

Julian Finney/Getty Images
With only seven games left in the English Premier League season, Chelsea need to make every one of them count if they hope to catch Tottenham for that final Champions League spot. Currently in fifth place, five points back of their North London rivals, their derby in the west of the city against Fulham holds major significance.
Never an easy three points, Fulham have made a habit out of spoiling the bigger side's day, frustrating them into draws and even upset losses, having already stolen points from Newcastle, Arsenal, Chelsea, Liverpool and Manchester City this season.
Their own battle in the league is for nothing more than a respectable finish, as they are too far behind a European spot and too far ahead to fear relegation.
But the matchups between these two sides has historically been a good one, with the kind of cozy nature of Craven Cottage often finding the Blues outside of their comfort zone. We can expect similar excitement in this game.
Here is the lowdown on the tie.
Where: Craven Cottage, London
When: Monday, April 9, 3 p.m. ET
Watch: ESPNDeportes
Live Stream: ESPN3.com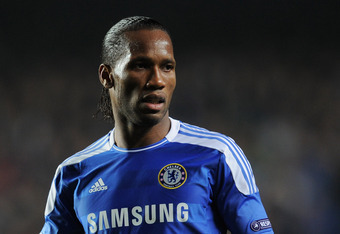 Michael Regan/Getty Images
Player to Watch: Didier Drogba
It seems almost as quickly as Fernando Torres can turn on the spark that ignites the engine, he can shut off and have a lackluster game when it matters most. His performance against Benfica in the Champions League was next to nonexistent and will probably give him a seat if for no more reason than to rest him up.
Drogba will need to come in and continue what has been an acceptable offensive surge under Roberto Di Matteo. He has been much better in the Premier League than Torres this season, netting important goals and dealing much better with the physical play of its defenders.
The approach to the game Di Matteo has taken since he came in charge has been to sit back and allow goals to come on their own. Drogba offers the best possibility for this to happen in the way he can create out of nothing. If he gets on the score sheet, Chelsea will have the win. If he doesn't, then that could mean the end of the Champions League hopes.
Key Matchup: Clint Dempsey vs. the back line
American midfielder Clint Dempsey is having a career year with the Cottagers. His play in the advanced attack has netted him 13 goals and an additional five assists in the league. It has begun to even garner interest from the big clubs about a possible transfer.
He is by far not the most skilled player the Chelsea back line has ever faced, but he certainly presents all the dangers that should have them take notice. He is quick to get behind the back line, good with the ball at this feet and never afraid to shoot from outside. He also fits ideally into Fulham's system, where his free roaming often has him losing his marker.
With the fitness of John Terry questionable, the back line may be somewhat makeshift and could cause communication problems, the most important thing to have when dealing with a slippery player like Dempsey.
What They're Saying
John Terry was a trooper Wednesday night, playing the better half of Chelsea's Champions League game against Benfica with two cracked ribs. However, the captain says that will not stop him from being on the pitch:
I couldn't breathe and my chest was closing up. I was having a difficult time, especially first half. You can't treat it, but I can get through games, definitely.
Never one to shy down from a challenge, the kind of courage he shows in light of the circumstances is a model for all young athletes.
Prediction: Chelsea 3-0 Fulham
Things have been going well for Chelsea as of late, and they will feel comfortable back in London playing against a style they know they can handle. Fulham will not go over easy, as I expect it to be a fight for the better part of the match. Two late goals make it seem more lopsided than it really is.
Follow me on Twitter: @thecriterionman