Can Chelsea FC Really Win the 2012 UEFA Champions League?
April 5, 2012

Warren Little/Getty Images
Chelsea's 2-1 win over Benfica Wednesday night ensured passage through to the UEFA Champions League semifinals, where they will meet Spanish giants Barcelona. A season that Blues fans have taken one game at a time is suddenly filling with optimism, and the question of can they really win it all is starting to rattle around in their minds.
The easy answer is, "No, stupid!", and the naive one looks like this, courtesy of ESPN Soccernet's James Martin:
As for the performance against Benfica, you could be charitable and say it was workmanlike. But, more like it, Chelsea's display was rather poor, with a score line that flattered to deceive. For the first 40 minutes, the Portuguese side essentially passed the Blues off the pitch, particularly in the midfield. Whether it was Chelsea's plan to concede the bulk of possession and play on the counter or it wasn't good enough to grab hold of the match is perhaps the biggest question about Chelsea's performance.
The usually astute Martin is making the ignorant flaw so many have made during this period of the indirect style of play's dominance: that the only way to fight fire is with fire. The team with more flair is the one that wins. Has anyone ever heard of water?
Chelsea hired Andre Villas-Boas in the offseason to bring this "flair" to the club. The old dead style of bolstering a stalwart defense by packing the back line with midfielders and then springing the counterattack was thought to be a thing of the past. The bullish way Didier Drogba and Nicolas Anelka outmuscled defenders to gain position is out of style.
But as Chelsea fans quickly realized, this current team can only perform the way they always have.
They will never be able to play this idea we call "total football." But who cares, when they have perfected another kind, one far less appealing than to the current crop of fans, but just as effective by evidence of how far they have gotten in the Champions League.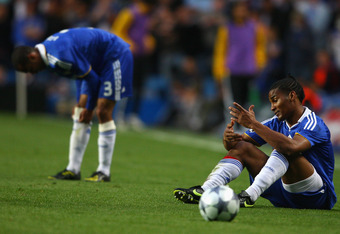 Jamie McDonald/Getty Images
The question of "Can they win it all?" really boils down to this next series against Barcelona.
It is too much to already look toward the final and predict an outcome there. Their opponent in Munich is not yet known, but more importantly it does not really matter.
Yes, Real Madrid is the superior team on paper and in the way they have performed, and at best Chelsea is just below Bayern, with the advantage of playing in front of the home fans giving the Germans the edge. However, it is only one game for it all. A slip here, a missed call there, injuries and just simply a bad day for either team throws everything we know about the sides out the window.
If Chelsea make the final, a one-game, winner-take-all favors no one.
It all matters what they do against Barca in the semis and if you are a Chelsea fan, you should be excited for the matchup.
Few teams have caused Barca as much difficulty in their past few years of dominance as Chelsea. Since 2006 the two sides have faced off in Champions League six times and split the series an even one win and four draws apiece.
However, the draws have always favored Barca in outcomes, most notably in the last time these two met in 2009, as Andres Iniesta's stoppage-time goal at Stamford Bridge was enough to have the Catalans advance to the Champions League final on a single away goal.
But there was more to that game than what the score line indicated. The malfeasance Chelsea feels UEFA has directed at them boiled over on this night as the resolute defense bunkered in and showed little signs of breaking even under the brilliant play of Barca's midfield. It was a textbook example of how to quell an attack like Barcelona's.
On the other end of the pitch, Drogba and the front line were left with little midfield support, attempting to make the breakthrough that would secure advancement. They did so with as much excellence as the back line, but some questionable no-calls had the conspiracy theorists out and running wild.
Chelsea had four separate calls for penalties, three of which were indisputable in replay and two were blatant enough in real time that there is no logical reason that the official missed them. But he did, and Chelsea was knocked out with the birthing of Barcelona as we know them now taking place.
Besides the matter of "unfinished business" motivating many of the veteran players on the team to a win, there is more to the logic that Chelsea could upset the champions to reach the finals.
A great deal has changed on both sides since that night in 2009. Arguably, neither side is as deep in terms of talent, and the philosophies they exercised back then has slightly adjusted to keep up with change.
Lionel Messi was an important part of that team, but not nearly the superstar he is today. On the other side, the aging legs of Frank Lampard, Michael Essien and Drogba himself are not nearly as active as they once were.
But Chelsea also did not have a slick playmaker like Juan Mata or one of Barcelona's most hated strikers to face, Fernando Torres. As off as he has been since moving to Chelsea, he is coming around and has scored more goals against Barcelona than any other team, with the exception of the side he currently plays for.
Why is it a given that Chelsea face so little chance that their former manager and many of the players close friend Jose Mourinho has come out and wave off speculation that Chelsea will make the finals:
Barcelona aren't the favourites, they are super-favourites. Let me be honest, I don't think the final will be a Real Madrid/Chelsea final. It could be Bayern or Barcelona, I just don't think it will be Real Madrid v Chelsea and we know why.
No Jose, tell me why? Is it because everyone has already said it so, just like they said Chelsea would not be able to overcome Napoli? Just like they said the quick passing of Benfica was too much for the London club? Just like this squad is too old and stubborn to ever come together?
To be fair, I believe Mourinho wants nothing more than to face his old side and if anyone knows how to motivate those players it would be him. But his words at base level echo throughout the footballing world. Nearly 65 percent of fans think Barcelona will get by the Blues, according to this ESPN Soccernet poll.
I am not debating whether or not Barcelona should ,be the favorites. I have always held the belief that you are the champion until someone knocks you off and no one has dethroned the Spaniards yet. But it is also foolish for the fans that inhabit Nou Camp to already have booked their tickets to Munich.
Chelsea has gotten this far and the only reasons to suggest they won't get any further is the irrational didacticism of those who think you can only win the game one way.
Remember, water will always put out a fire, no matter how big it is.
Follow me on Twitter: @thecriterionman