Fantasy Baseball 2012: 5 Bold Chicago White Sox Statistical Projections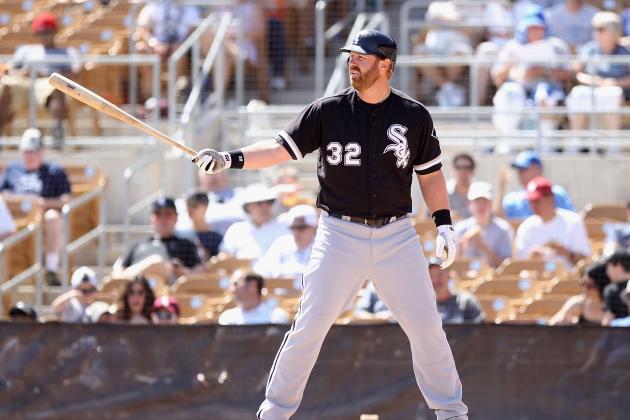 Christian Petersen/Getty Images

The Chicago White Sox have a few players readying to step up for big seasons. Some, like Dayan Viciedo and Chris Sale, are just entering starting roles. Others, like Adam Dunn and Paul Konerko, are grinding through the latter part of their careers.
Some White Sox players are on their way to big comeback years. Others, like Sale and Addison Reed, are about to break out in new roles.
Several White Sox players are bound to post poor stats. Several others could be in line for a year with solid numbers.
Following are some bold projections for big numbers for White Sox players.
Begin Slideshow

»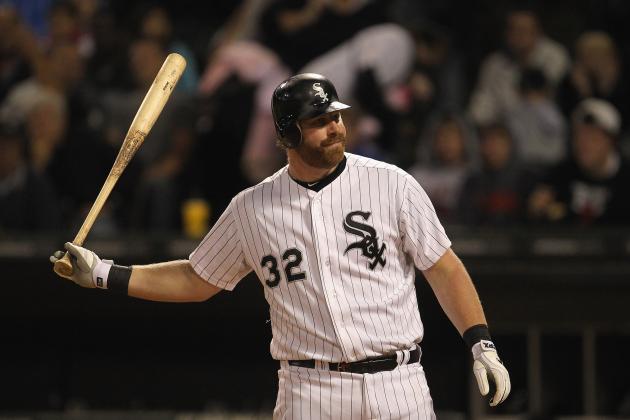 Jonathan Daniel/Getty Images

37 HR, 111 RBI, .245 BA, .402 OBP, .536 SLG, .938 OPS
Adam Dunn is coming off the worst year ever for a designated hitter. In 2011, Dunn had 11 home runs, a .159 batting average, .292 OBP and .277 slugging percentage. He struck out 177 times in 415 at-bats.
This isn't just an average guy bombing at age 31. Dunn has a great reputation as a slugger and on-base guy. Dunn had 30 home runs seven times, 100 walks eight times and a .380 on-base percentage six times.
Dunn didn't just suddenly become extremely bad after going to the American League. He had an extremely bad off year. He should jump back to his normal production.
Another fun prediction: Dunn will strikeout only 88 times.
David Banks/Getty Images

30 HR, 102 RBI, .300 BA, .377 OBP, .510 SLG, .887 OPS
Paul Konerko has been on a mid-30s run. He hit 39 home runs and had 111 RBI and a .977 OPS in 2010. In 2011, he hit 31 home runs and had a .906 OPS.
Some might wonder if he can keep it up at age 36. Players typically are well on the decline by age 36.
Konerko is in good shape. He's kept himself in good health. He stays sharp and isn't one who's known to stay out late.
He should be able to keep it up for at least one year past age 35.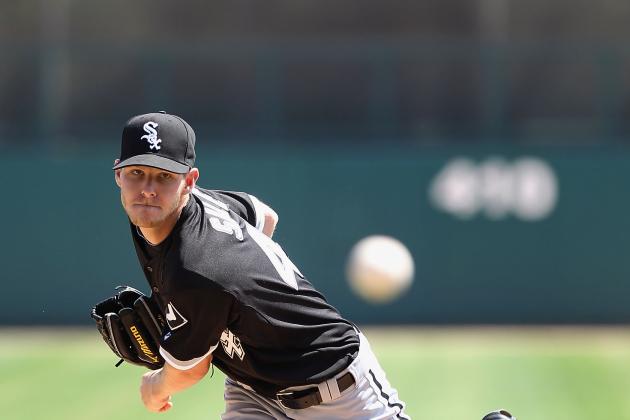 Christian Petersen/Getty Images

15-10, 3.30 ERA, 178 K, 54 BB, 188.0 IP
Chris Sale made a solid transition in the majors. Last year, in his first season at the major league level, Sale struck out 79 batters in 71 innings with a 2.79 ERA.
Following a solid first full year in the majors, Sale will have a solid first year as a starter. He'll blow by hitters with his heat, striking out batters at close to a one per inning rate. Also, Sale will manage a nice amount of control, issuing walks less than three times per nine innings.
This solid open to his tenure as a starter will set Sale up well as a front-end starter.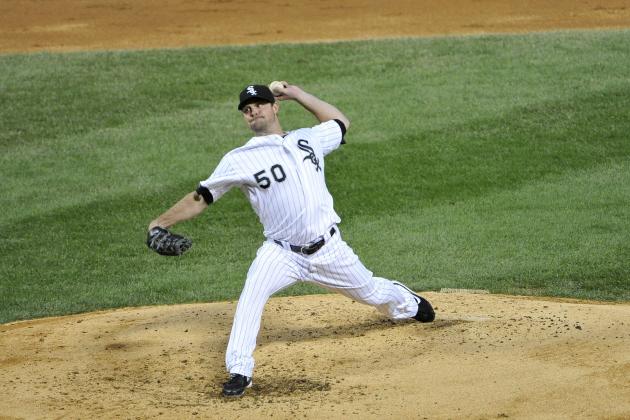 Brian Kersey/Getty Images

13-11, 3.70 ERA, 170 K, 60 BB, 201.0 IP
John Danks had a down year last year. He lost his first eight decisions and ended up with a an 8-12 record, largely due to a lack of run support. A lack of run support didn't entirely explain his poor year as he had an ERA above 4.20. Also, he had his first full season in which he failed to reach 30 starts and 180 innings.
Danks was better in his first three seasons as a full-time starter. He had sub-4.00 ERAs and pitched more than 185 innings from 2008 to 2010.
Danks will be back to pre-2011 form. He'll have better control, walking few batters. Further, he'll keep runs off the board more often. Above all, Danks will stay healthy and effective enough to pitch 200 innings.
A winning record is difficult to guarantee, especially when the White Sox could have trouble scoring runs yet again. Still, it's fair to go out on a limb when he should get a 3.70 ERA.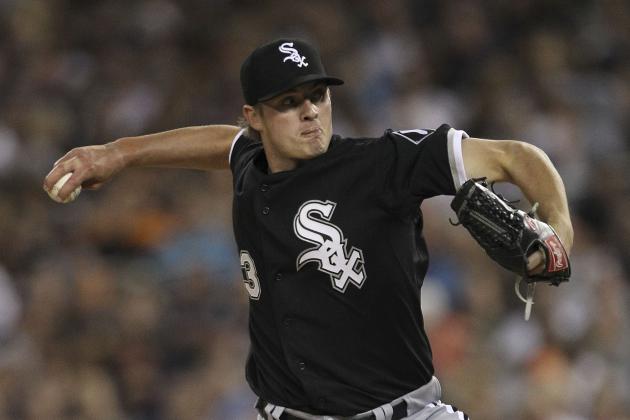 Leon Halip/Getty Images

1-3, 2.90 ERA, 25 SV/29 SVO 70 K, 13 BB, 61.1 IP
Addison Reed will get his shot at the closer job. Matt Thornton may start out as the White Sox closer, but, as many would presage, he'll crash and burn within two months, ceding the position to the rookie out of San Diego State.
Reed will be solid in the closer role. He'll be stingy towards batters, maintaining fantastic control and striking out batters with his spectacular stuff. The White Sox shouldn't worry too much about the closer role this year after Reed takes the job. He'll be quite effective shutting things down in the ninth inning.