On the Go: The Best Base Stealers in Baseball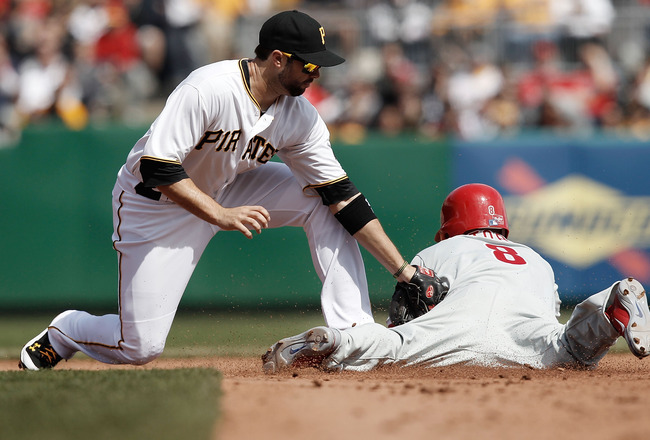 Jared Wickerham/Getty Images
In real life, stealing is a crime, but in the world of major league baseball, it is an art. Sure, speed certainly plays the biggest role in the success of a base stealer, but there is timing, opportunity and knowing how to read the opposing pitchers that goes into the process of stealing a base.
If nothing else, just the mere threat of a stolen base allows the elite base runners to affect the concentration of the pitcher, helping his team regardless of whether he actually steals the base.
Recognizing that, the question we are attempting to answer today is: Who are the best base-stealers in baseball?
Now, there are those that do not necessarily amass a huge total of steals, but they are very efficient. Likewise, there are those who steal, but their success rate (or lack thereof) suggests that they should be glued to the base instead.
During the steroid era, the stolen base, along with other so-called "small ball" attributes were on the back burner. But lately, the stolen base is starting to creep back into the forefront of the game.
So let's take a look at some professional thieves who are among the best at being on the run.
Michael Bourn, Atlanta Braves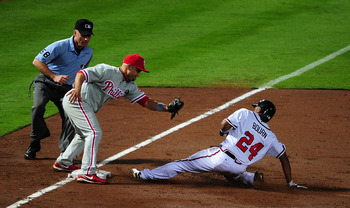 Scott Cunningham/Getty Images
The major leagues leading base stealer in 2011, Bourn is considered one of the fastest men in the game today. At the plate, Bourn is a left-handed hitter, which helps him get down the line quickly to beat out an infield hit.
Once on the base paths, Bourn is virtually unstoppable. Last year, he matched his career high with 61 swipes.
Bourn was healthy, playing in 158 games. Furthermore, his walk total in 2011 equalled the total number of free passes he received in the previous two seasons combined.
Now, to be considered successful, a player must steal bases at a minimum 75 percent clip. And in 2011, Bourn was successful just over 83 percent of the time. In fact, for his career, Bourn averages just better than 82 percent.
At 29, Bourn is still young enough that his legs should be fresh and capable of stealing a lot of bases again this season.
Cameron Maybin, San Diego Padres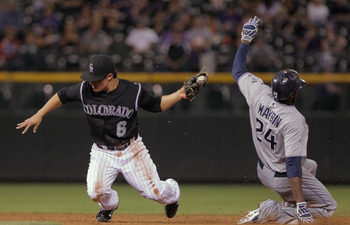 Doug Pensinger/Getty Images
Spacious Petco Park often turns potential home runs into long outs, so players like Maybin, who have decent power, are better off playing small ball and great defense in center field.
Maybin finally started realizing the enormous potential he had when he was drafted by Detroit. And he just turned 25 on April 4th, so he is entering his prime, and should be able to continue stealing bases at an even better clip than he has thus far.
Maybin has a slash of .264/.323/.393 in 2011, his best mark of his career. If he continues to improve that batting average and/or his selectivity at the plate, he will get more opportunities to steal.
Maybin stole 40 bases last year, and was successful 83 percent of the time. He signed a five-year $25 million contract, so he will be able to concentrate on playing and not have to worry about anything else, which should help his confidence level.
But if the Padres were to ever trade Maybin, he probably would be an even better player. In 68 road contests last year, he hit .294/.349/.457.
He's a late bloomer who improved his contact rate, boosting it to 74.1 percent in 2011 and 77.6 percent after the All-Star break, a good sign going forward.
Jose Reyes, Miami Marlins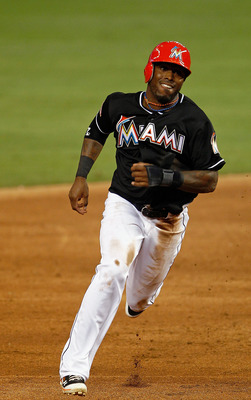 Mike Ehrmann/Getty Images
The fleet-footed Reyes signed a free agent deal with the Marlins this offseason, and if his legs are healthy, there is no limit to the number of bases the shortstop could steal in 2012.
Reyes is not only fast, he is a smart baserunner. For his career, Reyes has swiped 370 bases and has been successful around 80 percent of the time. In 2011, Reyes stole the most bases (39) he has had since 2008.
He turns 29 in June so he's still young enough to keep stealing. If he can return to the form he had from 2005 to 2008—when he stole 258 bases, an average of 64.5 bases per season, he will threaten for the league lead again.
New Marlins manager Ozzie Guillen likes to give his speedsters the green light, so expect Reyes to have plenty of opportunities to steal in 2012.
However, hamstring issues that put him on the DL for a total of 29 games last season may temper that optimism somewhat. Still, he should be good for 30 or more steals just falling out of bed.
Dee Gordon, Los Angeles Dodgers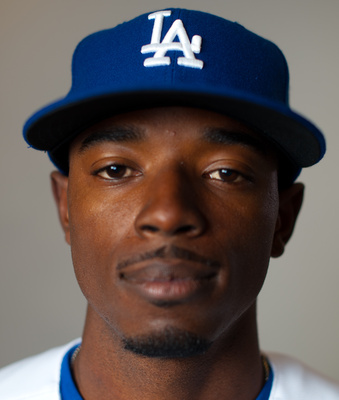 Rob Tringali/Getty Images
Things are starting to look up for the Dodgers following the $2 billion purchase of the team by a group led by Magic Johnson and Stan Kasten. They have last year's MVP in Matt Kemp and the reigning Cy Young winner in Clayton Kershaw.
And Dee Gordon is part of that optimism. He turns 24 in April, but has some holes in his game. He has no power—during his minor league career, his isolated power was .085—and doesn't have a good eye at the plate.
But you cannot ignore his pure speed, which is blinding. As a rookie in 2011, Gordon stole 24 bases in just 56 games. It helped that he hit .304, but we don't know if that is repeatable.
His stolen base totals depend largely on how much playing time he gets this season. For what it's worth, he had a good spring, stealing 10 bases while hitting over .400.
Jacoby Ellsbury, Boston Red sox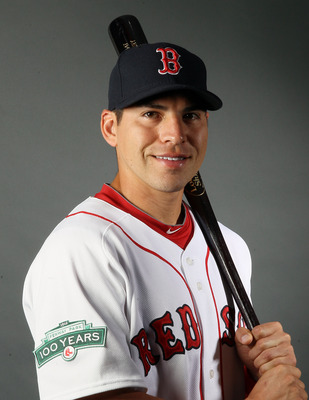 Elsa/Getty Images
Ellsbury had the season of his life in 2011, surprising everyone with his power outburst (32 homers). But he still maintains that devastating speed, and one can expect the stolen base to continue to be part of his game, especially if his power regresses somewhat this season as many predict.
Ellsbury is 28 and in his prime, stealing 39 bases last year. But he has stolen as many as 70 bases in a season (2009), so there's no doubt he can run.
However, he was successful around 72 percent in 2011, so he will need to be a bit smarter about when to take off and run this year. 2010 was a washout due to injury, but back in 2009 he swiped bases at an 85 percent clip, so he has shown the ability to be successful.
Coco Crisp, Oakland A's
Chris McGrath/Getty Images
Crisp is 32, so he's a bit older than the other guys on this list so far. But he still has good speed; the main question will be how much playing time he will receive this year.
Playing in 136 games in 2011, Crisp swiped 49 bases in 58 attempts. And that was despite his lowest OBP (.314) since 2003. Those 49 steals were the most of his career and tied him with Brett Gardner for the league lead.
While Crisp had such a low OBP, his BABIP was below league average, so better luck should improve his opportunities in 2012.
If healthy, and that is always a question mark for Crisp, he should be able to lead the league in stolen bases again this season.
Brett Gardner, New York Yankees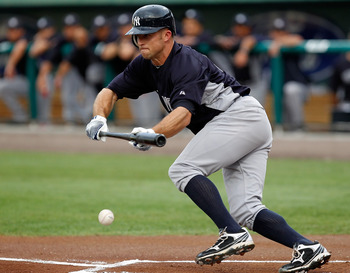 J. Meric/Getty Images
Gardner tied for the league lead in stolen bases in 2011 (49) and, at 28, is in his prime. But his batting average and OBP were both down considerably from 2010, so if he can improve on those numbers, he will get even more chances to steal in 2012.
Gardner has stolen 96 bases over the past two seasons (ranking Gardner third in MLB), and he has been generally very healthy. And even though he'll likely be the in the nine-spot in the lineup again, he has enough talent around him to approach that steals total again.
Meanwhile, Gardner has more raw speed than almost any player in the game, as evidenced by his 48 infield hits and his 18 bunt hits.
Ichiro Suzuki, Seattle Mariners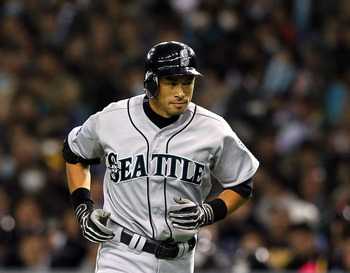 Koji Watanabe/Getty Images
Ichiro is 38 years old, so father-time may be starting to catch up with him, as his career-low .272 average might attest to. But even with a .310 OBP, Suzuki stole 40 bases in 2011. For his MLB career, he has stolen 423 bases in 11 seasons (along with another 199 in Japan).
Suzuki has stolen at an 82 percent success rate over his career, and while his skills may be declining, his stolen base percentage was 85 percent last season.
While this has nothing to do with stolen bases, I thought it would be interesting to point out that in his Japanese and American baseball career, Ichiro has accumulated 3,710 hits in 2,702 games.
I believe this sure-fire Hall of Famer has at least one more season of 30 or more stolen bases left in him.
B.J. Upton, Tampa Bay Rays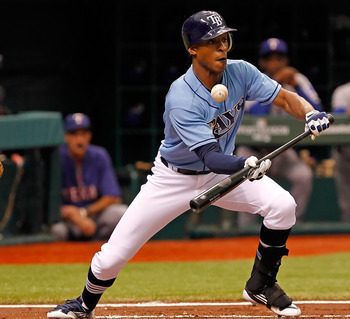 J. Meric/Getty Images
Upton has started the 2012 season on the DL, following a collision with Desmond Jennings a couple of weeks back. But once he recovers, he's likely good for 40 stolen bases in 2012.
In his career, Upton has swiped 201 bases at a 76 percent success rate. If he could ever improve on his .257 career batting average, there's no telling how many bases he could steal.
He's only 27, so Upton should continue swiping bases for a number of years.
Elvis Andrus, Texas Rangers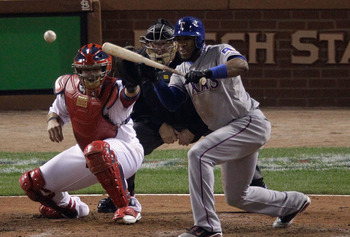 Rob Carr/Getty Images
Andrus is only 23, so he has young, fresh legs capable of stealing at least 40 bases, despite a nagging hip flexor problem. To date, Andrus has stolen at least 30 bases in all three of his major league seasons, and his 37 last year were the most of his young career.
Andrus hit 14 points better in 2011 than his previous season, so if he can continue to improve his hitting and ability to get on base, those stolen base opportunities will increase.
He has an impressive control of the strike zone at such a young age; he put the ball in play a stellar 89 percent of his at-bats last season. His walk rate of 8.4 percent could use some improvement, however.
Emilio Bonifacio, Miami Marlins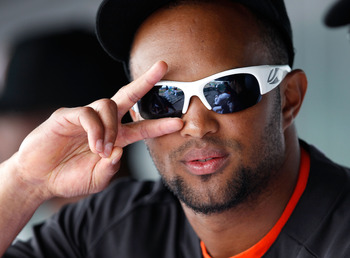 Sarah Glenn/Getty Images
One thing 2011 taught us is that if Bonifacio gets regular playing time, he will steal a lot of bases. Meanwhile, Bonifacio has been around so long it is easy to forget that he is just 26 years old.
2011 was, by far, his best season in batting average, power, OBP and stolen bases (40). Bonifacio improved his walk rate to a career-high 9.2 percent as well.
Bonifacio might have to settle for a super-utility role to begin 2012, but he'll find near-regular at-bats somewhere, and as his OBP percentage continues to improve, his stolen bases should as well.
Eric Young, Jr., Colorado Rockies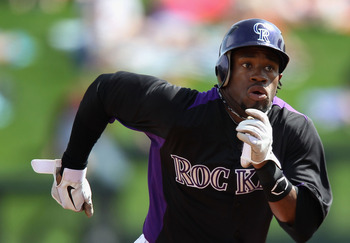 Christian Petersen/Getty Images
Young has made the Rockies' Opening Day roster, but may not get enough opportunities to put up top stolen base totals. But if he played every day, he would post huge numbers.
Like his father, Junior is fast and an excellent base stealer, but he's not much with the bat and is weak defensively at second base. Therefore, he will be in a reserve role for Colorado.
The 26-year-old Young stole 48 bases last season, but he's expected to begin the season in a reserve role.
Peter Bourjos, Los Angeles Angels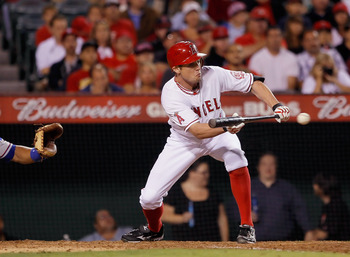 Jeff Gross/Getty Images
Bourjos is expected to undergo hip surgery after the season to repair fraying to his labrum. It's an injury that he's been playing through for the last four or five years, though, so he should be able to play through it.
If he's healthy, he is extremely fast and stole 22 bases last season despite a poor contact rate. He could have a breakout season, as his outstanding defense and surprising power will get him playing time as Mike Trout got sent down to the minors.
Jason Bourgeois, Kansas City Royals
J. Meric/Getty Images
Bourgeois is 30 years old, but still hasn't played in more than 93 games in a season. Last year, he got more playing time and the Royals have been working him out at second base in an effort to improve his chances of getting playing time.
He stole 31 bases in 2011, but finished 2011 on a sour note, batting .225/.265/.252 in 39 games after Aug. 1. Still, he should be a fourth outfielder in 2012.
Rajai Davis, Toronto Blue Jays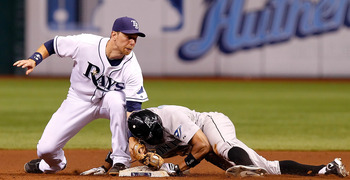 J. Meric/Getty Images
Before his season ended with a torn hamstring, Davis was seeing sporadic playing time with the Blue Jays in 2011. However, when he did play, he ran. In fact, he delivered 34 SB (and had 45 attempts). Considering the fact that he only had 49 singles, it is pretty clear that when Davis is on base, he runs.
Even though he will see limited playing time, he should spell Eric Thames in left field against lefties and may see time off the bench as a pinch-runner in the later innings. Don't rule out 30 SB for this crafty base stealer.
Davis lead the Blue Jays with seven steals this spring.
Desmond Jennings, Tampa Bay Rays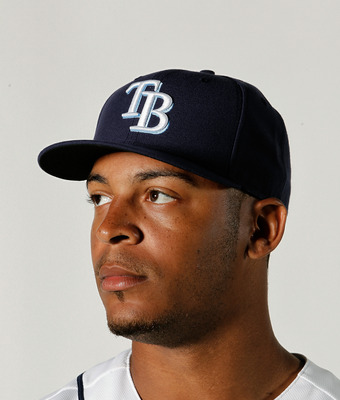 Jonathan Ferrey/Getty Images
Jennings has excellent pitch recognition and patience, drawing walks at a clip greater than 10 percent during his minor league career. His power potential and speed make him an exciting prospect for 2012, despite being 25 and getting a bit of a late start to his big league career.
While his contact rate has been trending downward the past couple of seasons, Jennings should get more playing time this season, and that should allow him to improve on his 22 stolen bases.
Ben Revere, Minnesota Twins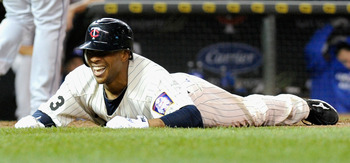 Hannah Foslien/Getty Images
The 23-year-old outfielder has good speed, stealing 34 bases in 117 games in 2011 for the Twins. Even though he won't be a starter to begin the season, Revere will have value.
He's a speedy outfielder who can cover a ton of ground, and his defense should be more than enough to score him regular at-bats in the Twins' outfield.
His .310 OBP should improve, as his minor league numbers suggest better plate discipline.
Keep Reading