NBA Mock Draft 2012: How Jared Sullinger Turning Pro Reshapes the Lottery
April 5, 2012

Chris Graythen/Getty Images
With the news that Jared Sullinger will be leaving Ohio State for the NBA, it's time to roll out another edition of the 2012 mock draft.
Sullinger is a good candidate to go inside the lottery, but it's not going to come before the top 10 picks are off the board.
Here is a breakdown of what we can expect in the first round.
1. Charlotte Bobcats: Anthony Davis, PF, Kentucky
The Bobcats don't have the ideal personnel to flourish with Davis, but he's the consensus top pick.
His ridiculous defensive abilities should translate to the NBA, but he's really going to have to add strength to his frame to bang around down low.
2. Washington Wizards: Thomas Robinson, PF, Kansas
There is seemingly always a new reason to like what Robinson brings, and he should be snatched off the board right after Davis.
For the Wizards, a front-line pairing of him and Nene would complement John Wall at the point quite nicely.
3. New Orleans Hornets: Michael Kidd-Gilchrist, SF, Kentucky
The Hornets need someone who can attack the basket in transition, and that's exactly what Kidd-Gilchrist can do.
He's relentless in getting to the rim, and he would do quite well if paired with a point guard who has the ability to see the entire floor.
4. Cleveland Cavaliers: Bradley Beal, SG, Florida
The Cavs are committed to Tristan Thompson and Anderson Varejao down low, but Kyrie Irving really needs a shooting guard to help him in the backcourt.
Beal's versatile game would fit into the Cleveland picture nicely, and the future of the Cavs could be in good hands.
5. Portland Trail Blazers: Andre Drummond, PF/C, UConn
The Blazers need to add size in the worst way, and drafting Drummond is an emphatic way to address that need.
He's a high-upside pick with a ton of talent who could make fans forget about the Greg Oden era if everything aligns properly.
6. Toronto Raptors: Harrison Barnes, SF, UNC
The Raptors could use some more help on the wing, and adding Barnes to the mix would have Toronto looking a lot better next season.
A possible starting lineup of Jose Calderon, DeMar DeRozan, Harrison Barnes, Andrea Bargnani and Jonas Valanciunas is certainly tantalizing.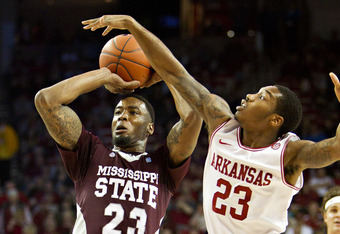 Wesley Hitt/Getty Images
7. Sacramento Kings: Arnett Moultrie, PF, Mississippi State
Sacramento needs a low-post banger to pair with DeMarcus Cousins, and Moultrie has legitimate size to contribute right away.
He's not a consensus top-10 pick, but he can step in and help a young Kings team further develop while complementing Cousins nicely.
8. Detroit Pistons: John Henson, PF, UNC
Henson doesn't get as much love as he should, but the UNC product has the skills to be successful at the next level.
Henson and Greg Monroe could do a lot of damage in the future as the starting big men for the Pistons.
9. Utah Jazz: Damian Lillard, PG, Weber State
Lillard would be an ideal draft candidate for the Jazz, a team that is known to be looking for point guard help.
Devin Harris has struggled since joining the Jazz, and Lillard is an impressive talent who could really flourish if he lands in the right spot.
10. New Orleans Hornets: Kendall Marshall, PG, UNC
If the Hornets can come out of this draft with Kidd-Gilchrist and Marshall, it has to be considered a successful offseason.
Marshall is a special player with a keen ability to make his teammates better, and the Hornets need to hit a home run in the draft in order to get back on track.
11. Portland Trail Blazers: Tyler Zeller, PF/C, UNC
The focus for Portland should be on adding size through the draft, with Nicolas Batum and Wesley Matthews locked into starting roles on the wing.
Adding Zeller to pair with Drummond should give fans in Rip City a lot to look forward to about the future of the club.
12. Milwaukee Bucks: Jared Sullinger, PF, Ohio State
Milwaukee needs to find a way to replace Andrew Bogut, and despite the presence of Drew Gooden, Sullinger is a good bet to go inside the lottery.
He's not a great defender, nor is he the most athletic prospect, so Scott Skiles would certainly have his work cut out for him if Sullinger landed in Milwaukee.
13. Phoenix Suns: Perry Jones III, F, Baylor
Phoenix is going to have a lot of different needs in the offseason, but there is no way the Suns can overlook Jones if he's still available here.
The upside is too high and his potential too great, and the Suns could really walk away with a steal if the light clicks on for the Baylor product.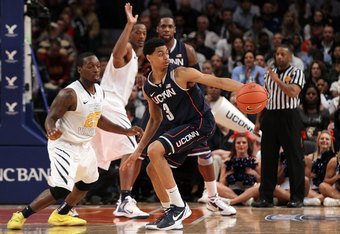 Jim McIsaac/Getty Images
14. Utah Jazz: Jeremy Lamb, SG, UConn
Utah needs to improve the entire backcourt, and if the team can nab both Lillard and Lamb, that's a major step in the right direction.
The Jazz could add dynamic players to an already potent big man rotation, giving the team another leg up in a crowded Western Conference.
15. Houston Rockets: Austin Rivers, SG, Duke
The Rockets certainly aren't married to Kevin Martin for the long haul, and Rivers could be a solid replacement for the team.
There's a strong belief that Rivers' game is better suited for the NBA, but he'll have to prove it once he gets into the league.
16. New Jersey Nets: Doron Lamb, SG, Kentucky
New Jersey has a good, young wing player in MarShon Brooks, but adding more talent certainly never hurts.
Lamb can come in and immediately help the Nets on the perimeter, but New Jersey's draft plans will be highly dependent upon how the team feels about retaining Deron Williams.
17. Denver Nuggets: Dion Waiters, G, Syracuse
Denver will need to add another guard to the rotation, with Andre Miller likely heading elsewhere after the season, and Waiters could be a solid addition to the rotation.
He's the type of player who could really grow on George Karl, and it wouldn't be shocking to see him continue to climb up draft boards as we get closer to draft day.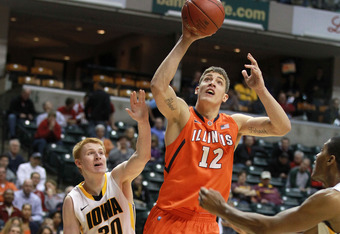 Andy Lyons/Getty Images
18. Philadelphia 76ers: Meyers Leonard, C, Illinois
Leonard's height will get him drafted, and he could make for a good fit with the Sixers, considering that Spencer Hawes will be a restricted free agent.
He's got length and legitimate size, but he's going to have to work on his game considerably to be successful in the NBA.
19. Houston Rockets: Terrence Ross, SG, Washington
Ross is another player who could really help the Rockets, and it would be interesting to see Houston add to its perimeter attack going forward.
The team will have to retool its bench with a number of contributors who could be on another team next year.
20. Atlanta Hawks: Terence Jones, SF, Kentucky
The Marvin Williams experiment is not working out, and if Jones slips this far in the first round, the Hawks should take about five seconds to make the pick.
He's got a versatile game, and that could really help the Hawks turn the corner as a team.
21. Boston Celtics: Royce White, SF, Iowa State
White could be the steal of the draft, and the Celtics would be wise to make him the pick if he's still around.
He can really impact a game, and the Celtics need to get younger on the wing as soon as possible.
22. Memphis Grizzlies: Tony Mitchell, F, North Texas
The Grizzlies don't need to add much to the rotation, but Mitchell is a solid value pick this late in the first round.
He could give the Grizzlies a nice boost and provide for a solid insurance policy on the bench, but he's a bit of a 'tweener right now.
23. Orlando Magic: Andrew Nicholson, PF, St. Bonaventure
Nicholson could prove to be the steal of the entire first round.
He's a kid who got better every season, and his strong play this year is going to make a big impression among decision-makers in the front office.
24. Indiana Pacers: Moe Harkless, SF, St. John's
Harkless is a candidate to go higher than this, but he could certainly fall into the 20s and right into the lap of the Pacers.
He'd be a great addition behind Danny Granger and has the chance to develop into a solid contributor in the second unit.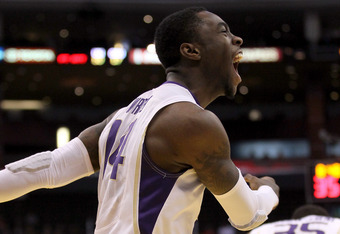 Stephen Dunn/Getty Images
25. Boston Celtics: Tony Wroten, G, Washington
Wroten needs to develop in a good place, and Boston might be the perfect fit.
He's got intriguing talent, but he's incredibly young and will need to learn under veteran leadership in order to fulfill his potential.
26. Cleveland Cavaliers: Draymond Green, SF, Michigan State
Some smart team will steal Green at the back end of the first round, and he makes a ton of sense for a team like the Cavs.
Cleveland needs a lot of help on the wing with the disappointing play of Omri Casspi this season, so Green would certainly fit the picture here.
27. Golden State Warriors: Jeffery Taylor, SF, Vanderbilt
The Warriors might be desperate to add size, but Golden State needs to make the right move and draft the best player still on the board.
His potential at both ends of the floor is awfully interesting, and it's hard to find a gamble worth taking ahead of Taylor at this point in the first round.
28. Miami Heat: Marquis Teague, PG, Kentucky
Teague needs to land in the right spot to put it all together in the NBA, and that could certainly happen in Miami.
Practicing with LeBron James and Dwyane Wade on a daily basis could do wonders for the young point guard, and the Heat are still looking for a long-term answer at the position.
29. Oklahoma City Thunder: Fab Melo, C, Syracuse
Melo is a really interesting prospect for a ton of reasons, and Oklahoma City might just be the place for him to develop.
The Thunder's Cole Aldrich never really worked out, but Melo has the size and skill below the basket to make an impact before too long.
30. Chicago Bulls: William Buford, SG, Ohio State
If there is one place the Bulls could use help, it's certainly at the shooting guard position.
Buford could come in and hold his own in the second unit, but he's unlikely to develop into anything more than a solid role player in the league.