UFC: Matt Hughes' Retirement Is the Only Move That Makes Sense
Use your ← → (arrow) keys to browse more stories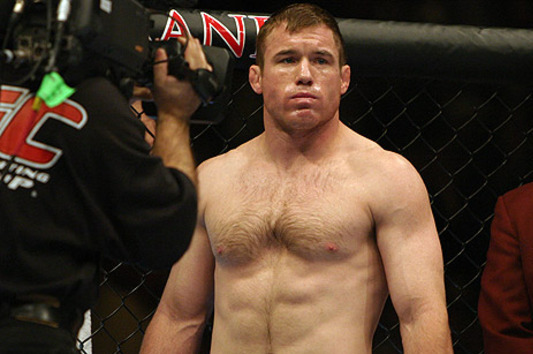 Matt Hughes/ Scott Petersen for MMAWeekly.com
Most men creeping closer and closer to 40 usually indulge in those same, old, tired cliches: sports cars, gaudy jewelry and ill-fitting toupees.
For former UFC welterweight champion Matt Hughes, he just wants to fight.
Arguably the most instrumental figure in cultivating the 170-pound class, Hughes has done more than most fighters could ever wish to accomplish in their careers.
The wrestling powerhouse first earned UFC gold in 2001 with a highlight-reel knockout of then champion Carlos Newton, slamming the Canadian into unconsciousness and dethroning him from the welterweight mantle.
Several title defenses followed before Hughes succumbed to defeat at the hands of "The Prodigy" B.J. Penn, though the Hillsboro, Illinois native later avenged the loss in his second run as champion.
Victories over Hayato Sakurai, Royce Gracie and Georges St-Pierre are just a small part of what has helped build the legacy of Hughes.
There's something to be said about the drive and vigor of Hughes, who after losing four of his last seven fights, still wishes to step back inside the Octagon.
However, it's his last two outings in particular that have fans and most pundits hoping that this current five-month stretch of inactivity extends to an inevitable retirement.
Riding high on the strength of a three-fight win streak with victories over Matt Serra, Renzo Gracie and Ricardo Almeida, Hughes looked like he was reentering contender status in 2010.
That's before the aforementioned Penn registered a swift 21-second knockout in their rubber match, victimizing Hughes for that hefty "Knockout of the Night" bonus.
Josh Koscheck followed suit, as the heavy-hitter used some hellish ground-and-pound blows to record the first-round finish last September, leaving Hughes asking the UFC to put him "on the shelf" before he makes a finite decision.
In every fighter's career, there comes the point where they weigh out the benefits of continuing to fight versus life thereafter.
For Hughes, another devastating loss could prove detrimental to his health, though the careless, half-baked idea that another win will remedy everything is sometimes too alluring to pass up.
The fact of the matter is Hughes is a UFC Hall of Famer, two-time world champion and has nine title defenses to his credit.
At 38 years old, Hughes has done more than most men twice his age and has the chance now to keep his legacy intact before another loss tarnishes what was a legendary career.