Georgia Football: 10 Best Quarterbacks in School History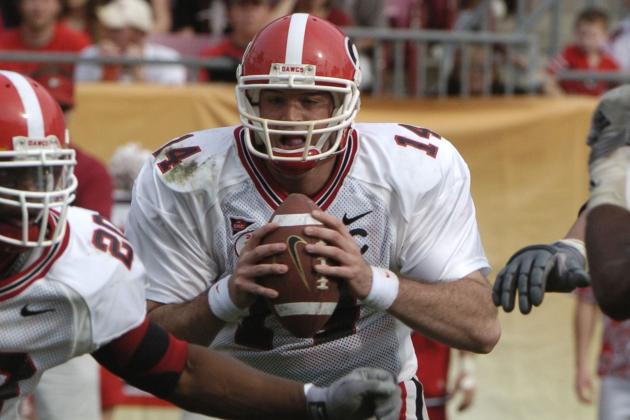 A. Messerschmidt/Getty Images

Aaron Murray has done things a lot of quarterbacks that have worn the Bulldogs jersey could only dream of. He is on pace to break more school records after this season and if the Bulldogs continue to win, Murray will go down as one of the greatest quarterbacks in Georgia Bulldogs history.
Speaking of the greatest quarterbacks in UGA history, there have been some great signal-callers for the Bulldogs over the years. Some have won SEC titles, some were All-Americans and even one is in the College and Pro Football Hall of Fame. But what makes a great UGA quarterback is his ability to rally the troops and make sure they do everything as a team, win or lose.
Here's a look at the 10 best quarterbacks in school history.
Begin Slideshow

»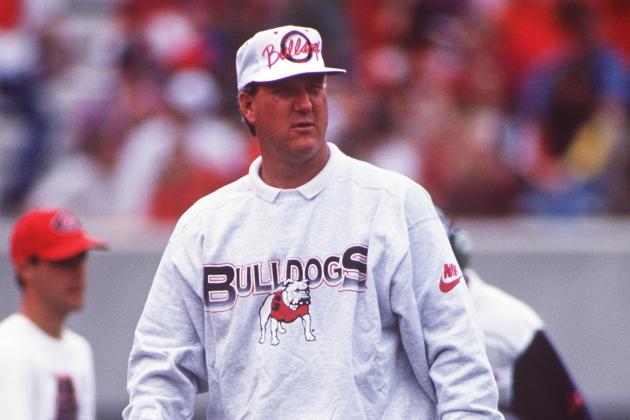 Doug Pensinger/Getty Images

His numbers weren't that great when he played during the mid 1970's. But Ray Goff was a winner and that's all that matters when it comes down to it.
In fact, Goff led the Bulldogs to 19 wins during his final two seasons with the team.
In 1976, the Bulldogs won the SEC title thanks to Goff's ability to scramble and make plays off the fly.
He won the SEC Player of the Year in 1976 and went on to be the head coach for the Bulldogs from 1988 to 1995.
Again, this is another quarterback that does not have outstanding numbers, but Buck Belue was the ultimate winner.
Sure, it helps to have Herschel Walker in the backfield, but Belue was able to lead the Bulldogs to a national title in 1980 because he did not make costly mistakes.
His best year was in 1981 where he threw for 1,600 yards, 12 touchdowns and nine interceptions. Like I said, not impressive numbers, but he made big-time plays in big-time games.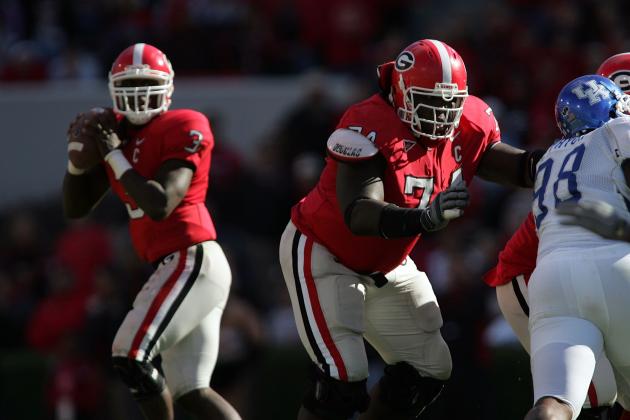 Doug Benc/Getty Images

Because he played behind David Greene (who will be on this list later), Shockley only started one season.
But he made the most out of his start by giving the Bulldogs their last SEC title and setting a few school records on the way.
Shockley holds the school record for highest career efficiency rating with 142.86. He was named to the All-SEC First Team in 2006 and was a finalist for the Johnny Unitas Golder Arm Award.
Shockley now plays for the Omaha Nighthawks and is probably hoping to get back on a NFL roster.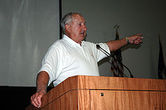 This two-time All-American led the nation in passing in 1952 and was also the nation's leading punter in in 1953.
Zeke Bratkowski was really the Bulldogs first gun-slinger. He set numerous school passing records and ended his career with 4,836 career passing yards which was an NCAA record until 1961.
Bratkowski was inducted into the Georgia Sports Hall of Fame in 1980.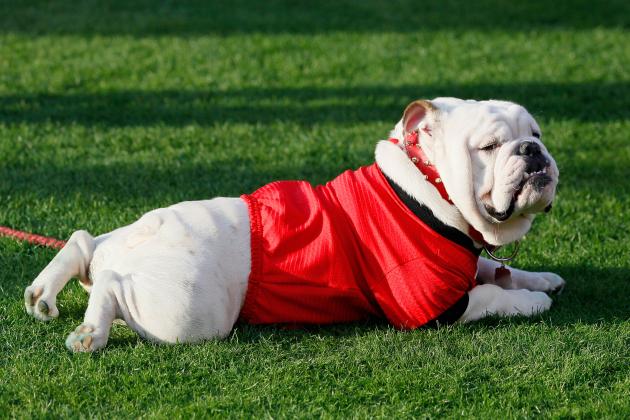 Kevin C. Cox/Getty Images

David Paddock was Georgia's second All-American and was captain of the 1914 squad. The Bulldogs only went 3-5-1 that year, but Paddock did enough to reach the All-Southern team.
He is also the only player in school history to have a petition circulated by the student body that he play for the Bulldogs.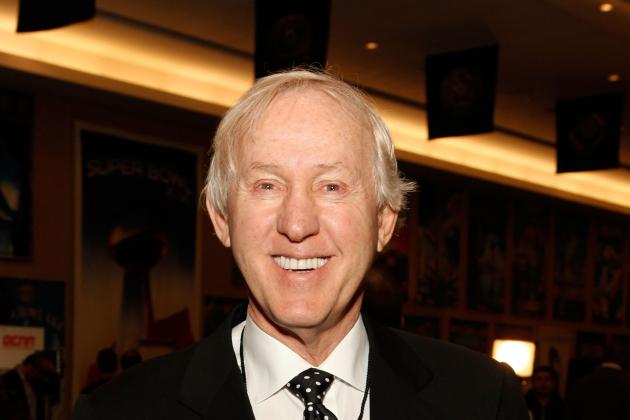 Cindy Ord/Getty Images

Most football fans know Fran Tarkenton for his great play in the NFL. But he was also great on the college level and led the Bulldogs to a SEC title in 1959 as well as an Orange Bowl win.
Tarkenton led the SEC in total offense in 1960 as well as passing offense. He was named to the AP All-America team and has been inducted into the College and Pro Football Hall of Fame.
Mike Zarrilli/Getty Images

Matthew Stafford maybe the best NFL quarterback prospect to play for the Bulldogs.
This quarterback from Texas threw 51 touchdown passes and tallied 564 completed passes from 2006 to 2008. His 7,731 career passing yards are third on UGA 's all-time list and he also led the Bulldogs to two consecutive 10-win seasons.
Stafford is now playing for the Detroit Lions where he led the team to their first playoff berth in over 10 years.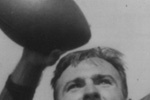 John Rauch started 45 games for the Bulldogs from 1945 to 1948 and totaled a record of 36-8-1. In 1948, Rauch was selected as SEC Player of the Year thanks to leading the Bulldogs to an SEC title and an Orange Bowl appearance.
Rauch was a first team All-American selection in 1948 and was inducted into the College Football Hall of Fame in 2003.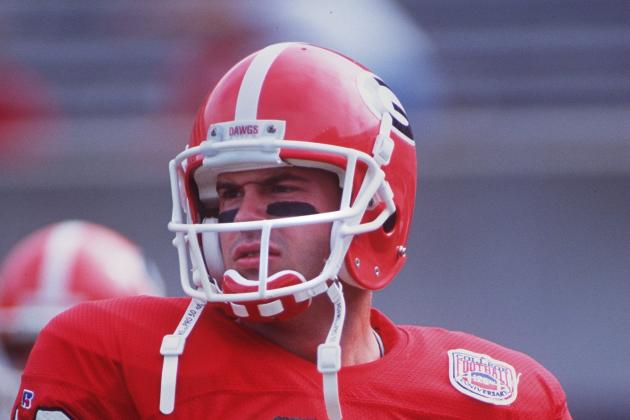 Doug Pensinger/Getty Images

Eric Zeier was the last quarterback for Georgia to be named to any All-America team and is also considered by many as the most prolific passer to play for the Bulldogs.
When he finished his career, Zeier set 67 school records to go along with his 18 SEC records. His best game was against Southern Miss where he thew for 544 yards and four touchdowns.
Zeier finished in the top 10 for Heisman voting and played for four different NFL teams. He now works for the Georgia Bulldogs Radio Network.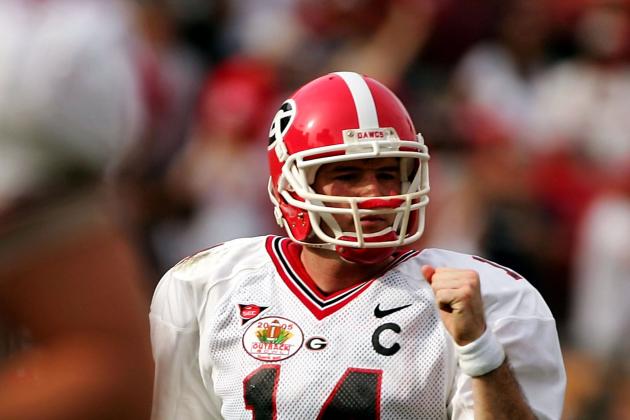 Scott Halleran/Getty Images

David Greene was not a scrambler like Shockley or Tarkenton, and he was not a prolific passer like Zeier.
But he was the ultimate winner because he knew how to play the game the right way.
Greene holds the SEC record for career passing yards with 11,528. And when he left Georgia after the 2004 season, he was the all-time leader in wins with 42 which was a record previously held by Peyton Manning.
Greene was also named SEC Rookie of the Year in 2001 and SEC Offensive Player of the Year in 2002 which is the same year the Bulldogs recorded a 13-1 record and their first SEC title and Sugar Bowl win in over 20 years.