Philadelphia Eagles: How Andy Reid Can Avoid Hot Seat Talk in 2012
May 2, 2012

Jonathan Ferrey/Getty Images
Philadelphia Eagles head coach Andy Reid has compiled a 136-90-1 record (playoffs included) in 13 seasons at the helm in Philly. A model of consistency in today's parity-driven NFL, Reid's Eagles have missed the playoffs only four times during his tenure. Only twice have the Eagles failed to finish the season with a record of .500 or better under Reid. 
Yet, despite the most black-and-white piece of quantifiable evidence by which a coach can be measured—wins and losses—clearly stacked in Reid's favor, the coach has faced a growing chorus of fans calling for his job in recent years, reaching a crescendo in the aftermath of the Eagles' disappointing 2011 season. Reid's future job security was in serious doubt after the Eagles "Dream Team" finished 8-8 and out of the playoffs.
If one were to put an ear to the streets of Philadelphia in the immediate aftermath of the 2011 season, the reasons behind the calls for Reid's departure were seemingly innumerable. Ranging from gripes about clock management, to suspect play-calling, to questionable personnel decisions, for one to narrow down the Eagles fans' outward expression of anger towards Reid to one cohesive, concise reason for the heat aimed toward his hind parts felt impossible.
That said, perception is not always reality, and the reality is that by the end of the 2011 season, many Eagles fans no longer believed Andy Reid could someday bring them a championship. This feeling alone is shaky cause for the dismissal of one of the NFL's most successful active coaches. That being the case, fans looked to justify their calls for dismissal in other, more objective ways, hence the scatter-brained nature of Eagles fans' complaints.
For all the success Reid has cultivated during his tenure in Philadelphia, three numbers loom large like a thundercloud overhead: FOUR, ONE, and ZERO. FOUR for the number of times Reid's Eagles have lost in the NFC Championship Game, ONE for the number of times Reid's Eagles have lost in the Super Bowl, and ZERO for the number of times Reid's Eagles have won a title.
So, if the real reason Reid ended up on the hot seat in 2011 was the cumulative realization that not only do those three numbers continue to loom large over Reid's tenure as head coach, but he can't even make the playoffs to attempt to buck those trends with a roster that reads like an All-Star team, how can he avoid ending up in the same simmering seat in 2012?
The easy answer is to win—and win some more. The quickest, easiest way for Reid to silence his detractors is to bring a championship to Philadelphia. Reid need not look further than across Pattison Avenue for an example of just how far a championship can go in Philadelphia.
Philadelphia Phillies manager Charlie Manuel was hired in 2005. Through his first few seasons on the bench, the Phillies couldn't seem to get over the hump and fans were beginning to run out of patience. Like Reid, Manuel wasn't exactly a "sexy" hire when the Phils brought him aboard, and fans were tripping over themselves to criticize the team's front office for making the wrong choice in hiring him.
Then, in 2008, Manuel led the Phillies on a magical run that culminated in a World Series title, the city's first championship in any sport since 1983. Today, Manuel and his Phillies enjoy relative free rein over the city. There has been nary a whisper that the Phillies and Manuel should part ways and he could likely stay as long as he likes, all because of the championship parade he led down Broad Street.
Of course, winning a championship is easier said than done. If Reid were to fall short of that ultimate goal, can he still manage to avoid questions about his job security?
Simply put, he can.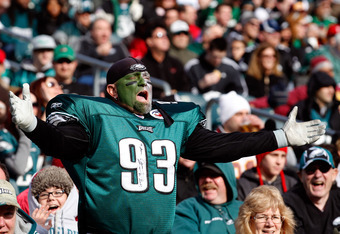 Rob Carr/Getty Images
For Reid to avoid the hot seat despite falling short of a Super Bowl title, his team must first and foremost get out to a strong start in 2012. In 2011, Reid was on the hot seat by Week 3 as the Eagles fell to 1-2 after an ugly loss to the rival New York Giants.
2011 wasn't the first time the Eagles got out to a slow start under Reid, either. Only once in 13 seasons has a Reid-led team started the season better than 1-1—in 2004 when Donovan McNabb and Terrell Owens led the Eagles to a 7-0 start. For Reid to avoid the hot seat in 2012, starting the season on solid ground at 2-0 would be a great start, but of course, such success would need to be sustained throughout the season.
When the 2012 Eagles do lose a game, whether it is in Week 1 or Week 10, how Reid handles the media will also play a role in the amount of heat Reid feels on his seat. Reid's "say little, acknowledge even less" postgame press conference routine has worn especially thin in Philadelphia. 
Eagles fans are a knowledgeable bunch. All too often, Reid's postgame press conference takes on the feel of a self-anointed genius talking down to the masses, giving them the sound bites he thinks they want to hear, putting forth very little effort to hide his disdain for the moment. What Reid does not seem to realize is that by being even just a little more candid in his postgame dealings with the press, he could endear himself to a Philadelphia fanbase that values blue-collar, emotions-on-their-sleeves types of characters. 
Finally, Reid can easily earn brownie points with Eagles fans through his play-calling. Especially in recent years, Reid has displayed a penchant for making head-scratching play-calls in pressure situations. An extension of his "I'm smarter than you" press-conference aura, Reid seems to outwit himself in short-yardage and goal-to-go situations, often calling intricate pass plays rather than putting the game in the hands of his team and stuffing it down the opposition's throat. 
This seemingly innocuous quirk infuriates the fans in Philadelphia. By simplifying his attack and, more importantly, identifying his team with the toughness of the city as a whole, Reid will find that fans can accept losses where their team is simply beaten. It is when the Eagles beat themselves as the result of questionable play calls with the game on the line that a firestorm is ignited.
The 2012 offseason has exposed a side of Reid never seen before. Instead of sticking to his guns like a stubborn, old mule, he has finally acknowledged some holes in his roster-building philosophy and addressed them with moves that have been popular with the fans. Bringing DeMeco Ryans into the fold through a trade with the Texans after minimizing the importance of the middle linebacker position for years is exhibit A of this new approach. For his own sake, it would behoove Reid to allow this personal renaissance to creep into all aspects of how he handles his very public position.
If he does that, he could restore a level of harmony between coach and city not seen in Philly since 2002.