UFC 146: Who Will Junior dos Santos Fight at UFC 146?
Well thanks to Alistair Overeem being what UFC President Dana White describes as a "brain-dead absolute #%*$% dummy," the much-anticipated main event at UFC 146 has been put into doubt.
Overeem, who was slated to fight current champion Junior dos Santos just failed a prefight drug test, less than two months before they're set to battle.
With Overeem now likely to face a lengthy suspension, the UFC heavyweight division is now in shambles.
The man who Overeem destroyed in December can't rescue the UFC, as Brock Lesnar signed a deal to return to the WWE just this past Saturday.
Overeem, a man that UFC fans have clamored to see in the Octagon for years may have just jeopardized his career in the organization. Though his great athletic ability, charisma and overall look make him appear to be a huge star in the making, his decision making is costing him big time.
No matter this potential he still needs the UFC much more than they need him, and it's a dumb move like this that could have him fighting in Europe for some third-rate organization.
With Alistair now likely out at UFC 146, who may fight Dos Santos and try to bring some balance back to this division that's in turmoil? Let's take a look.
Begin Slideshow

»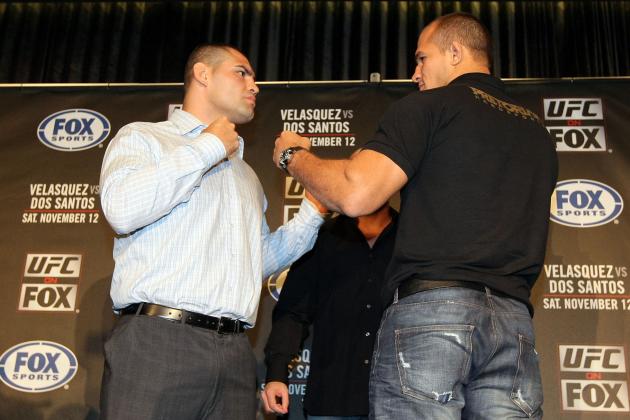 Victor Decolongon/Getty Images

If you had to rank the fighters in the heavyweight division right now, Velasquez would likely be ranked No. 2. But would anyone really get excited at the prospect of a title rematch after Cain got his block knocked off just a little more than a minute in during their bout last year?
It's entirely possible that these two will fight again in the future, but with his one-sided loss still fresh in the minds of both the UFC and its fans, I see no way that the UFC places him on the UFC 146 card.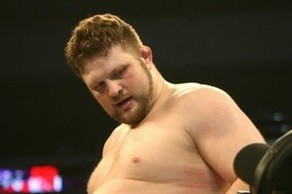 Has Nelson deserved a title shot? Absolutely not. He is 2-3 over the past two years including a loss to Fabricio Werdum at UFC 143 in February.
But if the UFC is absolutely desperate to find someone to keep the card alive, this would be a matchup fans would tune in for.
Nelson and Dos Santos went at it at UFC 117 in which Dos Santos beat Big Country to a bloody mess, but the "well-rounded" fighter refused to back down and landed a number of good shots himself. Though one-sided, it was a tremendously entertaining fight.
The result would likely be the same, but the UFC likely would be very happy to come out of this debacle with a title fight that will have the fans cheering in the end.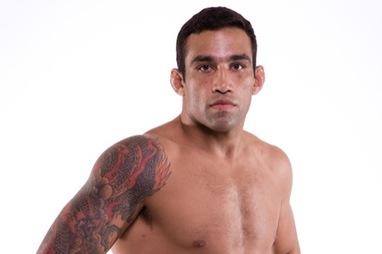 Speaking of Werdum, what a story it would be to see the Brazilian fighting the champion at UFC 146.
After all it was Werdum's disappointing loss to Dos Santos at UFC 90 in 2008 that led to the UFC cutting Werdum loose.
Since his departure, he's turned his career around, posting a 4-1 record out of the UFC including an impressive win over the once-thought-to-be unbeatable Fedor Emelianenko.
That one loss came against? You guessed it, Alistair Overeem.
Still, the UFC brought Werdum back, who went on to beat Nelson in February in what Dana White judged as the fight of the night.
Currently, Werdum is slated to fight Mike Russow at UFC 147. However, he should be in good enough condition to jump up and take on the man who got him kicked out of the UFC nearly four years ago.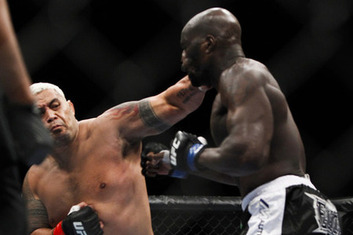 You want to talk about giving someone a once-in-a-lifetime opportunity? Look no further than 38-year-old veteran fighter Mark Hunt.
Some remember Hunt as the guy winning the 2001 K-1 tournament in Japan. Though he achieved the ultimate success there, his mixed martial arts career has been a roller-coaster ride. He started out 5-1, but went on to lose six consecutive fights between 2006 and 2010.
Still the New Zealand fighter never gave up and has now won his last three fights.
His most recent one, a crushing knockout of UFC veteran Cheick Kongo catapulted Hunt into the top 10 UFC heavyweight rankings.
Let's be clear. Hunt isn't anywhere near the top of the list to earn a title shot. But if the UFC wants to put forth a great spectacle, choosing Hunt could be a great choice.
No one should confuse Hunt's career with that of movie idol Rocky Balboa. Hunt's achieved success in his life, while Rocky was a bum breaking bones on the docks.
However, the UFC could sell Hunt's title shot with Dos Santos as being the true underdog here. A 38-year-old veteran with very little chance to climb the rankings getting his shot with the champ.
While this is unlikely to happen, Hunt is in a position where he could get on this card. He was already slated to face Stefan Struve at the same event, so it's not like they'd be rushing him onto this pay-per-view.
Like Rocky taking on Apollo, Hunt would be a tremendous underdog. But like "The Italian Stallion," Hunt's brutal power would give him a puncher's chance to shock the world.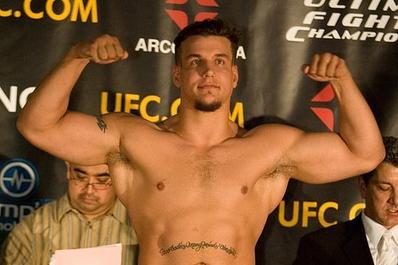 This fight makes the most sense.
Mir is on a three-fight winning streak and is slated to fight Velasquez at the same UFC 146 event in a No. 1 contender's match.
All Dana White has to do is slot Mir into the title fight and pit Velasquez against one of the other heavyweights on the card.
There are only a few reasons why we won't see Mir vs. Dos Santos:
1.) The UFC feels they could sell the fans on Dos Santos taking on someone else.
2.) They scrap Dos Santos off the card and make Mir vs. Velasquez the main event.
3.) For whatever reason, they don't feel Mir deserves a title shot.
Ultimately, though, this fight is the most rational choice. The last time we saw Mir in the Octagon he was breaking Antônio Rodrigo Nogueira's arm.
This could be a good fight that Mir is very capable of winning.