Toronto Raptors: Why the Future Is Bright for This Young Team
April 5, 2012

The Toronto Raptors have had a pretty up-and-down season this year. For some stretches of games, they play amazing basketball, shutting down the other team and producing on the other end. On other nights, it seems like the players do not want to play basketball and just want the game to end.
The Raptors as of late have been playing the basketball they were meant to play. They have been playing aggressively and with passion. They are currently riding a three-game winning streak, their highest of the season.
They have won four out of their last five games, which is a remarkable stretch. Although they have won two of those games against the Washington Wizards and the Charlotte Bobcats, they were still well-deserved wins off of hard work.
Recent additions, Ben Uzoh and Alan Anderson, have been playing solid games, Uzoh being the better player. Uzoh has been a nice addition to back up Calderon, making smart plays while rarely turning the ball over. 
Anderson has been playing fewer minutes, and has also made smart plays while on the court.
Now back to the team as a whole. This season, the Raptors have a 20-35 record which leads us to a 0.364 winning percentage. If you put that into a full 82-game schedule, that gives the Raptors 30 wins, eight more than last season. 
With two more wins, they will tie last year's record in wins, which shows how improved this ballclub is under new head coach Dwane Casey. The defense has been vastly improved, being ranked 15th in the league.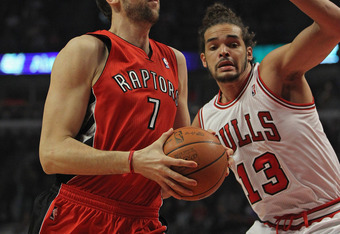 Jonathan Daniel/Getty Images
The improved defense was most visible in the fourth quarter of the game against the Philadelphia 76ers, where the Raptors held the Sixers to only seven points in the fourth.
With a great young prospect in Jonas Valanciunas joining the team next season, and whatever draft pick the Raptors get this year, the ceiling is high for this young team.
Fans have seen what Jerryd Bayless is capable of when healthy and starting, so if Bayless can be given that starting job, there is a very good backcourt with DeRozan and Bayless. Calderon's contract ends after next season, and if the Raptors can keep Bayless, there is a good chance he can do what he did as a starter full time.
James Johnson is a great defensive player and has shown flashes on offense, but being a defensive stopper off the bench is his best fit, so the Raptors should focus on bringing in a young SF who can fit in with the team.
This team is not going to be a playoff contender in a fortnight, but it is going to take some time. The rebuilding process is taking a turn for the better recently, and the future is bright for the Toronto Raptors.
Thanks for reading. :)