NFL Rumors: Dissecting This Week's Latest Trade, Free Agency Buzz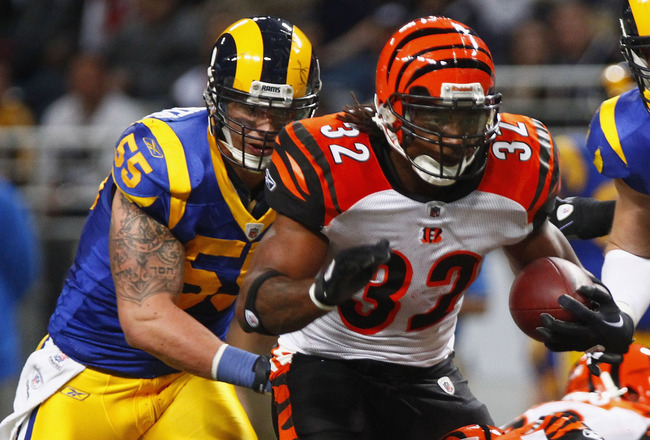 Whitney Curtis/Getty Images
There is never a dull moment in the 2012 NFL offseason.
Sure, the best free agents have been signed, but there is still talent waiting to find a home. Most of us have turned our attention to the NFL draft, and there are some juicy rumors there, too.
So, where will the bargain-basement free agents land? What prospects are rumored for which teams? And is someone else out there planning on trading down in the NFL draft?
Click along and find out what the juicy rumors are just heating up.
Michael Floyd Rising Up Draft Boards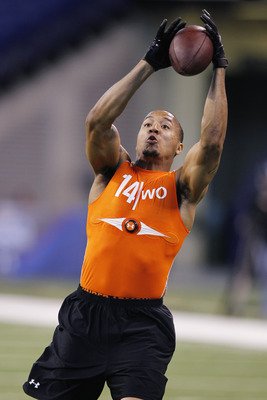 Joe Robbins/Getty Images
With ideal size for the position and solid speed, Michael Floyd has been rising up draft boards since the combine. How far could he rise?
Some wonder if he could be a top-10 pick, and it would not be far-fetched. Floyd is currently sitting at 13 on Mel Kiper's latest mock draft to the Arizona Cardinals, but depending on where Justin Blackmon goes, Floyd could go well before that.
The Jacksonville Jaguars need receivers desperately. If the Cleveland Browns or Tampa Bay Buccaneers take Blackmon, Floyd could wind up in Jacksonville. With the very next pick, the No. 8 Miami Dolphins just traded away their top threat, Brandon Marshall.
It would be a bit of a reach, but in the pass-happy NFL, don't be surprised to see the 6'3" Floyd get snatched up early.
Could Byron Leftwich Babysit Andrew Luck?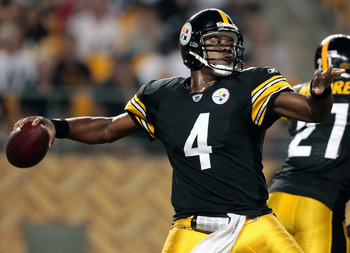 Jared Wickerham/Getty Images
As a top-10 pick of the Jacksonville Jaguars, Byron Leftwich was supposed to be a franchise player himself. Injuries at every turn derailed that. Even when he had prime opportunities to shine as a back-up, he was a mainstay on the injury list.
Now could he follow his old offensive coordinator, Bruce Arians, to the Indianapolis Colts? The move would make sense. Leftwich has seen it all in his eight years. He's been a savior, a bust, a back-up and a Super Bowl champion. Most of all, he has been a great teammate and consummate professional since the day he was drafted.
Andrew Luck will likely start from the first day of the season. If the Colts want to go in another direction (and as awful as that team looks right now, it wouldn't hurt to stash Luck on the bench), Leftwich could start in an instant. If not, the team could not find a better pro to mentor the rookie on the way of the NFL.
Where Will Cedric Benson Land?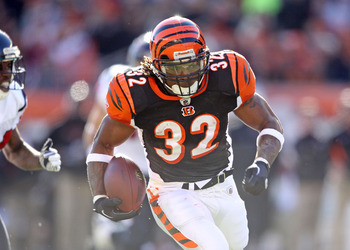 Andy Lyons/Getty Images
Cedric Benson is the last of a fairly deep class of free agent running backs left on the market. It seems unlikely a player with three straight 1,000-yard seasons will be without a home come training camp.
One possible destination is the New England Patriots, who prefer a stable of running backs and lost their leading rusher, as BenJarvus Green-Ellis will replace Benson in Cincinnati.
Could Benson return the favor in New England? Once upon a time, Bill Belichick won Super Bowls by squeezing the last bit of talent out of aging veterans. He signed a similar player in Corey Dillon eight years ago and Dillon exploded for a career-high 1,635 yards.
Other possible destinations for Benson include the Detroit Lions, New York Jets and Pittsburgh Steelers. Detroit has concussion-prone Jahvid Best, injury-plagued Kevin Smith and jail-bound Mikhel Leshoure under contract. The Steelers are expecting to start the season with Rashard Mendenhall on the physically unable to preform list and have the relatively unproven duo of Isaac Redman and Jonathan Dwyer to carry the load. The Jets prefer a ground-and-pound style and are without a ground-and-pound back. Shonn Greene has proven he is not the star they once thought he would be.
At this point in the game, Benson will come for cheap and could end up being a steal. He is 29 years old, but did not receive more than 200 carries in a season until his fourth year in the league, so he should still have some tread left on his tires.
Is Brian Dawkins Ready to Lace Them Up One More Time?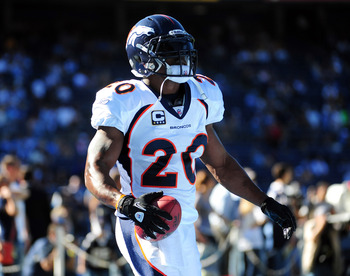 Harry How/Getty Images
Brian Dawkins remains undecided about returning for a 17th season in the NFL. If he comes back, expect a handful of teams to come knocking.
The Denver Broncos remain interested and would likely bring Dawkins back if he decides to give it a go. Again, with their history of signing veterans and their needs in the secondary, the New England Patriots have to be considered a potential landing spot.
Remember, receiver Matt Slater was playing significant time in the Patriots' secondary—in the Super Bowl.
Dawkins would help make that a thing of the past.
Trent Richardson in Tampa Bay?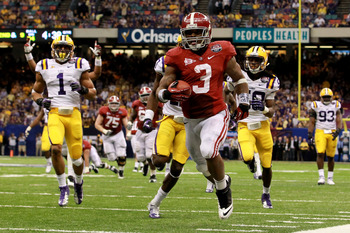 Ronald Martinez/Getty Images
There are quite a few mock drafts out there that have Trent Richardson going to the Tampa Bay Buccaneers with the fifth pick in the draft.
I am not one of them.
Personally, I think the Cleveland Browns would be foolish to not take Richardson with the fourth pick. And then there's this: When asked about the possibility of Richardson joining him in the Tampa backfield, LeGarrette Blount responded, "I would not like that pick."
Of course, Blount does not have a say. After all, this is not the NBA.
Like I said, I don't expect Richardson to be there, and if he is, the Bucs have bigger needs. I see Blount as a star in the NFL and the coaches grossly under-utlized him last season, one reason why they were all fired. Any time you have a 250-pounder with the athleticism to jump over defenders, you have to give him the rock.
But, I've been wrong before.
Will Wes Welker Show at Patriots' Camp?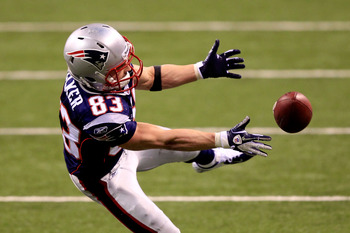 Chris Trotman/Getty Images
Wes Welker entered the offseason hoping to be paid like one of the top receivers in the NFL. Instead, New England Patriots' brass slapped him with the dreaded franchise tag.
Like most players who receive this dubious honor, Welker is not happy about it. Recently, he was asked if he would show up on time to Patriots' camp, to which he responded, "I don't know. We'll see." Welker wants to be paid like an elite player at his position. So did Deion Branch, Adam Vinatieri and Randy Moss before him.
All were shown the door.
The feeling here is Welker reports to camp on time and plays out this season with New England, then signs a long-term deal elsewhere early in 2013.
Seattle Seahawks Trading Down?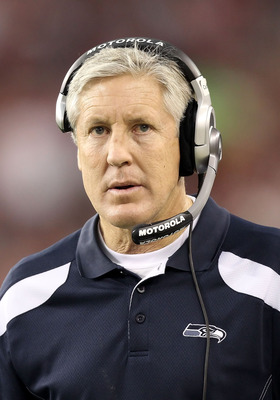 Christian Petersen/Getty Images
With the 12th pick in the draft, the Seattle Seahawks are sitting just outside of the elite talent level in the NFL draft.
Currently, Mel Kiper has the team taking Quinton Coples, the big defensive end from North Carolina. However, rumor has it Seattle is considering another option. Teams like the Chicago Bears and Tennessee Titans that missed out on Mario Williams could take a look at moving up to the Seahawks' spot to select Coples, whose build is eerily similar to that of Williams.
Of course, all this is speculative. The Seahawks need help at linebacker after losing David Hawthorne and Lofa Tatupu. If Luke Kuechly is available at 12, Seattle will likely keep the pick and select the tackling machine out of Boston College.
Will the Broncos Select a Defensive Tackle in the First Round?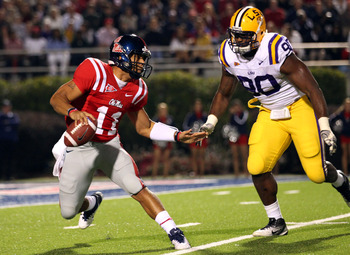 Joe Murphy/Getty Images
The answer to this questions has to be a resounding, "Yes!"
The Denver Broncos have slowly built their rush defense from embarrassingly bad to just bad. To take the next step, they need a run-stuffing defensive tackle.
Fortunately for them (everything just seems to be coming up Broncos these days, doesn't it?) this is the one of the deepest drafts for defensive tackles in recent memory.
Mel Kiper currently has them selecting LSU's Michael Brockers with the 25th pick in the draft. If he's not there, the team could simply take Jerel Worthy. Or Devon Still. Or Kendall Reyes...
With dominant pass rushers like Von Miller and Elvis Dumervill, this defense could be scary good with a big run-stuffer clogging up the middle.
Alexander is a featured columnist for bleacherreport.com You can follow Alexander on twitter @thesportsdude7 or become a fan on his bleacher report profile.
Keep Reading