MLB Opening Day Power Rankings: Where Does Your Team Stand Coming out the Gate?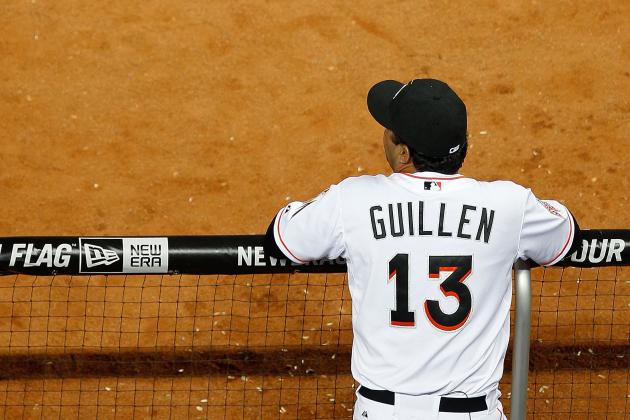 Sarah Glenn/Getty Images

It's that time again.
I know you've all been getting into your syndicated episodes of "Big Bang Theory" this winter, but it's time to park your television back on ESPN, because it's time for baseball season. With the majority of teams kicking off the year tomorrow, let's take a look at where they all stand coming out the gate.
Obviously, there are so many intangibles and unpredictable scenarios that you can never know how all 162 games are going to play out. Teams may pick up pieces at the trade deadline that completely change their look for the second half.
Adam Dunn could remember how to hit lefties. Manny Ramirez could come back with newfound respect for the game and become an honest, hard-working player. Clearly some of these situations aren't likely, but you never know.
These rankings will function as a rough guide for the purposes of easing you into the season with a few expectations in hand. As the year progresses, any deviation from the predictions you're about to read will be the inevitable teams who will greatly impress, or others that disappoint. And that's just the beauty of baseball for you.
Begin Slideshow

»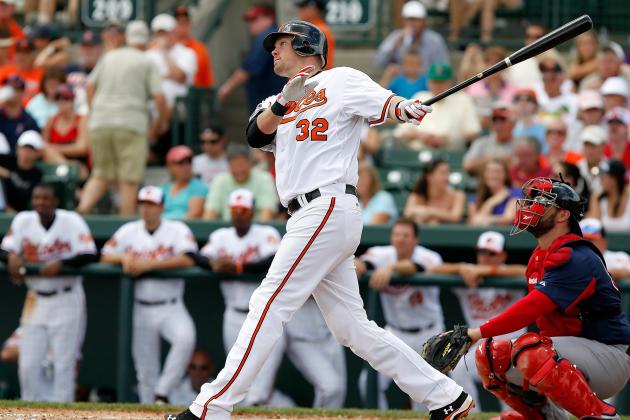 J. Meric/Getty Images

Projected Lineup: 2B Robert Andino, SS J.J. Hardy, RF Nick Markakis, CF Adam Jones, C Matt Wieters, 3B Mark Reynolds, LF Endy Chavez, 1B Chris Davis, DH Nolan Reimold
Right now, no cheating: I'll give you five bucks if you can name ONE member of the Orioles' rotation.
Jeremy Guthrie? No, they traded him to Colorado. Kevin Millwood? Try again. Sidney Ponson? Are you serious?
For a minute, it seemed like the Orioles were really going to make something from the youth movement they had embarked on. Matt Wieters is the future of this team, but without a supporting cast, he's nothing more than a fresh paint job on a busted-up car.
The Orioles need to bring some pitching into the mix, but the best starter they've drafted, Brian Matusz, somehow forgot how to pitch last year. He went 1-9 with a 10.69 ERA after a very solid 2010 season.
Maybe the prospect of carrying this team on his back out of the basement of the AL East was too daunting for him.
In any case, it seems as though the Orioles are back to square one without much of a plan in place. Their opening day starter is slated to be Wei-Yin Chen, an import from the Japanese League. The best thing he'll have going for him is that no one in the league has seen him before.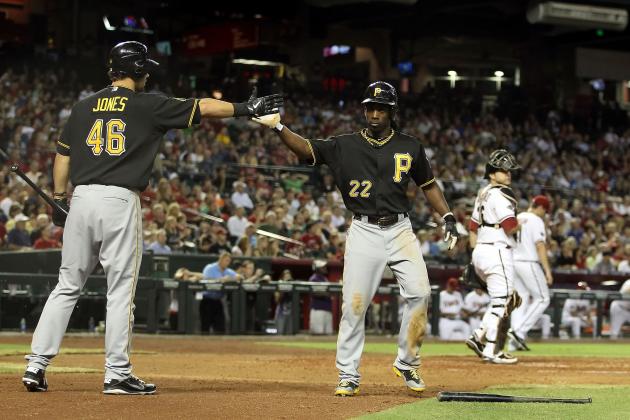 Christian Petersen/Getty Images

Projected Lineup: RF Jose Tabata, 2B Neil Walker, CF Andrew McCutchen, 1B Garrett Jones, LF Alex Presley, C Rod Barajas, SS Clint Barmes, 3B Pedro Alvarez
The Pirates teased us in extraordinary ways last season, being in first place as late as July 25, only to still somehow manage to lose 90 games in the end. It was quite a remarkable feat, actually.
Every piece the Pirates brought in this winter has an interesting thing in common: they were all fantastic in 2007. I'm talking about past-their-prime starters Erik Bedard and A.J. Burnett, and the homecoming of outfielder Nate McLouth.
The relevance that this tidbit has to the coming season, though, is hardly any, unless the team expects to draw a lot of attendance from fans who have been in time capsules and still believe that these are respectable players.
It has been decided that Andrew McCutchen is the centerpiece of the team, as the newly $51.5 million man can certainly attest. The perennial problem is that he doesn't have a supporting cast. It's looking more and more like one-time prospect Pedro Alvarez is a complete bust.
The rotation is comprised entirely of castoffs whom no other team wanted, and the bullpen doesn't have much going for it outside of closer Joel Hanrahan, who had a fantastic 2011 that was almost certainly a fluke.
Prove me wrong, though, Bucs! I can't wait to see the party on the streets of Pittsburgh when the Pirates clinch their first winning season in what will now be 20 years. I just don't think this will be the year.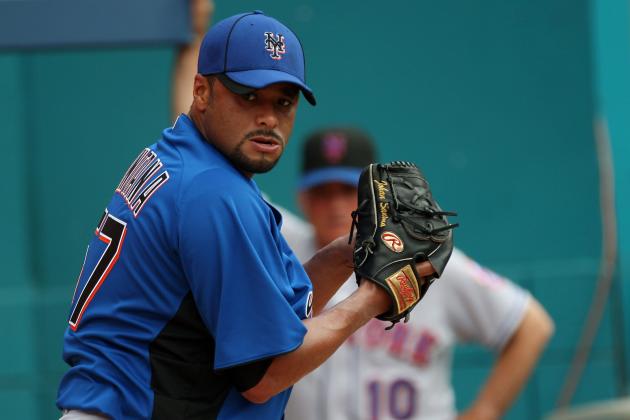 Sarah Glenn/Getty Images

Projected Lineup: CF Andres Torres, 2B Daniel Murphy, 3B David Wright, RF Lucas Duda, LF Jason Bay, 1B Ike Davis, C Josh Thole, SS Ruben Tejada
It can be argued that the Mets will be a factor in the NL East, in much the same way that it can be argued that National Treasure was the greatest movie ever made. You could probably make some intriguing points, but I won't be doing that (Not to say that the "stealing the declaration" scene wasn't awesome, though).
The Madoff crisis has crippled this team financially. Without the flexibility to bring in any substantial pieces, they brought in Jon Rauch, Frank Francisco and Ramon Ramirez in an effort to bolster their bullpen, and traded away Angel Pagan for the less expensive, less consistent Andres Torres.
These guys will complement a lineup that is pretty decent on paper but has a knack for severely underperforming. This year should be no different from the norm, as David Wright will be slow out the gates, coming back from a spring injury. And any hope that Jason Bay will ever be the threat he once was went out the door long ago.
Johan Santana has looked pretty strong in his attempt to get ready for opening day, so it will be nice to have him back in the fold. The rest of the rotation, though, I can hardly say anything positive about if I tried, and even remembering their names is like trying to name the guys in Jurassic 5 who aren't Chali 2na.
I want to say Mike Pelfrey's still there, but after a very disappointing 2011, he may not be for long. The owners, having brought in the Citi Field fences over the winter in order to accommodate the home run, definitely won't help the ERAs of any of these guys.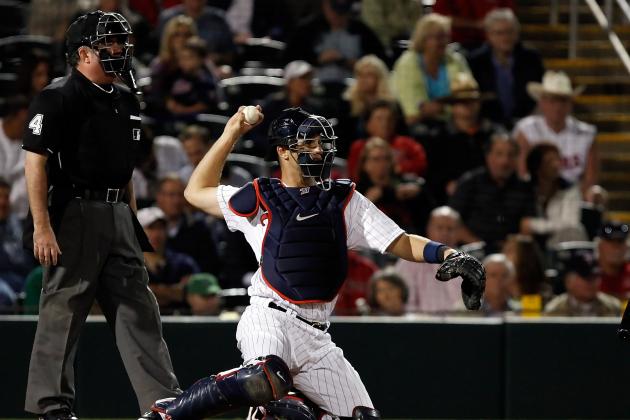 J. Meric/Getty Images

Projected Lineup: CF Denard Span, LF Ben Revere, C Joe Mauer, 1B Justin Morneau, RF Josh Willingham, 3B Danny Valencia, 2B Alexi Casilla, DH Trevor Plouffe, SS Tsuyoshi Nishioka
The Twins lost a big chunk of their outfield in Michael Cuddyer and Jason Kubel to free agency this winter, and are hoping to plug the holes left by their departures with a group that warrants a bit of concern. Josh Willingham arrived from Oakland. He hit a career-high 29 homers last year, but it was at the expense of his batting average.
They get Denard Span back hopefully for the full year, too, and if he's going like he was going last year when he got hurt, he could be the ignition for this squad.
The big concern is, as it always is for this team, the lack of depth. There's a reason the Twins sunk to 99 losses last year, after winning 94 games the year before. Their success hinges on the health of a few key players. If Mauer goes down, that's the season. If Span goes down, that's the season.
Beyond the Opening Day starting lineup, you've basically got some Triple-A castoffs sitting on the bench, and the more Ron Gardenhire has to use them, the further this team sinks into oblivion.
Before I write off the whole rest of the organization as a detriment, though, I should mention that there are a few prospects we can look forward to seeing this year.
First baseman Chris Parmelee has been very good this spring. He reminds me of a young Jim Thome, in that he has the appearance of a mild-mannered, amiable kid who could never hurt a fly, and then you serve him up a breaking ball and he crushes it 500 feet.
The Twins are not going to let another power hitter of this magnitude leave like they did with David Ortiz, so expect Parmelee to be a big part of the team's future.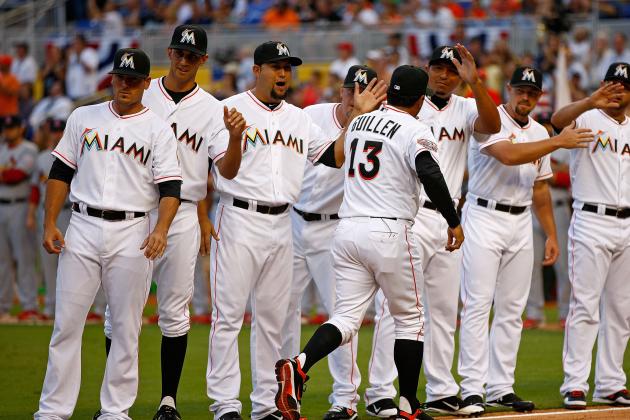 Mike Ehrmann/Getty Images

Projected Lineup: SS Jose Reyes, CF Emilio Bonifacio, 1B Gaby Sanchez, 3B Hanley Ramirez, LF Logan Morrison, RF Giancarlo (Mike) Stanton, C John Buck, 2B Omar Infante
The Marlins this year will be like a big-budget movie with a story that goes nowhere.
You can't just throw a bunch of money at a few superstars, give them ridiculous costumes, put them out on the field and tell them to play ball. It doesn't work like that.
There's a little thing called "chemistry" that can't be achieved when everyone out there is just playing for their own individual millions. Not to mention the Showtime cameras that will be capturing the whole thing, and the fact that Hanley Ramirez is already angry at being displaced from his position.
A few bright spots on the team: Josh Johnson is back as the ace of the pitching staff. He has looked like his old self this spring, and should once again put up Cy Young-caliber numbers. Closer Heath Bell will bring his wacky intensity, which should fit in quite well with the spectacle the Marlins have become. He also has not allowed a run all spring.
There are just as many question marks as there are positives, though, and the first one that comes to anybody's mind is Jose Reyes. He won a batting title in dubious fashion last year, barely squeezing by with the qualifying number of plate appearances as a result of two separate DL stints.
The injury-proneness has become a pattern for him, and though he is very promising for this team, you never know when he'll play just a little too hard and hurt himself.
Logan Morrison also has not panned out for the Marlins as expected, with them even having to send him down to Triple-A briefly last year due to his lack of production. He's still got plenty of time to develop, but by the looks of things the front office wants this to be the year, and he's simply not going to be ready.
All in all, this team is primed to fail in spectacular fashion, and it'll sure be fun to watch. Who's coming to the new ballpark with me this year?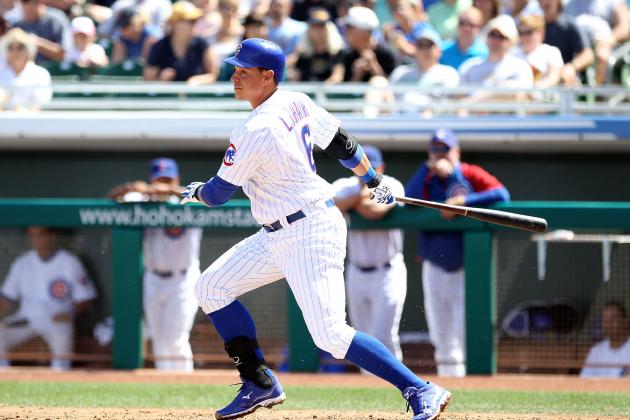 Christian Petersen/Getty Images

Projected Lineup: RF David DeJesus, 2B Darwin Barney, SS Starlin Castro, 1B Bryan LaHair, LF Alfonso Soriano, CF Marlon Byrd, C Geovany Soto, 3B Ian Stewart
Don't despair, Cubs fans. There are brighter days ahead. You can despair a little this year if you want, though, because this isn't the year. I do hear there are some pretty good happy hour specials down on Clark Street, so hopefully that'll help hold you guys over.
The "good days ahead" begin with Bryan LaHair, last year's MVP of the Pacific Coast League and this year's starting first baseman for the big league squad. He's a legitimate Three True Outcomes player: walk, strikeout, or home run. Pick one.
I view him as more of a multi-faceted threat, however, than others of his kind like Adam Dunn or Jim Thome, in that LaHair consistently uses the whole field. I really liked what I saw from him last September after his call-up, because he didn't go up and try to crush the ball every time.
He was more focused on working the count, getting the base hit, going the other way with the ball if needed, and if he ever did get a hold of one and drive it out...well, that was just a bonus.
Another guy to watch out for in this team's future is Tony Campana. He may be the fastest man in baseball. He was the Cubs' late-inning weapon off the bench last year, and in limited action stole 24 bases, while only getting caught twice.
I'd love to see him get more starting opportunities, and there seems to be little doubt that he'll succeed, it's just a question of when the Cubs are going to bench Alfonso Soriano.
With all this talk about the Cubs' future, though, let's get firmly re-established in the reality of the present, which is that the Cubs don't have a chance this year. Ryan Dempster's glove-rotating technique isn't fooling anybody anymore, and the rest of the rotation are all question marks, save for Matt Garza.
The bullpen is going to miss Sean Marshall, who was the one consistent arm in the late innings. Carlos Marmol is still his notoriously wild self, an M.O. which can be effective at times, but is still a horrible thing to be a closer's "calling card."
Cubs fans, I can't say that I don't admire your spirit, though. Hey Chicago, what do ya say?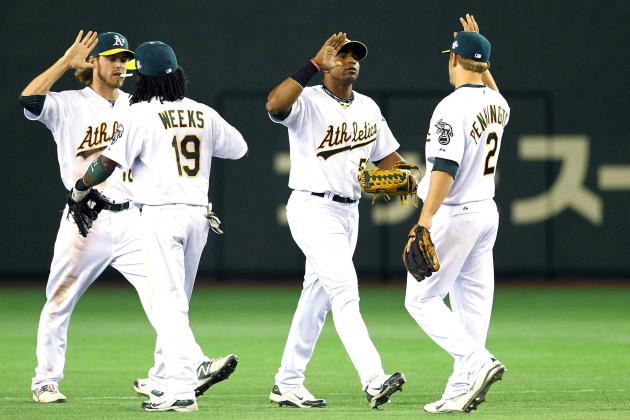 Koji Watanabe/Getty Images

Projected Lineup: 2B Jemile Weeks, CF Coco Crisp, LF Yoenis Cespedes, RF Josh Reddick, C Kurt Suzuki, DH Chris Carter, 1B Brandon Allen, SS Cliff Pennington, 3B Josh Donaldson
The A's are going in a new direction this year. After successfully trading away their entire rotation, the plan is to install a tee on home plate and let opposing batters swing away, effectively eliminating "pitching" as part of their game.
This will enable to team to save money in several areas, freeing them up from excess staff members such as pitching coaches and rehab instructors. Hell, they won't even have to field a catcher anymore, so Kurt Suzuki will instead be patrolling the stands, getting fans to sign a petition to expedite the move to San Jose.
In case MLB doesn't approve of this plan, I suppose one could say good things about Brandon McCarthy, who will by default have won the role of staff ace. He was better than his numbers last year: 9-9 with a 3.32 ERA.
He's a guy who can and will pitch late into games, giving his team a chance to stay in it, in spite of a shoddy bullpen. Also he simply doesn't walk anyone, keeping his pitch count low and assuring several of those 8-inning-plus starts.
If the A's can install a consistent closer behind him, that could be a good formula for a few victories. That's an "if" that probably won't come to fruition, though. I see the A's shuffling arms through the closer role this year until possibly settling with Ryan Cook, the hard-throwing kid who came over from Arizona in the Trevor Cahill deal.
As far as the lineup, Manny Ramirez will be a non-issue and is hardly even worth mentioning. Yoenis Cespedes will probably get a slow start with the bat as he adjusts to big-league pitching. That doesn't leave a whole lot.
The A's have a phenomenal leadoff hitter in Weeks, but setting the table is useless if no one's coming over for dinner.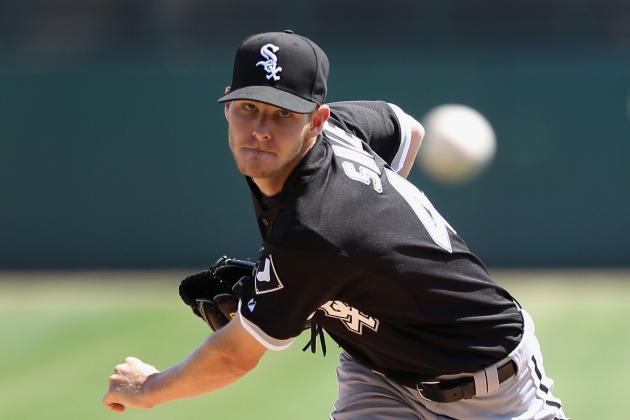 Christian Petersen/Getty Images

Projected Lineup: SS Alexei Ramirez, CF Alejandro De Aza, 1B Paul Konerko, C A.J. Pierzynski, DH Adam Dunn, RF Alex Rios, LF Dayan Viciedo, 3B Brent Morel, 2B Gordon Beckham
The White Sox watched a lot of integral pieces walk away over the winter, and in pursuit of a division title this year are relying on a corps of youngsters and a few over-the-hill holdovers.
First, let's touch on the bright spots. This won't take long.
Philip Humber rose from all but complete obscurity before last season to becoming one of Chicago's top starters. This season, he'll be looking to prove that last year wasn't a fluke and that he deserves to stay in the majors. The rotation needs his arm now, with Mark Buehrle gone, so Humber will be pretty key to the White Sox' success.
The new kid on the South Side is Dayan Viciedo. He's been a top prospect for a while, but it wasn't until last year that he really came into his own, graduating from "just another chump toiling in the minors" to "someone the White Sox need to make room for."
Not only did his average in the minors jump to .296 up from .274 the year before, he got his walks way up while maintaining his power stroke. In short, he's turning into a professional hitter. He should start opening day in left field, and end this year with a full big-league season under his belt.
In one of the more questionable moves of the offseason, Chicago traded away their new breakout closer Sergio Santos for a prospect named Molina (who isn't even a catcher. This is all kinds of wrong, as far as I'm concerned).
This now lands the major league club with an immediate predicament, that being the lack of a bullpen anchor. Matt Thornton is slated to close, but the likelihood of that being a good idea is pretty slim. Chris Sale could've been a serviceable closer, but he's been moved to the rotation.
The Sox need to find themselves a few pieces for the bullpen if they have any intentions to succeed this year, because as it stands now, a lot of games are going to slip through their fingers in the late innings.
Christian Petersen/Getty Images

Projected Lineup: SS Dee Gordon, 1B James Loney, CF Matt Kemp, LF Juan Rivera, RF Andre Ethier, 3B Jerry Hairston Jr., 2B Mark Ellis, C A.J. Ellis
With the Dodgers in the thick of their ownership debacle, their plan is to just ride out the season like a bad cold and get themselves situated for next year. Andre Ethier and James Loney will be playing for contracts, Matt Kemp for an MVP award, and the rest of the team will just be along for the ride.
One rather unfortunate black hole on the team is Juan Uribe, with whom the Dodgers are stuck for two more years. It seems that Uribe fooled everyone with a less-than-mediocre 2010, a year that was obscured by his championship ring and bat-release jazz hands sufficiently enough to earn a three-year contract.
His first year in Dodger blue, however, he hit .204 and likely grounded into more double plays than he turned.
This year, the Dodgers have supposedly remedied their third base situation by adding Jerry Hairston Jr., who will be 36 this year and hasn't had a steady home since the early '00s.
In the bigger picture, a team simply can't be expected to perform at their full potential with the ongoing distraction of new owners, and everything they'll be trying to implement.
Can you imagine how annoying it must be every time the media barges in the clubhouse to ask Clayton Kershaw, possibly in the middle of studying scouting reports for his upcoming start, how he feels about the new ownership?
"Really, guys, I don't care about Magic Johnson, unless he can tell me how to effectively pitch inside to Buster Posey."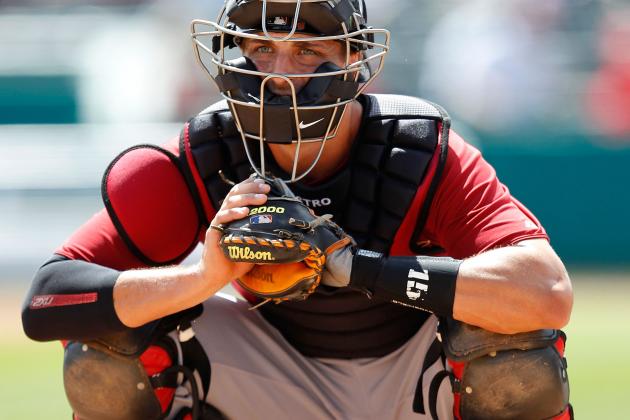 Sarah Glenn/Getty Images

Projected Lineup: CF Jordan Schafer, SS Jed Lowrie, RF J.D. Martinez, LF Carlos Lee, 1B Brett Wallace, 2B José Altuve, 3B Jimmy Paredes, C Jason Castro
The Astros, like the Dodgers, are faced with the distraction of new ownership this year. Both teams will be riding out the coming season as the owners focus on implementing their plans for 2013 and beyond.
The difference with the Astros, however, is that they don't have a major-league caliber team to begin with. Which is what makes them all the more dangerous. These guys are borderline Triple-A players with a ton to prove and nothing to lose, and it's scary to face guys like that.
Starting right around when the team traded away Hunter Pence last year, you could see these guys slowly coming together and playing like a real team, all of them scrappy, and each one giving 100 percent.
The effort shows in their stats, too, with most of their batting averages hovering around pretty decent levels: J.D. Martinez .274; Brian Bogusevic .287 (.313 from Aug. 1 on); José Altuve .276; Jason Bourgeois .294; Jimmy Paredes .286.
Joining the party this year will be catching prospect Jason Castro, who is outstanding defensively with pretty decent plate discipline to go with it. He won't hit .300, but he won't be Brad Ausmus with the bat, either.
Time will tell, also, whether Castro is the same Jason Castro who got voted off American Idol a few seasons ago after forgetting the words to "I Shot the Sheriff." It's hard to tell without the dreads, but I have a sneaking suspicion.
The rotation is pretty much the opposite of "sensational." Brett Myers left a pretty big hole with his move to the bullpen, but the Astros' position on the matter is the same as Bill Murray's in Ghostbusters II, when he has to explain to the court why he dug a hole in the middle of the street to look for slime: "There are so many holes in First Avenue already, we really didn't think anyone would notice".
Kyle Weiland will occupy the vacated fifth spot in the rotation, and one can only hope he'll perform better than he did last year during his call-up in Boston: 0-3 with a 7.66 ERA. Three of his five starts were against Baltimore, too. Come on, bro, we're trying to ease you in here, but you gotta meet us halfway.
It's a near certainty that Carlos Lee will be dealt by midseason, and that most of the Astros' National League farewell tour will be spent crashing the parties of actual contenders. Just don't be surprised if they turn some heads doing it.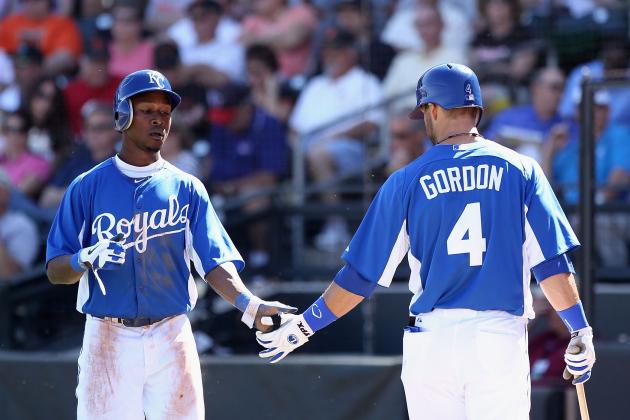 Christian Petersen/Getty Images

Projected Lineup: LF Alex Gordon, 2B Johnny Giavotella, DH Billy Butler, 1B Eric Hosmer, 3B Mike Moustakas, RF Jeff Francoeur, CF Lorenzo Cain, C Humberto Quintero, SS Alcides Escobar
It's so tough to pick the Royals to accomplish much of anything, despite having what has been hailed as the best farm system in baseball. Their collection of young, prized pieces was supposed to put it all together last year and elevate the Royals into the realm of contention.
Likewise, this season there is just as much hype, but I'm starting to wonder if the well-publicized hints at looming success are all to sell tickets, when really there was never any plan to release a product. Similar to Dr. Dre's new album. When is Detox coming out?
I nonetheless have to admire some of the moves that management made this offseason. Melky Cabrera, after a great season which will assuredly not be matched ever again in his career, was dealt to the Giants for pitcher Jonathan Sanchez, who has the stuff to have many good years ahead of him.
He will co-anchor this staff with the up-and-coming Aaron Crow, who like the elder Sanchez, also throws fire and can strike out batters at nearly inhuman rates. Along with Luke Hochevar, Bruce Chen, and Felipe Paulino, the Royals have a potentially solid front five.
This comes with a price, though. The assumption that Crow will be moved to the rotation from the bullpen (which has always been the plan) leaves the 'pen with a glaring hole, which has only become magnified by the news that closer Joakim Soria would be out for the season, requiring Tommy John surgery.
The Royals are relying on Jonathan Broxton to be the shut-down ninth-inning guy he was with the Dodgers three years ago, and I don't know if he's still got it in him.
I predict that after a nebulous endgame plan that lasts for most of April, the job of closer will fall on Greg Holland, who excelled in the set-up role last season.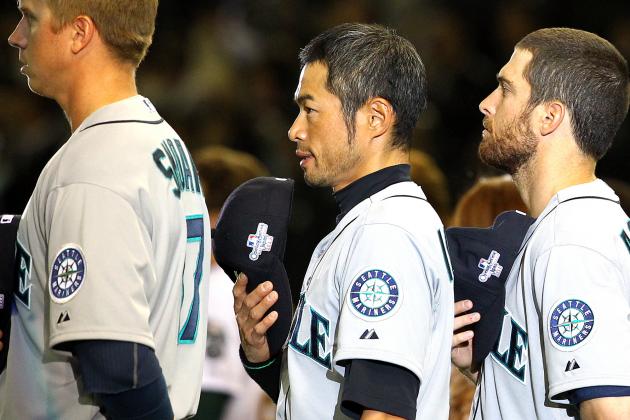 Koji Watanabe/Getty Images

Projected Lineup: 2B Dustin Ackley, CF Franklin Gutierrez, RF Ichiro, DH Jesus Montero, 1B Justin Smoak, LF Mike Carp, C Miguel Olivo, 3B Chone Figgins, SS Brendan Ryan
Give the M's credit for following the old baseball wisdom to shuffle things up when things aren't going well. This spring they've been experimenting with hitting Ichiro in the 3-spot instead of leadoff.
Despite being one of the greatest leadoff hitters the game has seen, I feel like the offense will get a boost from having him come to the plate with runners on base, and the new RBI opportunities it will present. The Mariners haven't had a legit .300 hitter out of the 3-spot since the second coming of Bret Boone.
However, a simple shuffling of the lineup does not make a championship team out of a basement dweller overnight. You still need to add a few pieces. To be precise, save for Ichiro and ace Felix Hernandez, the Mariners needed to add about 23 pieces.
Turns out, they got a few good ones—the trade they worked out for prospect catcher Jesus Montero will pay immediate dividends. Montero gives them a solid hitter with power, and he will be a key cog in fixing that anemic offense.
They also brought in pitcher Hector Noesi in the deal, who should land in the starting rotation. Noesi doesn't light up the radar gun quite like Michael Pineda did, but he still chills in the low-to-mid 90's with exceptional command.
With a career 1.7 walks per nine innings in the minors, Noesi should be able to go deep into games as a starter. Also, he can reach back and get the strikeout when he needs it.
One more of these kids to watch for is Justin Smoak. He hasn't had the easiest time acclimating to the big leagues, but he seems like he's poised for a breakout year. Last year, he was pretty awful through midseason, but in September he finally worked a few things out, hitting .301 for the month.
Baseball is a game of making adjustments, and sometimes it takes a couple seasons of failure before a top prospect can truly learn to succeed at the big-league level. I sure hope for Smoak's sake that the few glimmers of hope I've seen are signs of progress.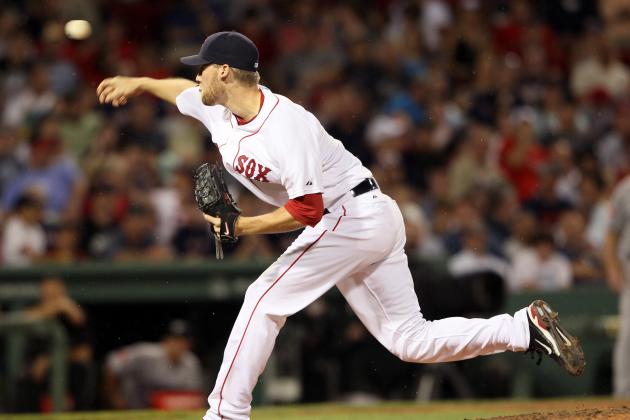 Elsa/Getty Images

Projected Lineup: CF Jacoby Ellsbury, 2B Dustin Pedroia, 1B Adrian Gonzalez, 3B Kevin Youkilis, DH David Ortiz, LF Carl Crawford, RF Cody Ross, C Jarrod Saltalamacchia, SS Mike Aviles
The Red Sox have so many uncertainties going into the season that I'm going to call their potential to contend unlikely at best.
Let's start with the injuries.
Carl Crawford will miss the first few weeks of the season, and the Sox are without a viable replacement.
Daisuke Matsuzaka and John Lackey are both out for the season after Tommy John surgery, leaving the starting rotation pretty crippled. They will be replaced by Daniel Bard, who has never thrown 80 innings in a professional season, and Felix Doubront, who has barely any major-league experience at all.
One face we could soon be seeing a lot more of is Ryan Lavarnway's. The Red Sox' catcher of the future, the Sox had planned to start him in Triple-A to give him regular work, while Saltalamacchia/Shoppach formed their big league platoon.
Lavarnway, however, is practicing the ancient art of "forcing the issue" by ripping the cover off the ball down in Fort Myers. Since the Sox can scarcely hope to get more than .230 production from their current catching tandem, Lavarnway may find himself starting at Fenway a lot sooner than planned.
You have to look beyond the numbers to understand why this team crashed and burned last September. They just didn't play like a team. Too often the priorities were personal achievements, playing for contracts, and treating the season like a boring amusement park ride that everyone had ridden a thousand times before.
The managerial change was necessary, which is a shame because Terry Francona was a great leader, but when a team gets too complacent, they need a change of scenery. Bobby Valentine's no-BS approach will help whip these guys into shape.
He has already made his presence felt by "cutting off" the members of the starting rotation from having beers in the clubhouse on their off days.
I will concede that everyone overreacted a bit to the whole drinking debacle. Wade Boggs used to kill two racks of Miller Lite by himself every cross-country flight. So anyone wasting their breath complaining about Josh Beckett and Jon Lester having "a few beers" in the clubhouse need to show some respect to one of the greatest of all time.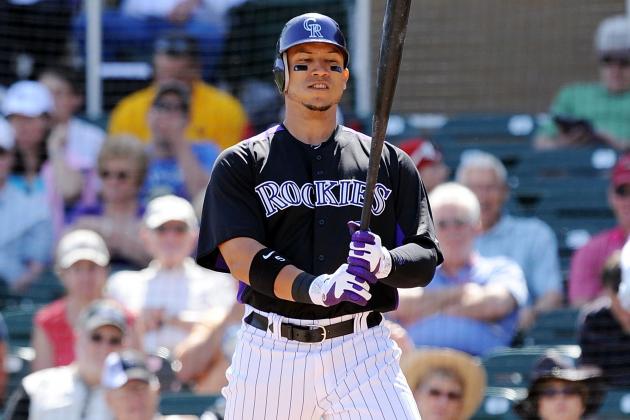 Norm Hall/Getty Images

Projected Lineup: CF Dexter Fowler, 2B Marco Scutaro, LF Carlos Gonzalez, SS Troy Tulowitzki, RF Michael Cuddyer, 1B Todd Helton, C Jordan Pacheco, 3B Casey Blake
Injuries derailed much of Colorado's plan to not suck in 2011, so 2012 will be a kind of redemption year for a team perfectly good enough to play in October.
The team probably made more under-the-radar pickups than any other team, filling huge holes with the acquisitions of Michael Cuddyer, Marco Scutaro, Casey Blake, Jeremy Guthrie and Guillermo Moscoso.
This gives the Rockies a notable new-look rotation, the key ingredient which they lacked last season. Whether they'll deliver is a big question mark, though. Jhoulys Chacin, the 24-year-old still coming into his own, is the front liner. His stuff is solid, but he needs to get his walks down.
Jeremy Guthrie can be counted on to give you 200 innings, but will he be disoriented by the prospect of playing for a team trying to win? Guillermo Moscoso had a solid 2011 with Oakland, but how will the traditionally fly-ball focused pitcher's style translate to Coors Field?
One guy to watch on this team is Jordan Pacheco, the highly-touted rookie catcher/first baseman/whatever they decide to make him play as some awkward form of rookie hazing. ("Hey Jordan, you're in center field tonight, but the kick is you have to wear full catcher's gear... full pink catcher's gear").
Once the novelty is all gone, though, the fact will remain that he can hit. His game is pure contact, getting on base, and making amazing happen. The Rockies need to decide on a consistent position for him though, instead of trying to turn him into the next Brandon Inge.
At the end of the day, it will be the lack of established pitching that does Colorado in this year. There is virtually no bullpen to speak of, and beyond the front three starters, the Rocks are relying on Tyler Chatwood and Drew Pomeranz, 22-year-olds with virtually no Major League experience.
It seems that the front office is trying to compensate for the lack of collective experience by keeping Jamie Moyer on staff as a backup arm, who has more years of Major League pitching under his belt than most of these kids have been alive. Someone tell them that's not the recipe for crafting a championship team.
Denis Poroy/Getty Images

Projected Lineup: CF Cameron Maybin, 2B Orlando Hudson, 1B Yonder Alonso, LF Carlos Quentin, 3B Chase Headley, SS Jason Bartlett, RF Will Venable, C Nick Hundley
You never know what you're going to get from those wacky Pads. You'd think that after an offseason in which they gave up their ace and lost their All-Star closer, they wouldn't be especially poised for a playoff run. And you'd probably be right.
But just imagine, if only for a moment, that the Padres know what they're doing.
Give them credit for playing to their strengths, knowing that to succeed in that spacious ballpark that your pitching only needs to be passable, and choosing instead to boost the middle of their lineup with quality bats like Carlos Quentin and Yonder Alonso.
The Pads' formula for success relies on speed on the basepaths and RBI guys who can drive balls to the outfield gaps. This year, they've got just that.
As highly as Alonso has been touted, and as much as I'm going to enjoy referring to him and teammate Yasmani Grandal as "Yonder & Yasmani, the Amazing Circus Duo," my catalyst for success in that lineup is Cameron Maybin.
He enjoyed his first season of starting full-time last year, and his once alarming strikeout rate has decreased somewhat, by which I mean its associated terror alert level has gone from "red" down to "orange."
If he can find a little more of that bat control that he had in the minors, and put up another year of 40-plus steals, the Padres are in this.
Although, with their rotation as thin as it is, there really is very little room for error. I'm putting the Pads down for an outside shot at a Wild Card berth.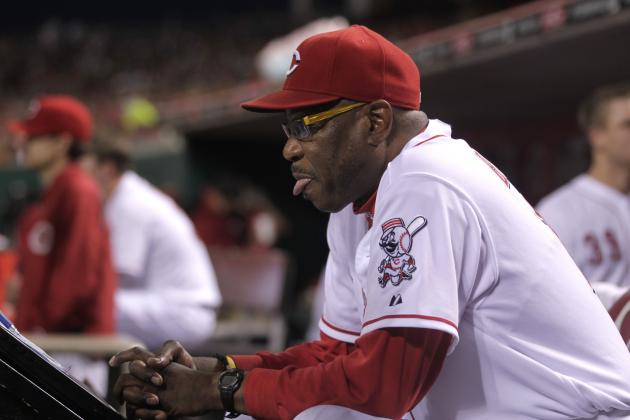 John Sommers II/Getty Images

Projected Lineup: 2B Brandon Phillips, SS Zack Cozart, 1B Joey Votto, RF Jay Bruce, CF Drew Stubbs, 3B Scott Rolen, LF Ryan Ludwick, C Ryan Hanigan
Dusty Baker is a man who is determined to succeed, and he knows this is the year. Another failure to make the playoffs means he probably gets relegated to the role of Baseball Tonight analyst again, and after seeing so many of his peers go that route in recent years, he knows it's a fate he wants to avoid.
As a side note, don't you think managers should have stats recorded for their analyst days, to go in the place of wins and losses for those years they spent out of the game? Maybe something like "insightful segments" versus "times outshone by John Kruk."
The Reds brought in one major piece in Mat Latos, whom they anticipate to be the missing ingredient that will turn around their fortunes.
Latos will grow to be the ace of this staff, but whether he takes that role this season depends on how quickly he can get acclimated to playing in the bandbox that is Great American Ball Park. Hey, you'd be disoriented, too, if what used to be a popup to the shortstop now goes for a homer.
For opening day, though, the Reds will let incumbent ace Johnny Cueto retain his role. Cueto actually had a breakout year last year, and it's a real shame that no one outside of Cincinnati noticed.
He got better at inducing weak contact, and keeping the ball on the ground, and it shows: hitters against him only batted .220, way down from Cueto's career ratio of .261. (And how about his Groundout/Air Out ratio going from a career 0.92 to an insane 1.65! Holla at a playa when you see him on the street!)
As high as hopes are for their pitching staff, one of the backstops who'll be putting down fingers for these guys has been touted even higher. Devin Mesoraco will start the season backing up catcher Ryan Hanigan, but that's just to ease him in. He has been hailed by fairly reputable publications as being "the next Johnny Bench."
I won't go as far as that, but I will say that he'll have the catching position locked down for this team for many years. He has a tremendous arm, will throw behind a runner at first like Yadier Molina, has a good power stroke, and decent speed on the basepaths.
The bullpen, if anything, will be the Reds' Achilles heel. Newly signed closer Ryan Madson will be out for the season following Tommy John surgery, in what was probably the biggest waste of $8 million since the production of Bring It On: Fight to the Finish.
Aside from Sean Marshall, who should perform admirably in his role as fill-in closer, the bullpen lacks any real anchor. Aroldis Chapman will soon get bumped up to the rotation, which means the best piece left for the middle innings is Jose Arredondo, and he hasn't been good since...wow, it's been so long that I can't even think of a pop-culture reference.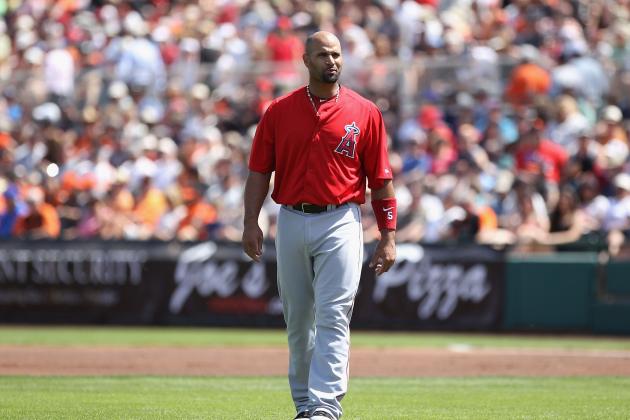 Christian Petersen/Getty Images

Projected Lineup: SS Erick Aybar, 2B Howie Kendrick, 1B Albert Pujols, RF Torii Hunter, 3B Mark Trumbo, DH Kendrys Morales, LF Vernon Wells, CF Peter Bourjos, C Chris Iannetta
The Angels have a bit of a surplus of talent in their starting lineup. The Angels will be installing Albert Pujols at first base, shoving Rookie of the Year runner-up Mark Trumbo over to third base in order to keep his bat in the mix, rendering him a defensive liability and leaving him probably feeling a bit like Woody in Toy Story when Buzz Lightyear came in and took over his role as Andy's favorite toy.
I just hope the Angels' new toy performs like a space ranger, since he has also displaced another perfectly capable first baseman, Kendrys Morales, who will be sharing DH duties with Bobby Abreu.
Meanwhile, Vernon Wells, the anti-OBP machine, roosts in the middle of the order with no other purpose in life than killing rallies with his patented popout-to-short technique.
Howie Kendrick is also the best-hitting second baseman that no one's talking about. He enjoyed a career year in 2011, somewhere along the way finding his power stroke. Having Albert bat behind him this year will give him a lot more pitches to see, and if he can get a hold of a few of them, a .300 season with 25 homers is within his reach.
The Angels' new-look rotation is hailed by some as the best in baseball. However, it is hailed by me more as "meh."
Jered Weaver will come back down to earth this year and show that he's really not all that. He had a good run pretending to be among the elite starters in the AL, but the man has been extraordinarily lucky. One can normally look at BAbip (batting average on balls in play) as a fairly decent indicator of luck.
Jered Weaver's, however, was among the lowest in baseball, meaning that an atypical amount of batted balls found gloves as opposed to trickling through for base hits. In addition, he led the league in LOB% (left on base percentage), stranding 82.6% of runners who got on base against him.
Sure, this may indicate that in pressure situations, he can buckle down and get the strikeout when he needs it. I, however, side with the acclaimed baseball analysts such as Bill James who believe clutch ability to be a made up statistic, so as far as I'm concerned, Weaver got luckier than Stifler at the end of American Pie 2.
The undoing of the Angels this year will be the pitching depth. The question marks in the rotation and the untested bullpen will conspire to prevent the Angels from regaining control of their division, at least for one more year.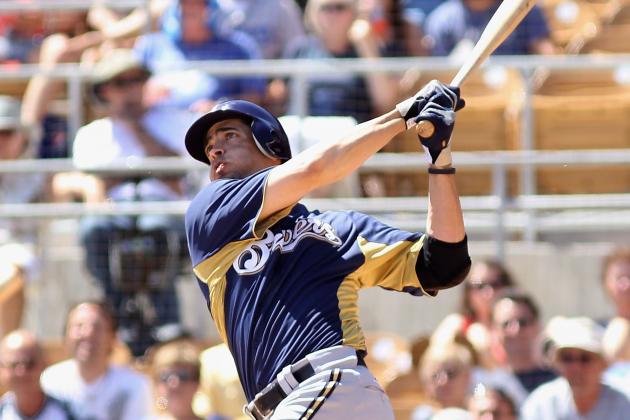 Christian Petersen/Getty Images

Projected Lineup: RF Corey Hart, CF Nyjer Morgan, LF Ryan Braun, 3B Aramis Ramirez, 2B Rickie Weeks, SS Alex Gonzalez, 1B Mat Gamel, C Jonathan Lucroy
Disclaimer: My predictions may not be genuine. Before I posted these, I printed them out and left them unattended at a friend's house for a few days. I like to do that for good luck.
Looking at the Brewers on paper (or even looking at them on the field, I suppose), one glaring thing stands out, and that is the absence of the big dude who used to play first base.
Prince Fielder was somewhat iconic of this ball club (not to take anything away from Bernie Brewer). He's the guy the team united behind last August when they took this division by storm. He was at the center of every rally, the fans loved him, and he even somewhat helped keep Nyjer Morgan under control.
This year, it remains to be seen how crippling the loss will be, but if this team hits a skid without that fearless leader around to reassure them that they can turn things around, it could be a long, disappointing year.
Ryan Braun definitely needs to be that leader. He's proven that he can put up the numbers, and this offseason he showed that he'll stand up to injustices. I wouldn't be surprised to see the Brewers use Braun's overturned drug suspension appeal as a sort of rallying point: if he can beat MLB's ruling, what can't this guy accomplish?
He's surrounded by an excellent lineup this year, too. Corey Hart is an impeccable leadoff threat. Remember those 26 homers he hit last year? National League pitchers certainly do.
Newcomer Aramis Ramirez is a perennial .300 hitter with some power, albeit not enough to replace the Prince.
One through five, the Brew Crew's rotation is also one of the best in the league. Zach Greinke is playing for a contract this year, so he'll have a little added incentive. Yovani Gallardo improves every year, and he has some Cy Young consideration in his very near future.
And Shaun Marcum's impressive season went pretty under the radar last year. He didn't quite have the wins that Greinke and Gallardo did, but Marcum's 1.156 WHIP led the team.
The only real weak spot on the team is at first base, where Mat Gamel, a man who has made blowing chances in the big leagues into an art form, now starts by default. They've also given Giants castoff Travis Ishikawa a long look this spring, whose superb defense at the position could earn him a chance.
If all in-house options bust, though, I wouldn't be surprised to see the Brewers pick up Aubrey Huff or Carlos Lee midseason to fill the need. The team owners certainly haven't been the type to shy away from "going for it" if they're in the race.
Drew Hallowell/Getty Images

Projected Lineup: SS Jimmy Rollins, CF Shane Victorino, 2B Chase Utley, RF Hunter Pence, 1B Jim Thome/Ryan Howard, 3B Placido Polanco, LF John Mayberry Jr., C Carlos Ruiz
Phillie fans who make it a pastime to gather around pints of Yuengling and discuss their team's misfortunes (i.e., the whole city) are aware that the Phils have been on a downward slide since their World Championship season in 2008.
Losing in the World Series in '09, losing in the NLCS in '10, losing in the NLDS in '11, there is no one more upset with the inclusion of an extra round of playoffs in 2012 than the superstitious in Philadelphia.
For a team that has suffered such horrible luck in the sport, it's going to be hard to not feel bad for them when they inevitably are eliminated in the one-game Wild Card playoff this year. But, that's baseball for you.
I suppose I should back up my reasoning with something besides superstition.
The Phillies' undoing this year will be their offense. Ryan Howard's presence in this lineup created that intimidation factor when you knew he was due up. That effect will be sorely missed, with Howard out for half the year with a torn Achilles.
Neither of his prospective replacements, Jim Thome or Ty Wigginton, have hit a home run all spring, and Wigginton has only hit .180. No matter how you slice it, that won't be sufficient production from the first-base position.
Then you've got the rest of the aging lineup, who if it weren't for Hunter Pence, would look like the All-Star Legends and Celebrities Softball Game. Some of them still have a little pop, but they're all well past their prime. Pence will do his best to carry the offense this year, while the rest of his wizened teammates try to hit .260 and contribute where they can.
The rotation is still the same dominating force it was last year, if not possibly better. My homeboy Vance Worley broke out in a big way last year, going 11-3 with a 3.01 ERA, and will be a key contributor in the coming season.
Let's hope he can adjust to the workload of being a full time starter, a valid concern, as he did falter last year a bit down the stretch (Remember? He was 11-1 until that pesky thing called September rolled around).
The front three starters, however, will certainly keep the team in enough games to give them a shot at the playoffs.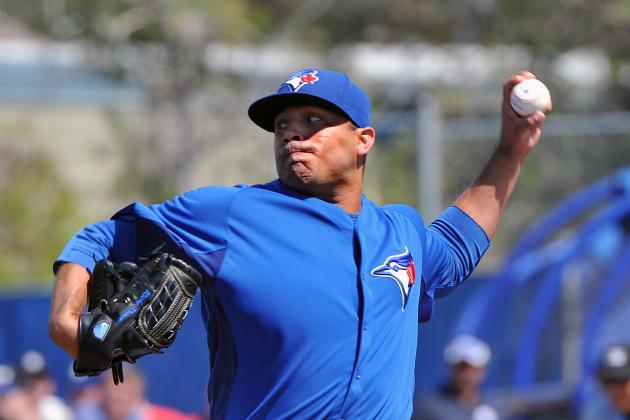 Al Messerschmidt/Getty Images

Projected Lineup: SS Yunel Escobar, 3B Brett Lawrie, RF Jose Bautista, 1B Adam Lind, C J.P. Arencibia, DH Edwin Encarnacion, LF Eric Thames, CF Colby Rasmus, 2B Kelly Johnson
The Blue Jays are a team that perennially gets overshadowed in this division, despite putting up consistently decent numbers. They've actually finished at .500 or better five of the last six years.
2012 will be the year the Brewers GM will have to block ESPN Toronto from his DirecTV system, as the pain of watching Brett Lawrie, his former prized infielder, terrorize the American League will be too great.
First he'll make the All-Star team, and that's when the "please come back, I made a mistake, I don't even like Shaun Marcum like that" Facebook messages start...don't you hate those clingers?
But I digress.
Lawrie was simply a beast last season. In 69 games in Triple-A, he hit an incredible .353 with 18 round-trippers. He was called up in August and didn't miss a beat. He has outstanding power to all fields and incredible bat speed, capable of being a .300 average/30 homer threat for many years to come.
The Jays' starting pitching also has to be talked about. Last year, Ricky Romero put up the quietest 15-win, sub-3.00 ERA season probably in the history of baseball. Unfortunately, he was the lone standout performer on an otherwise unremarkable staff.
This spring, though, Toronto's pitching has turned some heads. It's debatable how much can really be inferred from spring stats, but a squad full of guys with WHIPs under 1.00 and ERAs in the zeros is hard to ignore.
The guy I'm probably most excited to see in action is Henderson Alvarez. This kid was called up for a spot start last year, and made it clear he had no intentions on ever going back to Double-A New Hampshire.
Over the course of the rest of the season, he strengthened his case, walking a mere eight batters in 63.2 innings. At 22 years old this April, he'll start the season in the big leagues and stay there until he gives the team a reason to send him down.
Whatever the outcome this year, the Jays will prove themselves equals in this division. As we begin to see age taking a toll on the big-budget powers in the East, this season will signal the beginning of a turning of the tides.
Have no fear, Jays fans, you'll soon get to experience a parade that isn't for Canada Day.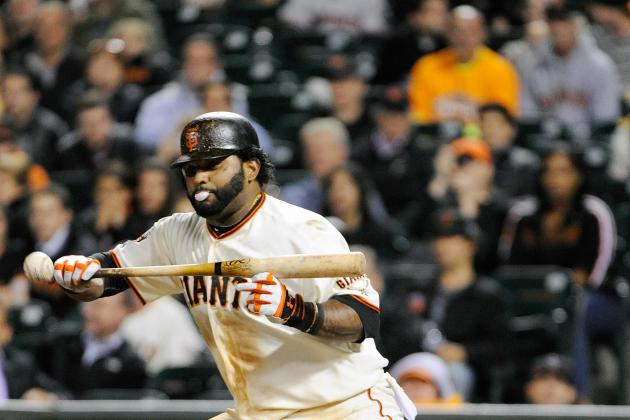 Thearon W. Henderson/Getty Images

Projected Lineup: CF Angel Pagan, LF Melky Cabrera, 3B Pablo Sandoval, C Buster Posey, 2B Freddy Sanchez, 1B Brandon Belt, RF Nate Schierholtz, SS Brandon Crawford
The fuse is short for the Giants as they are currently configured. Tim Lincecum re-upped for two more years under contract, covering his final arbitration years, but not before rejecting a five-year contract, possibly hinting that his future may not be in San Francisco for the long term.
In the meantime, however, the Giants are looking poised to win as much as they ever have. Pablo Sandoval re-implemented himself as the linchpin of the lineup, in addition to playing some of the best third base in baseball. The age-old strategy of "hit it to the chubby dude" is being fundamentally rethought throughout the league.
Freddy Sanchez's health is going to be a potential make-or-break for this team. He's a guy who can get in a groove and carry a team for months at a time. The caveat is that he needs to stay healthy long enough to find that groove. He will be the top-of-the-lineup force this year that the Giants need if they hope to contend.
Also, don't count out Nate Schierholtz as an unlikely source of power this season. Earlier in his career, his biggest flaw was being strictly a pull hitter. Now he's going gap-to-gap with a lot more balance in his swing, and it's only a matter of time before he's cranking the ball out whenever he gets a good piece of one. If he's playing everyday this year, I could realistically see him putting up 20 homers and 40 doubles.
You know the pitching will be strong enough to keep the Giants in contention until September.
The question is, will the lineup be able to keep the team alive? Or will the youthful D-Backs have more stamina down the stretch and take the division? It will come down to the final weeks, but those head-to-head match ups between the two teams will be very telling.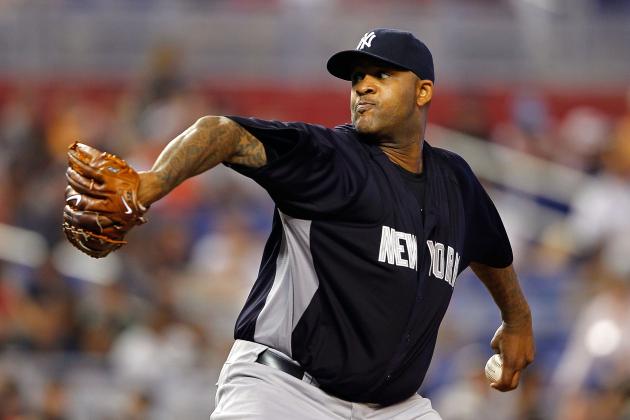 Mike Ehrmann/Getty Images

Projected Lineup: SS Derek Jeter, CF Curtis Granderson, 2B Robinson Cano, 1B Mark Teixeira, 3B Alex Rodriguez, RF Nick Swisher, DH Raúl Ibañez, C Russell Martin, LF Brett Gardner
For professional athletes who are supposed to be in supreme physical shape, baseball players sure seem to get injured in a lot of obscure ways.
A week after David Robertson hurts his back moving boxes, Joba Chamberlain suffers an open dislocation of his ankle from jumping on a trampoline. Now I'm no physical therapist, but I know that you have to really suck at trampolining to suffer a career-threatening injury from one.
I'm not trying to sound insensitive, I'm just saying it's quite fitting that after years of treating Joba like a child with all his "rules," the Yankees finally lose him to a children's recreational toy. I guess the rules weren't strict enough.
Cheap shots aside, there's not much else that can be said about the Yankees. They spend enough money that half the team can underperform (as happened last year) and they'll still walk away with the division. That's simple mathematics: If every $20 million player performs at the level of a $10 million player, they'll still be good enough to win.
CC Sabathia will anchor the rotation, lead the AL in innings, and give his powerhouse team a chance to slug its way to a victory every time out.
The rest of the rotation won't be as consistent. Between Michael Pineda and Iván Nova, you've got two young flamethrowers who will throw a shutout one night, and then give up seven runs in the first in their next outing. They've yet to learn how to hone their stuff for the long haul of the season.
You also have to figure that the Yanks will acquire another piece or two at the trade deadline, because they can. Whichever position player isn't quite pulling his weight will be replaced quicker than you can say "Rauuuuul." Not to hint at anyone in particular.
I wouldn't be surprised to see the Yankees pick up an impending free agent like Carlos Lee or Travis Hafner sometime around midseason, though, so tell the league not to seat the Yankees at a table just yet; they're still waiting for a few members of their party.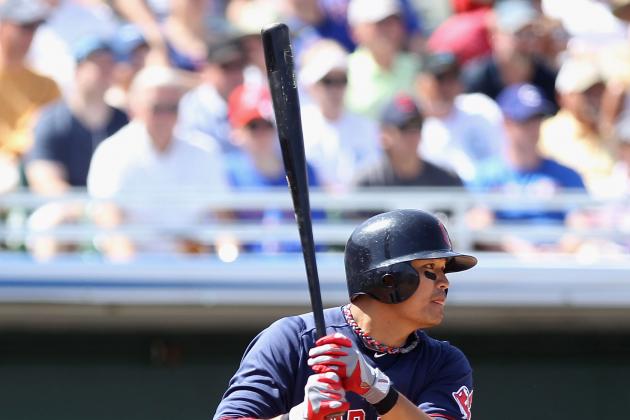 Christian Petersen/Getty Images

Projected Lineup: CF Michael Brantley, 2B Jason Kipnis, SS Asdrubal Cabrera, DH Travis Hafner, RF Shin-Soo Choo, C Carlos Santana, 1B Casey Kotchman, LF Matt LaPorta, 3B Jack Hannahan
So, a name as cool as "Fausto Carmona" ended up being a false identity? Really, who didn't see that one coming?
Behind the masks and fabrications, though, the Indians look to field a pretty good team this year. Justin Masterson takes the role of staff ace, and he has done everything to look the part with a stellar 2011 season.
He established himself as a workhorse, throwing 216 innings, all the while keeping the ball down and in the strike zone. If you ask me, the sky is the limit for this kid. Unless, of course, we find out that his name is an alias too. It does sound a little suspicious.
The only thing that could hold the Tribe back this year will be injuries. Grady Sizemore already has a strained lower back and will miss opening day. (Of course, we know that "opening day", in Sizemore language, usually means "half the season.") It's a shame, too, because it would've made a great story to see Grady come back and have a strong year.
The injury bug seems to be contagious on this team, too. The Indians have a good lineup on paper, but not a lot of depth. If we get to the point where we see Felix Pie in the starting lineup, that will about close the book on Cleveland.
However, if things go right, there will be plenty of positives on the team. Jason Kipnis should break out in a big way this year. He's a .300-caliber hitter with potential for a 20/20 season. Can we start talking Chase Utley comparisons? Because that's what I'm seeing in this kid. Kipnis doesn't have the dashing sideburns that Utley has, but the bat is there.
If everyone performs to their full potential, the Indians are very much in the race. The addition of Derek Lowe was a very good under-the-radar pickup. We'll see how under-the-radar it is when the Tribe bursts onto the playoff scene and everyone wonders where their phenomenal rotation came from.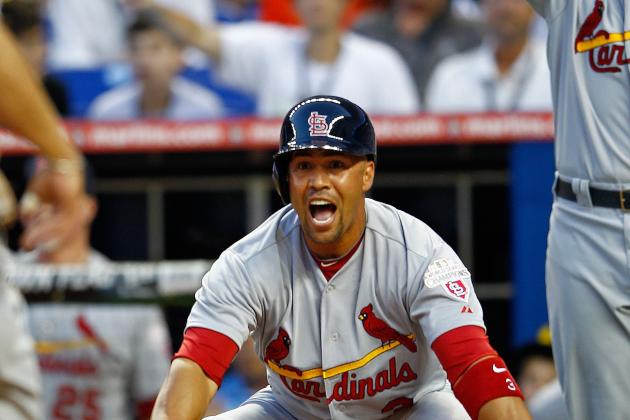 Mike Ehrmann/Getty Images

Projected Lineup: CF Jon Jay, RF Carlos Beltran, 3B David Freese, LF Matt Holliday, 1B Lance Berkman, SS Rafael Furcal, C Yadier Molina, 2B Skip Schumaker
I feel sort of bad for David Freese. This time last year, he was one of the most underrated superstar-potential players in baseball that no one had ever heard of. Then he had to go and sweep the Postseason MVP awards, and now everyone and they mamas is hailing him as the successor to Albert Pujols' vacated throne.
Here's the thing. It's very possible that Freese will have a career-defining year this year, but it's going to be such a shame when he takes command of this lineup and no one outside of the Cardinals' clubhouse gives him any props for it. The nation expects ultimate greatness, so if he succeeds, everyone will say they saw it coming.
So, for the purposes of offsetting the general public's indifference toward Freese's accomplishments, I'm going to state for the record that I expect nothing more than a mediocre season from him. If he does any better, then GOOD WORK BRO! Seriously, though, no pressure.
The Cards also bring Carlos Beltran on board, giving him two years in which to re-establish himself as one of the top hitters in the game. This gives Beltran incentive to succeed, and the future looks relatively bright, as he's coming off one of the least injury-plagued seasons he's had in a while (just one trip to the DL is outstanding for him).
Even though he split 2011 between two hitters' purgatories, Citi Field and AT&T Park, he still put up a solid year, hitting .300/.385/.525 with 22 homers.
One more thing to remember is that the Cards will have Adam Wainwright back in the fold. Remember that dude, who came very close to winning a couple Cy Youngs a few years ago? If he's his old self again (and there's no reason he shouldn't be, he only turns 30 this year), that will more than make up for the loss of Pujols.
As for the losses of manager Tony La Russa and pitching coach Dave Duncan, the influence of a coaching staff is something that's hard to quantify. These guys had the power to turn a team of no-names into a championship squad (this is arguably what they did in 2006) with La Russa's "humanist" managerial approach and Duncan's ultra-traditional scouting tactics.
The whole process will be different now, and it'll be a question of whether the team can adapt to new perspectives on the game.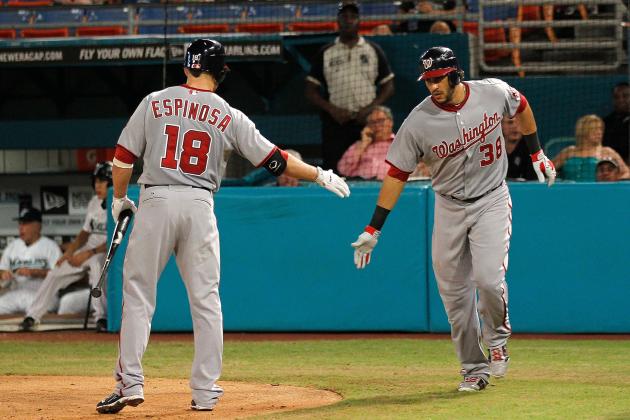 Mike Ehrmann/Getty Images

Projected Lineup: SS Ian Desmond, CF Roger Bernadina, 3B Ryan Zimmerman, LF Mike Morse, RF Jayson Werth, 2B Danny Espinosa, C Wilson Ramos, 1B Mark DeRosa
The Nationals are ready to prove themselves in this sport. They've got a squad full of young talent, of which the question "Where did these guys come from?" will be posed many times this season.
One of these instances will be when pitchers realize that Mike Morse will crush the ball over the center-field fence no matter where in the zone they happen to throw it.
Another, when hitters notice the vacuum in center field that is Roger Bernadina, sucking in any and all potential gap shots.
Wilson Ramos is a great hitting catcher, and when you have a near-death experience, that generally will raise your batting average up about thirty to forty points.
This is a statistic that is entirely made up, and probably inaccurate due to cases like that of Tony Conigliaro, but despite historical data, Ramos will be playing with a newfound drive this season. I'm expecting a .290 average with about 20 dingers.
But damn, we need to talk about Stephen Strasburg.
Nats faithful (of which there were probably about four at the time) hailed the upcoming day of his major league debut as "Strasmas," ushering in the future of the organization with their new, 100-mph fastball throwing toy.
There's even more reason to be excited now, with Opening Day looming, mostly because there's a clean slate. It's not August with the Nats already out of the race. This is prime time, and this kid out of San Diego State is used to the high-stakes atmosphere of competing.
With no pressure to win any of his 12 starts in 2010, he still managed to strike out about a batter and a half per inning and keep his WHIP hovering around 1. And in five starts after he came back from Tommy John last year? Dude: how about a 1.50 ERA with two walks in 24 innings.
Strasburg will be leading the way for his team this year, and the best part is the league won't know how to hit effectively against him, because there's no video footage of anyone ever doing that.
It's up to Ryan Zimmerman and Jayson Werth to be the leaders in the clubhouse. Zimmerman has been the face of the Nats for so long, and Werth brings in his postseason experience, with the hopes that he'll be able to guide the youngsters through September and beyond.
This year, more than any year in their young history, they've got the team to do it.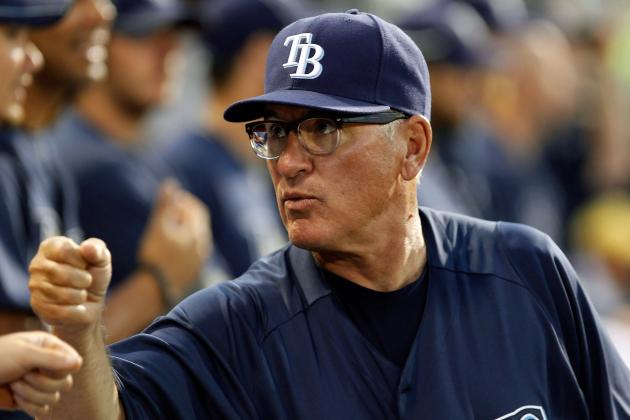 J. Meric/Getty Images

Projected Lineup: LF Desmond Jennings, CF B.J. Upton, 3B Evan Longoria, 2B Ben Zobrist, 1B Carlos Peña, DH Luke Scott, RF Matt Joyce, SS Sean Rodriguez, C Jose Molina
We watched this team come together like never before during their Wild Card-clinching run last season, even more so than their days of bonding over Mohawks in 2008.
It's always an interesting dynamic after a team achieves the nearly impossible, because if they get too complacent, they'll fall flat on their faces out of the gate the next season. This is something that I'm sure Joe Maddon will be ingraining into his players' heads, with words much more articulate than mine.
The Rays this year have the squad to make it all the way. The lineup is essentially held over from last year, with a few notable additions.
First, they get to enjoy Desmond Jennings for the whole year, and he's going to be huge. Despite hitting a slump towards the end of last season, he still finished his rookie campaign with some telling numbers.
Most impressive was his plate discipline, drawing 31 walks in 287 PA's. Nothing can be more indicative of a prospect's ability to hack it in the big leagues than a consistent walk ratio. It shows that he won't buckle under the pressure of the national stage, that he'll still come up and take pitches.
Also, Jennings never tries to do too much with the ball. He knows when to use his speed to leg out infield singles, but he can also get behind one and drive it out of the park if a pitcher makes a mistake. I like to think of him as an opportunist.
Tampa Bay has also added a couple sluggers to the already power-packed lineup in Carlos Peña and Luke Scott. With these two guys in the mix, everyone in the lineup, and I mean everyone, is capable of a 20-homer season.
This is a lineup reminiscent of the Orioles in the 70's, the lineups Earl Weaver would design for the sole purpose of getting the three-run homer. With Jennings getting on base and setting the table, and a different guy every night driving him in, this team is poised to make some noise.
We also can't forget the new pitcher entering the mix, rookie phenom Matt Moore. This guy showed us a glimpse of what he's capable of last September, striking out 11 Yankees in five innings in the one game the Rays let him start after his call up.
You could call that a fluke if it weren't completely consistent with his minor league numbers. Moore is going to terrorize the league this year, and slated as the No. 5 starter, this rotation simply will not give opposing teams a break.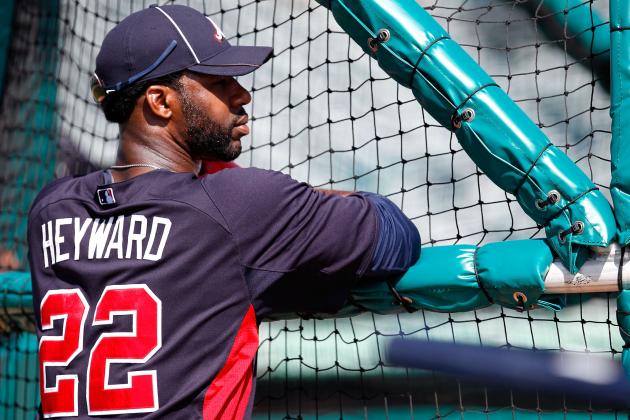 Sarah Glenn/Getty Images

Projected Lineup: CF Michael Bourn, RF Jason Heyward, C Brian McCann, 1B Freddie Freeman, 2B Dan Uggla, 3B Chipper Jones, LF Martin Prado, SS Tyler Pastornicky
The Braves will be faced with a tough road to cross, in getting last year's epic collapse out of their heads and focusing on the season ahead.
Manager Fredi Gonzalez is just the man to lead them through it. He's a well-respected player's manager, but will not hesitate like Bobby Cox might've in telling his boys they simply weren't good enough.
The lineup is an excellent blend of speed, contact and power. I firmly believe Jason Heyward will recover from his sophomore slump, and once again become a formidable asset in the lineup's 2-spot, providing Gonzalez with plenty of small ball options.
The big boppers in the heart of the order will also get plenty of RBI opportunities. Dan Uggla and Freddie Freeman have not held the power back this spring either, with about a third of their collective hits going for home runs.
The Braves also start the season with young Tyler Pastornicky at shortstop, a pretty strong contact hitter whose best asset is his defensive ability. His presence in the infield should help compensate for the lack of range of Dan Uggla and aging Chipper Jones on either side of him.
Rotation-wise, the Braves have a whole new look. They dumped old timers Derek Lowe and Tim Hudson and turned the pitching staff into an exclusive 26-and-under party. A risky move without a veteran presence, but Tommy Hanson is ready to lead this staff.
He's been consistent since breaking into the majors, and despite a slightly inflated ERA last year, had a very strong showing, with hitters averaging a career low .219 against him.
He will be backed up by Jair Jurrjens, who matured a lot last year and will be an efficient No. 2 guy who can go deep into games.
Beyond that one-two punch, you've got Mike Minor, Brandon Beachy, and the new kid, Randall Delgado. Delgado will be exciting to see, but being installed as a fixture in the rotation comes with responsibility, and not a lot of room for error.
Delgado can throw fire. He's a pure strikeout pitcher whose two-seamer destroys right-handed bats, but his control has been known to waver.
If the Braves plan to make a playoff run this year, the whole staff has got to pull their weight, and Delgado will need to learn to be consistent. But the sky is the limit for this club.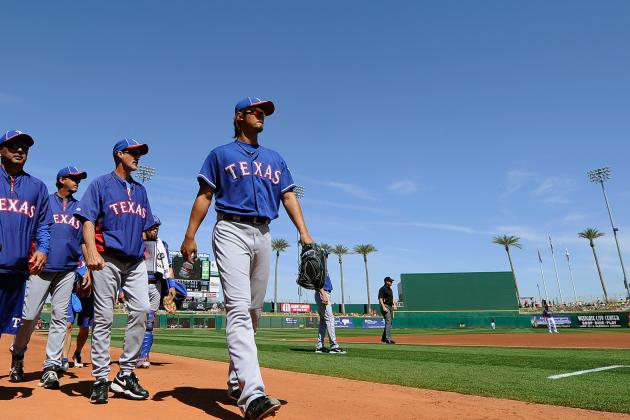 Kevork Djansezian/Getty Images

Projected Lineup: 2B Ian Kinsler, SS Elvis Andrus, LF Josh Hamilton, DH Michael Young, 3B Adrian Beltre, C Mike Napoli, RF Nelson Cruz, 1B Mitch Moreland, CF Craig Gentry
The Rangers once again fell just short of the title last year, that championship ginger ale eluding the walls of the clubhouse for the second year in a row.
This offseason, they held back no punches, spending upwards of $100 million to bring in the young phenom from Japan, Yu Darvish. Homeboy's numbers jump off the page: 18-6 for the Nippon-Ham Fighters of the Japan Pacific League last year with a 1.43 ERA and 7.67 K/BB. (If you're keeping score at home, that's pure domination.)
You never know how Japanese League numbers will translate to American baseball, though. A foreign pitcher's season hinges on whether he can adjust to the league before the league adjusts to him.
The league generally has the advantage, though. There's only so much video you have to watch before you know what a "shuuto" looks like (the variation of the two-seamer Darvish throws which breaks down and in to right-handed hitters).
Even so, though, I trust Darvish as a guy who knows how to use his arsenal effectively, and I expect him to finish strong this year and be one of the key contributors to the Rangers winning the division.
There is no argument that their lineup is more stacked than an anatomically-exaggerated cartoon Pamela Anderson. This group will score more than enough runs to keep the Rangers in every game they play; the question is whether the pitching can hold it down.
Colby Lewis is taking the role of staff ace this season, and you never know what you're going to get out of him. Neftali Feliz will also be starting for the first time as a major leaguer, and it remains to be seen how he will adjust to the workload.
The bullpen, however, is rock solid, possibly the best in baseball. You've got Mike Adams in the setup role, notorious for coming through in high-pressure situations and shutting an opposing team down. Alexi Ogando is back in the bullpen, where he seems to flourish. Koji Uehara literally walks no one; he just has a bit of a problem with the home-run ball at times.
Scott Feldman is good in a pinch, or for a few innings of work when Derek Holland loses the strike zone in the fourth. And the ball finishes in the hands of Joe Nathan, who, if he's on, is untouchable.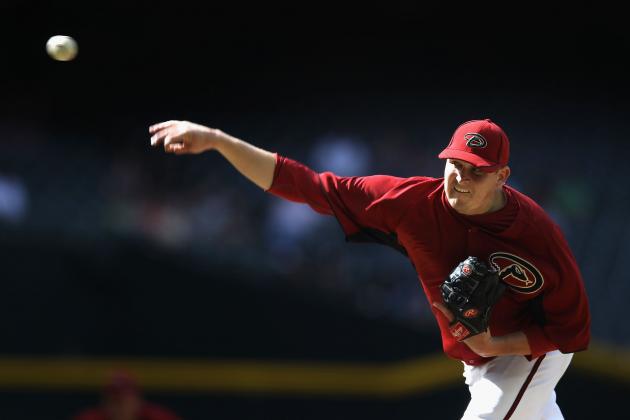 Christian Petersen/Getty Images

Projected Lineup: 3B Ryan Roberts, SS Stephen Drew, RF Justin Upton, C Miguel Montero, 1B Paul Goldschmidt, CF Chris Young, LF Jason Kubel, 2B Aaron Hill
The D'backs bring back the team that won 94 games in 2011, sustaining no legitimate losses to their major league squad. In fact, they've added a few key pieces, showing the rest of baseball that they won't be content with just a Division Series appearance. They're in it to win it this year.
Headlining the D'backs' offseason acquisitions was their pickup of Trevor Cahill. The A's decided to cut ties with Cahill after seeing a few worrisome signs (ERA inflating to 4.16, decreased velocity, actually starting to attract a fan base), but he's not even remotely "over the hill."
He's 24 years old, and his BABIP against of .306 last year suggests that he simply got hit hard. With even a slight resurgence towards his 2010 form, he and Ian Kennedy will be a very effective 1-2 punch atop the rotation.
In addition, their core is still incredibly young, and there's no reason to believe that the lineup from top to bottom shouldn't be able to improve on last year's performance. Justin Upton set a career high in homers in 2011, as well as brought his strikeout numbers way down. The way his plate discipline is improving, he could hit .300 this year as well.
Paul Goldschmidt is also a force to watch out for. The dude is a freak. The way the ball rockets off his bat reminds me of a young Albert Pujols...and he uses the whole field. The league has definitely not figured him out yet, but you can bet every team has guys working 'round the clock on it, especially after seeing him obliterate Brewers pitching in the playoffs to the tune of .438/.526/.813.
With Goldy installed as the everyday first baseman this year, it gives Upton and Montero some serious protection in the lineup, and everyone should benefit.
Everyone except opposing pitchers, of course. They will be fearing for their lives.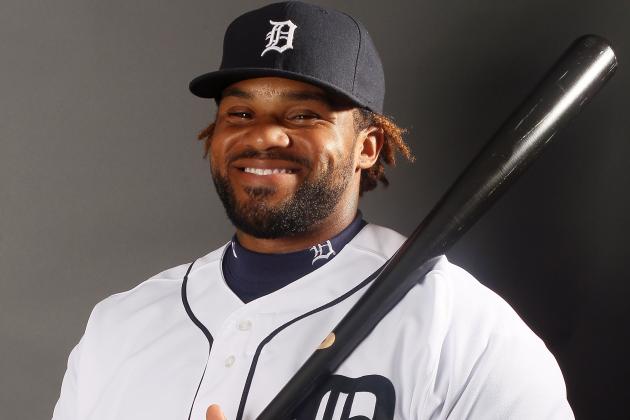 Elsa/Getty Images

Projected Lineup: CF Austin Jackson, DH Delmon Young, 3B Miguel Cabrera, 1B Prince Fielder, RF Brennan Boesch, C Alex Avila, SS Jhonny Peralta, 2B Brandon Inge, LF Andy Dirks
Sometimes, it's just not fair. Adding Prince Fielder to this team is like letting Yao Ming wear platform shoes. It's a little bit of overkill.
Even so, the Tigers obviously felt they needed a little something extra in order to make it deeper into the postseason than they made it last year. With no major pieces coming off the books, anyone they added over the winter would only increase their volume. And let's just say if they wanted volume, they picked up the right guy.
That's not to say that the rest of the squad shouldn't be expected to improve on last year's performance, with the extent that the roster has been loaded up with youngsters on the brink of emerging in major ways.
This whole youth movement includes quite a few guys to be excited about. That list starts with Doug Fister, 28 years old but still pretty fresh-faced as far as major league experience. He was an absolute beast down the stretch last year, establishing himself as a formidable No. 2 guy behind Justin Verlander.
Going 8-1 with a 1.79 ERA after the Tigers acquired him from Seattle, he may have been just as big a factor in getting Detroit to the playoffs as Mr. MVP himself. And it wasn't just a hot streak. The dude has solid stuff.
His two-seamer has been compared to Greg Maddux's, in the way it just eats up right-handed hitters. And talk about control—in 70 innings in a Tigers uniform, he walked five batters. Five. That's about what Jose Valverde walks per inning.
Since we're on the subject of the closer's role, let's talk about Al Alburquerque. If Papa Grande doesn't perform up to par this year, which I'm calling a likely scenario, I'd like to see Jim Leyland give the ball to his likely successor. I'm not saying Valverde hasn't been good, I'm saying that there have been warning signs, and when he gets erratic, I'm sure it has caused undue trauma in the faint of heart Tigers' faithful.
So I think all involved will be grateful with Alburquerque taking over that closer role. His credentials: just a 1.87 ERA last season, nearly 14 strikeouts per nine innings, and zero home runs allowed in 43 innings. A guy who induces weak contact like that deserves to be installed in the ninth inning. He's a guy you can't build a rally against.
I can't proclaim the Tigers the best team in baseball before giving proper respect to Alex Avila, either. The young catcher who plays (and looks) like a grizzled veteran has quickly become one of the leaders of this team.
It's very impressive how he handles a pitching staff with as much talent as Detroit's, all while maintaining their trust in him calling the game. It's not an easy task, and really, half of Verlander's MVP award should've gone to Avila.