NC State Basketball: Wolfpack Recruits Hope Amile Jefferson Commits
April 5, 2012

North Carolina State has a strong recruiting class with McDonald's All-Americans Tyler Lewis, Rodney Purvis and T.J. Warren, but these incoming freshman hope top recruit Amile Jefferson joins the Wolfpack.
Jefferson, the Pennsylvania Gatorade Player of the Year and No. 18 prospect according to ESPNU 100, also played in the McDonald's All-American Game and gives the Wolfpack a valuable small forward if he decides to commit to North Carolina State.
Jefferson is receiving offers from North Carolina State, Ohio State, Kentucky, Villanova and Duke.
The 6'7", 190-pound Jefferson was on the East team with Lewis, Warren and Purvis. He shot 4-of-10 from the field with eight points, three rebounds in 14 minutes. Jefferson had a key jam with under two minutes left that  made the game a 93-88 deficit.
With three Wolfpack teammates, Jefferson said they were talking up North Carolina State a bit during the McDonald's All-American Game week. 
"They are not putting any pressure," Jefferson said. "If I do decide to go to NC State, I think it would be a great choice. They are all great guys. Rodney has been my roommate four times this summer and now (in the McDonald's All-American Game). Building a bond with him has been great.
"I could definitely see myself playing with T.J. and Tyler are the same; they are all great kids," Jefferson  continued. "When you could play with people who you like off the court just as much on the court, it always leads to good things."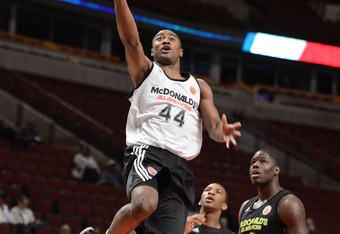 Jefferson added how Purvis liked Wolfpack head coach Mark Gottfried and the techniques used in player development, noting how North Carolina State made the Sweet 16 in Gottfried's first year. 
Lewis, the Gatorade Virginia Player of the Year, said he, Purvis and Warren are all talking up North Carolina State to Jefferson, but are not pressuring him.
"We are definitely pushing him," Lewis said. "We aren't over pushing because we want him to enjoy his selection process as well. I'm not going to talk to him about NC State all the time because when I was un-committed, I didn't want someone to talk about their school all the time. That got annoying. We're definitely trying to get him."
Purvis, the Gatorade North Carolina Player of the Year, said that he would love to have Jefferson as his teammate, but he won't push him.
"He was my rommmate, but I'm not the type of guy who gets on him to make a decision that his to make," Purvis said. "He would definitely bring versatility to our program. As you could see  with his great moves, he can play in transition, guard well. He's a glue gun and that's the type of guy you would want on your team."
Warren, a star at Brewster Academy (Wolfeboro, N.H.), said Jefferson would be a great talent that the Wolfpack could utilize.
"He would bring great intensity, energy and skills," Warren said.
If Jefferson decides to come to North Carolina State, the Wolfpack would have a Top 5 recruiting class and be geared for making more noise in the Atlantic Coast Conference for years to come.
Bob Bajek is a Chicago Bulls/NBA featured columnist. He also covered the McDonald's All-American Game onsite in Chicago. He is a freelance reporter and can be followed on Patch.com and Twitter.