10 Biggest Cheap Shotters in NBA History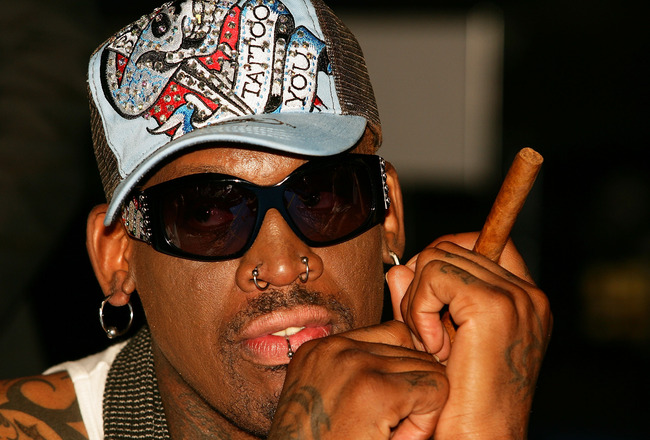 Matt King/Getty Images
The current NBA is full of sissies.
The golden age (or dark age, depending on your preferences) of the physical NBA has faded and been replaced with a softer, more regulated version of its former self.
Many NBA fans like the new style, one that favors the offense and allows for more high flying dunks and facials without fearing a cracked rib from a disgruntled opponent.
While I appreciate the athleticism that is showcased nightly, in part due to the protective nature of the current rules, there was something about the NBA from decades past that makes me long for bruising battles between the Detroit Pistons and the Chicago Bulls or the Los Angeles Lakers and the Boston Celtics.
Kobe Bryant
Kobe Bryant gets away with a lot of extra shoving and elbows.
Depending on the color of the jersey you are wearing (both at home and on the court) your opinion of whether or not he deserves some leeway varies substantially.
Kobe is subtly dirty, for the most part, and his actions after his incidences often convince the referees that the guilty party is the victim.
Five championship rings give you some leverage with the refs, and he capitalizes on his preferential treatment.
Isiah Thomas
In the clip provided, Isaiah did what many players on this list were known for—taking swipes and then pretending everything was just hunky-dory. Too bad he pissed off Bill Cartwright, who sent him to the floor faster than a dog after a rolling Oreo.
He sure as hell got right back up though, as the two of them went toe-to-toe before being separated by their teammates.
Though Isiah Thomas is the smallest player on this list, he was by no means less physical with his opponents. His successes also provided a bit of flexibility when it came to determining the origin of fouls and with his toothy grin, he would simply look innocent on many occasions.
Rasheed Wallace
Gregory Shamus/Getty Images
Rasheed Wallace was known for his physical play and while some of his fouls were obvious, many were tugs, punches and shoves that went unnoticed.
After a while, the referees started watching more closely and eventually Rasheed would get whistled for one of his many cheap shots in a game.
Of course, anything called against him immediately sparked an argument with the zebras, and his NBA records of most technical fouls in a season (41, 2000-01) and most technical fouls during a career (304) are shining examples of his contempt for the officials.
Kevin McHale
Kevin McHale was known for mixing it up in the paint with opponents and along with his subtle jabs and knocks, he would throw in blatant hammers.
Take for example the clothesline he nicely set up for Kurt Rambis (shown) in Game 4 of the NBA Finals. This kind of hard foul, and the many subtle fouls that he got away with, would get a player ejected and then suspended in today's NBA.
One thing you have to give McHale credit for was his passion. Many players today may have just let Rambis have the lane, or they would take a swipe at the ball and either miss or foul the player and still let them score. This tactic guaranteed the player did not get an "and one" opportunity.
Sure the latter play would be more humanitarian, but more entertaining?
Karl Malone & John Stockton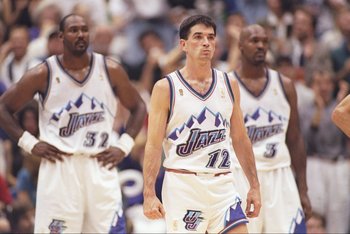 Brian Bahr/Getty Images
These two hold a special place in my heart growing up as a Jazz fan. Even then I knew they were dirty though, and I loved them for it.
While John Stockton was sneaky dirty, always mixing it up with players when they were not looking or giving them rib-shots while the referees were focusing on The Mailman, Karl Malone simply punished everyone around him.
With Malone's size, any bump or push would send players flying, but his elbows were the true enforcers on the court. Just ask Steve Nash (tooth) or Isaiah Thomas (40 stitches). Those 'bows were always bent at a particular angle, not quite enough to seem intentional, but enough to deliver the blow (and the message) he wanted.
Both players were dirty all over the floor (that doesn't sound quite right), from underneath the basket with the aforementioned cheap shots to the top of the key with illegal picks and opponent jersey maintenance.
If Stockton's mentality were infused into LeBron James, the players on the bench would have to be on notice as LeBron would completely obliterate everyone in sight.
Bruce Bowen
Bruce Bowen always walked the line between being purely competitive and being a skilled cheap shot artist, though he often wavered off that line.
While most of the time he was simply glued to his opponents and because of his tenacity was known for always being in the faces of those he was covering, there were moments when his intensity on defense got the best of him.
Whether or not it is fair to rank him as a cheap shot artist simply because he was intense is debatable, but after closely watching Bowen cover some of my favorite players throughout the years there is no doubt that he handed out a good number of jabs and elbows when the referees were preoccupied.
Ron Artest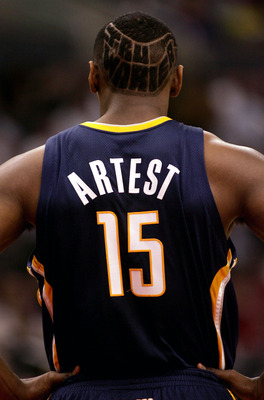 Stephen Dunn/Getty Images
Aside from assaulting fans, Ron Artest is known for his underhanded tactics. From wrapping players up during rebounds—and then flopping to pretend he was the one being fouled—to delivering hip checks and elbows all over the floor, this was an easy selection.
While some players will simply wrap up opponents as a game is winding down, Artest is the type to attempt a quick nose rearrangement instead.
Dennis Rodman
China Photos/Getty Images
Dennis Rodman definitely deserves to be on the list, but to remind everyone let's count the various ways he is a cheap shot artist. First, against people he wasn't even playing against:
Now against some of the biggest players in the league:
He had a certain way about him—a toughness that he would not let go of in any situation. He certainly knew how to egg people on, and he learned his rough style from the dirtiest player of all.
Bill Laimbeer
Mike Powell/Getty Images
Bill Laimbeer was the brunt, rough nucleus of the "Bad Boy" era of the Detroit Pistons.
He would outwardly display his disapproval with many players and started fights with some of the best to play the game (namely Larry Bird and Charles Barkley).
He threw elbows like he was trying to win a prize at a carnival ring toss. He taught everyone around him to treat any opponent that wanted to get near the basket like a personal punching bag.
Much like his protégé, Dennis Rodman, he would get under the skin of everyone he played against, both because he simply would not back down, but also because he left them bruised from head to toe.
There is little doubt that in a different era Laimbeer would have surpassed Rasheed Wallace's technical foul records—and he would have been proud of it.
Keep Reading