Green Bay Packers Mock Draft: Projecting All 12 Draft Picks
April 6, 2012

 The Green Bay Packers will go into the NFL draft with several needs to fill. Many of those needs are on defense, as the Packers were last in scoring defense and pass defense. Another area of need is the offensive line. Following are projections for how Green Bay will approach the draft in three weekends.
First Round, 28th Overall: OLB Shea McClellin, Boise State
McClellin seems like a perfect fit for the Packers. Shea and Clay Matthews both possess a never-ending motor, and they'd be a massive upgrade from last year's starting duo of Matthews and whoever-got-the-start-and-subsequently-played-poorly.
As a Packers fan, I've had my eye on McClellin as a potential second-round pick for the entire offseason. However, McClellin has been a late riser in the draft process, and he's now being mentioned as a borderline first-round pick. He's the 35th best player on my board, so I think he'd be a good value with the 28th pick.
The "Shea & Clay Connection" is coming to a stadium near you.
Second Round, 59th Overall: RB Lamar Miller, Miami
Behind this year's top running back Trent Richardson, the next three players at the position are relatively even. I have Doug Martin as a borderline first-round guy, and both Miller and David Wilson as second-round prospects.
Given the diminishing value of their position, it seems running backs tend to fall lower than they are projected. If Lamar Miller makes it to the 59th pick, Ted Thompson will be tempted. Miller would give the Packers something they haven't had from the position—true speed.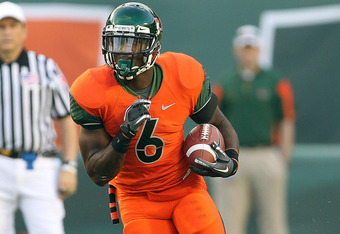 James Starks is an underrated back when he's healthy, and Alex Green could still develop into a good player. But Lamar Miller has sub-4.4 speed, and would add another dimension to the Packers' potent offense.
I think the only running back Green Bay would consider in Round 1 is Boise State's Doug Martin because he's an every-down back on paper, but Miller in the second round would be a great value.
Third Round, 90th Overall: S Justin Bethel, Presbyterian

Whether four-time Pro Bowl safety Nick Collins is able to resume his NFL career, the Packers need to add depth at safety. Charlie Peprah is an adequate backup by league standards, but he's nothing more than a serviceable rotation player.
Justin Bethel, like Nick Collins, played cornerback for a small school at the college level, but has the range and athleticism to play safety at the professional level. Despite only being a hair over 5'11", Bethel has a 76.75" wingspan and a 39.5" vertical. I like Bethel's value in the late third-round, or early fourth-round.
Fourth Round, 123rd Overall: C Philip Blake, Baylor
After Konz, I like Baylor's Philip Blake the most among this year's centers. Green Bay had a glaring need at the position when Scott Wells signed with St. Louis, but Jeff Saturday will fill that hole in the short term. However, the Packers will still try to address the interior of their offensive line in the draft.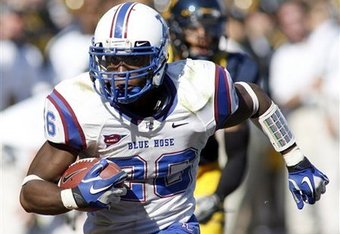 Blake would be a great selection for Green Bay, giving him the opportunity to be groomed as the Packers' center of the future behind Jeff Saturday.
Fourth Round, 132nd Overall: ILB Keenan Robinson, Texas
Desmond Bishop is a stud in the middle of the Packers' defense, but A.J. Hawk has proven to be nothing more than an average starter. Behind Bishop and Hawk, D.J. Smith showed promise last season as a rookie, but more depth is needed.
Alabama's Dont'a Hightower is one of my favorite players in the 2012 draft because I think he has the ability to play inside and outside linebacker. Keenen Robinson may have that same ability. Despite only clocking a 4.79 in the 40-yard dash, Robinson is a fluid athlete who can hold his own in open space.
Fourth Round, 133rd Overall: DE Jaye Howard, Florida
The Packers have added to players to its defensive line this offseason, Anthony Hargrove and Daniel Muir. However, Hargrove's primary role will likely be as an inside pass rusher in Green Bay's nickel package, and Muir will likely struggle to make the team.
Florida's Jaye Howard was an honorable mention All-SEC last season, and at 6'3" 300 pounds, he's built like a 3-4 defensive end should be built. Howard is a fourth-round prospect, but could drop to Round 5.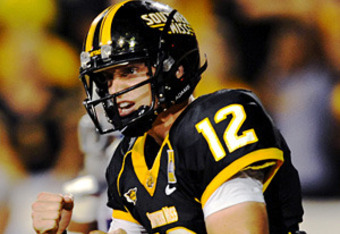 Fifth Round, 163rd Overall: CB Chris Greenwood, Albion
Greenwood is a sleeper for me. Despite playing at Division III Albion, Greenwood is certainly a good enough athlete to play in the NFL. At over 6'1", he's the type of cornerback that Green Bay likes and his favorite player of all time is Packers CB Charles Woodson.
If careers were made on paper, Greenwood would be a star. On top of being tall for the position, Greenwood clocked a 4.41 40-yard dash, a 11'2" broad jump and a 43" vertical. He's an athlete. Greenwood would be a good value in the fifth round, and he could have an opportunity at early playing time in Green Bay.
Sixth Round, 197th Overall: QB Austin Davis, Southern Miss
From Brett Favre to Aaron Rodgers, and from Ingle Martin to Matt Flynn, the Packers seem to have an infatuation with 6'2" quarterbacks cut out of the same body type. Davis fits the bill, and he comes from Southern Miss, just like the guy that used to wear No. 4.
Personally, I'd love to see the Packers grab Russell Wilson in Round 5, but something tells me Austin Davis is the type of quarterback they'd like to add late in the draft.
7th Round, 224th Overall: OT Jeff Adams, Columbia
Despite the numbers suggesting otherwise, Marshall Newhouse was a serviceable replacement for Chad Clifton last season and the Packers would have severely struggled without him. I expect Green Bay to look to add depth to a thin offensive line in the draft with probably two selections.
The last player drafted out of Columbia was Marcellus Wiley in 1997, but Adams is a three-time All-Ivy League selection and could be a late pick in the 2012 draft.
Seventh Round, 235th Overall: RB Michael Smith, Utah State
Robert Turbin gets the most press as far as Utah State running backs in this year's draft, but Michael Smith is no slouch. Despite not being invited to the combine, Smith clocked a 4.33 40-yard dash at his pro day. He's short and compact, at 5'8" and 207 pounds, but he's an incredible athlete.
If he's around this late in the draft, Ted Thompson would certainly consider adding another toy to his offense.
Seventh Round, 241st Overall: WR Jordan White, Western Michigan
The last time the Packers went to Western Michigan for help at wide receiver, they ended up with Greg Jennings. I'm not suggesting Jordan White is going to be anything close to Jennings, but Ted Thompson usually drafts at least one receiver.
In the seventh round, the Packers could afford to add another pass catcher, despite already having a plethora of capable players at the position.
Seventh Round, 243rd Overall: OLB Darius Fleming, Notre Dame
Ever year, several players miraculously drop their forty times between the Combine and their pro day. Fleming falls under this category, clocking a 4.74 at the combine and a 4.54 at his pro day.
Since the primary job of a 3-4 outside linebacker is to rush the passer, Fleming could be attractive to teams since he as college experience at defensive end, as well as linebacker. Fleming is a capable pass rusher, and would at least be worth a flier this late in the draft.