The Masters: The Beauty Which Is Augusta National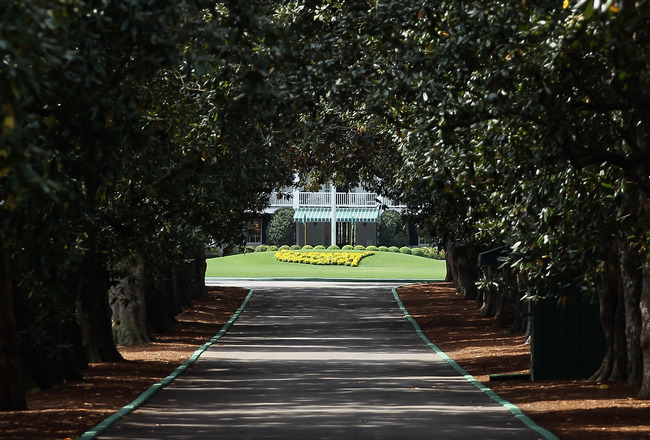 Magnolia Lane
Scott Halleran/Getty Images
Augusta National Golf Club has been described in many ways, from a world treasure to the cathedral of golf, but in many ways it is also a world-class arboretum, which we all get to enjoy, thanks to the Masters.
Each and every year, the world's best join past winners for a display of golf skills, as well as horticultural prowess.
The Masters has a long history of expected decorum by everyone from golfer to caddy, spectators to media. The purpose of such strict adherence is not only in homage to the game, but the grounds.
Recently I heard Tom Watson asked why practically every other sport is contested in front of wildly cheering fans, but golf is contested with the fans ordered silence.
His response was epic: "Serenity."
He was correct!
Even though you will hear cheering and applause intermittently during the event, it will always be reverent to maintain the serenity.
This year, we have heard that spring came early to Augusta, as it did through much of the country, so we will miss some of the colourful flora and fauna we look forward to. In he event that the reports are true, here is what each hole, named for the surrounding beauty, features.
Hole #1: "Tea Olive"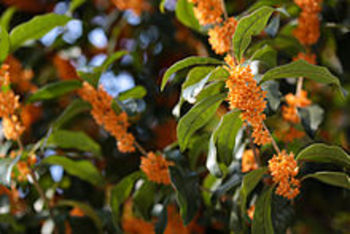 Osmanthus Fragrans
Hole #1 is a Par 4 of 450+ yards, called "Tea Olive" which is described as an evergreen-type shrub which blooms with white, pale yellow, yellow, or orange-yellow flowers.
Its fragrance is said to remind of apricot or peaches.
Hole #2: "Pink Dogwood"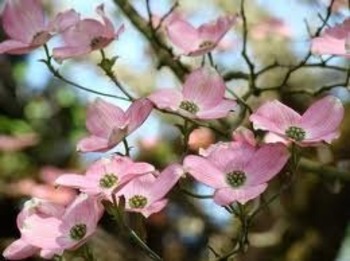 Cornus Florida
Hole #2 is a Par 5 measuring approximately 575 yards and is called "Pink Dogwood" after the trees which are so well known to us all. The flowers can be yellowish white to pastel pink to a deeper raspberry pink.
They do not have a particular fragrance of note, except one of freshness.
Hole #3: "Flowering Peach"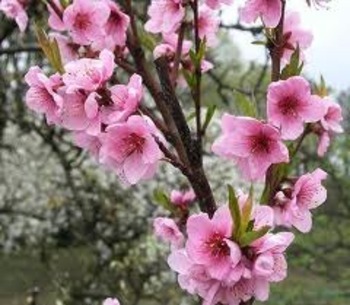 Prunus Persica
Hole #3 is a short Par 4 of some 350 yards and is called "Flowering Peach" which is most assuredly a standard in Georgia. The interesting aspect, as you can see from the picture, is that it blooms two-toned pink, but rest assured, it will produce the fruit many of us love.
The fragrance is what you would expect, but slightly different based on which variety is produced.
Hole #4: "Flowering Crab Apple"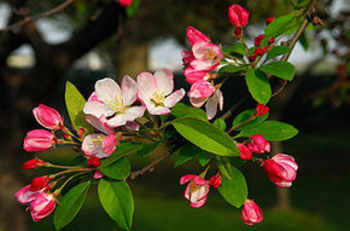 Malus
Hole #4 is a long Par 3 of some 240 yards and called "Flowering Crab Apple," which could be mistaken for a variety of dogwood, except that the tree is much denser and produces an apple—but only if properly cultivated through cross-pollination.
The fragrance is as distinctive as you might expect at your local produce stand in the fall.
Hole #5: "Magnolia"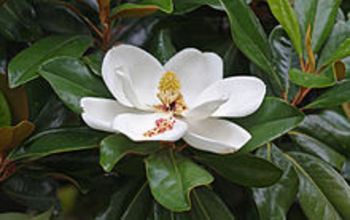 Magnolia Grandiflora
Hole #5 is another 450+ yard Par 4, called "Magnolia" after the huge trees, which, when in bloom, are resplendent with large flowers which can grow larger than your hand. Their leaves are large, dark green, and waxy.
Their fragrance is a pleasing citrus form of citronella.
Hole #6: "Juniper"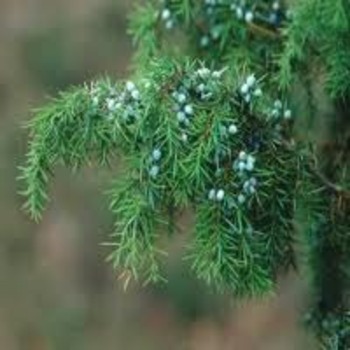 Juniperus Virginiana
Hole #6 is a shorter Par 3 measuring approximately 180 yards and named "Juniper" for the trees which can be tall and slender, or somewhat more spread out. They produce the berries you see here, and can be used to make gin. The wood is used to make pencils, fence posts and other products we often believe are from its cousin, the cedar.
The fragrance is is distinctive, fresh and lighter than other evergreen trees.
Hole #7: "Pampas"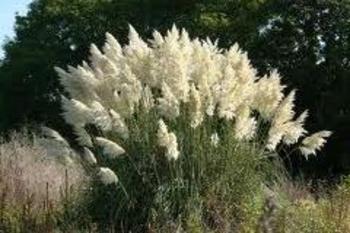 Cortaderia Selloana,
Hole #7 is a Par 4 of 450 yards called "Pampas" which is short for "Pampas Grass" which is the first time we see something which exists purely for ornamental purposes, however, their seeds are often spread by the winds, so they propagate quite readily. The plumes you see here are cropped and dried for use in floral arrangements.
I have never really known them to have a fragrance of distinction.
Hole #8: "Yellow Jasmine"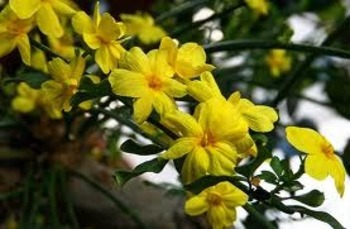 Gelsemium Sempervirens
Hole #8 is a Par 5 of 570 yards named "Yellow Jasmine" which is a vine, ground cover and can even cultivate up trees. It is the state flower of South Carolina and is sometimes mistaken for honeysuckle.
The flower has a very distinctive nectar fragrance which attracts many insects and birds who gladly cross-pollinate them.
Hole #9: "Carolina Cherry"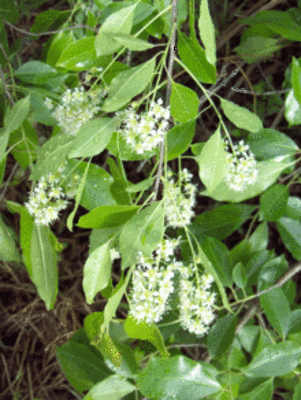 Prunus Caroliniana
Hole #9 rounds out the Front 9 with a 460 yards. The Par 4 is named "Carolina Cherry" and is more a plant or shrub tree because of its relative fragility. It is technically a cherry tree because it produces a small fruit which is only appetizing to birds.
It does not emit a fragrance unless the leaves are crushed or the twigs broken. It then resembles almond.
Hole #10: "Camellia"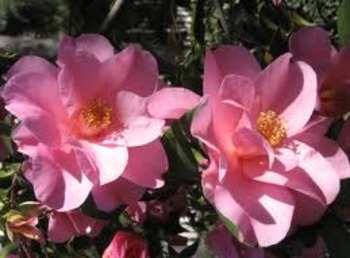 Camellia
The Back 9 begins with what is generally considered the most difficult hole of the course. It measures 495 yards and is a Par 4. It is called "Camellia" for the plant which has a history at Augusta back before it was a golf course. It is a more delicate cousin of the rhododendron which it can be mistaken for when seen on T.V. When they get plenty of water, they can grow and spread quite rapidly.
This pedals of this flower can be used to produce a tea and have a very sweet fragrance.
Hole #11: "White Dogwood"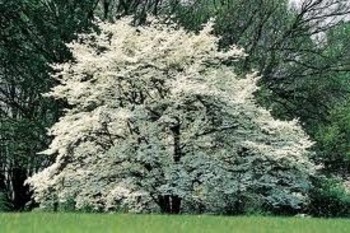 Cornus Florida
Hole #11 is another Par 4 just slightly longer than the previous hole and named for the white version of Hole #2's "Pink Dogwood" tree. It is no more or less common than its cousin.
I have fond memories of one just like this from my childhood home and the fresh fragrance it emitted.
Hole #12: "Golden Bell"
Forsythia Intermedia
Across the famed Ben Hogan Bridge lies the green for the 155 yard Par 3 named "Golden Bell." It is named for the forsythia, which are featured in and behind other plants, which include rhododendron and azalea in pastel colours. The forsythia flower is lost quickly in the event of rain and wind, so it acts as a nice background with its deeply green leaves.
There is a very slight fragrance, but forsythia are usually recognized by those with bad allergies as the beginning of their spring travail.
Hole #13: "Azalea"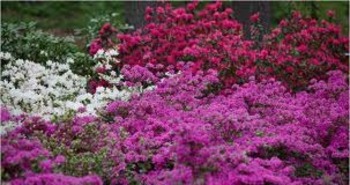 Azalea
Hole #13 is short 510 yard Par 5 called "Azalea" for the wonderful collection of every azalea bush colour I have ever seen. Azaleas are the lesser bark-like species of the rhododendron and can vary from white to peachy, through the spectrum of pink, and into a deep red. It is my favourite hedging material.
I've never known the Azalea to have a particular fragrance, but it always means the sweet smell of spring is all around.
Hole #14: "Chinese Fir"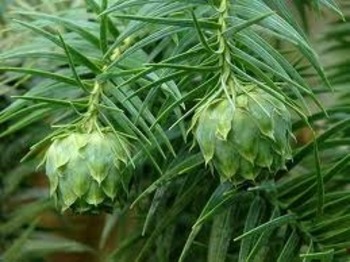 Cunninghamia Lanceolata
Hole #14 is a 440-yard Par 4 which is bunkerless and called "Chinese Fir" for one of the varieties of evergreen trees which serve as its backdrop. It is a popular Asian variety used for lumber.
If you close your eyes and recall the fragrance of most other evergreen trees, you'll understand the depth of its satiating aroma.
Hole #15: "Firethorn"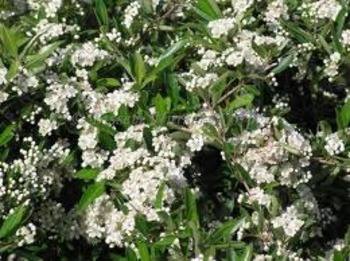 Pyracantha Coccinea
Hole #15 is named "Firethorn" and is a 530 yard Par 5 which Gene Sarazen made famous. It sports the white flowers you see here and produces a red berry palatable only after cooking it into a jam or jelly. It is almost always used ornamentally.
There is no pronounced fragrance.
Hole #16: "Redbud"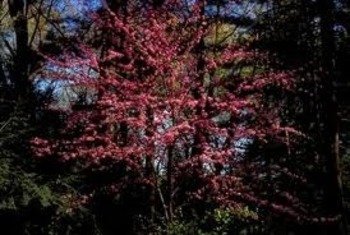 Cercis Canadensis
Hole #16 is a 170 yard Par 3 called "Redbud" for the wispy floral tree you see here. It can range from deep pink to deep red to a violet hue. The blossoms are tightly wound around the branches and can look like an azalea which had been crossed with a tree which is why it is referred to as a "Judas Tree."
While you'd think such a pretty tree would have an accompanying fragrance, but you would be disappointed, as it does not.
Hole #17: "Nandina"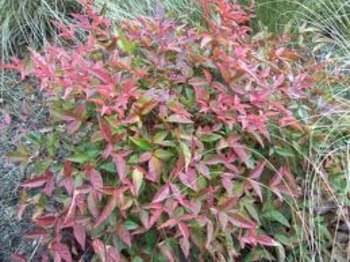 Nandina Domestica
Hole #17 is a demanding 440 yard Par 4 called "Nandina" for the shrub also known as "Heavenly Bamboo," not so much for its height or stalk, but for its origin. Its leaves begin as white, turn pinkish (as above) and become green during the heat of summer, before turning reddish toward winter, when they are used for holiday decorations.
There is no reported fragrance.
Hole #18: "Holly"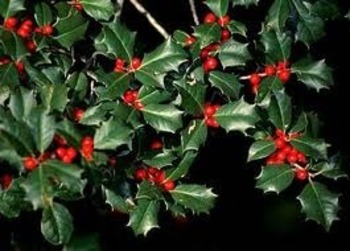 Ilex Opaca
The closing hole is a Par 4 measuring 465 yards and called "Holly" for the various varieties of holly bushes and trees which line the fairway from tee box to where it opens wide. We all know what holly means, and it conveys the comfort of the holidays, which must be the feeling to all golfers who have enjoyed an afternoon on this grand course!
I've always thought holly smelled like Christmas, but maybe at Augusta, it smells like sun screen.
Keep Reading