2012 NFL Mock Draft: Three Weeks Until Draft Day
April 5, 2012
The draft is only three weeks and two days away. The first three seem set in stone, but the picks after that are anyone's guess.
1. Indianapolis Colts: QB Andrew Luck, Stanford
New mock draft, same pick for Indy. Luckily (I couldn't help myself) for the Colts, the best rookie quarterback prospect in recent memory is available the same year they have the first selection.
RG3 has done everything he can do to become the first pick, but Luck is an almost-perfect quarterback prospect. Is it some sort of law that the Packers and Colts must always have a great quarterback? Starr, Favre, Rodgers, Unitas, Manning and Luck certainly think so.
2. Washington Redskins: QB Robert Griffin III, Baylor (From St. Louis)
The Washington Redskins started RG3-and-out last year (Rex Grossman), and they'll start the Heisman Trophy winner, RG3, this season. Griffin is a former track star and an incredible overall athlete, but his skills in the pocket can't be understated either.
Washington would be more than happy with either Luck or Griffin; Redskins fans will be thankful just to have a real presence under center. I still think Andrew Luck is the best quarterback in the draft, and I firmly believe he'll be one of the best in the league within his first few years, but Griffin really isn't far behind.
I'd be shocked if RG3 was anything short of a Pro Bowl-caliber player after his first three seasons.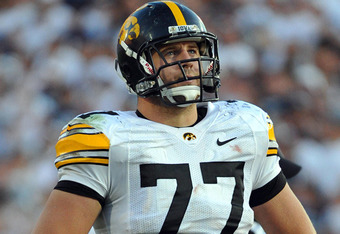 3. Minnesota Vikings: OT Matt Kalil, Southern California
Another pick that hasn't changed. If the Vikings stay put, they'll have a chance to grab the best offensive lineman in the draft (Kalil) or the best defensive player in the draft (Morris Claiborne).
Claiborne will have to get serious consideration since the Vikings pass defense was horrendous last year, and Minnesota plays in the same division as Aaron Rodgers and Greg Jennings, Matt Stafford and Calvin Johnson. Ultimately, a pick doesn't get any "safer" than Matt Kalil, and they'd be wise to protect Christian Ponder's blind side for years to come.
4. Cleveland Browns: RB Trent Richardson, Alabama
It's never a good sign when your most popular player is an offensive lineman. After failing to add a quarterback thus far in free agency, the Browns could consider Ryan Tannehill here to compete with Colt McCoy.
However, I think they'll look at Brandon Weeden with their second-round pick. Morris Claiborne would give the Browns a great cornerback tandem, but this pick will likely come down to either Richardson or Justin Blackmon.
I think they'll take Richardson because they're more likely to succeed with a "ground and pound" philosophy since they're so far away from becoming a legit air attack on the arm of Colt McCoy.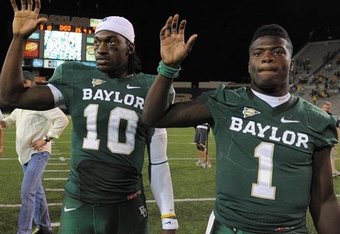 5. Tampa Bay Buccaneers: CB Morris Claiborne, Louisiana State
I think Tampa's ideal situation would be for Cleveland to take Blackmon, leaving them the luxury of picking between Trent Richardson and Morris Claiborne. I have a feeling they'd take Richardson if they had the chance, but as of right now I think he's going to Cleveland at No. 4.
Claiborne is a nice consolation prize, however. Ronde Barber is giving it another go with the Bucs, but his days are more than numbered. Tampa also signed former Lions CB Eric Wright, and they still have troubled cornerback Aqib Talib playing a major role on this team.
Tampa Bay, who employs Claiborne's former position coach Ron Cooper, would benefit greatly from drafting the LSU cornerback. Playing in a division with Drew Brees, Cam Newton and Matt Ryan, it'd be wise to stock up on cornerbacks.
Claiborne and Talib could play the outside receivers, leaving Eric Wright in the slot, and Ronde Barber in a "Charles Woodson" role where he can rely on his savvy, veteran instincts.
6. St. Louis Rams: WR Justin Blackmon, Oklahoma State (From Washington)
This situation plays out perfectly for the Rams, who likely would have drafted Blackmon had they stayed at No. 2 overall instead of trading the pick to Washington in the blockbuster RG3 trade. In this scenario, Sam Bradford gets a legitimate No. 1 receiver in Justin Blackmon.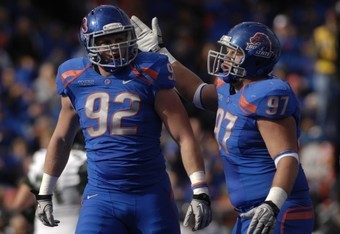 Watching the several nationally-televised Rams games last year, it was alarming how bad the St. Louis receivers were. Greg Salas, I'm looking right at you. Blackmon would start and play a major role as a rookie, but St. Louis would be happy with Morris Claiborne or even Trent Richardson with the sixth pick.
The Rams supposedly had Mark Ingram as a top-10 pick on their board last year, so they don't seem afraid of taking a running back this high, especially considering that their current workhorse RB, Steven Jackson, has taken such a beating over the years.
7. Jacksonville Jaguars: DE Melvin Ingram, South Carolina
Even after signing 2011 breakout WR Laurent Robinson as an unrestricted free agent, the Jaguars would absolutely love to see Justin Blackmon fall to the seventh pick. However Cleveland at No. 4 and St. Louis at No. 6 both have a need at the receiver position, so Blackmon likely won't be available for Jacksonville.
Offensive tackle is an option with their first pick if they feel comfortable reaching for Riley Reiff, but there is better talent available on the defensive line. There are two elite defensive ends in the draft, Quinton Coples from North Carolina and Melvin Ingram from South Carolina.
Coples (6'6", 284 lbs) passes the eye test, but his motor was questionable as a senior at UNC. An exceptional athlete, Melvin Ingram (6'1", 264 lbs) is a smaller guy in the form of Dwight Freeney, but he has a relentless motor and his effort will never be questioned.
After re-signing DE Jeremy Mincey, I think Melvin Ingram would give the Jags a formidable duo of pass-rushers to build their defense around.
8. Miami Dolphins: QB Ryan Tannehill, Texas A&M
Does anyone want to be associated with the Miami Dolphins nowadays? After being turned down by Jim Harbaugh last year, Miami has been spurned by the likes of Jeff Fisher, Peyton Manning and Matt Flynn this offseason. Yikes.
Fortunately for the Dolphins, the draft allows teams to add players regardless of whether or not the player wants to play for the team. New offensive coordinator Mike Sherman coached Ryan Tannehill at Texas A&M, so the match seems to make sense on the surface.
However, Matt Flynn played under Dolphins head coach Joe Philbin in Green Bay, and that match never came to fruition.
It's hard to see exactly what Miami is trying to do right now. On top of question marks at quarterback, the Dolphins need to add a defensive end to pair with Cameron Wake, they're in desperate need of a wide receiver now that Brandon Marshall is in Chicago, and they also need a right tackle.
Because it seems like a perfect fit with Mike Sherman, I'll say they take Tannehill and let him compete with Matt Moore for the starting job as a rookie.
9. Carolina Panthers: WR Michael Floyd, Notre Dame
The Panthers really need a run stuffer in the middle of their defense, but I don't think there's a defensive tackle worth the ninth selection. Carolina will likely take a close look at Quinton Coples, but this is just a gut feeling for me.
After the sensational rookie season from Cam Newton, I expect the Panthers to have their eyes on an elite pass catcher. Michael Floyd has had a terrific offseason, and I think he may have more upside than Justin Blackmon. I have Blackmon as the best receiver in the draft, but Floyd isn't too far behind.
It wouldn't shock me at all if Carolina went with Fletcher Cox or Dontari Poe, but I think Coples or Floyd would be a better value at this point.
10. Buffalo Bills: OT Riley Reiff, Iowa
Early in the offseason and mock draft process, Buffalo's biggest deficiency was clearly its lack of a pass-rusher. After throwing $100 million at Mario Williams and adding Mark Anderson, defensive line went from a position of need to perhaps the Bills' strongest area.
Williams and Anderson will create havoc off the edge, while the interior of the line is in great shape with Kyle Williams and Marcell Dareus. Without a defensive back available that merits the 10th pick, Buffalo's focus will be on its offense.
Michael Floyd will most definitely be in the thick of Buffalo's draft discussions, but ultimately they're going to need to protect their quarterback if they have any hopes of being a potent offense.
The combination of Fred Jackson and C.J. Spiller played great in 2011, and they'll look to build on their stellar season this year. I think the Bills may look to trade down, but they will ultimately take the best available lineman at No. 10, then look to address the receiver position later.
11. Kansas City Chiefs: LB Luke Kuechly, Boston College
I think the only way Kansas City goes offense with this pick is if they think offensive guard David DeCastro is worth the 11th selection. When push comes to shove, I think this comes down to NT Dontari Poe or LB Luke Kuechly.
Both players performed very well at the combine, but Kuechly matched his measurables with production at the college level—Poe did not. Scott Pioli is looking to build a consistent winning team in the form of the New England Patriots, and Romeo Crennel would surely love to add a "Tedy Bruschi" in the middle of his defense.
Kuechly and Derrick Johnson would be a terrific duo as the starting inside linebackers in KC's 3-4 scheme.
12. Seattle Seahawks: DE Quinton Coples, North Carolina
After adding DT Jason Jones, the Seahawks defense looks to build on a strong finish to the 2011 season. CB Richard Sherman was tremendous as a rookie, and Earl Thomas has become one of the NFL's elite safeties.
Seattle has two areas of need on defense: a pass-rusher to complement Chris Clemons and a sideline-to-sideline linebacker.
I think the Seahawks will "Tebow" that the Chiefs take Dontari Poe and pass on Kuechly, because Kuechly to Seattle seems like a perfect match. If he's available, I think Seattle would strongly consider WR Michael Floyd, who would instantly become Matt Flynn's go-to receiver.
This defense would go from a good unit to a potentially elite unit by adding another pass-rusher. If he reaches his potential, Coples could be an absolute stud pass-rusher.
13. Arizona Cardinals: DT Dontari Poe, Memphis
If Iowa OT Riley Reiff is available, he's a Cardinal. Period. Arizona will certainly discuss David DeCastro and Cordy Glenn with their first pick. The Cardinals could be in a position to trade down and acquire more picks while still addressing the offensive or defensive line later in Round 1.
Dontari Poe has enjoyed seeing his stock skyrocket up draft boards this offseason. Once considered a borderline first-round pick out of Memphis, Poe will likely be considered as high as ninth to the Carolina Panthers.
The Cardinals have a pair of studs at defensive end in the 3-4, and Poe would instantly be an upgrade over Dan Williams and David Carter at nose tackle.
14. Dallas Cowboys: S Mark Barron, Alabama
Dallas has added two offensive guards in the offseason: Mackenzy Bernadeau from Carolina and Nate Livings from Cincinnati. However, by addressing their glaring needs at cornerback and safety, the Cowboys are in a position to take the best player available regardless of position.
The team struck gold last year in left tackle Tyron Smith with the ninth pick, and David DeCastro is most definitely worth the 14th pick this year. This is an area of the draft where I expect to see somewhat of a trading frenzy, with teams looking to move up and grab their guy.
Dallas could afford to move down several spots and address likely its biggest need on offense—center. I've never seen a starting center have as many bad snaps as Phil Costa had in 2011 for the Cowboys.
Dallas could move down into the early 20s and select Wisconsin's Peter Konz, who would instantly become a starter as a rookie, or they could even give DeCastro a chance to compete with Costa for the center position. If Dallas stays at 14, I think they'll ultimately either take DeCastro or the top defensive back on the board.
15. Philadelphia Eagles: DT Fletcher Cox, Mississippi State
Behind starters Cullen Jenkins and Mike Patterson, the Eagles are thin at defensive tackle. The Eagles are the perfect situation for Poe, who may need time to develop into the NFL game although he has out-of-this-world physical ability.
The middle of Philadelphia's defense was abused last season, as they got little to no production from their linebackers, and the defensive line was constantly pushed around. After trading for DeMeco Ryans, the Eagles have finally found their middle linebacker.
If they're able to add a defensive tackle like Mississippi State's Fletcher Cox or Dontari Poe, the Eagles will have a much-improved front seven heading into 2012.
Cox isn't only a run stuffer at the defensive tackle position; he also gives you some pass-rushing ability. To me, a good comparison for Cox is Cullen Jenkins. Cox could join Jenkins in Philadelphia if this scenario plays out.
16. New York Jets: OG David DeCastro, Stanford
New York obviously plays in a division against Rob Gronkowski and Aaron Hernandez, so Mark Barron could be a huge asset in covering these matchup nightmares. Since Barron is off the board in this scenario, the Jets are forced to shift their attention elsewhere.
David DeCastro is one of the safest picks in the first half of Round 1, and selecting him would allow New York to get back to its ground-and-pound offensive philosophy. Unless DeCastro, Floyd or Barron were to fall to the Jets, I think their pick would come down to the top-rated 3-4 OLB on their board.
17. Cincinnati Bengals: CB Stephon Gilmore, South Carolina (From Oakland)
The Bengals have two first-round picks, and I think they'll aim to address two main needs: cornerback and offensive line. Cincy has a need at running back, but I think the Bengals would be wise to wait until Round 2 or 3 to address that position.
If Mark Barron were to fall to No. 17, I think Cincinnati would run to the podium with its pick. Barron would come in and replace Chris Crocker alongside free safety Reggie Nelson. The last time Cincy looked to South Carolina for help at cornerback, they ended up with Johnathan Joseph.
Gilmore is a big, physical corner who really has no glaring weaknesses to his game. I have Gilmore rated as the No. 2 cornerback in this draft, and I think ultimately he will be the second cornerback off the board since he doesn't have any big concerns like Janoris Jenkins and Dre Kirkpatrick. 
18. San Diego Chargers: OLB Courtney Upshaw, Alabama
Since Stephon Gilmore came off the board one pick earlier, the Chargers have a tough decision. The Chargers could use this pick anywhere on the defensive side of the ball, or they could address the offensive line. I'm a big fan of Upshaw; I think he's one of the best 15 players in this draft.
San Diego just added Jarrett Johnson to be the outside linebacker opposite Shaun Phillips, and the Chargers also have a situational pass-rushing OLB behind them in Antwan Barnes. Barnes is coming off a breakout year in which he racked up 11 sacks, so adding another OLB isn't necessarily a glaring need.
However, a guy like Upshaw may be hard to pass up with the 18th pick. Ultimately, Upshaw is a very safe pick and could develop into one of the best players from the 2012 class.
19. Chicago Bears: DE Whitney Mercilus, Illinois
Is it possible to have a better name for a pass-rusher than "Mercilus"? I don't think so. Defense has been the backbone of the Chicago Bears since Brian Urlacher arrived in the Windy City. However, Urlacher and company aren't getting any younger, and it's time for the Bears to get younger on defense.
Mercilus racked up 16 sacks last year at Illinois, and his draft stock has been on the rise throughout the offseason. Throwing him on the other side of Julius Peppers would certainly appear to be a wise idea, considering they have to play against Aaron Rodgers and Matt Stafford twice a year.
The Bears could grab either a defensive end or a defensive tackle at No. 19, but offensive line is definitely an option too. Chicago could consider Ohio State's Mike Adams, but I think there's better value on the board than to reach for Adams here.
20. Tennessee Titans: C Peter Konz, Wisconsin 
The Titans flirted with former Packers center Scott Wells in free agency, but Wells ultimately signed with the St. Louis Rams. Incumbent starter Eugene Amano was one of the worst centers in the league last season, so you can bet former lineman and current head coach Mike Munchak will be looking to improve the center position in the draft.
Konz is a very large man (6'5", 315 lbs) who anchored the dominant Wisconsin offensive line during Montee Ball's Heisman-caliber 2011 season. I expect the Eagles to move Asante Samuel this offseason, and Tennessee is rumored to have interest. Samuel would fill the void left by Cortland Finnegan, but otherwise the Titans could look at cornerback here.
Because they have so much money invested in Chris Johnson, the Titans would be wise to put Konz next to Steve Hutchinson and bolster the offensive line.
21. Cincinnati Bengals: OL Cordy Glenn, Georgia
The Bengals took A.J. Green out of Georgia last year, and they'd love to add another Bulldog with their second first-round pick this year. At 346 pounds, Cordy Glenn moves like most men that size simply can't.
Even after adding BenJarvus Green-Ellis, the Bengals will need a strong offensive line no matter who gets the majority of the carries. Glenn translates best to the interior offensive line, but he could kick out to right tackle if Andre Smith struggles.
Gilmore and Glenn would certainly be home runs as Cincinnati's first-round selections. Both players would play significant roles as rookies for Cincinnati.
22. Cleveland Browns: WR Kendall Wright, Baylor (From Atlanta)
This team needs playmakers. Badly. After taking Trent Richardson with the fourth pick, the Browns want to add a perimeter threat with their second pick. Kendall Wright had a disappointing combine, but his pro day was more indicative of how he played at Baylor.
Wright consistently beat Big 12 defenses deep, and Cleveland will hope for more of the same at the professional level. The Browns clearly need a quarterback, but I don't think it's worth reaching for Brandon Weeden here when you could get a capable quarterback in the early second round. It wouldn't shock me if Stephen Hill goes ahead of Kendall Wright.
23. Detroit Lions: CB Dre Kirkpatrick, Alabama
After losing Eric Wright, the Lions really need a cornerback. I'd rather have Stephon Gilmore, but some people have Kirkpatrick as the second-best corner in the draft. I think this pick comes down to the best available defensive back or offensive tackle Mike Adams.
When you have to play against Green Bay's "Aaron it out" style, it'd be wise to stock up on cornerbacks. Another candidate to be the 23rd pick is Peter Konz if he's available. Dominic Raiola's career is on the decline, and Konz could kick over to guard until Raiola is ready to call it quits. Ultimately, Detroit is desperate for cornerbacks so they take Kirkpatrick.
24. Pittsburgh Steelers: LB Dont'a Hightower, Alabama
Much like Courtney Upshaw, I'm a big fan of fellow Alabama LB Dont'a Hightower. After battling back from a knee injury, Hightower has boosted his stock back up to first-round status. He has a tough, rugged, Pittsburgh Steeler mentality. After cutting James Farrior, Hightower would fit in really well next to Lawrence Timmons.
Alabama head coach Nick Saban occasionally used Hightower in a three-point stance to rush the passer on third downs this year, and Dick LeBeau loves to maximize his players' versatility. If Hightower is gone and the Steelers are forced to look elsewhere, OT Mike Adams would likely be the pick.
25. Denver Broncos: DT Michael Brockers, Louisiana State
Before Peyton Manning signed with Denver, I thought it was a done deal that the Broncos would select the top-rated defensive tackle on their board. However, now that Peyton is in the fold, I could see them looking to take the best player available regardless of position.
Fortunately for Denver, the best player on the board is LSU's Michael Brockers, and he fills the defensive tackle need as well. While only a starter for one year at the college level, Brockers (6'6", 310 lbs) has as high of a ceiling as any defensive tackle in the draft.
He entered the draft as a redshirt sophomore, and he's been mentioned as high as Carolina with the ninth pick. However, I think there will be better options for the Panthers that high.
Brockers would come in and fill the void left by Brodrick Bunkley. This is a no-brainer pick for the Broncos if Brockers is available.
26. Houston Texans:  WR Stephen Hill, Georgia Tech 
Andre Johnson may very well be the best receiver in the NFL, but the Texans need to find another stud to pair with him. I think they'll consider Mike Adams to fill in at right tackle for cap casualty Eric Winston, but if he's gone, they'll almost surely take Stephen Hill.
Either Hill or Adams would make a lot of sense and both would make an instant impact, but the Texans ultimately decide to go with the upside of Georgia Tech's Stephen Hill.
Although he only caught 49 balls in his three-year collegiate career, Hill's 4.34 40-yard dash and 39.5" vertical have catapulted him into first-round consideration. At 6' 4" and 215 lbs, Hill would be the perfect vertical threat to play alongside Andre Johnson in Houston.
27. New England Patriots: DE Nick Perry, USC (From New Orleans)
There are a wide variety of opinions regarding Nick Perry. Some think he's one of the elite players in the draft, while others think he's a workout warrior who's on-field production doesn't match his incredible measurables. Nonetheless, Perry would be tough to pass on for a team like New England, who is desperate for a pass-rusher.
Perry is capable of playing with his hand on the ground as a defensive end, and he's talented enough to play as a stand-up 3-4 outside linebacker, which is perfect for New England's hybrid 3-4/4-3 scheme. The Patriots need guys that can get to the quarterback, and Perry fits the bill at No. 27.
28. Green Bay Packers: OLB Shea McClellin, Boise State
The Packers need a pass-rusher, and they need a stout defensive lineman, as they've been unable to replace the loss of Cullen Jenkins last offseason. However, there isn't a no-brainer pick left on the board at either position. McClellin is a late riser this year, and both Mike Mayock and Mel Kiper have mentioned him as a potential first-round selection.
"Shea and Clay" sounds like a damn good combination at outside linebacker for the Packers. I've had McClellin as an early second-round guy throughout the entire draft process, so I don't think this would be too much of a reach.
His motor and work ethic are reminiscent of Clay Matthews, and those very traits could catapult Shea McClellin into the first round. Something to think about: If Courtney Upshaw gets past San Diego at No. 18, Ted Thompson may view him as the perfect bookend OLB to Clay Matthews and trade up to acquire his services.
29. Baltimore Ravens:  S Harrison Smith, Notre Dame
Baltimore doesn't have any single glaring need on either side of the ball. With Matt Birk in the twilight of his career, I think Peter Konz would be the only "given" selection for the Ravens; however, I don't think he'll be there at this point.
Baltimore would also love to see Dont'a Hightower slide to them at the end of Round 1 because he'd be great alongside Ray Lewis, and he'd eventually be asked to replace Lewis as the heart and soul of Baltimore's defense.
If Konz and Hightower are both gone, I think it'll be the best player available, and that could be Notre Dame's Harrison Smith. The Ravens are always creative with their defense, and they'd definitely benefit from having another talented and intelligent safety.
30. San Francisco 49ers:  CB Janoris Jenkins, North Alabama
I had Stephen Hill penciled in for San Francisco until the 49ers signed Randy Moss and Mario Manningham. The theme of San Fran's offseason has been giving Alex Smith some more weapons on offense.
While I remain skeptical regarding what Smith can really do with all these weapons, it wouldn't shock me if Harbaugh pushed for one of his former Stanford players, TE Coby Fleener.
Fleener and Vernon Davis would be the definition of a matchup nightmare, and with Moss, Manningham and Crabtree at receiver, the 49ers passing game would have to be much improved. If it's not, that should really tell you something about Alex Smith.
Janoris Jenkins is arguably a top-15 player as far as talent, but character concerns will surely scare some teams off. If he keeps his head on straight, Jenkins could be a steal for an already elite 49ers defense.
31. New England Patriots: DT Kendall Reyes, Connecticut
The Patriots have a need on the edge of the defensive line, as well as on the interior of the defensive line. If they can add a defensive tackle after already selecting a defensive end, New England will have settled perhaps its two biggest needs with its first two picks.
Kendall Reyes was a captain at Connecticut, and he's considered to be a "high-character guy." Belichick loves to add players who fit into a locker room, and Reyes would add another leader to the locker room as well as a damn good football player.
32. New York Giants: OT Mike Adams, Ohio State
The Giants are in a perfect position to take the best player available. It wouldn't even shock me if they took Devon Still and added to the best defensive line in football since the team is concerned about the future of DT Marvin Austin.
After losing Brandon Jacobs, running back is an option, but I don't think it's likely. Coby Fleener is definitely a possibility, although they signed Martellus Bennett from Dallas, so the need isn't as evident as it was a few weeks ago.
Ultimately, I think Mike Adams is the best player available in this scenario, and he'd be ready whenever the Giants call his number.
ROUND 2:
33. St. Louis: OT Jonathan Martin, Stanford
34. Indianapolis: TE Coby Fleener, Stanford
35. Minnesota: WR Alshon Jeffery, South Carolina 
36. Tampa Bay: LB Lavonte David, Nebraska (From Washington)
37. Cleveland: QB Brandon Weeden, Oklahoma State
38. Jacksonville: OT Bobby Massie, Ole Miss
39. St. Louis: DT Jerel Worthy, Michigan State
40. Carolina: DT Devon Still, Penn State
41. Buffalo: WR Reuben Randle, Louisiana State
42. Miami: DE Chandler Jones, Syracuse
43. Seattle: LB Zach Brown, North Carolina
44. Kansas City: OG Amini Silatolu, Midwestern State
45. Dallas: OLB Andre Branch, Clemson
46. Philadelphia: CB Brandon Boykin, Georgia (From Arizona)
47. New York Jets: RB Doug Martin, Boise State
48. New England: CB Josh Robinson, Central Florida (From Oakland)
49. San Diego: S Antonio Allen, South Carolina
50 Chicago: CB Trumaine Johnson, Montana
51 Philadelphia: OT Zebrie Sanders, Florida State
52. Tennessee: DT Brandon Thompson, Clemson
53. Cincinnati: RB David Wilson, Virginia Tech
54. Detroit: S Brandon Taylor, Louisiana State
55. Atlanta: DE Vinny Curry, Marshall
56. Pittsburgh: OG Kevin Zeitler, Wisconsin
57. Denver: RB Lamar Miller, Miami
58. Houston: LB Mychal Kendricks, California
59. Green Bay: DE Derek Wolfe, Cincinnati
60. Baltimore: OG Kelechi Osemele, Iowa State
61. San Francisco: TE Orson Charles, Georgia
62. New England: OLB Ronnell Lewis, Oklahoma
63. New York Giants: TE Dwayne Allen, Clemson