Jeff Gross/Getty Images
April 5, 2012
NCAA president Mark Emmert must hate John Calipari the way David Stern hates Mark Cuban. 
Aside from avoiding sanctions in the aftermath of his time at UMass and Memphis, Coach Cal and his Kentucky Wildcats have proven that a rotating door of one-and-dones can win a national championship. As the sphere of influence from the much maligned coach grows with every lottery pick coming out of his program, the suits at the NCAA are left shaking in their wing tips. 
Therefore, the organization created to maintain the integrity of collegian athletics has responded to the rise and success of one-and-dones by allowing players just eight days after the national championship to declare for the draft. Despite its claims that the move is to give coaches an opportunity to replace departing players before the spring signing period, the NCAA is clearly looking to maintain the long-term viability of college basketball. 
Since North Carolina's Final Four romp in '09, analysts, writers and coaches have bemoaned the decline in truly great players and teams, due primarily to the rise in players leaving early for the NBA. While most have railed against the trend, Calipari has openly embraced and perfected it.  
In just four years, nine of Calipari's players were selected in the draft, including two who went No. 1 (Derrick Rose and John Wall). If he chooses to leave Kentucky (which he will), Anthony Davis will likely be Cal's third top overall pick since 2008.
With this kind of track record, McDonald's All-Americans looking to cash in on their elite talents are waiting in line to join the Wildcats, giving Calipari an overwhelming advantage in recruiting.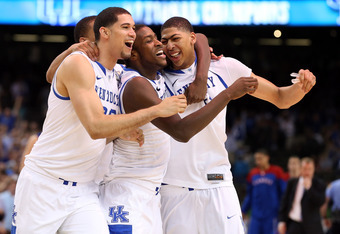 Jeff Gross/Getty Images
This move to professionalize the sport has Emmert and Co. scrambling to keep their best athletes in college uniforms and continue the sport's rising profitability. But rather than negotiate with the powerful NBA players' union, the NCAA took matters into its own hands. 
Calipari, of course, lamented the rule change so inspired by his success. 
"It's the dumbest thing ever. It's stupid. If this is about the kids, then that's the last thing this is about." 
Joining Calipari is a chorus of boos from other key figures in basketball, including former Nike marketing exec and player advocate Sonny Vaccaro. 
"This is the most egregious thing the NCAA has done. They are empowering themselves for the benefit of themselves. There is no turning back from this decision. They've drawn the line in the sand. The athletes have no rights." 
Statements like these come from the NCAA's image of a noble group designed to provide student-athletes the chance to live out their dreams, earn a college education and preserve the integrity of the university.
While this goal is a part of the association's overall mission, the NCAA is, however, not a non-profit organization. It's the governing body of the multi-billion dollar college sports industry, and it has no interest in becoming a stepping stone.
Calipari's success flies in the face of both its noble goal of providing student-athletes opportunities to attend classes and compete in their sport, as well as its goal of signing more 11-figure contracts like the one inked with CBS and Time Warner to broadcast every game of March Madness.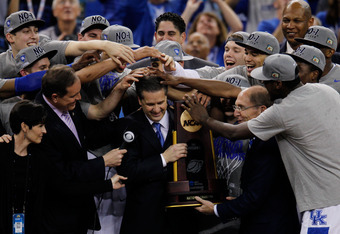 Chris Graythen/Getty Images
In a recent press conference, NBA commissioner David Stern reiterated (in classic Stern fashion) that one-and-done players are not his problem and that the league has no reason to sacrifice its profits for the betterment of the NCAA. 
"A college could always not have players who are one and done. They could do that. They could actually require players to go to classes. 
"Or they could get the players to agree that they stay in school, and ask for the scholarship money back if they didn't fulfill their promises. There's all kinds of things that, if a bunch of people got together and really wanted to do it, instead of talk about it..." 
Thus, the NCAA is left to fend for itself against Calipari's methods by creating rules that are designed to hold onto tradition, even if it's fading. Because, as Chuck Klosterman of Grantland.com wrote:
"If Kentucky is simultaneously the most straightforward finishing school for future professionals and the best place to win a national championship, there's no reason for a blue-chip high school senior to go anywhere else. Calipari will dynastically dominate with a revolving door of sheer horsepower, and the only way other schools will be able to respond is by becoming exactly like him."
Like the new article format? Send us feedback!