Shabazz Muhammad: Ben Howland Counting on Prep Star to Save His Job at UCLA
April 5, 2012
Jonathan Daniel/Getty Images
Ben Howland might not need a miracle, per se, but he could certainly use one.
And not just any miracle, but one from Las Vegas by the name of Shabazz Muhammad.
The 6'6" stud from Bishop Gorman High School is set to decide between UCLA, Kentucky and Duke next Tuesday, the day before National Signing Day. A number of recruiting experts have already pegged Muhammad, a McDonald's All-American and likely a "one-and-done" player, to be a future Bruin, given his southern California ties (his dad, Ron Holmes, played at USC) and Howland's track record of preparing his pupils for NBA stardom.
Those sorts of prognostications must come as music to Howland's much-abused ears.
His UCLA Bruins, once the toast of college basketball after back-to-back-to-back trips to the Final Four, have missed the NCAA Tournament in two out of the last three seasons. As a result, Howland's earned the dubious distinction as the only coach in Westwood since the late, great John Wooden retired in 1975 to miss the Big Dance three times and not lose his job.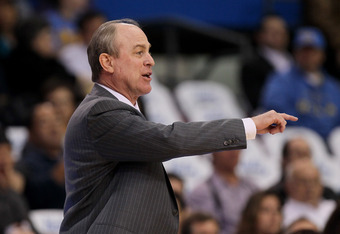 Stephen Dunn/Getty Images
Granted, Howland will more than likely be on his way out if the Bruins miss the tourney against next year, especially after Sports Illustrated dug up dirt about all the off-court problems with discipline and drugs that dragged down the team's performance between the lines.
So, yeah, Howland could use a miracle like Muhammad. The Bruins should be better next year, even without Shabazz on board. They'll be playing in front of packed houses at the newly renovated Pauley Pavilion, rather than amidst fans dressed up as seats, as they did so many times at the decrepit Los Angeles Sports Arena this past season.
They'll open their shiny new building without the distraction of Reeves Nelson, whose bullying ways are a thing of the past, and with former North Carolina point guard Larry Drew Jr. ready to fill in for the since-departed Jerime Anderson and Lazeric Jones.
Throw in some weight loss for mammoth center Joshua Smith, offseason improvement for Tyler Lamb, a bigger role for Norman Powell, the Wears being the Wears, and the additions of Oak Hill Academy grad Jordan Adams and Mickey D's sensation Kyle Anderson, and Howland should have plenty of Halcyon days ahead.
For one year, at least.
Muhammad, though, would make the Bruins more than just smooth sailors; he'd make them prohibitive Pac-12 favorites and legitimate national title contenders.
Yeah, folks. He's that good. A kid with the toughness, attitude and work ethic of Arron Afflalo, but with considerably more talent.
A slasher who can knock down shots from the perimeter and take smaller defenders into the post.
A superstar-in-the-making who's about winning first, second and third.
The intersection between the Howland ethic and pro potential.
In other words, a must-have for Howland, as much for the sake of his job as for the future of UCLA basketball.
Wherever he winds up, Muhammad only figures to stay for a year, though the potential impact of that single season—a conference championship, a Final Four and a spot in the draft lottery thereafter—could be exactly what the Bruins need to jumpstart the program and get back to the good ol' days, when Afflalo, Jordan Farmar, Kevin Love and Russell Westbrook (among others) plied their trade to near-glorious effect.
Howland certainly hopes so. After all, it's his job that's on the line, his future that's pining for a miracle.