5 Moves the Magic Should Make to Keep Dwight Howard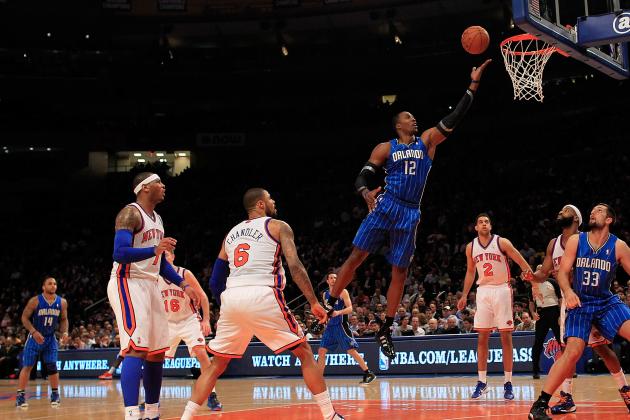 Chris Trotman/Getty Images

Let me start off by saying that I think the power Dwight Howard has over the Orlando Magic is more detrimental to the team than if he were to leave.
For a player to be part of management to the point that he has not only as much authority as the coach but also the authority to change the coach is frightening.
We've had players depicted as selfish in the past, notably Michael Jordan, Kobe Bryant, Allen Iverson and Shaquille O'Neal in the past. All have publicly said things that weren't in the best interest in their teams, and all probably had too much say on what happened on the court and even off of it.
But none have done what Howard has done in the past year. To have reports come out not once, but twice, that he wants head coach stan Van Gundy gone—a coach who has done an amazing job keeping the team toward the top of the Eastern Conference even after what Howard put Orlando through—is something none of those other players did.
The only other great player in recent history I can think of to demand a switch coaching-wise was Magic Johnson; but he was a far better player, and, more importantly, he also didn't say he would leave if that change wasn't made.
Johnson didn't, like every other NBA player, put his team through the sort of limbo that Howard has done. The whole first half of the season he demanded trades left and right, even publicly listing the teams he would cherish being trading to must make for an extremely poisonous locker room. That is evidently never something easy for the coach, management and even his teammates to work with.
And then Howard signed an extension that is guaranteed through next season, meaning one thing: This exact same fiasco will produce itself once again next year.
As much as I think the Magic should seriously consider moving on with life past Superman, if they want to keep him, here are five off-season moves they should make to avoid another fiasco.
Enjoy.
Begin Slideshow

»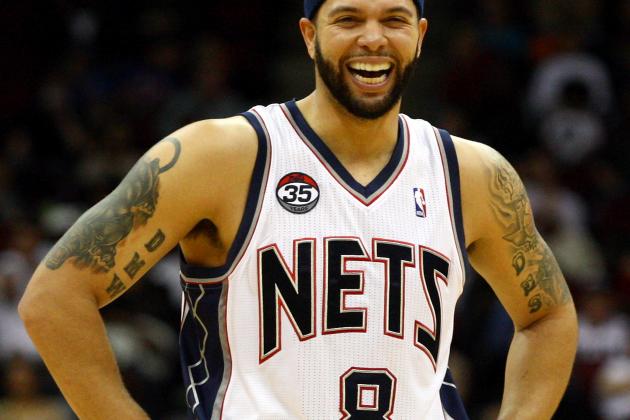 Chris Chambers/Getty Images

Jameer Nelson is a good player. Maybe a couple years ago, he was even a very good point guard. But it has become increasingly evident that the Magic will need something more.
Nelson can truly do two things: shoot and feed Howard the ball in the post.
Though those are the requirements for most Magic players, Orlando obviously needs something more. They need a point guard who can create for Howard, other players, as well as for himself.
More importantly, the Magic need a point guard to keep him honest; someone that will only pass it to him if he's more open or in better position to the next guy. Too often, Howard can coast on offense and know the ball will end up in his hands. A good point guard will make sure Howard is in the best position possible before delivering that pass.
The most talked about point guard that the Magic will pursue is Deron Williams. And, truly, this is also the one that would make the most sense. D-Will wants to redeem himself and place his name once again into the conversation of best point guard in the game.
He's an extremely talented player who can create shots for himself (as exemplified with his 50-point game earlier this season) while remaining an elite passer.
If the Magic have their pick, it should be Williams.
If, for some reason, one of the two sides don't like what they're seeing, or something doesn't fall through, there are other options, albeit not as good one.
Steve Nash comes to mind as someone who would fight his rear end off to get that ring before he retires. And there's no doubt that if anyone would treat Howard like every other player on the team while somehow also making him better, it's Nash.
His main downside is that he can no longer really take over a game individually.
Other Options: If the San Antonio Spurs don't win a title and Tony Parker wants out, he becomes a legit possibility. Meanwhile Mike Conley, Kyle Lowry and Devin Harris should all be assessed.
Still, Deron Williams remains best option.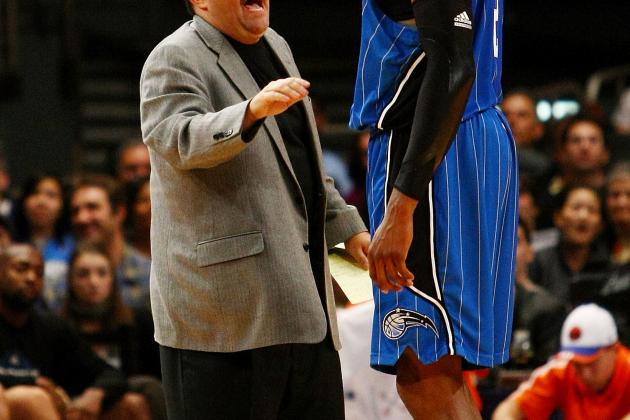 Chris McGrath/Getty Images

It pains me to write this because, as mentioned, I truly do think he is one of the best coaches out there, and that a player should never have the power to decide a coach's future.
But, sadly, the picture on the lift perfectly illustrates the relationship between Stan Van Gundy and Dwight Howard. Van Gundy is always the one talking, but words go in and out of Howard's ears, who, metaphorically (and literally, as is seen quite obviously in the picture) holds a bigger part in the Magic organization. And, if Howard wants Van Gundy gone, management will sadly have to oblige and fire him away.
Yet, that doesn't quite settle anything, does it? This still means Orlando will have to find a good coach who doesn't mind being second fiddle in the organization behind Howard.
So, what coach should they go for?
Obviously, like Deron Williams, the top choice would be Phil Jackson, but he's an even longer shot than Williams would be.
The possible scenarios that Orlando should hope to obtain are as follows: Brian Shaw, Patrick Ewing or Flip Saunders.
Brian Shaw—Kobe Bryant highly endorsed him to become the Los Angeles Lakers head coach last year, which says a lot. Furthermore, he's been part of a very successful Shaquille O'Neal squad, which could pay huge dividends in how he would manage Howard.
Flip Saunders—A very qualified coach who needs a team that can wash away his Washington Wizards memories. A great defensive coach who would play to Howard's strength while also improving those around him on that end of the floor.
Patrick Ewing—Ewing's the dark horse candidate here. He'd be the first former center ever to head coach an NBA team. People say he's very close to Howard and is one of the main factors regarding Howard's improvement on the offensive end. Obviously, Ewing would make Howard the main factor in this team, considering he was once the main factor as a center. All in all, he'd be a coach that would make Howard happy, but most likely not the rest of the team.
Jeff Van Gundy—Just kidding. But it would be hilarious.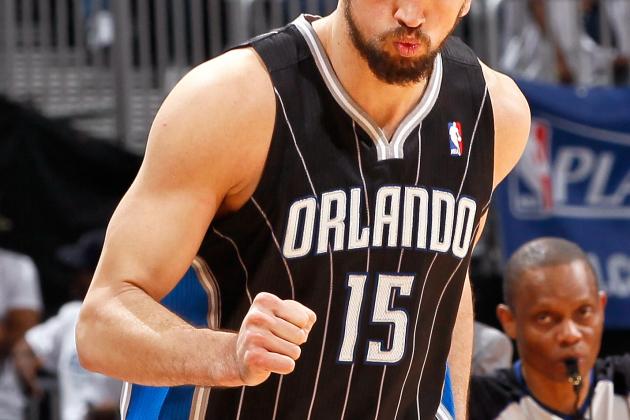 Kevin C. Cox/Getty Images

Hedo Turkoglu's history with the Magic is as weird as anybody's.
Originally, he revived his career in Orlando (winning Most Improved Player in 2007, and quietly became one of the main reasons that Magic made it to that NBA Finals in that miraculous season.) He was a big man who could play point guard, create his own shot when needed and get Howard the ball.
So, obviously the Magic had to keep him, along with the rest of the team, intact.
Except they didn't. A genius at times, and somewhat of an idiot at other times, General Manager Otis Smith refused to meet his demands money-wise. Turkoglu opted out of his contract, and then he signed with the Toronto Raptors.
This ended up being a terrible decision for both sides. While he was a Raptor, disappointing fans and management alike, Turkoglu and his large contract was shipped to Phoenix for Leandro Barbosa.
Then, it got even weirder. Hedo, along with others, was traded back to Orlando, where he's still playing.
But, by no means, has he provided the spark he did a couple years ago, and you would be tricking yourself to think this team has any chance of making the Finals like a couple years ago. The Magic really haven't been the same since, and Turkoglu is averaging a meager 10 points and four assists, both well below his career averages.
Why am I giving you Turkoglu's biography? Because, while trading back for him, Smith picked up his large contract (one much larger than what he would have had to give him just a couple years ago when he let him walk), and now Turkoglu is the main reason the Magic will have trouble signing a big-name player this offseason.
Now, unlike the first time the Magic were faced with this situation, they have to let Turkoglu walk (since he's not in a contract year, saying they should let him "walk" isn't the right term—they just have to release him). Sure, they could sign D-Will with the Turkoglu on the roster, but they wouldn't be able to sign Williams along with the next player with his contract.
And that next player is...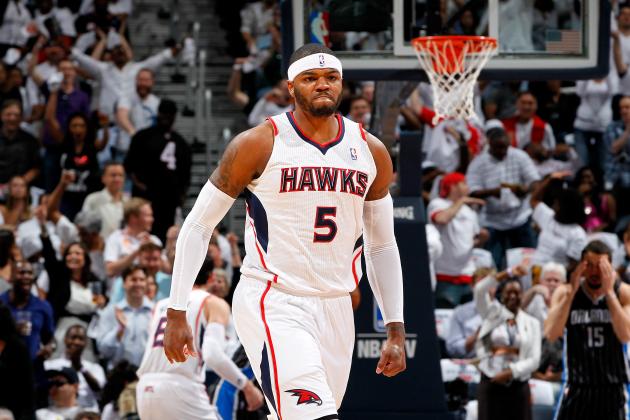 Kevin C. Cox/Getty Images

The picture describes what needs to happen for the Magic. Turkoglu, if you can see him, has to slip away from the team, while Josh Smith takes on a very prominent role with the squad.
He was easily All-Star material before the All-Star break, being arguably the most valuable player on a four-seeded squad, but he was snubbed for bigger names (ironically, Deron Williams).
Yet, since then, he's been an even bigger beast, upping his scoring average from 16 to 23 points per game since the break, to go along with 9.6 rebounds.
To get Josh Smith (who earlier this year demanded a trade), the Magic would have to do the following:
Trade: J.J. Reddick, Chris Duhon, First-Round Pick in 2014 and Cash Considerations
Receive: Josh Smith
Why the Hawks would do this: J.J. Reddick is a very good, young player, who shows flashes of brilliance and, thus, extreme potential, almost every game. Putting him on the bench behind Joe Johnson would give them, basically, a smarter and younger Jamaal Crawford.
Chris Duhon gives them a veteran point guard who can help mold Jeff Teague into the player he is capable of being, while also being able to play good minutes off the bench.
They won't be able to get that many better deals for Josh Smith, and this way Orlando can start their rebuilding process while somehow still keeping the core of their team intact. All in all, they'd make way for $4 million through this deal, which could lead to a lucrative free-agent signing to make up for their loss.
Why the Magic would do this: Deron Williams, Jason Richardson, Josh Smith, Ryan Anderson and Dwight Howard as a starting lineup would not only tempt Howard to sign for another five years but also would be a team that could quietly become championship contenders.
Smith would be perfect alongside Howard, and is interchangeable with Anderson as the three or four. He's made a large leap in maturity this year, he's young and his trade demand earlier this season illustrates how serious he's become about winning it all.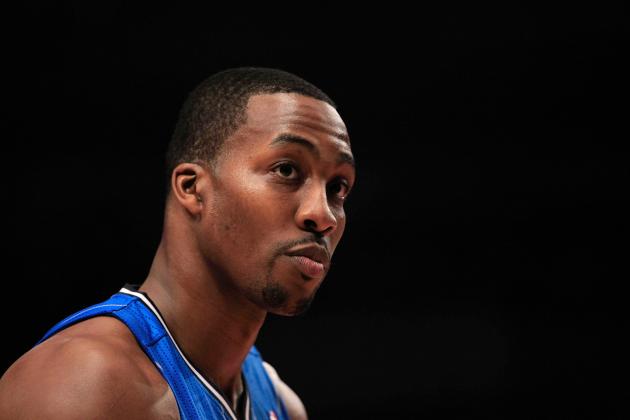 Chris Trotman/Getty Images

This is something that pains me to write, which should be obliviously evident in my introduction slide, because I truly believe a player should have no power besides what he does during the game, and the leadership he displays in the locker room. Howard shouldn't make management decisions, because he'll do stuff in his best interest and not the best interest of the team.
But, that being said, this article is about what the Magic have to do in order to keep the big man. And Howard wants power. He doesn't like Van Gundy for the sole reason that Van Gundy doesn't dictate everything around Howard.
Give Howard power, or even make it seem like you're giving him power, and he'll be content.
Letting him choose the next coach might not be in the best interest of the team, but it will tempt Howard to stay, for it is treatment he won't receive elsewhere. Same with letting him decide who to sign or trade for this offseason.
With that being said, I think the smartest thing is to make Howard think he has power. How to go about this is in the hands of Otis Smith, a man capable of doing both numb-skulled and brilliant things.