Oklahoma State Football: Best Quarterbacks in School History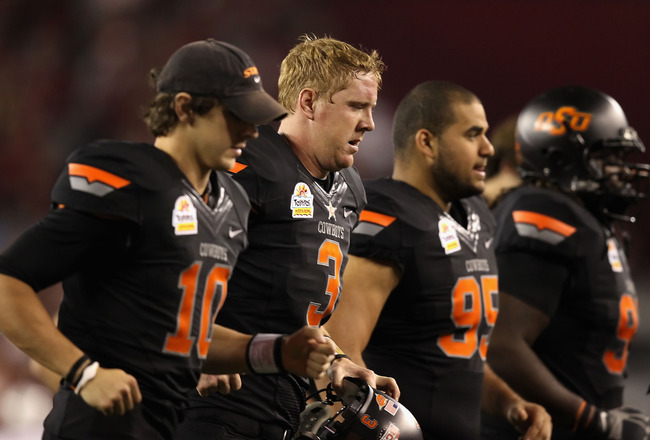 Christian Petersen/Getty Images
The Oklahoma State Cowboys have had a lot of great quarterbacks throughout their history. But some, like Mike Gundy and Brandon Weeden, have separated themselves from the rest.
Despite not being a school that is known for churning out high-level quarterbacks, the Cowboys have had many great ones who have been among the best at their position during their careers.
Here are the best quarterbacks in Oklahoma State history.
Bob Fenimore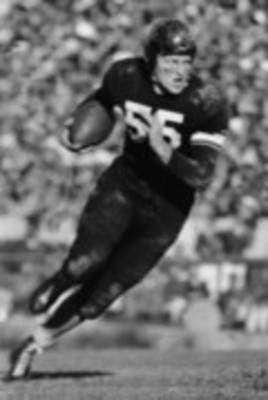 Bob Fenimore played a little bit of everything at Oklahoma State, including quarterback and halfback. He led Oklahoma A&M/State to its only unbeaten record in 1945 and a 17-1 record in 1944-45.
Fenimore threw for over 2,000 yards in his four-year career in Stillwater and was drafted No. 1 overall in the NFL draft.
Rusty Hilger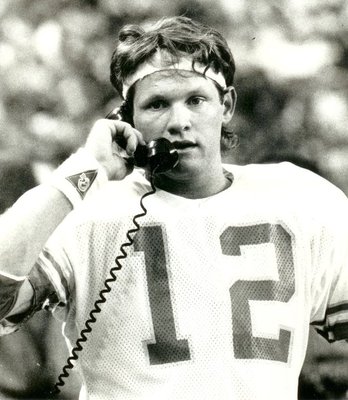 Rusty Hilger led the Cowboys as their primary signal-caller during the early 1980s. He threw for over 4,000 in nearly four seasons as the starter for Oklahoma State.
He also led them to a bowl in all three of the years he played and won two against Baylor and South Carolina.
Josh Fields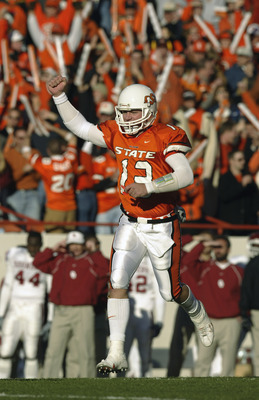 Brian Bahr/Getty Images
As a true freshman, Josh Fields led the Cowboys to a 16-13 upset of the then-Top 5 Oklahoma Sooners in 2001. Fields went on to become one of the best quarterbacks in Cowboy history.
He threw for over 6,000 yards during a little over two seasons as the starter and went 17-9 in 2002 and 2003.
Zac Robinson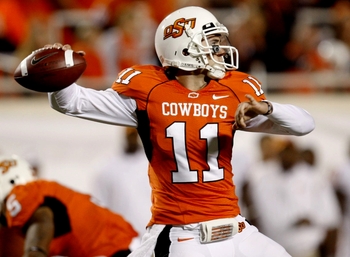 Ronald Martinez/Getty Images
One of the most beloved players in Oklahoma State history, Zac Robinson is a big part of what led to the Cowboys' recent national prominence.
The quarterback took over as the starter in his sophomore year and passed for nearly 8,000 yards, going 25-14 in nearly three seasons at the helm.
Mike Gundy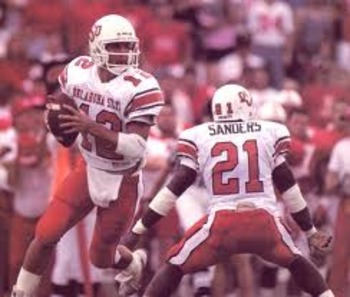 Mike Gundy may have benefited with Barry Sanders and Thurman Thomas, but he was still a great player in his own right.
The former State High School Player of the Year in Oklahoma threw for around 8,000 yards during his career as a Cowboy. He also accounted for 54 career touchdown passes and went 20-4 as a starter in 1987 and 1988.
Brandon Weeden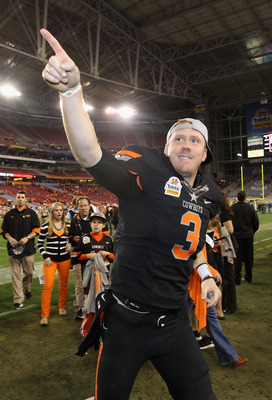 Christian Petersen/Getty Images
Brandon Weeden is the best quarterback in Oklahoma State history for pretty obvious reasons.
After leading the Cowboys to a comeback in 2009 over Colorado, the 28-year-old went 23-3 in two seasons as the starter and passed for over 9,000 yards in his career (a school record). He also threw for 75 career touchdowns to just 27 interceptions.
He's been the best in Cowboy history, the only one to win a Big 12 Title and potentially the first to be an NFL starter.
Keep Reading

Oklahoma State Football: Like this team?