2012 Stanley Cup: San Jose Sharks 5-Step Plan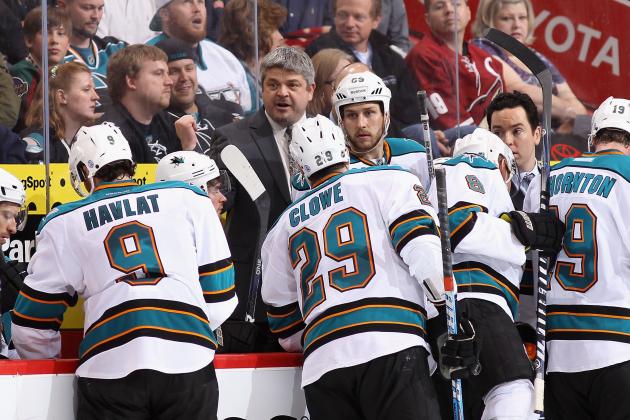 Christian Petersen/Getty Images
The San Jose Sharks have their fate in their hands right now
Do not be fooled.
The San Jose Sharks have won both ends of the home-and-home series with the Dallas Stars handily. They have all but clinched a playoff spot—as few as a single point gained or lost could secure it.
But these are the Stars. As much as the Sharks were dominated by teams like Vancouver, St. Louis, Phoenix and Anaheim, they dominated Dallas.
They earned 11 points in the six games to just two for the Stars. All five of their wins were by three goals, and their only loss was in a shootout.
But in their last game Tuesday, Ryane Clowe scored an empty-net goal and Antti Niemi out-played Kari Lehtonen. Sharks skaters were patient and made the most of their chances, making a hard-fought game seem lopsided.
At the midpoint of the game, the Stars were out-shooting the Sharks by better than a 2-1 margin. By game's end, they had five more shots and five more attempts, as well as the wide edge in hits (35-13) you would expect when one of the most physical teams plays one of the least.
The Sharks had three fewer giveaways, one more takeaway, and two more blocks and faceoffs won. But that hardly explains why they were 46 seconds away from leading for half the game and only trailed for 32 seconds. Unlike the first game against Dallas, they did not let up for the second half of the third period, instead closing out the win with two goals in the final five minutes.
The problem is that the Sharks do not play that way against many teams. The frustration is that they can play such smart, blue-collar hockey against good teams and get out-worked by others.
That is why there are only five to eight teams who are real contenders for Lord Stanley's Cup. The San Jose Sharks are not one of them for reasons explored more at that link, but champions play that way consistently.
However, anything is possible. The Sharks certainly have the talent. I keep being reminded by every advocate of these players that they can make the plays needed to win in the playoffs.
I need those reminders because this is not the team I picked to win the Western Conference at the beginning of the year. The point Ray Ratto was trying to make the public PR machine that comprises 80 percent of the airtime of that postgame show is that eventually, a team just has to get it done.
They have run out of chances. If this team is going to do anything, it has to be now. Most of them have had two or more previous seasons as an elite team to get it done; one has had more than a decade.
That is long enough. And this team looks less-prepared than any under Doug Wilson's tenure. But they are playing well right now (8-4-1 in 13 games over their last 23 days), and have something the others did not.
They get to choose their path. With home-and-home mini-series against their chief contenders for the division title, the Sharks will get as far as their performance allows.
Here is their goal in five easier said than done steps...
Begin Slideshow

»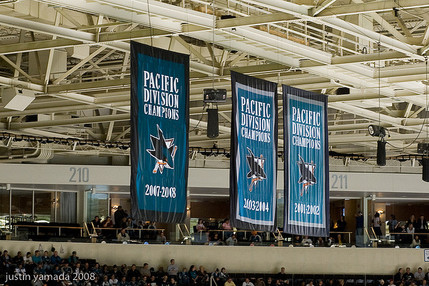 The San Jose Sharks need to win the division to make it deep in the playoffs.
The top-two seeds are teams the Sharks have been unable to beat. Over the last 12-plus months and 13 games, they have exactly one regulation and one shootout win over the St. Louis Blues and Vancouver Canucks combined.
That is no statistical anomaly. Those are very good teams that match up well against the Sharks and know how to play them.
One such elite team being beaten in the first round is one thing. Two of them losing has only happened three times in the 22 conference playoffs since the league expanded to its current size.
In other words, even if the Sharks beat one of those teams in the first round, there is an 86.4 percent chance they will also have to beat the other. Winning the division would enable them to have a good chance of not even having to play one of those teams until the conference finals.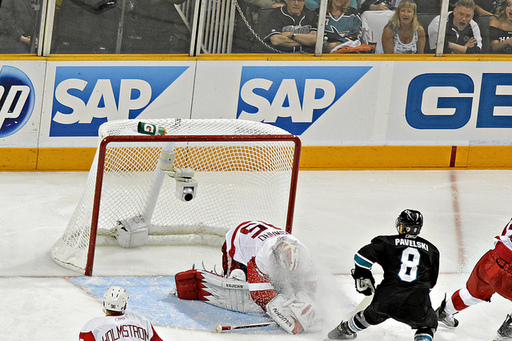 Just as it is no fluke that the San Jose Sharks lose to the St. Louis Blues and Vancouver Canucks, it is no fluke that they beat the Detroit Red Wings.
San Jose is younger, yet almost equally experienced. Youth only means anything if it makes you faster or gives you a higher constitution for the wear and tear on a long season followed by playoffs.
The Sharks have had a brutal end to the season, playing more games in less space than any other team. Playing a team three time zones away might not seem like the best bet.
However, any first-round matchup that is not Vancouver will be within an hour of flight time and one time zone of Detroit. At least with their age (the second oldest in the league playing extra games each year because of their success), the team you face in January is no longer the same in May.
Their relative youth has allowed San Jose to dish out more than Detroit. Normally this is no big deal for the Wings, a team that does not rely on muscle to win. Detroit succeeds by execution—winning every game they should.
However, the less worn-down Sharks can also match their speed and are one of the few teams as skilled. Their weakness is letting up, not making their opponents fight for every inch of the ice for every second on the clock. They do not have that problem against the Wings, always bringing their "A" game.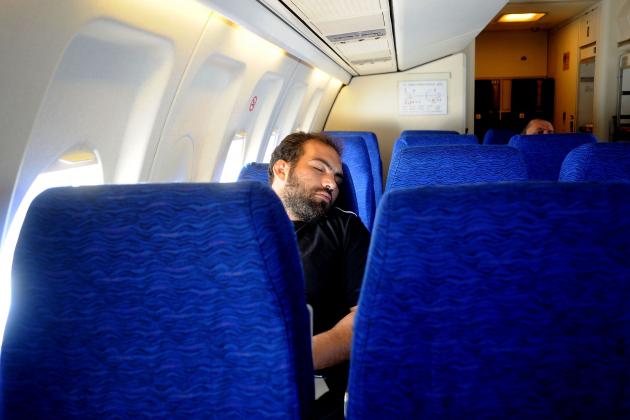 Massimo Cebrelli/Getty Images

The San Jose Sharks need rest. They will enter the playoffs having played 18 games over their final 32 days—no team played more.
Their best chance to get it is in the first round. Whether or not they draw the Detroit Red Wings, they must finish off their opponent in fewer than the maximum seven games to be at full capacity for the second round.
If they face a faster team like the Canucks or have to struggle to get through the defence of a team like the Blues, they will need all their energy. Even should they face the Predators or Blackhawks in the second round, both have played better this year and will take everything the Sharks have.
Either way, hopefully, whatever team the Sharks faced will have experienced more games, more travel or both. At the very least, they must not have faced less.
That means they need the mentality to bury their opponents when they have the chance. They cannot get complacent with a lead or squander scoring chances trying to test their skill. Rip the foe's heart out and feast on it right in front of them like a real shark would.
The San Jose Sharks have shown they can beat anyone in the league. They have dominated contending teams like the Detroit Red Wings, Boston Bruins and Pittsburgh Penguins (albeit sans Sidney Crosby).
But they frequently lack passion. It hurts their focus and their grit.
They have to play to the best of their ability. They have to minimize the mistakes that frequently cost them.
That means getting the pucks deep and not committing ill-timed or placed turnovers. It means not staring at the puck while an attacker sneaks into the slot. It means owning the space in front of both creases.
More than anything, it means being at full intensity every single shift. If you take a shift off, a great team you are facing deep in the playoffs will take advantage. The Sharks are no longer good enough to consistently beat such teams after spotting them a goal.
They need to have the mentality that they would rather die than lose. At times in the past, they have looked more like losing does not even make them angry.
Staying healthy is important for any team, but more so for the San Jose Sharks. Without Martin Havlat in the lineup, they are 18-18-7; with him, they are 23-11-3.
They have also struggled when they were without Dan Boyle, Brent Burns, Douglas Murray and Ryane Clowe. This team no longer has the depth to endure injuries, and must be able to play at near full capacity if they are going to win 16 playoff games.
It would not hurt to have the opposition in at least one of the later rounds be facing a major injury, either.