Why Doc Rivers Should Sit His Veterans in April
April 5, 2012

Elsa/Getty Images
The Boston Celtics are not getting any younger, or that is at least the case for this season. Kevin Garnett, Ray Allen and Paul Pierce may not be the future of the Celtics, but they are definitely the now.
The debate on if Doc Rivers should sit his veterans in April has come up many times, and to be honest, he wouldn't be doing a disservice to his veterans by doing so.
The Celtics haven't actually clinched a playoff spot yet, but come on, they are in. Boston is currently in first place in the Atlantic Division, which puts them fourth overall in the East.
Resting players like Garnett would not be a bad thing whatsoever. Garnett obviously deserves to be on the court and he is still one of the best players on the team, but what good would he be in the playoffs if he got injured?
Hopefully you are smart enough to put two and two together and answer that question by saying no good.
Anyway, it is nice to have home-court advantage in the first round of the playoffs, but it is not essential in winning an NBA title. If sitting Garnett and Allen causes the Celtics to not win the Atlantic Division, then so what. They will still be in the playoffs at the end of the day.
Thanks to the lockout, NBA teams play just about every night. This obviously cannot be easy on the older guys in the league, but it is what it is. 
A fresh Kevin Garnett and Ray Allen is much better than banged-up ones.
Let's be honest. If Rivers decides not to rest these two players at all in April, they will most likely win their division, but at what cost?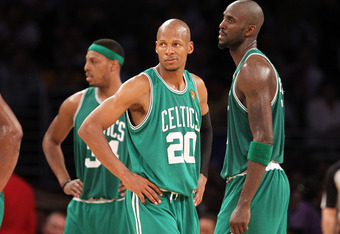 Ronald Martinez/Getty Images
The Philadelphia 76ers are only one-and-a-half games behind the Celtics, and you better believe that they will be playing their best ball down the stretch.
If resting Boston's veterans means not winning the division, it is not throwing in the towel. It is preparing for the playoffs.
Doc Rivers' veterans have earned the right to rest up in April, and no, that does not mean the entire month, but every now and then more towards the end of the April.
Kevin Garnett, Paul Pierce and Ray Allen have been in the NBA for a long time now. A day off every now and then in April should be a compliment. Then when the playoffs start, so will these three stars. As a result of them being well-rested, they can go on all cylinders in hope of another NBA title run in the playoffs. 
If you're a tweeter, feel free to follow me @TheTrevorLowry