Kandi Mahan: See Pictures of Hunter Mahan's Wife
April 4, 2012

Rarely do we see such provocative displays surrounding the golf course, such aggressive approaches on camera...but hey, that's what you get when you recruit a Dallas cheerleader onto the green. (image via flickr.com)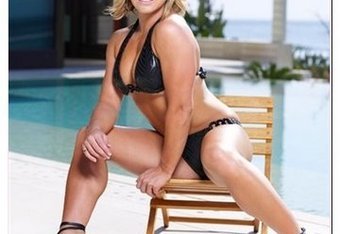 While she won't be handling any clubs at this year's Masters, the former Kandi Harris—now the wife of Hunter Mahan—will be ready to fist pump and shake all the way to the winner's circle as her average-swinging beau attempts to find a winning rhythm.
Sure, he recently earned a No. 4 world-ranking (the highest-ranked American) after winning the Houston Open, but let's be honest. Mahan's career highlight is securing the love of this former Mavs' and Cowboys' cheer girl. (image via web.orange.co.uk)
There's nothing like a taste of the high-flying hardwood and the bruising gridiron to truly improve his game, and since marrying his sexy wife last year, Mahan has been flying up the charts.
Average athlete meets Dallas cheerleader, like we haven't heard this one before (see David Nelson and Kelsi Reich).
Whether he's eager to lose the spotlight or thinking he'll avoid pressure by bringing in such sexiness to the course, Mahan seems to have finally found his ticket to the top. (image via golf-babes.blogspot.com)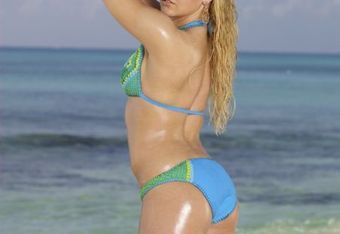 With this bodacious blonde eloquently bending for the camera, smiling for fans and professionally cheering for her husband, she seems moments away from WAG greatness, seconds away from immortality.
Let's just hope the paparazzi is ready, because we're still trying to settle down. (image via dallascowboyscheerleaders.com)