NFC North Preseason Schedule 2012: Green Bay Packers Breakdown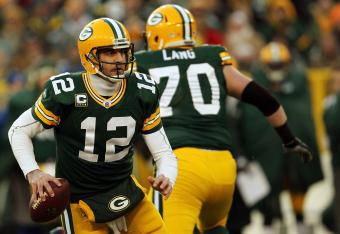 Rodgers will look to bounce back from an awful playoff loss
Jonathan Daniel/Getty Images
With the preseason schedules finally released, we can talk about actual football.
Or the closest thing to it before the really real deal in September.
The Packers have some good games, but the home games...not so much.
Here's the schedule.
at San Diego (ESPN, 8/9)

Cleveland

at Cincinnati

Kansas City
If I were a season-ticket holder, I might be a bit cheesed off (pun unintended). Cleveland and Kansas City? That's who you have to pay for? No offense, Browns/Chiefs fans, but that might be brutal.
Let's take a closer look at the games.
AT SAN DIEGO CHARGERS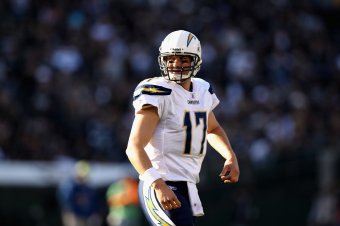 Ezra Shaw/Getty Images
The Packers start the preseason off on the road in the warm and sunny confines of San Diego. The Chargers offense, led by Philip Rivers, will look to get back on track after a very poor 2011.
The team will be adjusting to life without their premier wide receiver (new Buccaneer Vincent Jackson) and their No. 2 running back Mike Tolbert. The Packers defense had some issues throughout the 2011 season and will be looking to ramp up the pressure on quarterbacks.
The Chargers offensive line is streaky at best, so if the Packers want to get momentum on defense, they should start it here.
Aaron Rodgers and the Packers offense were running like a well-oiled machine until they met the Giants and the engine and transmission seemed to fall out while the axle broke. That should change now that everyone is healthy and the Charger defense isn't filled with world beaters.
Like the defense, this could be a game where the Packers offense gets some momentum started.
CLEVELAND BROWNS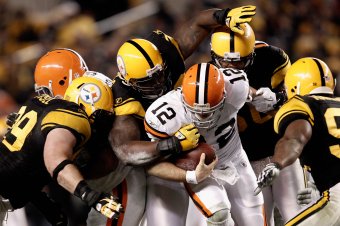 Jared Wickerham/Getty Images
The Browns were good defensively last year, so this is likely to be a much more stout test of the Packers offense. The offensive line will probably see more pressure and we'll get an early look at how well the Packers will react to it.
If Aaron Rodgers can stay upright, the offense should find a way to beat the Browns. If Rodgers gets hit early, he'll probably get a quick hook.
Defensively, this won't likely be much of a test for the Packers. Some of this may depend on who the Browns grab with their first two picks—if they add the right pieces offensively, they could be a much more effective unit.
Even then, though, it will be a new unit that is trying to find its way. The Packers should stifle this group pretty easily. If they don't, you might start worrying.
AT CINCINNATI BENGALS
The Bengals were surprisingly good in 2011, though they fell apart late in the season. That happens with young teams. This could be a very good game, as we'll likely see starters for the better part of three quarters in the final "dress rehearsal" for the season.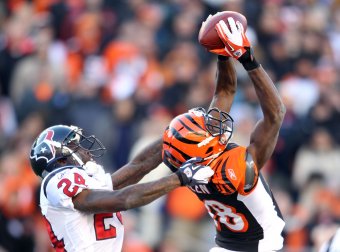 Andy Lyons/Getty Images
Quarterback Andy Dalton and A.J. Green were very effective last year, even when teams knew that they were the best offensive weapons and tried to shut them down. Their production petered off as the season went and both players hit the rookie wall.
The Packers have a whole year of tape on Dalton, so this is going to be a very good test for the young quarterback, as well as potentially a great indicator for where the Packers defense is at prior to the season.
The Bengals defense is better than they are often given credit for, but I don't believe they have the horses to keep up with Aaron Rodgers and company. The Bengals can bring the pressure, but I think the Packers offense will be too much for the unit as a whole.
Again, though, it comes down to protecting Rodgers.
KANSAS CITY CHIEFS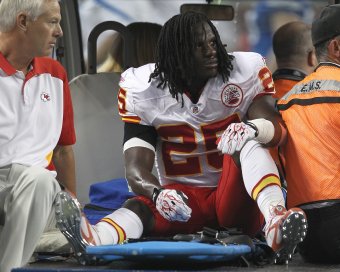 Dave Reginek/Getty Images
As important as the third game is, this fourth game is mostly to see the late-round picks and street free agents get time to grab a roster or practice squad spot. Rodgers, Jennings, Woodson, Matthews—they'll play for a bit and then take a seat.
As such, it's worth the time to watch if only to see how the rookies are progressing.
The Chiefs have an occasionally great offense, hamstrung more often than not by Matt Cassel, though injury was a factor last year. They have an OK defense, but can be beaten.
It's not a very intriguing matchup to be honest, but it will be interesting to see how Jamaal Charles looks after his season-ending injury.
This article is
What is the duplicate article?
Why is this article offensive?
Where is this article plagiarized from?
Why is this article poorly edited?

Green Bay Packers: Like this team?