New Orleans Saints: Can Their Brand Survive the Bounty Gate?
Use your ← → (arrow) keys to browse more stories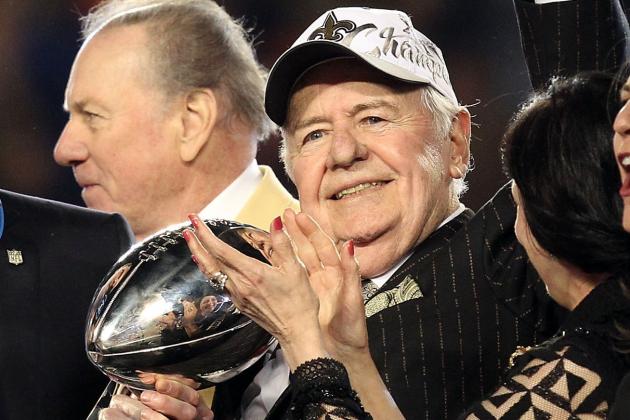 Ronald Martinez/Getty Images
Saints owner Tom Benson ready to keep the Saints brand alive
By now there is not a person who follows the NFL that does not know about the New Orleans Saints' "Bounty-Gate" scandal. So can the Saints brand survive this tarnishing or will it take years to bring the fans back to the Superdome?
I put that question to Grant Cardone, who specializes in fixing and restoring damaged brands. Cardone is a New York Times bestselling author and a frequent guest on Fox News, Fox Business, CNBC, MSNBC and Bloomberg.
Williams: How do you take the penalties from the NFL against the team and soften the blow to the Saints?

Cardone: You don't soften the blow. You play out the hand you've been dealt. It's what Louisiana has done for 200 years. New Orleans has been underwater since the Louisiana Purchase. This is not a town that is new to challenges. Take your spanking and take your game forward and work with what you have. The Saints had to give up a great deal but as we've seen after Katrina, crisis pulls people together. Louisiana has years of proving to the world that it comes back. This is going to be the comeback team. Think resilience.

Williams: How do you re-brand the Saints?

Cardone: You don't. There is nobody in New Orleans or for that matter, Louisiana that is not behind the Saints. If they aren't, they will be run out of the state.

Williams: How do make sure that the Saints brand goes forward beyond 2012?

Cardone: Tom Benson is already doing the right things. He has undertaken a campaign to re-introduce the Saints, and they are a family of resilience. Benson has an empire and has proven and has validated his dedication to the team for years. He and his daughter, Rita Benson LeBlanc, are completely dedicated and 100 percent behind the team and are bringing greater awareness to Louisiana