NFC North Preseason Schedule 2012: Chicago Bears Breakdown
April 4, 2012

Jonathan Daniel/Getty Images
Finally, we have some actual matchups to talk about!
Well, it's not the regular season, it's preseason—but it's still football.
We start out our look at the NFC North preseason slate with the Chicago Bears. The Bears are changing their offensive philosophy a bit, going for a more balanced attack that will prevent defenses from keying on any one aspect of the offense.
While we will, as usual, see more rookies and depth players than starters, these games will be key in getting everyone on the same page in a game situation.
Here's what the schedule looks like:
Denver                                

Washington                         

at NY Giants (CBS)              

at Cleveland                        
The first thing that strikes me is the final two games being on the road. It's not a huge deal in some respects—starters will barely play against Cleveland, so fans won't miss much—and both home games have aspects that should draw fan interest.
Only one of the games is televised nationally, and that because it's the Giants. At least it's on CBS and will be seen beyond state borders—Minnesota has no nationally-televised preseason games.
Denver, Washington and the Giants all have the potential to be solid games. Cleveland will be the element of surprise and might totally look different post-draft.
Let's give each game a quick look-see.
DENVER BRONCOS
John Elway and John Fox traded in a brand new Tebow for a banged-up Manning and are hoping the former Colt will make the difference in their playoff and Super Bowl hopes.
We'll see Manning for sure, as he will need as much time as possible to get used to his new receivers. However, I doubt they'll want to expose him to the Bears defense and risk aggravating his neck early.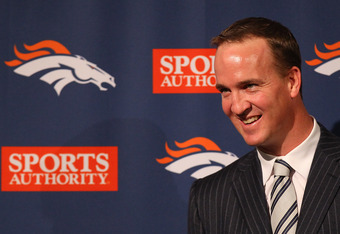 Justin Edmonds/Getty Images
When Manning is on the field, it will be a solid test of the Bears defense, but expect to see an offense still jelling, so it's only going to show so much.
The Broncos defense will test the Bears offensive line early and may give us a look into how likely it is Jay Cutler can stay healthy. Again, expect a good amount of snaps but not an extreme amount. Von Miller and Elvis Dumervil will be guys who are the offensive line's baptism by fire, even for just a quarter.
It won't be a fantabulous game, but it should be interesting and give us a little insight into how things will look in the regular season.
WASHINGTON REDSKINS
Assuming Robert Griffin III ends up in Washington as expected, his mobility will be a nice test of the Bears defense and its ability to contain a more mobile quarterback. The defense has some speed, so they should be able to contain RG3. Add to it a lack (as of now) of big-play wide receivers, a murky run game and a sometimes-shaky offensive line and this shouldn't be too much of a test beyond Griffin.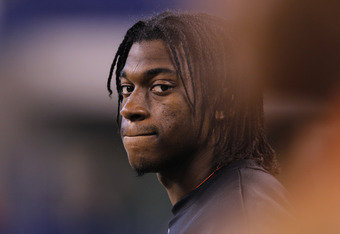 Joe Robbins/Getty Images
On the other side of the ball, the Redskins defense is for real, coming off a year where they were ranked 12th. This could be another good test of the line and Cutler, as well as Brandon Marshall and the other receivers.
Again, the most interesting aspect is the opposing quarterback, but the real story will continue to be how the offensive line reacts to pressure.
AT NEW YORK GIANTS
Usually, this is the game where starters play the most, so we'll see a lot of Eli Manning, Hakeem Nicks and Ahmad Bradshaw. The Giants played exceedingly well down the stretch last year, but are not a flawless team.
The Bears will look to pressure Manning early and often and see if they can get him to regress to some of his more inconsistent ways. If any rookie secondary players have stood out, I'd expect to see them get some prime snaps to see if they can hold up against the onslaught of a heavy pass offense exactly like the ones the NFC North rolls out.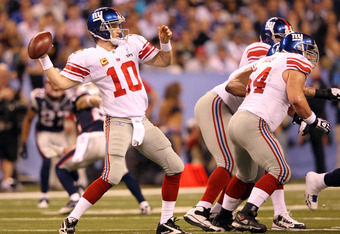 Jamie Squire/Getty Images
Offensively, this will be the biggest test of the offensive line and receivers in the preseason. The Giants were very good at disguising their looks last year and rotating guys in and out (in part because the defense was consistently banged up).
We may also see how the Forte/Bush split shapes up, assuming Forte isn't holding out.
This is likely to be the best and most watchable preseason game, at least while the starters are out. It will also give us a read as to which of the new faces could be seeing significant time early in the season.
AT CLEVELAND BROWNS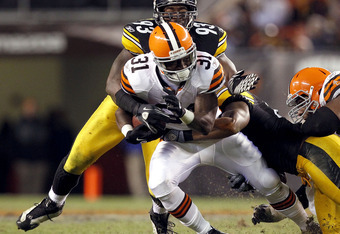 Matt Sullivan/Getty Images
The Browns offense might look really different by this time, and we'll know more post-draft. That, in turn, might force them to play more of their starters longer in a normally backup-heavy affair. If there are a lot of new faces in new spots, you may see more starters.
The Bears will probably sit their starters for most of the game though, and we'll get a look at the second-, third- and soon-to-be-cut-strings instead.
It's the same thing on offense, especially since the Cleveland Browns were actually very good on defense last year. There's no point in risking Cutler in a meaningless game save for a few snaps to start. We'll see how Jason Campbell and the inevitable rookie backup do, though.