2012 NBA Mock Draft: Lottery Picks Guaranteed to Shine
December 12, 2016
Jeff Gross/Getty Images
The 2012 NBA draft is months away, but with the recent end to the college basketball season, it's easy to see which star players will be selected in the lottery. 
Some are going to be busts. It happens all the time, but this year, the level of talent is really high, so multiple lottery picks are going to thrive the second they step in to the NBA. 
Making the jump from college basketball to the NBA is no easy task, but some stars will have little to no trouble as rookies and beyond.
That being said, here's my 2012 NBA mock draft with info on each pick and a more in-depth look at the lottery studs guaranteed to shine right away. 
2012 NBA Mock Draft 
1. Charlotte Bobcats: Anthony Davis, PF, Kentucky
The best prospect in the draft, Davis is bound to be a star in the NBA. He's skinny, but with his focus moving solely to basketball, he'll get bigger and strong. 
Plus, since he's so young, Davis will continue to grow into his 6'10" frame. Davis is a beast on the court, and he'll easily make the Bobcats much better. 
Davis is a powerful force who can score, rebound and block shots with ease. 
2. Washington Wizards: Michael Kidd-Gilchrist, SF, Kentucky  
Despite being a freshman, Kidd-Gilchrist was a dynamic player that just kept getting better. He's only going to continue to improve his game. 
Yes, that will still occur even if the Wizards do indeed pick him. Kidd-Glichrist is a versatile baller that will be a huge help to the Wizards. Working with John Wall will increase the Wizards' chances of winning more often. 
3. New Orleans Hornets: Thomas Robinson, PF, Kansas
Having led the country in double-doubles this past year, Robinson is a true workhorse that is headed for great success in the NBA.
Robinson is a relentless player that gives it his all on the court. He has a high motor, and all NBA teams are going to love that. 
The Hornets have a big need for a dominant power forward, and if they can convince Eric Gordon to stay in New Orleans, the Hornets will be on the right path to building a strong team. 
4. Portland Trail Blazers (via NJ): Andre Drummond, C, UConn
The Trail Blazers will take the gamble on Drummond here because of their need for a strong center. At 6'10", 270 pounds, Drummond's big frame will be a great addition for Portland. 
5. Toronto Raptors: Harrison Barnes, SF, North Carolina
The Raptors also have a need for a true center, but they'd be reaching on one here with so many other skilled players available.
Harrison Barnes will be a phenomenal fit for Toronto. He may not want to play there (who does?), but it's no secret the Raptors could use an upgrade at the forward position.
Barnes is an unstoppable scorer with great size and strength for the next level. He's going to shine in the NBA, even if he is unhappy to be in Toronto.  
6. Sacramento Kings: Bradley Beal, SG, Florida
The Kings are pretty stacked with guards, but because Tyreke Evans can play the small forward position, Sacramento would be insane to pass on Beal. He's the best guard in the draft, and his well-rounded game would be welcomed with open arms. 
7. Detroit Pistons: Cody Zeller, C, Indiana
There's a strong chance Zeller decides to return to school, but should he declare, he'll definitely be a top-10 pick. Detroit would jump at the chance to get Zeller, a 6'11" center who would be an instant upgrade for the Pistons. 
8. Cleveland Cavaliers: Perry Jones, PF, Baylor
Jones has had his ups and downs while at Baylor, but there's no denying his ability to be a star player. He plays with great intensity, which the Cavs will love. 
9. Utah Jazz (via GS): Jared Sullinger, PF, Ohio State
Sullinger probably should have declared last year, but he chose to return to try and win a championship. The Buckeyes weren't able to win it all, so now, Sullinger is off to the NBA. The Jazz need a powerful player down low, and Sullinger will give them exactly that. 
10. Milwaukee Bucks: Tyler Zeller, C, North Carolina
After trading Andrew Bogut, the Bucks have a need for a solid center. Ekpe Udoh is OK, but adding Zeller into the mix would make the Bucks much stronger moving forward. Zeller is a great rebounder, and his touch around the basket is superb. 
11. Portland Trail Blazers: Jeremy Lamb, SG, UConn
In addition to needing a big man, the Blazers also could use another scorer. There's no telling what they'll do with Jamal Crawford, so grabbing Lamb here to improve the roster is the smart move. 
12. New Orleans Hornets (via Minnesota): Kendall Marshall, PG, North Carolina
The point guard class in this year's draft isn't as good as year's past, but Marshall has the chance to turn into a very good NBA leader. He ran the show extremely well at North Carolina, and if he were able to join Eric Gordon and Thomas Robinson, the Hornets' previous pick, New Orleans would be in good shape for the future. 
13. Phoenix Suns: Damian Lillard, PG, Weber State
With Steve Nash likely headed elsewhere in free agency, the Suns need a point guard to take over, and Lillard can be that guy. 
14. Denver Nuggets: Terrence Jones, F, Kentucky
Jones could always decide to return to school like he did last year, but his ceiling is high right now, so leaving for the next level would be smart. The Nuggets would be thrilled to have Jones on their roster for added depth. 
15. Houston Rockets (via NY): Meyers Leonard, C, Illinois
Houston is in need of a big man, and while Leonard is still a bit raw, he has tremendous upside. He's 7'0", 240 pounds. He can rebound very well and is also a good scorer at the basket. 
16. New Jersey Nets (via HOU): John Henson, PF, North Carolina
Adding better depth to the frontcourt is a need for the Nets, and they would definitely not be disappointed in landing Henson.   
17. Minnesota Timberwolves (via Utah): Austin Rivers, G, Duke
Working with Ricky Rubio, Rivers could focus solely on scoring, which is what he loves to do. There's a ton of hype surrounding him, but he could easily live up to it by playing for the young and talented Timberwolves. There's no doubt Rivers would feel as though he is the missing piece for Minnesota, and he wouldn't be all that wrong. 
18. Boston Celtics: Arnett Moultrie, PF, Mississippi State
Doc Rivers barely misses out on being able to draft his son, but the Celtics are still in good shape as they get a powerful big man to help guide their future.  
19. Philadelphia 76ers: Terrence Ross, SG, Washington
The 76ers have several options here, but getting a solid shooter like Ross would greatly benefit them. 
20. Memphis Grizzlies: Doron Lamb, SG, Kentucky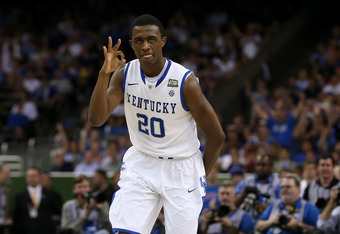 Jeff Gross/Getty Images
Speaking of shooters, Lamb did a fantastic job of putting points on the board for Kentucky all season long. He'll be a great addition to the Grizzlies, who would plug Lamb in and forget about OJ Mayo for good. 
21. Houston Rockets (via DAL): Quincy Miller, SF, Baylor
Miller may opt to return to school and be the face of the team with Jones likely out. However, should he leave, the Rockets would add him to help their depth. 
22. Boston Celtics (via LAC): Dion Waiters, G, Syracuse
The Celtics' second first-round pick could be traded, but Boston is better off holding onto it. Unless, of course, the Celtics package both picks to move into the lottery. Should they stay put, though, finding a shooter to replace Ray Allen is crucial, and Waiters would be a solid bet. 
23. Atlanta Hawks: Jeffery Taylor, SF, Vanderbilt
It's uncertain how much time Josh Smith has remaining in Atlanta, so the Hawks would be wise to get a guy like Taylor to step in and possibly replace Smith.  
24. Indiana Pacers: Fab Melo, C, Syracuse
Melo wasn't exceptional by any means, but his upside is what is enticing. And for a team like the Pacers, they'll waste no time in drafting the big man. 
25. Cleveland Cavaliers (via LAL): Tony Wroten, G, Washington
Wroten is a strong finisher, and adding him into the mix in Cleveland would help the Cavs put more points on the board. 
26. Orlando Magic: Festus Ezeli, C, Vanderbilt
Does anyone still think Diwght Howard will remain in Orlando forever? Drafting a center is a must for the Magic because better depth at that position will be a huge for the Magic. Plus, he's insurance for Howard. 
27. Golden State Warriors (via SA): C.J. Leslie, SF, N.C. State
Leslie is an underrated stud in the draft, and since he helped lead his team on a great NCAA Tournament run, his draft stock soared. The Warriors need better play for their forwards, and adding Leslie will help them get better. 
28. Miami Heat: Patric Young, PF, Florida
The Heat may look at point guard here depending on who is available, but Young would be a fantastic fit as well. Of course, Young may choose to return to Florida, but with a chance to land with a great NBA team, it'd be a wise move on his part to declare. 
29. Oklahoma City Thunder: Draymond Green, F, Michigan State
The Thunder don't have much room for improvement, but getting a stud like Green for added depth is a good call. 
30. Chicago Bulls: Marquis Teague, PG, Kentucky
Teague could decide to return to Kentucky, but with so many others likely to bolt, it wouldn't be a surprise to see him declare as well.
Chicago has to have immensely-talented depth at point guard behind Rose, and Teague would be a great addition. Rose plays hard, which leads to multiple injuries. Having a guy like Teague as insurance would be huge for the Bulls.