NHL Free Agency 2012: Big Names Who Will Move on After July 1
April 4, 2012

Christian Petersen/Getty Images
The NHL season comes to a close, meaning the Stanley Cup is but a few weeks away. It also means that some clubs will have some holes to fill as great talent leaves for greener pastures. 
Call it rebuilding, or reloading, but every team has to suffer through the quandary that is free agency. The following teams will face some pivotal talent that will be leaving, making the summer a grueling task to replace that production. 
Here is a rundown on just a few teams that are facing an uphill battle in re-signing players they very well can't live without. 
1. Dustin Penner: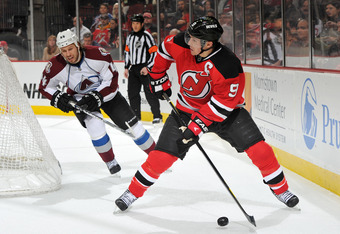 Christopher Pasatieri/Getty Images
I include Penner here largely because I believe he could be of tremendous value on another team. His time with the LA Kings needs to end, and there really shouldn't be an argument from team or player. 
His seven goals and 17 points this season will hardly be missed, nor will his injury received while eating pancakes.
With that being said, the 29-year-old is only a season removed from a 32-goal campaign with Edmonton. 
2. Zach Parise: 
Zach Parise has been solid for New Jersey, but the question remains whether he can win a title on the Devils. 
This is a team that has never gone past the second round with him on the roster. He may feel the itch and look to greener pastures on a team that bodes a roster ready to win now. 
Rich Chere of The Star-Ledger touches upon how crucial is is for him to come back to New Jersey, but past failures may be too much. This stand in the postseason will prove whether he stays or goes. 
3. Ray Whitney: 
Ray Whitney would love to come back and dominate as he has for the Phoenix Coyotes. 
The vet showed that he can still matter on offense and has delivered 24 goals with 75 points, making him one of the more intriguing free agents this summer. 
The question is whether the team will have the cash to re-sign a vet that would provide a boost to a contender.