MMA: Separating Contenders from Pretenders in 2012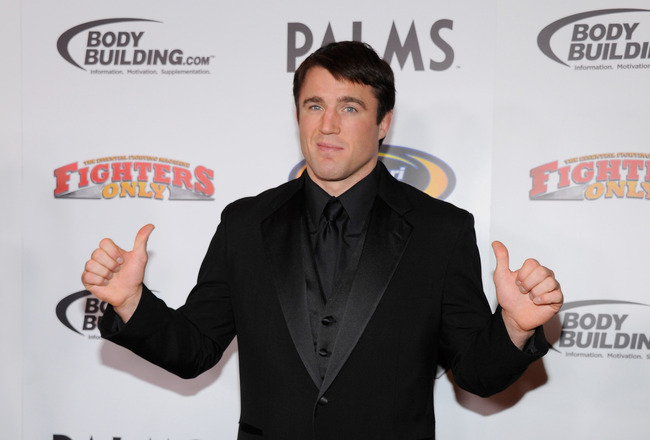 Ethan Miller/Getty Images
Contenders, not to be mistaken with pretenders, are fighters that have a legitimate shot at dethroning the champion in their respected weight classes.
With the champions in the UFC as dominant as they've been, only a certain few have a real chance at taking their belts, so from Anderson Silva to George St-Pierre to Jon Jones, finding worthy opponents can be a chore.
Lucky for them and the rest of the champions in the company, they have steep challenges placed ahead of them.
These are the real contenders, along with the real pretenders, in the UFC, and you might be surprised by which are which.
Renan Barao
Weight Class: Bantamweight
Record: 28-1
Verdict: Contender
Renan Barao just might be the best fighter who doesn't have a belt.
Barao is an astounding 28-1, and with his well-rounded game, he could very well be the next Brazilian champion in the UFC.
In three UFC fights, Barao has dominated the competition, and he's beaten some really tough guys in Brad Pickett, Cole Escovedo and Scott Jorgensen.
Once Barao handles Ivan Menjivar at UFC 148, he should be next in line for Dominick Cruz's title.
Miguel Torres
Weight Class: Bantamweight
Record: 40-4
Verdict: Pretender
Miguel Torres is one of my all-time favorite fighters, and that's why it pains me to call him a pretender.
Torres' run in the WEC was as exciting as anything I've seen in MMA, as he had intense battles with Yoshiro Maeda, Takeya Mizugaki, Joseph Benavidez, etc.
Torres picked up a win against Nick Pace at UFC 139 after dropping a fight against Demetrious Johnson at UFC 130, but his next challenge is against a true up-and-comer.
Perhaps the main reason I'm calling the former bantamweight champion a pretender is because he won't get past his next opponent, Michael McDonald.
Michael McDonald
Weight Class: Bantamweight
Record: 14-1
Verdict: Contender
At the age of 21, Michael McDonald is a star in the making.
You know the "next wave of guys" that is great in every area of MMA that we've been hearing about for so many years? McDonald is one of those guys.
McDonald's boxing is so technically crisp. He's slipped and countered his way to defeating three UFC opponents, and his last victory was a beautiful first-round knockout over Alex Soto at UFC 139.
A victory against Miguel Torres at UFC 145 automatically puts McDonald "in the mix," as UFC president Dana White likes to say.
Urijah Faber
Weight Class: Bantamweight
Record: 26-5
Verdict: Contender
You're a fool if you count Urijah Faber out of his rubber match with Dominick Cruz.
Faber was so close to taking Cruz's belt back at UFC 132, and he lost a close decision to the champion. Since that night, Faber fought former bantamweight champion Brian Bowles and submitted him with a guillotine choke in the second round.
The thing that I was most impressed with in that fight was Faber's hands, and it seems like every fight he has, he shows improvement with his striking. He even showed improvement in his loss to Cruz, as he was able to drop Cruz a few times throughout the fight.
Faber's quickness, experience and overall skill set give him the best chance of taking Cruz's belt.
Chan Sung Jung
Weight Class: Featherweight
Record: 12-3
Verdict: Pretender
Chan Sung Jung is overly exciting to watch in the Octagon, but he's not a future champion.
The "Korean Zombie" benefited in his last fight from an overzealous Mark Hominick and was able to knock him out in seven seconds.
That, of course, generated a lot of hype around Jung, but need I remind you that it wasn't too long ago that we saw Jung on the mat unconscious?
When Jung fought George Roop at WEC 51, Roop laid him out with a vicious head-kick knockout, and quite frankly, I wouldn't be surprised to see Dustin Poirier do the same thing to him at UFC on Fuel TV 3.
Dustin Poirier
Weight Class: Featherweight
Record: 12-1
Verdict: Contender
Ever since arriving in the UFC, Dustin Poirier has looked impressive.
Poirier has good overall game, but he's a submission magician on the ground.
Poirier is currently riding a five-fight win streak, with three of those fights coming by way of stoppage. His most recent win against Max Holloway saw Poirier put on a jiu-jitsu clinic.
Once Poirier dragged Holloway to the ground, it was all but over, and he finished him in the first round with a mounted triangle armbar. It looked as cool as it sounds.
Eric Koch
Weight Class: Featherweight
Record: 13-1
Verdict: Contender
Eric Koch is an exciting striker who has excellent jiu-jitsu.
Of Koch's 14 career fights, his only loss came to Chad Mendes, and that was because Mendes is simply a better wrestler than him.
But since that loss, Koch has won four fights in a row, with two of those wins coming by way of knockout.
Any fighter, including featherweight champion Jose Aldo, who steps into the cage with Koch, has to be aware of getting knocked out or submitted by this up-and-coming 23-year-old.
Hatsu Hioki
Weight Class: Featherweight
Record: 26-4
Verdict: Pretender
I want to believe in Hatsu Hioki; we all do, but he has yet to really live up to his potential in the UFC.
Hioki looked phenomenal in the first round against Bart Palaszewski, but he sort of let Palaszewski back in the fight in the second round.
Hioki looked like he was the guy that the MMA community has been hyping up for so long for those first five minutes, then Palaszewski fought a close fight in the next round.
Go back one fight further, and Hioki's UFC debut against George Roop was far from impressive. In fact, I thought Roop won the fight and should have been given the decision victory.
Hioki simply isn't ready for Aldo.
Jim Miller
Weight Class: Lightweight
Record: 21-3
Verdict: Pretender
Though he is a fantastic fighter, Jim Miller will never reach the platform that Benson Henderson is on.
Miller has beaten one tough guy after another, but he has failed to beat Frankie Edgar, Gray Maynard and Henderson.
More importantly, Henderson absolutely demolished him when they met last August.
With the lightweight division being the most stacked division in the UFC, I'm afraid Miller will always be a mid-level tier fighter.
Nate Diaz
Weight Class: Lightweight
Record: 15-7
Verdict: Contender
Nate Diaz's striking looks like a mirror image of his brother, Nick Diaz, and that's a scary thought for the lightweight division.
Diaz is an incredible athlete with his only weakness being wrestling. But even with that hole in his game, I still consider him a dangerous contender because he's a true fighter.
He proved that when he dismantled a very gritty Donald Cerrone at UFC 141 with his relentless pace and precise boxing.
No matter who is opponent is, Diaz has the skills to potentially out-strike or submit any opponent in the division.


Anthony Pettis
Weight Class: Lightweight
Record: 15-2
Verdict: Contender
How can you not consider Anthony Pettis a contender when he holds a victory over lightweight champion Ben Henderson?
For those who may think that victory was a fluke, I invite you to watch that fight again. It was a back-and-forth war with Pettis getting the better of the standup, and both fighters trading submission attempts throughout the fight.
Pettis is ever improving his wrestling, has aggressive submission attempts off of his back and if you stand before him, you will fall before him.
Pettis is the best striker in the lightweight division, and with his ability to keep the fight standing steadily improving, he has a very good chance of beating Henderson once again.
Frankie Edgar
Weight Class: Lightweight
Record: 14-2
Verdict: Contender
Never count out Frankie Edgar.
He's made a living on proving people wrong, and though he came up short at UFC 144 against Benson Henderson, he's still very capable of getting his belt back.
The fight between the two was a close one and with the proper adjustments, Edgar can recapture his lightweight title.
As Henderson proved in their fight at UFC 144, it won't be easy, but hey, it never is for Edgar in title matches.
Nick Diaz
Weight Class: Welterweight
Record: 26-8
Verdict: Contender
Nick Diaz may be down, but he's not out.
After losing a decision victory to Condit and testing positive for marijuana, Diaz hit rock bottom, and his chances at Georges St-Pierre seem to be faded.
Diaz "retired" following his loss to Condit, but you can bet Diaz will return to the Octagon one day. And when he does, expect him to be one win away from challenging GSP.
Dana White listens to the fans, and the fans want nothing more than to see Diaz take on GSP.


Martin Kampmann
Weight Class: Welterweight
Record: 19-5
Verdict: Pretender
Martin Kampmann won't get past Jake Ellenberger.
Kampmann had an exciting win against Thiago Alvez on UFC on FX 2 with a comeback victory in his last outing, and that fight portrays Kampmann's career perfectly.
As inconsistent as the momentum went in that fight, Kampmann's career is even more inconsistent.
Just when you think Kampmann is no longer in contention for the belt, he wins a few fights and finds his way back in contention before losing again.
After seeing him win two fights in a row and his next fight coming against Ellenberger, I feel a sense of deja vu coming on.
Jake Ellenberger
Weight Class: Welterweight
Record: 27-5
Verdict: Contender
Jake Ellenberger is exactly what his nickname states, a juggernaut.
This guy is on a roll, and he's taking the welterweight division by storm. In case you've been living under a rock in the past few years, Ellenberger is the hottest attraction in the welterweight division today.
Riding a six-fight win streak and coming fresh off of a Fight of the Year candidate with Diego Sanchez, Ellenberger is one win away from getting a title shot.
He has a tough opponent in Martin Kampmann next, but Kampmann doesn't have the wrestling nor the chin to hang with him.
Carlos Condit
Weight Class: Welterweight
Record: 28-5
Verdict: Contender
Carlos Condit is well-rounded enough to defeat Georges St-Pierre.
Even though GSP's wrestling skills are on a whole different level, Condit is tricky enough on the ground to find his way back to his feet.
And once Condit is on his feet, he can stand with anybody in the division.
He showed that against the division's best striker at UFC 143 when he defeated Nick Diaz, and I would give Condit the edge in standup against GSP.
Tim Boetsch
Weight Class: Middleweight
Record: 15-4
Verdict: Pretender
Tim Boetsch is a big and powerful middleweight, but Yushin Okami showed at UFC 144 that he has holes in his game.
Boetsch was tough enough to weather the storm and defeat Okami in the third round, but if he fought a lethal striker like Anderson Silva the way he fought Okami in the first two rounds, there would be no third round.
Boetsch can make a living fighting mid-level fighters, but once he fights the top guys in the division, they'll expose many holes in his game.
Mark Munoz
Weight Class: Middleweight
Record: 12-2
Verdict: Pretender
Mark Munoz's wrestling skills are overrated.
Time and time again, you hear about how great Munoz's wrestling is, but I haven't seen it translated in the Octagon.
Here's a stat that will blow your mind. For a guy who's supposed to be one of the best wrestlers in the division, Munoz has only successfully completed 23 percent of his takedown attempts.
If Munoz can get his opponents to the ground, he has some incredible ground-and-pound, but for the former two-time NCAA All-American wrestler, getting the fight there is a little more difficult than it has been perceived.
Vitor Belfort
Weight Class: Middleweight
Record: 21-9
Verdict: Contender
Though he only lasted 3:25 against Anderson Silva, Vitor Belfort still possesses the skills to dethrone Silva.
Simply put, Belfort got caught, and I highly doubt he would get caught again. He still holds some of the most explosive hands that the UFC has ever seen, and he's rebounded well since that loss.
Since getting caught against Silva at UFC 126, he's knocked out Yoshihiro Akiyama and submitted Anthony Johnson.
If Belfort gets a second chance at Silva, I promise it be a totally different fight.
Chael Sonnen
Weight Class: Middleweight
Record: 27-11
Verdict: Contender
Out of all of the contenders on this list, Chael Sonnen has the best chance to dethrone the champion in his weight class.
Heck, he almost did it the last time he met middleweight champion Anderson Silva at UFC 117.
Nobody has ever brought it to Silva in the UFC the way Sonnen did in 2010, and Sonnen was only a few minutes away from defeating him before being submitted.
With their rematch coming this summer, Sonnen could easily take this one. Let's see if Sonnen can avoid a triangle attempt in the biggest fight in MMA history.
Alexander Gustafsson
Weight Class: Light Heavyweight
Record: 13-1
Verdict: Pretender
Alexander Gustafsson is a promising prospect, but he's not ready for Jon Jones.
Gustafsson has looked better with each outing, as he's shown great takedown defense and solid technical striking.
However, I'm going with the underdog in the main event of UFC on Fuel TV 2. That's right, I'm picking Thiago Silva to defeat Gustafsson in his backyard.
With ring rust and all, Silva will catch Gustafsson and finish him on the ground with some brutal ground-and-pound. The hype train ends for Gustafsson on April 15.
Lyoto Machida
Weight Class: Light Heavyweight
Record: 17-3
Verdict: Contender
Lyoto Machida took it to the champion at UFC 140.
Machida gave Jon Jones all he could handle in the first round, but after suffering a nasty cut and getting caught in a guillotine, Machida fell to Jones, literally.
But for one round, Machida did something that no one in the UFC has been able to do, and that's make Jones look human.
I'm not a huge believer in moral victories, but Machida certainly had one that night.
Dan Henderson
Weight Class: Light Heavyweight
Record: 29-8
Verdict: Pretender
Dan Henderson is a legend and one of the greatest fighters of all time, but I can't picture him getting close to Jon Jones' chin.
It's difficult to label a guy like Henderson a "pretender" because his right hand can put anybody to sleep, but what good is it if it doesn't connect?
Henderson keeps that thing cocked and ready, and fighters can see the big right hand coming from a mile away, but somehow, someway it always finds its home.
That's going to be a totally different story when he faces a guy with a UFC-best 84-inch reach, and Jones uses the distance to his advantage.
Rashad Evans
Weight Class: Light Heavyweight
Record: 17-1
Verdict: Contender
If anyone has a chance against Jon Jones, it's Rashad Evans.
Not only because he's trained with him and he knows his tendencies, but Evans has the skill set that it will take to defeat Jones.
Nobody in MMA has been able to mix in their striking with their wrestling better than Evans, and he's going to have to be perfect with it when UFC 145 rolls around.
The type of fighter that's going to beat Jones is a fighter that can take the fight to the ground, get on top of him and work from the top.
Rumor has it that Evans held Jones down at practice, so who knows what will happen when these two get in the cage with each other in a few weeks.
Daniel Cormier
Weight Class: Heavyweight
Record: 9-0
Verdict: Contender
Daniel Cormier's wrestling and improved standup makes him a very scary man.
Cormier's standup looked incredible in his last fight against Antonio "Bigfoot" Silva last September, and the way he's steadily improved, you can expect a better performance out of him when he fights Josh Barnett in May.
Cormier's wrestling allows him to dictate where the fight will go, and that's what will take him all the way to the top of the heavyweight division.
Alistair Overeem
Weight Class: Heavyweight
Record: 36-11
Verdict: Pretender
Everyone's high on Alistair Overeem following his dismantling of Brock Lesnar, but he won't beat Junior dos Santos.
Dos Santos is too quick for him and will be able to land some power shots. I know MMA fans are quick to forget, but Overeem still doesn't like to get hit.
In past fights in Pride, Overeem would turtle up when he would take big shots, and that's just what he will do when he gets in the cage with an animal like dos Santos.
Given the possibility that Overeem might not even get sanctioned to fight because of his failed drug test, it might save him the embarrassment.
Frank Mir
Weight Class: Heavyweight
Record: 16-5
Verdict: Pretender
Frank Mir is a legend when it comes to the heavyweight division, but his days as champion have long passed.
In his last fight, Mir was able to break Antonio Rodrigo Nogueira's arm after an amazing transition on the ground, but he nearly got knocked out before that transition even took place.
Nogueira was getting the better of the standup and Mir looked to be on thin ice. Nogueira actually dropped Mir and was on the verge of finishing him before Mir was able to make his way back to his feet.
Should Mir step up in to take Overeem's place, he won't be able to withstand dos Santos' power shots long enough to even attempt a submission.
Cain Velasquez
Weight Class: Heavyweight
Record: 9-1
Verdict: Contender
In case you've forgotten, Cain Velasquez has great wrestling, great standup, solid jiu-jitsu and cardio for days.
All of which are potent ingredients in being a champion. Velasquez has tasted the gold when he defeated Brock Lesnar in 2010, and I expect him to eventually meet dos Santos again for the title one day.
Dos Santos defeated Velasquez last November on UFC's first Fox card, but the one-minute knockout doesn't tell the entire story.
Neither fighter was 100 percent that night, and Velasquez was suffering from a sprained knee that night. I'm not making excuses for the guy, but I would love to see another fight between dos Santos and Velasquez when they're healthy.
Keep Reading