Mexico Olympic Soccer Team: 2012 Roster Predictions & Analysis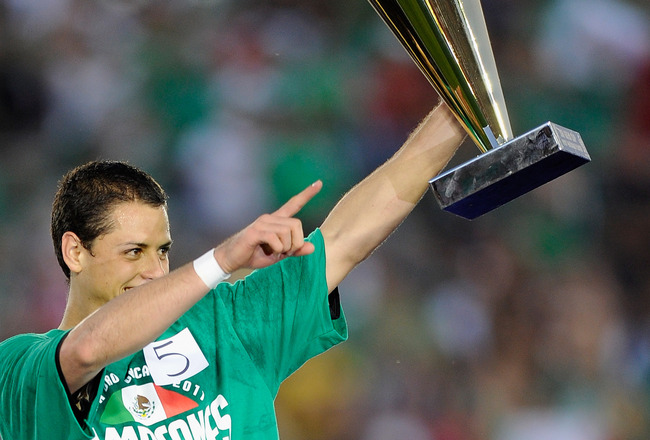 Kevork Djansezian/Getty Images
Forgive me if this preview of Mexico's 2012 men's Olympic soccer team feels giddy.
It's only because I'm, well, giddy—giddy about Mexico's budding talent pool, giddy about its potential overage selections, giddy about its chances to become the first ever North American men's team to medal at the Olympics.*
Part of the fun comes in sifting through all the hopefuls and deciding who among them will wear the national colors in London. That's what we're after in this exercise, as we run through the projected Mexican roster and take a look at Mexico's chances this summer.
*There is a slight caveat. A team representing Christian Brothers College High School in St. Louis, Missouri finished second at the 1904 games. Only three teams competed.
Roster Rundown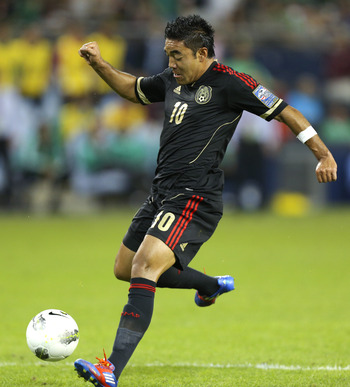 Ed Zurga/Getty Images
A look at the 20 players on Mexico's U-23 roster during Olympic qualification (all play club in Mexico):
— Liborio Sanchez (Goalkeeper, Querétaro)
— Jose Rodriguez (Goalkeeper, Veracruz)
— Hugo Gonzalez (Goalkeeper, America)
— Darvin Chavez (Defender, Monterrey)
— Israel Jimenez (Defender, Tigres UANL)
— Hiram Mier (Defender, Monterrey)
— Miguel Ponce (Defender, Guadalajara)
— Diego Reyes (Defender, America)
— Nestor Araujo (Defender, Cruz Azul)
— Hugo Rodriguez (Midfielder, Atlas)
— Javier Aquino (Midfielder, Cruz Azul)
— David Cabrera (Midfielder, Pumas)
— Hector Herrera (Midfielder, Pachuca)
— Jorge Enriquez (Midfielder, Guadalajara)
— Marco Fabian (Attacker, Guadalajara)
— Javier Cortez (Attacker, Pumas)
— Nestor Calderon (Attacker, Toluca)
— Alan Pulido (Attacker, Tigres UANL)
— Jeronimo Aminoe (Attacker, Atlante)
— Erick Torres (Attacker, Guadalajara)
Absent from the qualifying squad were those U-23 players based in Europe. A few of the more notable names from that group:
— Ulises Davila (Midfielder, Vitesse, Netherlands)
— Carlos Vela (Attacker, Real Sociedad, Spain)
— Giovani dos Santos (Attacker/Midfielder, Tottenham Hotspur, England)
— Joanathan dos Santos (Midfielder, Barcelona, Spain)
For a look at potential overage selections and an explanation of that roster caveat, see the next slide.
Potential over-Age Selections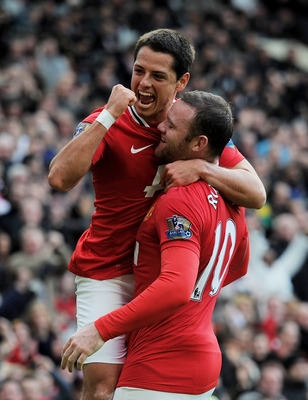 Michael Regan/Getty Images
The Olympic men's soccer competition is a U-23 tournament with one exception—each team is allowed three players over 23.
A look now at the players I predict will be in contention for Mexico's three over-age slots:
Javier "Chicharito" Hernandez (Attacker, Manchester United, England)
The Manchester United striker is Mexico's most heralded international. If he plays in this tournament he'll be a star attraction. Manager Luis Fernando Tena has already said he's considering Hernandez as an over-age addition.
Hector Moreno (Defender, RCD Espanyol, Spain)
Moreno has 30 international caps, including two starts in World Cup 2010. His experience in La Liga with RCD Espanyol is also a plus.
Guillermo Ochoa (Goalkeeper, Ajaccio, France)
Then Mexican manager Javier Aguirre stunned fans when he named veteran keeper Oscar Perez as the team's starter for the 2010 World Cup over Ochoa. After a solid season in the French league, it seems the well-coiffed 26-year-old has put that disappointment behind him.
Jesus Corona (Goalkeeper, Cruz Azul, Mexico)
ESPN's Jorge Arangure Jr. named Corona a candidate for an over-age selection. He is five years Ochoa's elder and a veteran of the Mexican league.
Andres Guardado (Midfielder, Deportivo de La Coruna, Spain)
He was a starter and positive presence during the 2010 World Cup. He doesn't have the celebrity of a Chicharito, but he does have more international experience than most 25-year-olds.
Rafael Marquez (Defender / Midfielder, New York Red Bulls, U.S.A.)
At 33 and clearly on the downside of his career, the center back would be an out-of-the-box choice for Luis Fernando Tena. He was a stalwart with Barcelona for years and Tena might figure his experience would do the club good. ESPN's Brent Latham reports that Tena has already expressed interest in Marquez.
Note: Throughout the rest of the preview, all over-age players will appear in italics.
Forwards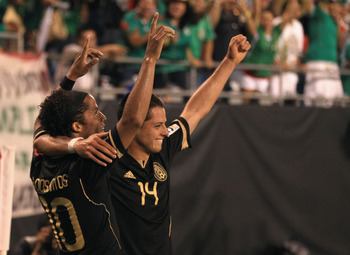 Streeter Lecka/Getty Images
Projected Starters: Giovani dos Santos, Javier "Chicharito" Hernandez
Projected Reserves: Alan Pulido, Erick Torres
The Big Picture:
— If Chicharito and dos Santos play—a real possibility since dos Santos is under age and Hernandez is considered a top over-age target—Mexico could be the only team in the Olympic tournament with the same attacking tandem it had at World Cup 2010.
— If the above doesn't come to fruition, El Tri can fall back on young luminaries like Pulido, Torres and Marco Fabian. That's as good a backup plan as you'll find.
— Attack is, without a doubt, Mexico's strength. El Tri is world-class up front, and should challenge Brazil, Spain and Great Britain as the tournament's best attacking nation. The revelatory play of Alan Pulido and Marco Fabian in qualifying only makes them more dangerous. Expect Mexico to score and score often in London.
— Perhaps you're wondering, "Where's Carlos Vela?" Good question. The Arsenal cast-out has looked reborn in his brief stint with Real Sociedad of the Spanish league. Based on talent alone Vela seems like a lock for this team, especially when you consider he's just 23 and wouldn't fill an overage slot. But the Mexicans already have more strikers than roster spots, and Vela's place with the national team has been tenuous ever since his suspension for a partying incident in 2010. With so many other enviable options up front, I don't see manager Luis Fernando Tena taking on a player marred by off-field controversy.
By the Numbers:
22 — Minutes it took Hernandez to score in his 2010 Manchester United debut. Playing against the MLS All-Stars, Hernandez entered in the 62nd minute and scored in the 84th (h/t Wikipedia).
Midfielders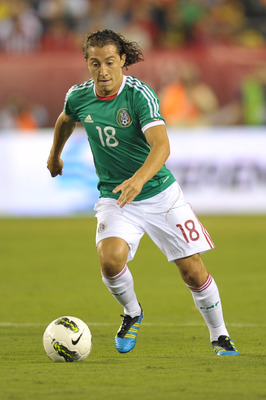 Drew Hallowell/Getty Images
Projected Starters: Jonathan dos Santos, Andres Guardado, Javier Aquino, Marco Fabian
Projected Reserves: Jorge Enriquez, Hector Herrera
The Big Picture:
— Neither Guardado nor dos Santos were members of the qualifying squad, but both deserve a spot in this tournament. Guardado provides steady play on the left wing while dos Santos gives the midfield some defensive bite.
— They'll need that bite with Fabian, a pseudo-forward, playing in the midfield. Risky as it is to have him on the pitch with two other attacking players, his play in qualifying was too good to overlook. Five goals in five games will get you noticed.
— Based on individual talent this group has the goods. Working in two new players (Guardado and dos Santos) won't be easy, but there's the potential for huge dividends.
By the Numbers:
19 — Jonathan dos Santos' age when he was first called up to the senior Mexican national team.
Defenders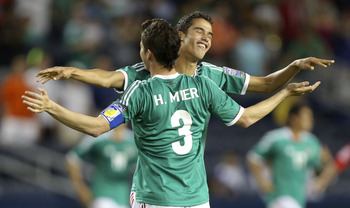 Ed Zurga/Getty Images
Projected Starters: Israel Jimenez, Miguel Ponce, Diego Reyes, Darvin Chavez
Projected Reserves: Hiram Mier, Nestor Araujo
Quick Hits:
— This lineup is a carbon copy of the one used by Tena in Olympic qualifying. And if it ain't broke, well, you know the rest.
— Yes, it's risky to go without veteran presence on the back line, but this group proved its mettle in CONCACAF play. Over-age selections Hector Moreno, Efrain Juarez and Jorge Torres Nilo are all on the table, but I see Tena saving those slots for his arsenal of offensive weapons.
— If things break right this group can hold its own in London. But, I admit, things could go terribly wrong. Without a well-capped player like Moreno to steady the ship, defense could wind up as this team's Achilles heel.
By the Numbers:
21.333 — Average age of Mexico's defenders if Tena selects the above lineup.
Goalkeepers
Stephen Dunn/Getty Images
Projected Starter: Guillermo Ochoa
Projected Reserve: Liborio Sanchez
Quick Hits:
— The 22-year-old Sanchez was stout during qualifiers and manager Tena could opt to save all three of his overage spots for the field, but my gut says he takes Ochoa. The French-based keeper's international experience (48 caps) should help Tena sleep easier.
— Goaltending won't be Mexico's strength, but with Ochoa on the chalk they should get steady play. His experience with Ajaccio in French Ligue 1 prepares him for the competition he'll see in London.
By the Numbers:
13 — Years difference between Ochoa and Oscar "El Conejo" Perez, the starting goalkeeper on Mexico's 2010 World Cup roster. Ochoa served as backup in that tournament.
Manager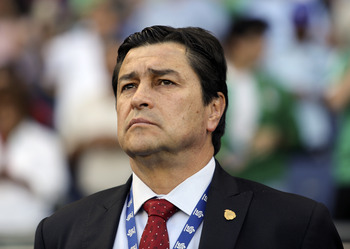 Ed Zurga/Getty Images
Tena's coaching tenure with the Mexican national team got off to a rough start.
The assistant to senior team chief Jose Manuel de la Torre had his first turn as manager at the 2011 Copa America tournament and it couldn't have gone much worse.
El Tri lost all three of its matches and scored just one goal. If that wasn't bad enough, eight members of the team were suspended six months for partying with prostitutes.
Like I said, nightmare scenario.
Things got better at the Pan Am games where Tena—this time with advanced notice of who would be eligible and who would be, ahem, occupied—led the U-23s to a gold medal. Now with a sterling Olympic qualifying run under this belt, Tena has some unexpected momentum.
Tena isn't known as a sharp tactician, but he seems well-liked and has recent form on his side.
Best-Case Scenario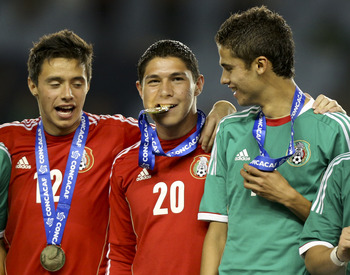 Ed Zurga/Getty Images
In a tournament given to upsets, El Tri beats an uninterested Spanish squad for the gold and reaffirms its status as a fast riser on the international soccer scene.
That's the best-case scenario. Then again, you can understand why some would raise and eyebrow when Mexican national team president Hector Gonzalez-Inarritu said he wanted El Tri to medal at the 2012 Olympics.
After all, Mexico failed to qualify for Beijing and no North American men's team has finished higher than fourth place at the Summer Games.
But Mexico's soccer tide is rising, and if there's any time to believe the Mexicans could win a major international tournament, that time is now.
El Tri won each of the last two U-17 World Cups and took third at the most recent U-20 World Cup. Over the five-game CONCACAF tournament, Mexico outscored its opponents 16-3.
If all goes well in London, we see a lot more of the same. Over-age additions Hernandez and Guardado work seamlessly into a lineup that continues to play with confidence and energy.
Worst-Case Scenario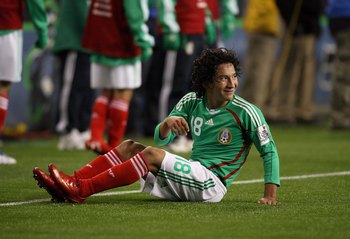 Otto Greule Jr/Getty Images
Hernandez doesn't play, the over-age additions destroy team chemistry and Tena stokes the skeptics with puzzling tactical decsisions.
Mexico's attack reverts to Copa America form—where they scored one goal in three games—and El Tri limps to a third-place finish in group play. All the optimism surrounding this squad fades in a chorus of "same old Mexico," as yet another major international tournament ends in disappointment.
Prediction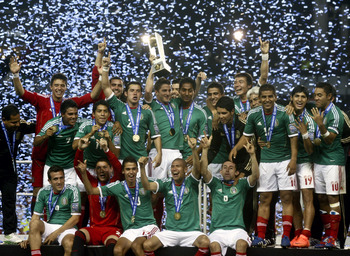 Ed Zurga/Getty Images
Mexico will finish...
Third.
Why Third?
No team comes into this tournament with more momentum than El Tri. Mexico's romp through qualifying combined with great prior results at the youth level mark it as a program on the rise.
That rise is particularly evident on attack, where Mexico has an embarrassment of riches. Even if Hernandez does not play, Pulido and Fabian have the pace and skill to make Mexico dangerous.
And the Mexicans are committed to this tournament, as evidenced by national team president Gonzalez-Inarritu's stated goal of earning a medal. Mexico's decision makers will do their damnedest to fill the team's overage slots with the country's best players.
Mexico has the talent and drive to match its lofty ambitions. That combination will carry them to the podium.
Important Dates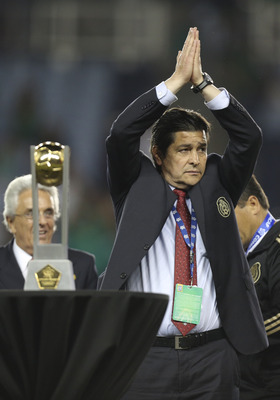 Ed Zurga/Getty Images
We end our tour through the riveting world of Mexican football with a few important dates. No, it isn't the sexiest way to wrap things up, but this is important stuff.
Pencils out! Notebooks open! Read!
April 24 - Draw for Olympic tournament. Groups announced.
May 27 - Friendly against Wales (East Rutherford, NJ)
May 31 - Friendly against Bosnia and Herzegovina (Chicago, IL)
June 3 - Friendly against Brazil (Arlington, TX)
July 25 - Preliminary competition begins (two days before the Opening Ceremony).
August 11 - Gold-medal match
The Facts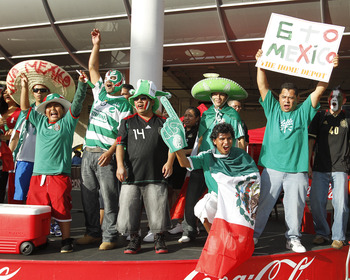 Joel Auerbach/Getty Images
Nickname: El Tri
Manager: Luis Fernando Tena
How They Qualified for the Olympics: Won CONCACAF Pre-Olympic Qualifying Tournament
Best Olympic Finish: Fourth (1968)
Most Represented Club In Qualifying Roster: Guadalajara.
Got Highlights? Of course. Here they are defeating Honduras in the finals of the Olympic qualifying tournament. Come for the video. Stay for the sweet alt-rock guitar riffs and unsettling lack of commentary.
Fun-ish Soccer-Related Fact: At the 1968 Olympics held in Mexico City, a series of ejections during the men's soccer gold medal match prompted fans to throw cushions onto the field in protest. While cushions may seem a mild gesture compared with, say, batteries, the fans did manage to cause a delay.
(Information via The Complete Book of the Olympics: 2012 Edition by David Wallechinsky and Jaime Loucky, pg. 725)
Keep Reading