Nike NFL Jerseys: Throwback Jerseys Will Be Nike's Greatest Work Yet
April 4, 2012

Were you bummed out as much as I was with the new Nike NFL uniforms? 
I wasn't expecting much alteration, but at least thought they'd add a little Nike style to teams other than the Seattle Seahawks. 
Nope. 
Pretty much a lighter, more technologically advanced jersey with spacesuit-like material that form fits around each players' pads and bulging muscles. 
But there's still hope for those craving a new look for their favorite team. 
CBSSports.com's Will Brinson, who was in attendance at the unveiling, shed some light on the possibility of Nike releasing NFL throwback uniforms, too. 
Throwbacks, which weren't discussed much in the wake of the new jerseys. However, Nike's Creative Director of Football Todd Van Horne said that throwback jerseys are absolutely something Nike's talked about with teams and they will eventually come down the pipe for teams that wants them.

"Some of it is yet to come," Van Horne said Tuesday. "The NFL has very strong rules about what happens on the third jersey and alternate colors. So a lot of that is individual and team choice about what's going to happen."

Every team announced the release of a home jersey and an away jersey on Tuesday; many teams also produced a third, alternate jersey. (All of them could have even announced one -- at this point everything in my brain is a random shade of teal so it's hard to tell what's what.)

But sometimes, teams like the Bills and Patriots prefer to kick it old school and bust out items like AFL jerseys. Van Horne told CBSSports.com that fans can still expect to see throwbacks, but that they haven't been decided on.
Please, Nike, do work on the throwback jerseys. 
There's just something about retro uniforms that get me more hyped about a football game. Maybe it's childish, but the classic threads really do it for me. 
They're fresh and bring us back to our roots as fans. 
Nike has a great opportunity to work wonders with these throwbacks.
Here's how.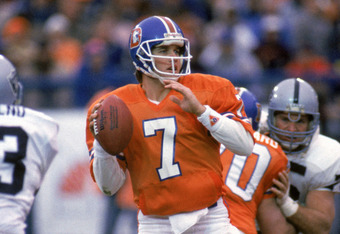 First, every team should be issued their old-school helmets. 
How great were those Denver Broncos' helmets during the early years of John Elway? The answer is "awesome."
They always made the orange tops really pop.
The Buccaneers already wear their creamsicle white and orange helmets with the original Buc on the side. I wouldn't want to see those, the gray Seattle Seahawks helmet or the white hiking Patriot helmet every week, but they're perfect for marquee divisional showdowns. 
(Seriously, has any mascot ever had more swag than the Buccaneers' original logo? No way.)
You have to admit, the bright green Philadelphia Eagles helmets and uniforms trump the current forest green color scheme.
Can't forget the 1990's St. Louis Rams unis. As fly as can be. 
Nike could easily add a little of their own futuristic flair to the traditional threads; maybe a few more stripes on the shoulders or down the side of the leg. They certainly aren't short of forward-thinking ideas to incorporate into jerseys. Even a blown-up logo would look cool. Nike did a fantastic job with Boise State's lids. 
Varying finishes on the helmets would rock, too. I'm obsessed with the matte look.
Whatever they decide to do, I think Nike, after going conventional with the home and away uniforms, will give us their greatest NFL work yet in throwback form.