Does the NBA Even Benefit from an Age Limit?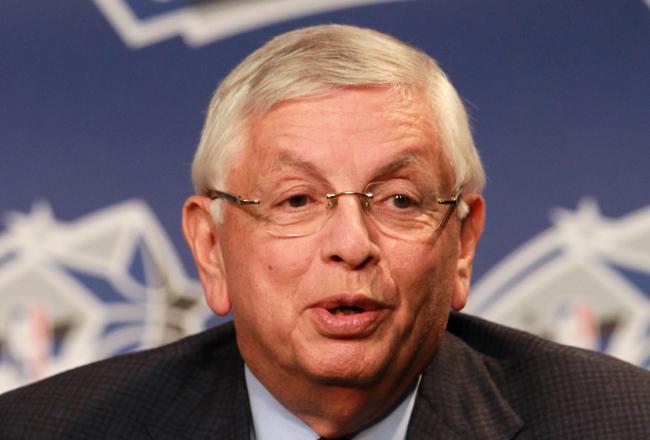 Ronald Martinez/Getty Images
David Stern and NCCA ringleader Mark Emmert have been fencing with words over the NBA's age limit of 19, and its proxy impact on NCAA basketball.
Emmert is whining about "one-and-done," while hoping for a handout from the NBA that will keep his free labor farm well-stocked. In the foreground, Calipari's one-and-done fueled Kentucky championship victory has sounded alarms that we'll soon be living in a post-apocalyptic hellscape where teams comprised of gawky 18 year-olds humiliate their upperclassmen on the regular. The horror!
Stern recently told the AP that he "would love" to see the limit raised to age 20. There are still details to be ironed out, meetings to be had, factions to be placated. But UK's victory has created a sense of "Something must be done!"
We all know the NBA has the age 19 rule because Stern's trying to act in the league's own interests. What we do not know is whether or not he's correct to do so. Just because league brass favors an approach, does not make it the correct approach.
And while reporters frequently state that raising the limit from 18 to 19 has been "great for the league," I have to counter with: Do we really know that?
The narrative is that this college system helps pro basketball brand young players in the public consciousness before they reach the pros (free marketing!). While that makes a certain amount of sense, three out of the top four jersey sellers are for players who skipped from high school to the league. The No. 3 seller was Rajon Rondo, who barely made a name for himself in two years at Kentucky.
NCAA "branding" sounds fantastic, but the public largely forgets about these players once they're banished to Charlotte or Sacramento (Hey, remember Kemba Walker?). We just witnessed Jeremy Lin go from unknown to world renown in two weeks. There is no NBA branding quite like NBA success.
The other oft-cited reason is that scouts want to limit their margin for error. While that also sounds reasonable, prima facie, we're presented with no evidence of high school picks as any more risky than non-high-school picks. In fact, the teen set has had a better track record.
It's quite possible that the NBA is just stuffing cash into Mark Emmert's pocket with the current age limit, or some future, more draconian version. What's good for little brother is not necessarily what's good for big brother.
This article is
What is the duplicate article?
Why is this article offensive?
Where is this article plagiarized from?
Why is this article poorly edited?