Richelle Baddeley: See Pictures of Aaron Baddeley's Wife
April 4, 2012

Once seen as the next legend coming out of the Australian area, Aaron Baddeley never quite found the promise on the green that was once predicted of him.
Sure his putting is magical (among the circuit's top-10 in putts per green in regulation five times), but Baddeley has been heating up news stands and tickling fans' fancies for a different, more beautiful reason. (image via ingolfwetrust.com)
That's right, every hopeful star needs a loyal, fluorescent bombshell supporting his every miss, his every choke in crucial situations. Richelle Baddeley is this bloke's perfect complement.
While he's often been overshadowed by fellow Aussie Adam Scott in terms of on-green accomplishments, he may have the edge on him in regards to love (just kidding Ana).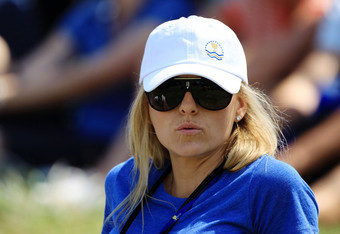 With a victory at the 2011 Northern Trust Open perhaps his most glamorous golfing career highlight, Baddeley must truly appreciate the beauty behind the man when he looks to the sidelines or comes home after a rough day at the grassy office. (image via zimbio.com)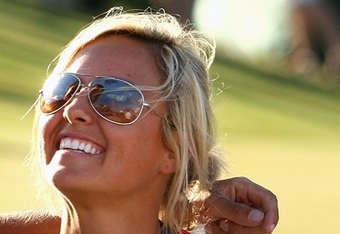 But he's a family guy first, and when he almost pulled out of the PGA Tour in 2008 when his pregnant wife was ready to give birth, it provoked us all to light up with joy. (image via brobible.com)
As he prepares for the famed Augusta meet, or rather the Masters, Baddeley will be focused, determined and sizzling.
But as long as he's got his "Badds Brigade" cheering him on, he's already won.