New Jersey Devils Midseason Awards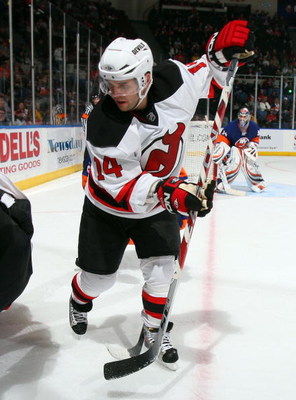 It's a little past midseason, but with the All-Star Game looming, I guess it's a good time to dole out some awards.
The Devils have endured a tumultuous, yet successful season thus far, and many players are deserving of recognition, for better or for worse. The team MVP, Rookie of the Year, Comeback of the Year, and Disappointment of the Year are all considered, along with ten other awards.
And so, without further ado, I (Jersey) present the 2009 midseason awards for the New Jersey Devils.
(Applause.)
Rookie of the Year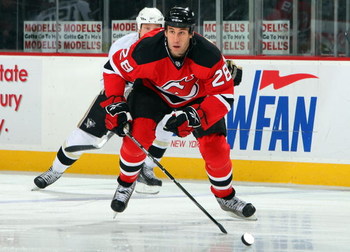 Heh. We've seen quite a few youngsters on the big roster this season, thanks to a rash of early-season injuries. Unfortunately, most of those glimpses were rather short-lived.
I was a big fan of Pierre-Luc Letourneu-Leblond, partially because of his name, and partially because he was angsty, but he played in only six games this season. Jay Leach, however, played in 21 games this year, and was awfully solid on the blueline.
Not amazing, but he had a greater opportunity than most rookies on this team, and he did a decent job with it. Leblond is a personal favorite, but from an objective point of view, Leach is the obvious choice.
Surprise of the Year
No doubt, it's Scott Clemmensen. A career backup, he stepped in and replaced Martin Brodeur efficiently, leading the Devils to the top of the Atlantic Division.
The Devils were plagued by injuries in the early season, Brodeur's the most significant of them all, and Clemmensen has managed to keep this team afloat and then some. There really is no argument here.
Comeback of the Year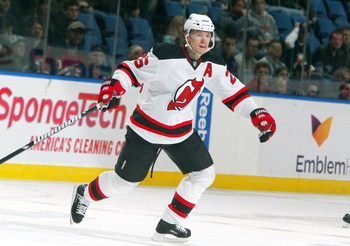 I want to give this to Dainius Zubrus. I really do. He was lousy last year, but has figured it out again this year, and I love the way he's played. He's been a good two-way player all year, and playing alongside Patrik Elias and Brian Gionta seems to have helped him out tremendously.
But it's going to have to be Zubrus' linemate Elias that gets the nod. Elias used to be a superb scorer, but since contracting Hepatitis during the lockout, appeared to have lost some game. He had been adorned with the captaincy at one point, but had it removed shortly afterward.
He's rebounded since then, and is among the team leaders in points and goals. He's one of the main reasons this team is where it is, and he deserves the Comeback award. Zubrus would be a runner-up, as would the resurgent Andy Greene and the solid Gionta.
Defenseman of the Year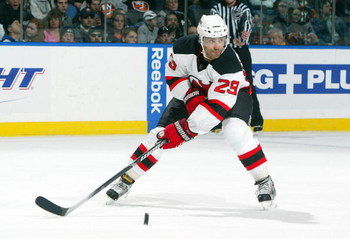 I will give this award to Johnny Oduya, who is my favorite D-man on the roster, and arguably the best. I love the way Andy Greene has rebounded, and Mike Mottau's plus-15 cannot be overshadowed, but I absolutely love Oduya, and his play has been great.
Bryce Salvador also deserves to be mentioned, as does Paul Martin, as this entire crew of defensemen has put it together nicely. Shout out to rookie Jay Leach as well.
Disappointment of the Year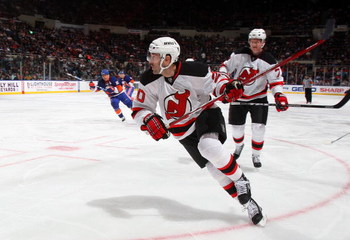 Despite the team's success, there have been quite a few disappointments. Many fans are irate with captain Jamie Langenbrunner, although I'm not quite so passionately opposed to him.
Colin White has declined rapidly, but I was never a huge fan of his, and his poor play wasn't exactly unexpected, so he wasn't much of a "disappointment," per se. John Madden has been quite distressing, although the true leader of this sad group is definitely one Jay Pandolfo.
I was thrilled to see the Devils re-sign him this offseason, but he's been a wreck. He simply isn't playing well at all, and was recently benched in favor of the ancient Brendan Shanahan. I don't think there's any argument as to who the greatest disappointment is.
Newcomer of the Year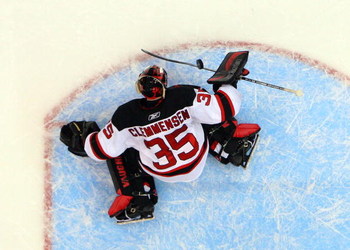 There are no newcomers. Scott Clemmensen, Bobby Holik, Brian Rolston, and Brendan Shanahan are all returnees. I can't say I'm upset with any of their acquisitions, to be frank.
Holik has been very good as a fourth-line center, Rolston has come on strong of late, now that he's fully healthy and re-integrated into the system, and Shanny is a no-risk/high-reward signing whose goal in his first game helped put the Devils atop the division.
But Clemmensen has clearly had the biggest impact of any of these players, especially since all have missed significant time. But even had they all played every game, you can't take away the fact that Clemmensen has replaced the best goalie in the league, and has done an extremely admirable job.
Will someone please get this man a shutout?!
Forward of the Year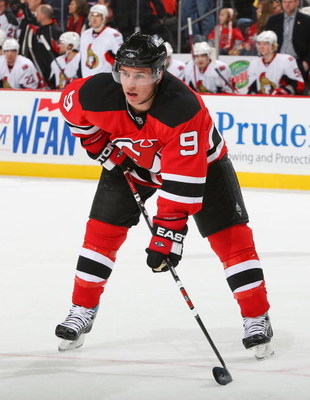 Coach of the Year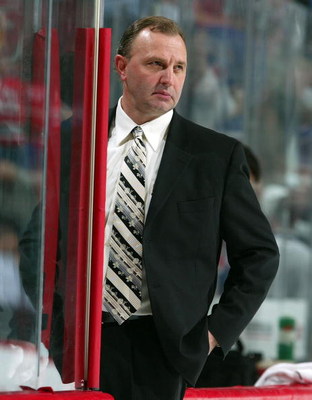 Well, there isn't much of a choice here, now is there? Well, I don't mean to say Brent Sutter has been the best Devils coach of the year: I mean to say that he's been arguably the best coach in the NHL this year.
Now, I don't think he'll win the Jack Adams award (although I am lobbying for him), as some people in Boston, Chicago and San Jose will have what to say about it. But Sutter has done a terrific job with this team, helping them learn to score, and overcoming some serious injuries, including one to Marty Brodeur.
He deserves consideration for the award, no question about it.
Executive of the Year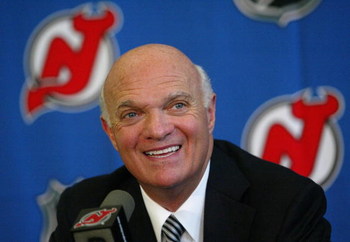 Again, not much choice here, but I think Lou Lamoriello deserves some credit as well. He brought in some key players that have truly made an impact on the team, and that needs to be acknowledged.
If the Devils can make a shrewd trade at the deadline, Lou must be considered for the award.
Broadcaster of the Year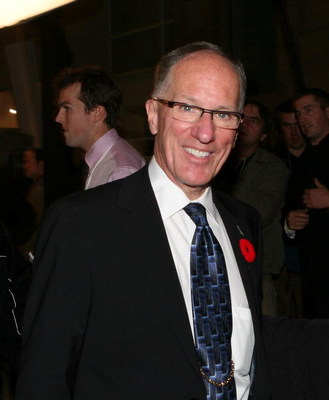 Doc Emrick is a legend, and no one can top him, not even Chico Resche. He was inducted into the Hall of Fame this year, and his recognition is well-deserved. His work with the Devils and on Versus is amazing, and I can only wish that some other play-by-players (coughJohnSterlingcough) can learn a thing or two from him.
Team Player Award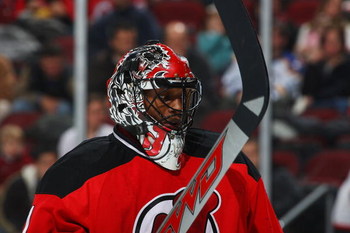 Weird award, I know, but something should be said about Kevin Weekes. He stepped in when Brodeur got hurt, but was shortly shoved back into a reserve role when Clemmensen showed up.
But Weekes has taken his role well, and remains an affable personality on the roster. I don't know what will become of him when Brodeur returns-- my gut is that Clemmensen is sent back to Lowell so he can get playing time, while Weekes remains as the backup-- but he is a great guy and a great teammate.
He's also a serviceable backup goalie, for the record.
Most Underappreciated Player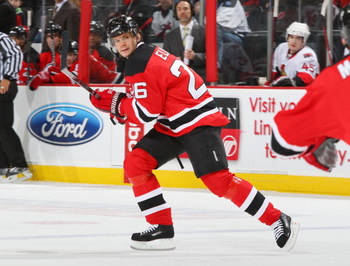 Patrik Elias gets no recognition for his resurrection. That's ludicrous. He's been very good all year, and no one seems to notice. Well, Devils fans have noticed, but there are precious few of us. It's too bad he was snubbed for the All-Star Game.
Breakout Player of the Year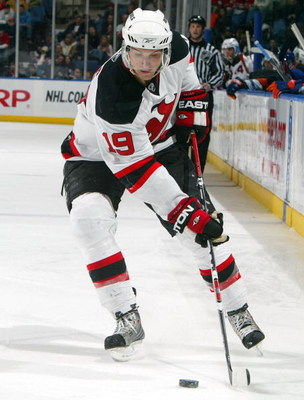 You could say this award belongs to Zach Parise, but I think he broke out last year, and is just improving this year. Travis Zajac, however, had yet to truly break out until this season. He's already surpassed last season's point total, and is poised for a very good season.
Most Valuable Player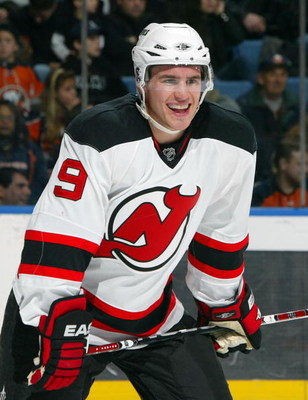 This may be the hardest choice, because Clemmensen has been so valuable to the team. But while he has played well, he hasn't been lights out, and he has been helped by the team's newfound scoring ability, led by one Zach Parise.
I've always felt goalies are more valuable than forwards, as the forward is one of twelve (and one of eighteen skaters), while the goalie is one of one (plus a backup), and plays the entire game.
Still, Zach's contributions have been, I believe, more valuable, and he gets the nod. No knock on Clemmensen, though. The Devils are truly fortunate to have him.
Keep Reading

New Jersey Devils: Like this team?