Phil Mickelson: Power Ranking His Greatest PGA Wins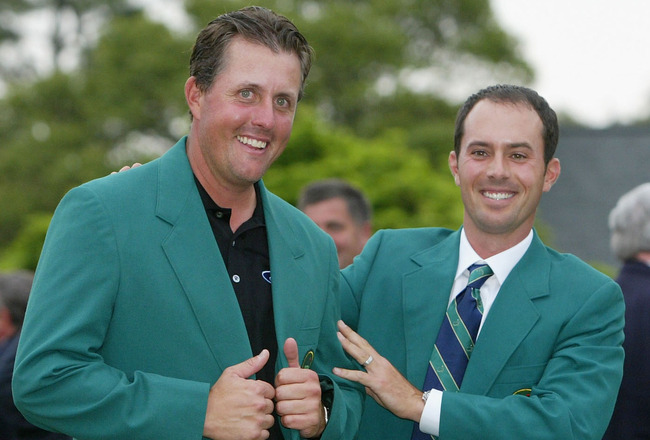 David Cannon/Getty Images
He is one of the most intriguing players in golf.
Phil Mickelson has the ability to frustrate, entertain, confuse, astound and amaze us all at the same time. Sometimes, those emotions all come in the same hole.
He has made some classic blunders over the years and even appeared snake bitten as his runner-up finishes in majors will attest.
He has lived in the heart of the Tiger Woods era and desperately tried to be the rival that makes golf a must-see event.
While he has not always lived up to the extremely high expectations that follow him, Mickelson has also soared to some very impressive heights along the way.
Today, as we near the 2012 Masters, let us look back at the career-defining victories Mickelson has been able to rack up for three decades now. These are the moments that gave him the spotlight and made him one of the biggest stars in golf.
It made us fall in love with Lefty and gave us hope that he still has some thrills left in the bag once more.
Enjoy the list!
10. 2012 At&T Pebble Beach National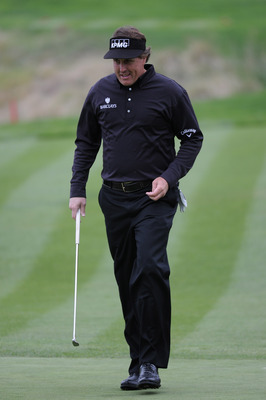 Harry How/Getty Images
Golf is all about numbers, and Mickelson achieved some big ones earlier this year when he captured the 2012 AT&T Pebble Beach National.
Mickelson shot 17 under, the best overall total since Mickelson won it in 2007.
In fact, Mickelson's four titles in this event are second only to Mark O'Meara, who won five.
Mickelson also picked up his 40th career PGA Tour victory this year, which places him in the top 10 on the career victories list alongside the greats in golf.
That victory helped propel Mickelson to another stratosphere in golf and built some momentum for this season. With another strong finish last week at the Shell Houston Open, Mickelson may be closer to No. 41 than anyone could imagine.
9. 2006 Bell South Classic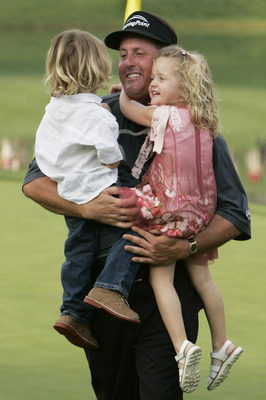 S. Badz/Getty Images
In terms of pure dominance, what Phil Mickelson was able to do in the 2006 Bell South Classic was worthy of Michael Jordan, Bill Russell or anyone you could imagine.
First let us solely look at Mickelson's performance. Lefty shot rounds of 63, 65, 67 and 65. When 67 is your worst round, things must be going well.
His total of 28-under par is third-lowest of his career.
Now, let us look at his competitors. Mickelson won by 13 strokes.
With that margin of victory combined with two other titles in the tournament, they just should have named the thing after him.
Mickelson's dominance helped propel him toward a Masters victory the following week and made him the No. 2 golfer in the world, according to the rankings.
8. 2009 Tour Championship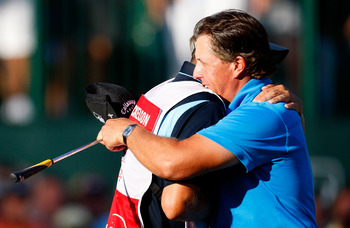 Kevin C. Cox/Getty Images
Phil Mickelson entered the final round of the 2009 Tour Championship with little hope.
He was four strokes off the lead and had some of the biggest names in golf ahead of him.
Mickelson responded by shooting a 65 in the final round and not only took the crown, but won by three shots. With the new FedEx rules, that would have actually won Lefty the yearlong championship crown. An impressive accomplishment, considering he missed so much time to be with his mother, who was dealing with breast cancer at the time.
Instead, the rules led to an awkward photo op at the end of the tournament in which Mickelson was the Tour champion but Tiger Woods won the FedEx Cup.
Still, in the final tournament of the year, with the best golfers on the tour, Mickelson made a charge few have seen in golf. It helped him achieve his 37th career win and led to momentum that would pay off in 2010.
7. 2007 Players Championship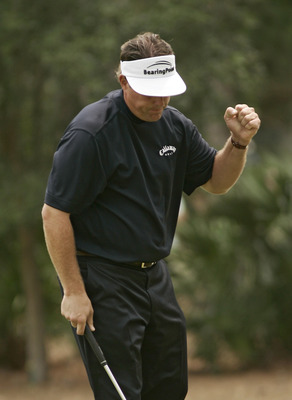 Sam Greenwood/Getty Images
The Players Championship is often considered the fifth major in golf.
Held between the Masters and the U.S. Open, it has a prestigious field and the most famous par three in all of golf.
Its champions include Tiger Woods, Greg Norman, Nick Price, Tom Kite and Jack Nicklaus.
In 2007, Mickelson added his name to that list.
He led the first two days but gave up the lead to young Sean O'Hair after a 66 leapfrogged him to the top spot.
Mickelson did not waver, and when nerves got to O'Hair, including an implosion on 17, Lefty captured the crown and still consoled his crestfallen playing partner.
Mickelson finished with a steady four days of 67, 72, 69 and 69. Most impressively, this win came just a few weeks after the announcement that Lefty had hired Woods' former coach Butch Harmon to help Mickelson with his swing.
With such quick dividends, people saw the beginning of a beautiful relationship.
6. 1991 Northern Telecom Open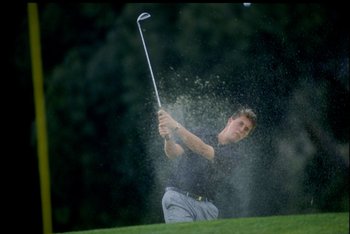 Stephen Dunn/Getty Images
Winning at age 20 is impressive enough, but when you are able to win as an amateur on the PGA Tour, you really gain attention.
Mickelson is one of the most decorated amateurs of all time, three times being named the most outstanding collegiate golfer in the country. He claimed the 1990 U.S. Amateur title and was a four-time All-American.
Yet, none of that prepared us for him becoming only the sixth golfer ever to win a Tour tournament as an amateur.
Mickelson's one-shot win was the first time in six years an amateur had won a PGA Tour event, and no one has been able to match the accomplishment since.
With his toughness around the greens, people knew they had a young phenom on their hands.
That victory set up a path toward greatness, but it also greatly heightened expectations.
What could he possibly do for an encore?
5. 2007 Deutsche Bank Championship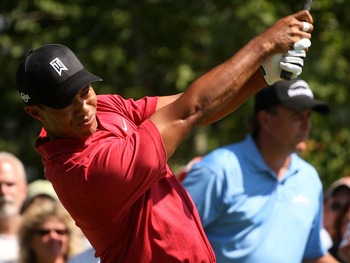 Scott Halleran/Getty Images
For so long, Tiger Woods has been the gold standard in golf.
Mickelson admitted once that he loved playing against Woods; it brought the best out of him. The 2007 Deutsche Bank Championship showed just that.
While most golfers wilt under the blaring spotlight of playing with Woods, Mickelson was not fazed by his final-round pairing with Woods.
Many times Woods looked like he was going to pull away from Mickelson as he had done countless times in the past. Mickelson found a way to respond.
Most impressive was a stretch on the back nine in which Woods hit a close shot on the par three for a likely birdie. Mickelson responded with an even closer shot, and the race for the title was on.
Mickelson ended up winning by two shots, the first time he had ever shot a better round than Woods while playing with him in the same round.
If Mickelson had not decided to take the next week off, he might have been able to capture the FedEx crown.
As it was, that victory was an important statement that Mickelson was not done winning big tournaments.
4. 2006 Masters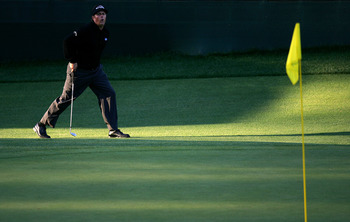 Getty Images/Getty Images
If you know anything about "Phil the Thrill," watching Mickelson play can take years off your life.
The same thing that makes him so great is often his downfall. Often he tries impossible shots or makes critical errors on the putting green at inopportune moments.
Perhaps no one can elate and flabbergast their fans as much as Mickelson.
Well, the 2006 Masters is memorable simply for the lack of drama Lefty had on the final day.
Mickelson had a good pairing with Fred Couples, someone he respected and enjoyed. He cruised to a three-under round of 69 and won by two strokes. It was the only major to that point in which he did not have to sweat out the final hole in angst and anticipation.
Mickelson looked calm under pressure and seemed to be relishing the moment. As an extra bonus, his rival Tiger Woods had the honors of bestowing Mickelson with the green jacket. That juxtaposition coupled with Woods missing the cut a few months later at the U.S. Open left the door of opportunity open for Mickelson to become the new face of golf.
However, those dreams did not go according to plan.
Still, in 2006, Mickelson was flying high with three majors in the four years.
3. 2005 PGA Championship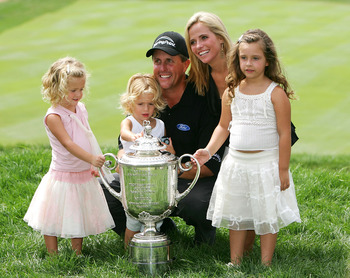 Stuart Franklin/Getty Images
Entering Monday, after delays forced the 2005 PGA Championship into an extra day, Mickelson knew he needed a strong finish to avoid a playoff.
Steve Elkington and Thomas Bjorn had finished and were tied with Mickelson as he entered the par-five 18th. Mickelson hit a good shot into the middle of the fairway and famously tapped a plaque a few yards ahead dedicated to the shot Jack Nicklaus famously hit en route to his major title.
The good vibrations did not work out at first for Mickelson, as he left it short in deep rough.
Knowing that he needed a good shot, Mickelson showed off his signature short game and chipped the ball within three feet for the birdie and the win.
That clutch play was something that had been missing from Mickelson's major game in the past, and now, with his second major, he was halfway to the career grand slam.
Mickelson's family, particularly his son Evan, celebrated on the green as they put together one of their better showings in history.
The question was clearly shifting from if Mickelson could win a major to how many.
2. 2010 Masters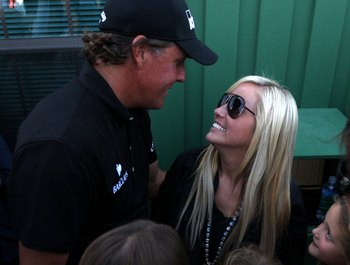 Streeter Lecka/Getty Images
It was a stark contrast in 2010 between Phil Mickelson and Tiger Woods.
Woods was just months removed from a Thanksgiving nightmare that had torn apart his marriage and personal life. He desperately sought balance on the golf course and knew that Augusta could provide that safe haven.
Mickelson also sought relief from the real world. His wife, Amy, had been diagnosed with cancer and was clearly in pain. Amy had been Mickelson's rock for so long, it clearly wore on him to see her struggle but encouraged him to see her persevere.
Many wondered if Amy would be able to show up to Augusta National, but Mickelson's fireworks on Saturday made it all but assured.
Mickelson made two eagles in a row on the back nine and came within inches of a third on the par-five 15th.
That put Mickelson into position, and with a final-round 67 that included zero bogeys, he was able to put Woods, Lee Westwood and everyone else in the dust.
The drama and intrigue made the 2010 Masters the third-highest-viewed tournament in golf's history and for good reason.
The embrace of the Mickelsons after the win is one of the more poignant moments in sports. It placed Mickelson above many of his contemporaries in the major category and gave golf some positive publicity after all the fallout following Woods' struggles.
1. 2004 Masters
Harry How/Getty Images
After so many heart breaks and disappointments, Phil Mickelson finally threw the monkey off his back on the biggest stage in golf.
Mickelson had to hear so many times: When are you going to win a major?
For nearly a decade he had cemented himself as the second-best golfer in the world behind Tiger Woods, but could not come through with the big win a major.
Sure, he had his chances. In fact, he had 17 top-10 finishes in majors heading into 2004, with nine of those finishes in the top four.
On Masters Sunday, it appeared that it might be another close-but-no-cigar for Mickelson, who was facing pressure from a surging Ernie Els.
Els had to sit and wait, though, as Mickelson came to the 18th hole with a birdie putt for the green jacket.
It lipped in and the roar was loud enough for Els to know it was not his day. Mickelson was finally a major champion and forever cemented his legacy as one of the best of all time.
As caddy Jim "Bones" Mackay claimed the 18th flag as a keepsake, the terrific tandem had a magical moment they would remember the rest of their lives.
Keep Reading